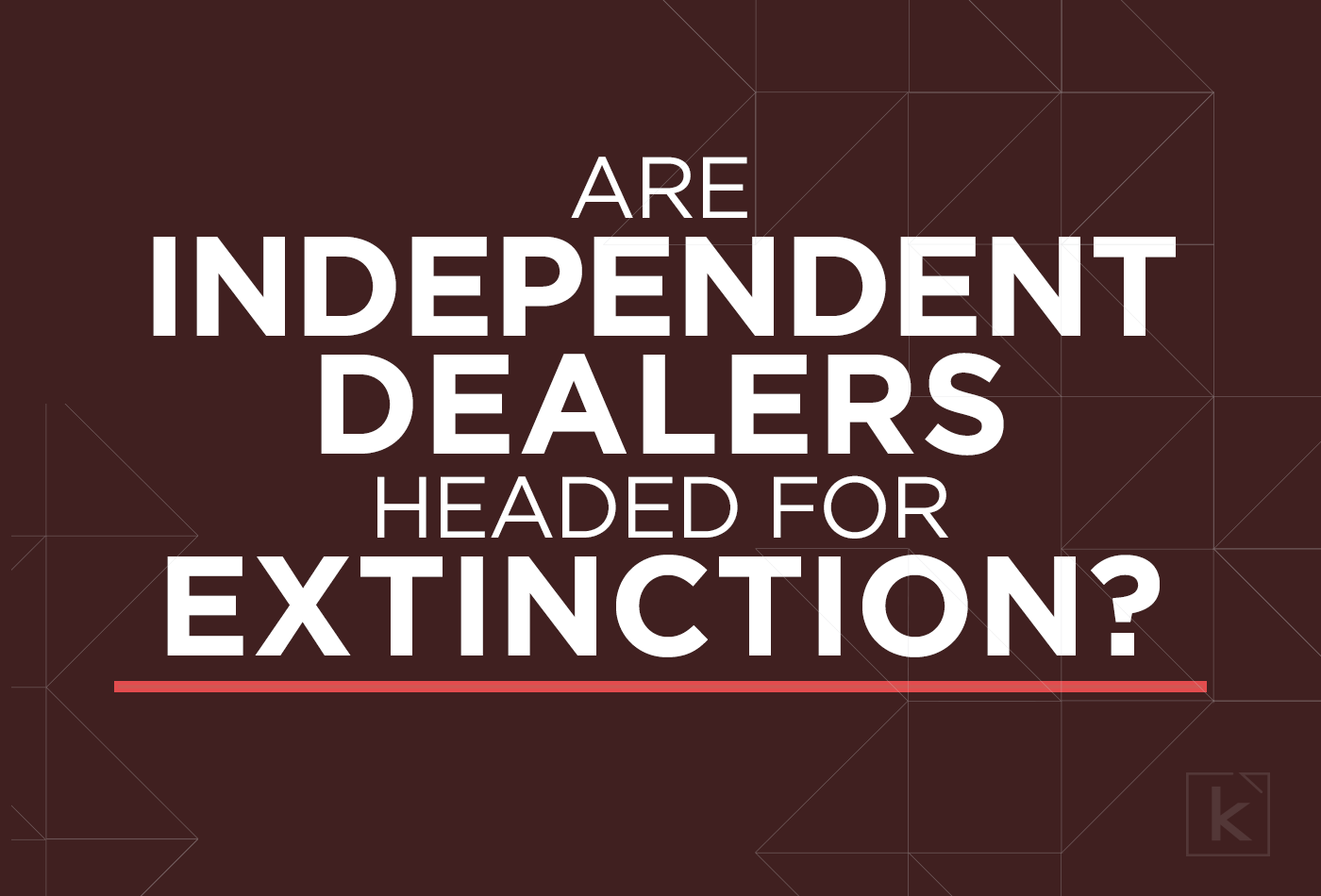 We've talked a lot about the complicated business of through-channel marketing—including how to be a better partner to your sellers and how to successfully launch a product through your channel. Amid our research, one dark cloud continues to loom: the possibility of channel extinction.
Imagine your local car dealership under the management of a billion-dollar private equity firm. Or the independent jeweler nearby being put out of business by its own wholesalers. And consider the cannibalization of dealers happening right on Amazon, as furniture manufacturers and office suppliers take their goods directly to consumers through the ecomm giant.
Is doomsday imminent? For some dealers in some industries, it might be. But in others, it's not even on the horizon. Here's how some of the world's smartest companies are disrupting through-channel marketing—and protecting their independent dealers from disappearing.
Disruption Tactic 1: Balanced omnichannel awareness and channel support
We discuss this in detail in our white paper, but what companies like Red Bull and Steelcase do so well is brand content that's everywhere, all the time. Which means their customers can interact with them any way they want, anywhere they want. Their brands—and what they stand for—are so well known because the company has invested a tremendous amount of time and effort into making sure they're well known among existing and potential customers alike.
How do they do it? You can learn more about the Red Bull way here, but Steelcase, an office furniture powerhouse and highly regarded design leader, has employed a variety of tactics to extend its reach and maximize its content across channels. By entering marketing partnerships with companies like FLOS Lighting, Mitchell Gold + Bob Williams, Microsoft, and Blu Dot, the company has become accessible to a whole new universe of customers. Steelcase also prides itself on the service it provides to its first and best customers: its dealers. Renowned for its hands-on attention and next-level events for dealers (as well as stellar inbound marketing efforts), Steelcase dealers enjoy robust relationships with the manufacturer.
From first-rate branding to boots-on-the-ground dealer empowerment, the company offers a master class in balanced omnichannel awareness and channel support.
Disruption Tactic 2: Really, really creative content
"Marketers who continue to build through-channel marketing campaigns around products and solutions…risk becoming irrelevant to today's business buyer." — Forrester, "Turn Your Channel Into A Marketing Machine"
If you're in the through-channel marketing business, your primary audience may be B2B buyers. But that doesn't excuse you from giving them exceptional—and genuinely creative—content. Perfect example? GE's futuristic podcast, The Message.
The idea of a podcast seems really out there for traditional through-channel marketers, which is exactly why it's so disruptive for an appliance stalwart like GE. Their sci-fi podcast not only showcased their creative side (in it, GE's innovation story is delivered through mysterious sound transmissions from space), it also gave millions of potential customers a new way to experience the brand without feeling like they were being sold something.
It also became the most-listened to branded podcast in history. There's a powerful lesson in there for anyone who markets through a channel: develop content that is interesting on a human level, then share it in a non-traditional way. It's marketing genius—and it worked. (P.S. Your blog doesn't have to look like a blog, either. Consider a magazine or editorial style, and hire a graphic designer to give it a creative edge that aligns with your overall company branding.)
Disruption Tactic 3: Hyper-localized marketing
If you're already putting the first two tactics into play, congratulations! But your work isn't done just because you've generated awareness or buzz for your product or brand. You now owe your channel partners a robust, local-level marketing machine that can automate advertising in their geographic areas. After all, their competition is fierce and it's already coming at their customers from everywhere else.
The good news is you don't have to do it alone. Companies like Benjamin Moore have made it easy for their independent dealers to geotarget customers through SproutLoud, a leading through-channel marketing automation business. Whether the marketing and social content itself comes from your corporate team, your agency, or is generated by channel partners, a platform like SproutLoud's will make sure it hits the right people at the right time, in the right ways—all while promising to increase co-op participation, reduce or eliminate channel process complexities, and drive sales.
A through-channel machine can often fall apart due to a lack of support at the local level. Strive to give it as much attention as you do your national-scale marketing.
The era of "This is how we've always done it" is over
You know it's going to take some risky moves to survive and thrive in the age of digital disruption, but the consequences of changing nothing could be dire. Find the right marketing partners to help you (ahem!), and with a few strategic moves, you and your channel partners will be well-positioned to face disruption—and cause a little of your own.