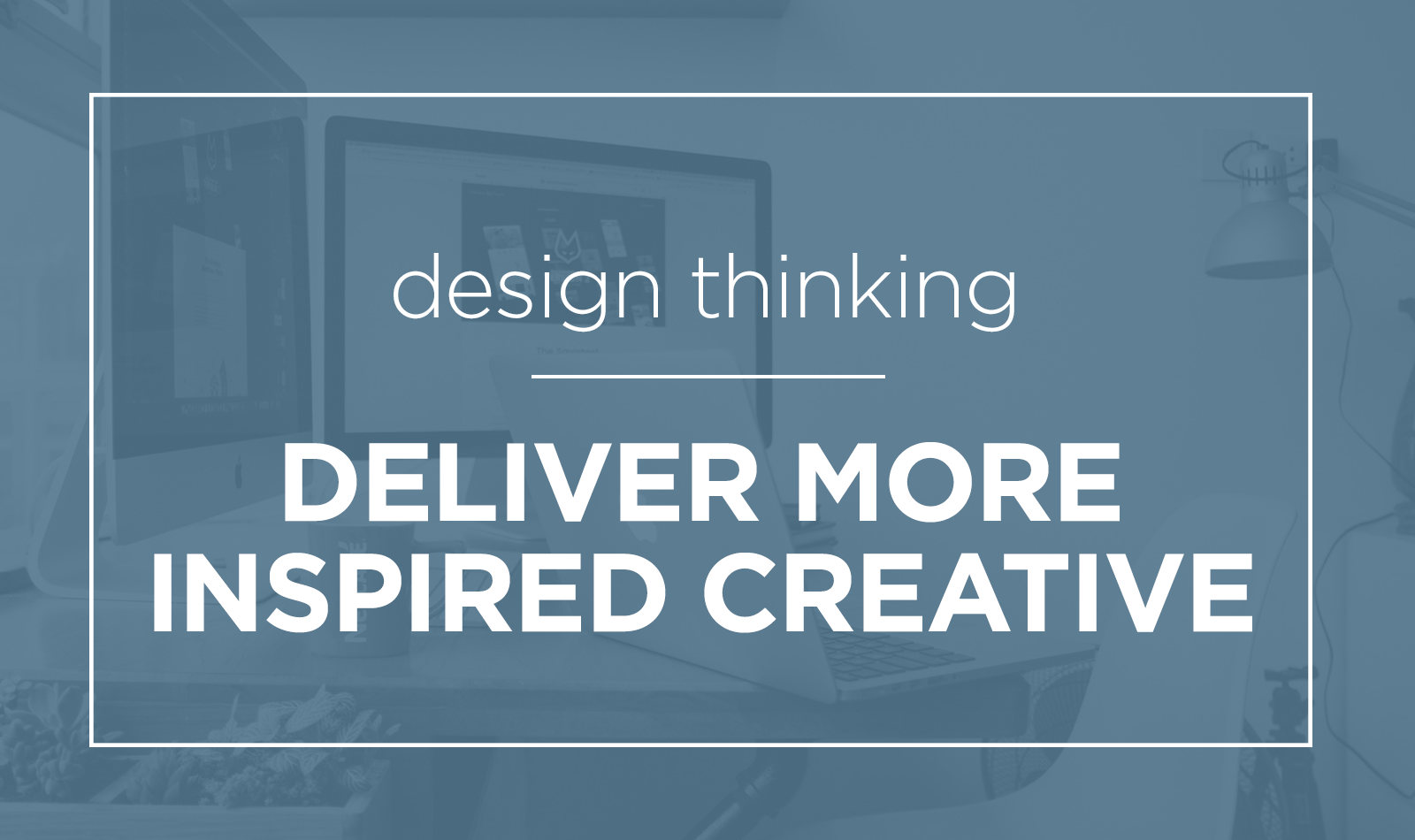 Are you underwhelmed, disappointed, or frustrated with lackluster creative work, but unsure what, exactly, is missing? It's time to spice things up and reach (nay, exceed) your marketing goals. Here's a method to idea generation that, when leveraged with a solid agency partnership, can deliver the results and exponential growth you want.
It's no secret that marketers live in a fast-paced, increasingly digital marketplace. If you want to be successful, you must remember who drives that market: consumers. And while you may know what they want in numbers and figures, you also know those numbers mean nothing if you can't deliver creative work that connects with them on an emotional level. That's why you've already found a trusted agency partner to help create amazing brand work.
So why isn't it happening?
This is a good question for your account head to spark a conversation about what you can do to shake things up a bit. Here's a process that we know works, because it's what top-notch innovation agencies are using across the world. It's called Design Thinking, and though it's been around a while, it's gaining a lot more momentum lately and it's got us PUMPED.
What is Design Thinking?
Design thinking is a people-centered approach to innovation that brings creativity and analysis together to reach breakthrough solutions using this model: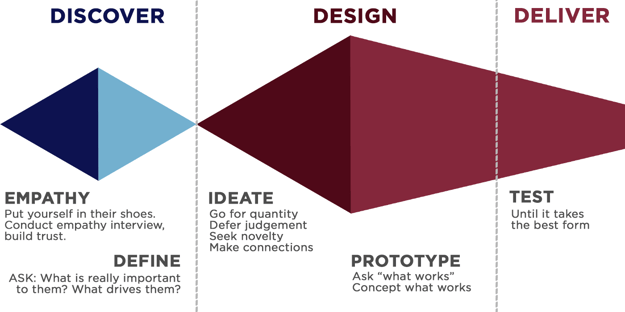 The method is designed around diverging and converging on ideas until you reach a solution that works. The process begins when you present your creative partners with a problem or need (for example, "Increase social engagement by 5%").
From here, the team (working with you or with your blessing) conducts market research to gain empathy for the consumer experience, asking questions like, Where are pain points along the buyer's journey? and Where can we swoop in and save the day? Once they find the answers, the team will brainstorm a hefty amount of ideas (we're talking hundreds here!) that will lead to one that they'll prototype and test. All along, they'll check in with you to make sure the work is still aligned with your marketing goals.
Why Design Thinking makes a difference
Now, you're probably thinking one of two things. Either "This is exactly what we need!" or "This is far too disruptive for our agency partners right now." If it's the latter, don't worry. The cool thing about this method is that simply adopting the mindset of "no-judgment-trial-and-error-teamwork" that fuels Design Thinking can do wonders to create stronger deliverables that resonate with your consumers. Here's how.
1. It brings the human back into design
Design Thinking aims to make your buyer's journey more enjoyable—and his or her life easier. This means refraining from pulling straight from the Marketing 101 handbook, and instead counting on those you're trying to influence to guide your way. During the process, don't just ask questions; ask for stories about customers' experiences and listen for key phrases like "I felt bad..." or "I liked this…" Take note on the answers, and ideate on what you can do do address them.
Positive Outcomes:
Your customer will feel human, valued, and heard when they see your brand at work.

Your marketing team will end up with more targeted solutions that are meaningful to the audience.
2. You'll go beyond the first right answer
The most obvious solution may not be the best one, and odds are it's what everyone else is doing anyway (and that's boring). By channeling empathy to pinpoint real needs, you and your agency partner can create something that may feel a little out of your comfort zone at first—but is the very thing that makes consumers realize you are everything they didn't know they needed.
Positive Outcomes:
Your customers will feel like your brand is working for them (and even rave about it to friends and family! 🤞).

Your marketing team will find solutions that add real value to your brand in the long run, rather than applying a temporary fix.
3. An open mind & stronger partnership
Though the objective is to narrow in on one working idea, the Design Thinking process welcomes anything and everything that comes up during ideation—and those ideas are not limited to the creative team. If you have a thought, share it! The theory is that you never know what the next catalyst for something truly amazing will be.
Positive Outcomes:
Your customers will be dazzled by your brand and want to stay connected to see what comes next.

Your marketing team will build trust and communication with your agency partner (and feel part of the creative process too!).
Get inspired!
Now that you've seen how Design Thinking can add value to your creative process, check out how innovative agencies and teams around the world use it to deliver breakthrough creative work that drives results—and improves the lives of the people they serve.
A Student-Centered Cafeteria Experience
IDEO works in collaboration with students in the San Francisco Bay area to create a student-centered cafeteria experience that is scalable and financially savvy.
How Design Thinking Turned One Hospital into a Bright and Comforting Place
This Dutch hospital applied design thinking to reduce patient fear and anxiety during visits, transforming the space into a world-class children's hospital.
Extreme Bathroom Users: Lapeyre Embraces the Elderly
Students from around the world collaborated to create an elderly-accessible bathroom experience.