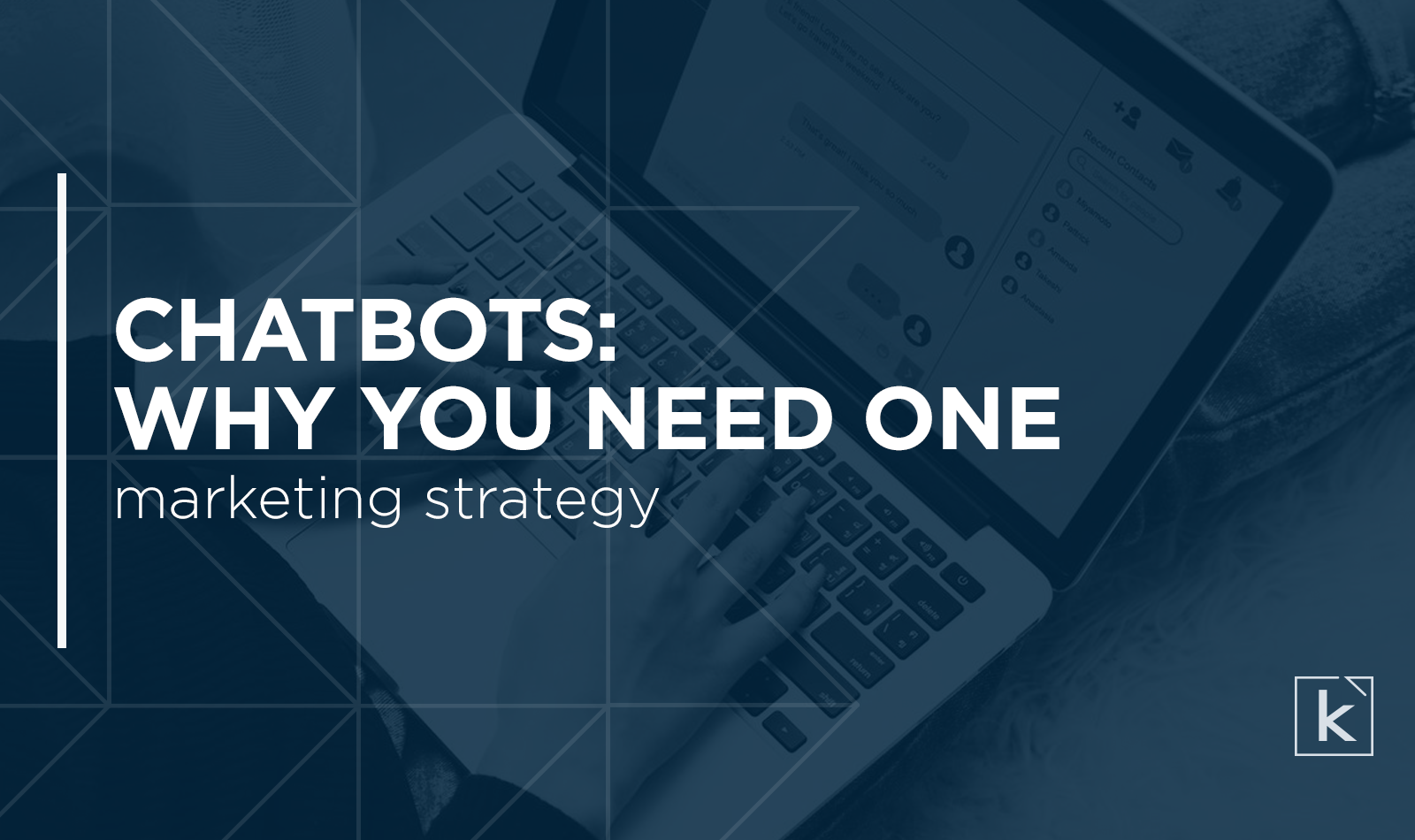 To start our discussion about chatbots, we'd like to welcome you to the fictional (unfortunately) Kreber Candy Co. You'll just have to trust us on this. It's a wonderful place.
"Hi! This is the Kreber Candy chatbot. How can I help?"
"Hi there, I'd like to check on my order status. My confirmation number is 3447A."
"Great, thank you. Your order has been processed and shipped on 6/12/2019."
At Kreber Candy Co., the old way of doing things involved a customer service phone number, a few options on the keypad, and (hopefully) a short wait time to get information. But as customer wants and desires have evolved in concert with emerging technology, the way we used to do things has become almost obsolete.
That applies to many businesses in the digital age: you can't just expect your customers to find you. You can't expect them to contact you how you'd like to be contacted. You have to meet them where they are, whenever they are where they are, and be prepared to offer a quick solution. Customer service is as dynamic as it's ever been—but as we'll cover in this blog, that's not the only reason why brands are using chatbots in their marketing strategies.
So, are chatbots your friend? Let's find out.
(And thank you for visiting the Kreber Candy Co.)
Chat history
Let's take it way back. Like, back to 1950.
English-born scientist Alan Turing was the first to examine what's now known as artificial intelligence—determining if a machine could interpret human communication and exhibit intelligent behavior as a human would. He developed a test to see if machines could match human results, and over time, he thought that machines could keep pace with humans. In his own analysis, Turing predicted that machines and machine-learning technology would eventually become the key to building more powerful machines. Turns out, he was right.
The first chatbot was named Eliza, and in 1966, she was designed and built with the intention of passing Turing's AI test. She passed. Fast forward to 1995 and we had A.L.I.C.E. (Artificial Linguistic Internet Computer Entity), and she became the first chatbot capable of having a conversation.
IBM created Watson in 2006, and in 2011, Watson won Jeopardy! (which is still crazy to think). In the last decade-plus, all of the major technology players have developed their own chatbots to serve a variety of functions: language processing, asking and answering questions, searching for products, setting reminders, and executing simple commands.
There was a sharp rise in chatbots and then a fall, circa the late 2000s, after Microsoft's SmarterChild experiment fizzled out.
With advancements in processing power, bots now have a better ability to interpret natural language and learn from users over time. Just as importantly, big companies like Facebook, Apple, and Microsoft are now eager to host our interactions with various services, and offer tools for developers to make those services available. Chatbots easily fit into their larger business models of advertising, e-commerce, online services, and device sales. Meanwhile, services that want to reach hundreds of millions of customers on a platform like Messenger will be helping to write the chat scripts. —Fast Company, 2016
We're back into another Rise of the Chatbots—we'll call this one the sequel, and unlike many movie sequels, this one seems to have some legitimate staying power. Chatbots are now part of many brands' marketing strategies because their customers are taking advantage of their functionality.
In previous periods of chatbot popularity, users became frustrated with the technology. It was perhaps a bit too bold for its time, and there were some obvious flaws. Now we're looking at a new generation of chatbots, a more developed and robust generation, that isn't just for customer service—but can drive lead generation, engagement, and results.
And guess who's using these chatbots to their advantage? Whole Foods has integrated chatbots into Messenger, allowing you to search for products based on dietary needs, cooking style, and so on. And ride-sharing giant Lyft allows you to order a ride using Messenger, Slack, or an Amazon-enabled device. Pretty convenient for consumers, right?
What to know before you chatbot
By 2020, it's forecasted that customers will conduct 85% of their interaction with a brand having never communicated with an actual human being. Rather than ask yourself—whether you're a B2B or B2C marketer—if you should be using a chatbot (you should be), the question should be "how do we implement one?" The good news is that we're seeing a surge in different chatbot functions, but it's important to know that customer service is essential. Laying the groundwork for integrating chatbots should start with service-based questions and answers, and then you can expand from there.
Let's go back to that 85% number from above: think about how much of the consumer experience that encompasses. It's almost EVERYTHING.
But why? The major benefit with chatbots is their utility and immediacy. It's real-time communication, and a real-time answer to your customers' questions. They don't have to search your website endlessly. They don't have to call you, wait on hold, or try back later during business hours. When they need something, you've got their back. And if they need help from a live person, there's still room for that, too.
Where can you start? Facebook Messenger is a great launch pad. The platform has 1.2 billion monthly users and has more users than Instagram and Snapchat combined, and those users are flocking to Facebook to interact with brands. Per Facebook (citing internal research), 69% of people who use Messenger to connect with brands say that being able to message a brand makes them feel more confident in what they buy.
Google Assistant offers another easy-to-use, easy-to-get-off-the-ground option for brands looking to get into the chatbot game. The experience mirrors what they see within Google—just as Facebook aims to make Messenger as authentic as its native platform—which builds upon that trust element we previously mentioned.
Now, a quick checklist before launching your chatbot:
Clearly define your goal: Are you using the chatbot for customer service? For marketing? For both? Make sure you set the framework first.
Where and how: Platforms like Facebook and Google offer low-cost, efficient chatbot options. Over time, you may decide to integrate a chatbot into your website as well.
Do your homework: What are the most common questions customers ask about your product or brand? The chatbot must be functional, practical, and a slam-dunk alternative method of communication for customers.
Let's make one thing clear: the need for humans isn't going away.
According to a survey conducted by Zingle (a text message-based marketing platform), two out of three respondents used a chatbot for customer service in the last month.
Still, nearly 60% of those surveyed said they believe humans can provide better service and solutions compared to a chatbot—and they think humans can resolve their issues in a more timely manner. That's the challenge now for chatbots as a marketing tool: can they reduce the friction between human-to-human interactions and make for a better experience? It's still early, but things are certainly trending in that direction as technology becomes more advanced and AI becomes smarter.
What do you think of chatbots? We're on board. But it has to be done right and with proper preparation before green-lighting. As marketers, we're genuinely curious about these technologies and we'll be examining them further in future editions of the blog. If you haven't already, subscribe to see what we'll dig into next.