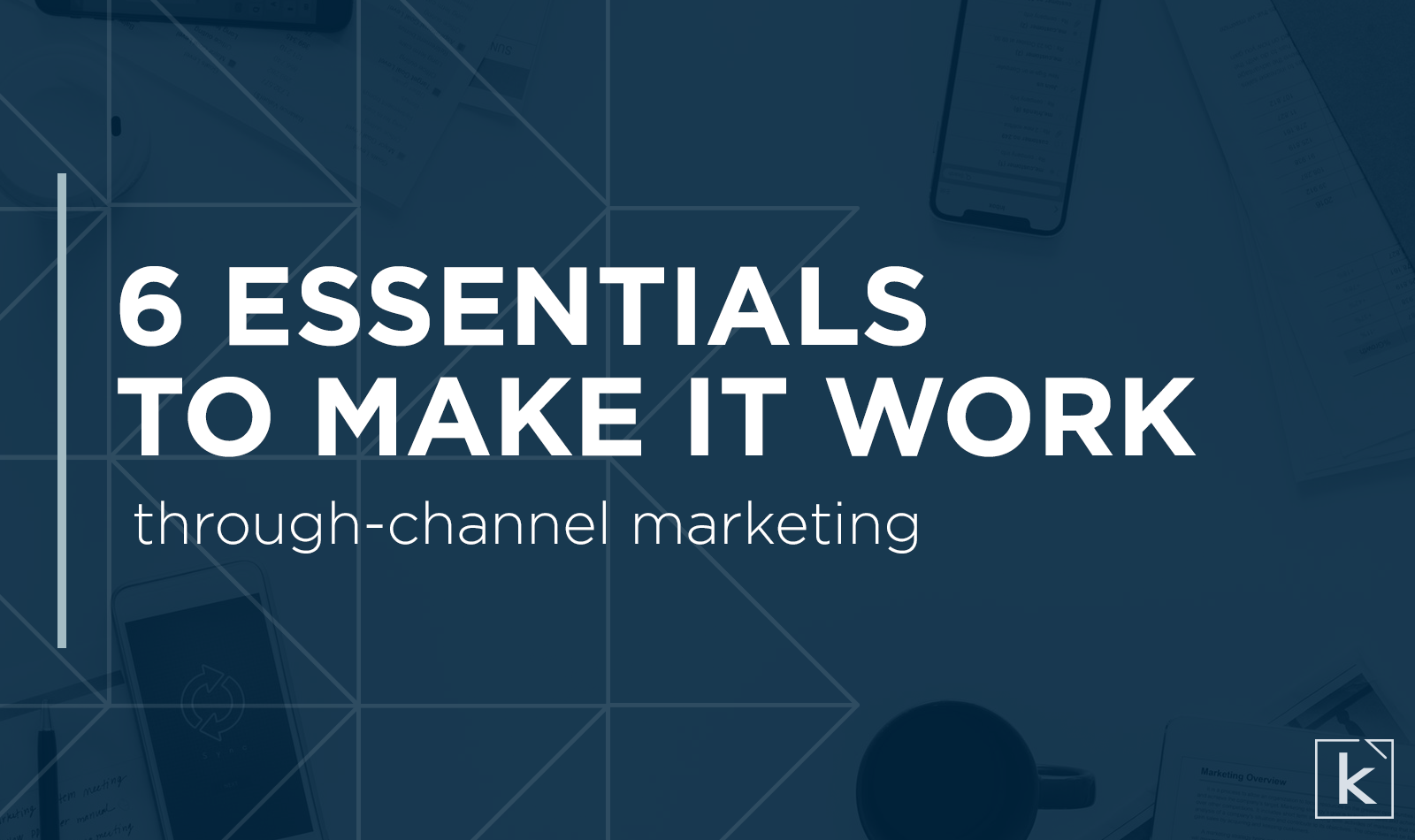 Through-channel marketing strategies can make or break a business that depends on dealer or store traffic for sales. Get the marketing mix right, and all of your metrics—Return on Ad Spend (ROAS), sales, customer engagement, and more—will rise. Choose the wrong mix—or neglect crucial channels—and your numbers will flatline. Which marketing strategy you need depends on your company's goals and audience, but there are six essentials that will keep your through-channel marketing working for you—and your independent dealers.
1. A strong brand
There's more to your brand than your logo and tagline. Every channel you use and every message you send through those channels builds your brand identity. Companies that have rocked brand building include consumer brands like Red Bull (which uses sponsorships, events, innovative online campaigns, and impossible-to-miss can-shaped cars) and B2B companies like Steelcase. In fact, Steelcase's 360 Magazine and 360 Podcast are great examples of getting creative with your brand; both of these channels allow the company to show off its industry expertise and creativity while connecting with customers.
To be really successful at building a stronger brand, do periodic audits on your efforts. Are you still communicating your USP effectively? As you've added new marketing channels, has your messaging remained consistent? What things are your competitors doing well—and more importantly, where are they struggling? You may find a new angle you can use to edge them out in customers' minds.
---
Download The New Rules for Through-Channel Marketers white paper here and learn how to save sellers (and yourself) from disruption
---
2. End-user digital brand awareness campaigns
Do you rely solely on your dealer network to sell your products to end users? Time for a change. Make their job easier by developing stronger brand awareness among those end users.
Digital marketing is an essential element to accomplish that. It can be less expensive than other forms of marketing, relatively low risk, and easily customized for your unique audience. It also tends to produce quicker effects, so you can monitor your metrics and adjust your strategy on the fly.
Your digital campaigns can include anything from social media and a lively company blog to engaging customer stories and creative elements like podcasts and web series. Whatever you do, don't neglect video! Video content consistently gets better engagement than other forms of media, and a great creative (dare we say viral!) video campaign can easily put you in front of new customer segments.
All of these efforts toward reaching end users will build more interest in your brand, which will drive more customers to your dealerships. And those dealers won't have to work as hard to close the sale when your customers are already primed with engaging digital content. (On the flip side, make sure you've spent some time and money educating your dealer audience on the campaign, too. That way, they'll spread the same message to any prospect who walks through the door—and be that much closer to sealing the deal.)
3. A content marketing campaign
Content marketing isn't new, but it bears repeating that building a good content library can have a massive effect on your marketing success. Creating educational resources positions you as a thought leader in your industry, which puts you top of mind when potential customers are ready to start shopping.
The content you create can and should take many forms. You can create an industry forecast for the coming year (backed by your own research); write a comprehensive how-to guide to solve a specific challenge your customers may be facing; and showcase your most compelling success stories through customer case studies. Each piece of content you create is another opportunity to build trust in your brand.
4. A Better In-Dealer Experience
Your customers have a lot of options when it comes to shopping, including online retailers. With so many choices competing for their attention, you have to give them a compelling reason to consider your local dealer instead.
Take a look at the current customer experience at dealers' shops. Can a customer get all of her questions answered promptly, or have your dealers not received enough education from you? Do you offer great incentives like customer loyalty programs? Are your dealers equipped to provide killer post-purchase support?
Take an objective look at the reasons customers might choose to buy online, and then find ways to highlight why your dealers are a better option.
5. Hyper-localized marketing solutions
"Hey, Siri, which restaurants are near me?"
You may have asked this question—and probably many times if you're a regular traveler. Your customers likely ask Siri for local suggestions, too, and you can take advantage of that with hyper-localized marketing.
Grabbing the attention of customers who are within a few blocks of your dealership can be a great way to drive more foot traffic to your dealers. And don't worry: there are lots of marketing software platforms that can help you develop these hyper-localized marketing strategies if your team doesn't have the bandwidth to do it.
6. Sales enablement
Last, but certainly not least, you need to give your inside sales team plenty of tools with which to educate independent dealers and sell them on your products.
Traditional materials like brochures and sell sheets are a great start. A digital library your sales reps can access through a mobile app is even better; they can grab what they need—and show it on the go—with minimal fuss.
Don't forget video content here, either! Whether it's a product demo, a case story, or product troubleshooting, video can be a huge help to your sales team as they visit and educate your dealer network.
Don't leave your dealers hangin'
All of these pieces come together to make a great through-channel marketing strategy, one that your dealer and/or selling partners can get behind. And by making a point of periodically assessing your messaging and results, you can tweak this mix as your needs change. With a custom-tailored strategy, your overall marketing message will be stronger across all channels—and deliver the results you want.
Evolve your B2B marketing. Download our latest white paper, The New Rules for Through-Channel Marketers.