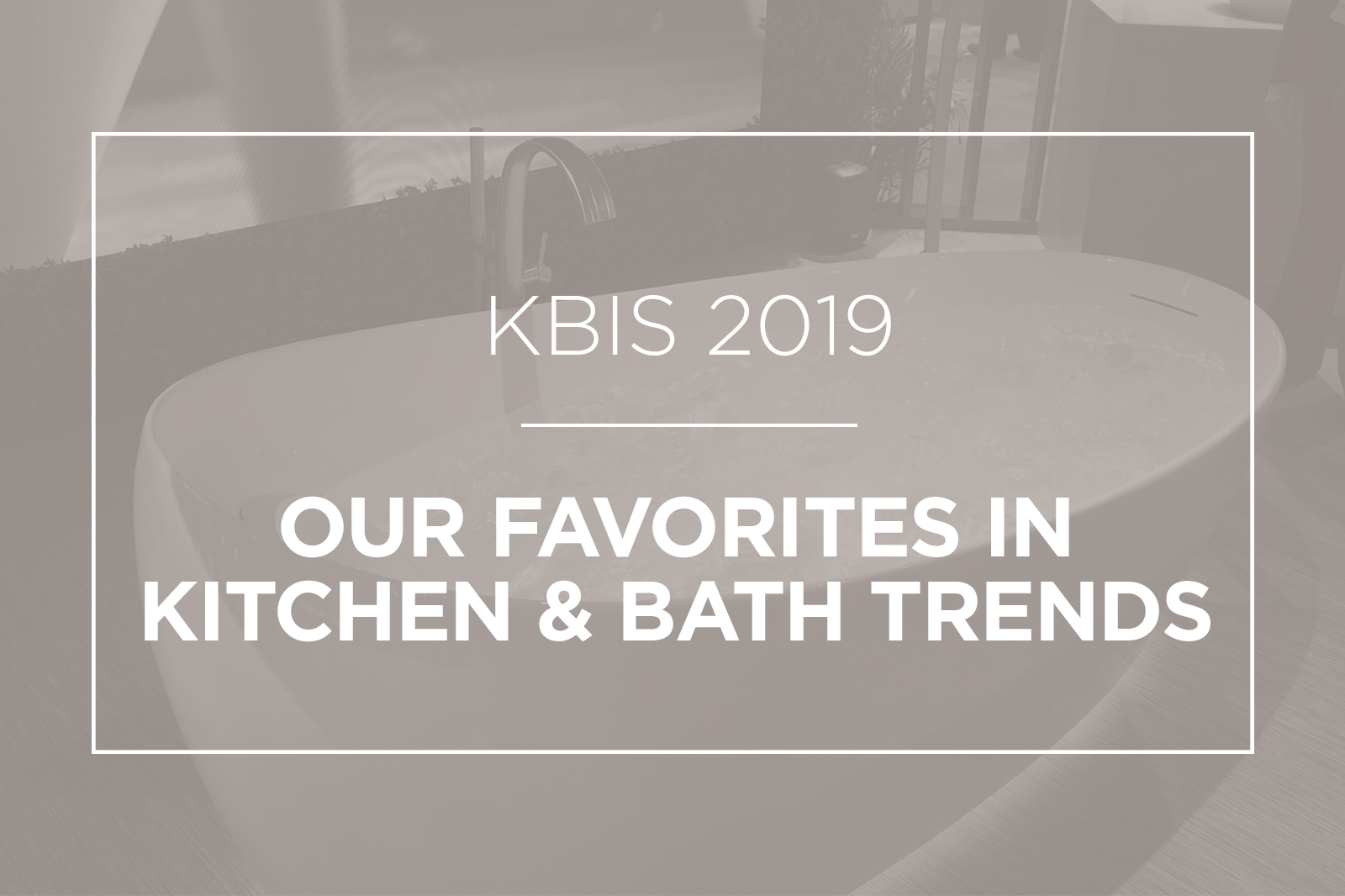 Last week, industry professionals, builders, and designers from all over the world flocked to Las Vegas, Nevada, to spend three crazy days at a sprawling convention center, fighting the snow and fighting for outlets to discover what's hot in kitchen and bath trends this year. We had a few eyes and ears on the ground, too! Though they may say, "What happens in Vegas, stays in Vegas," the trends and technology we saw at this year's National Kitchen and Bath Show are just too good to keep to ourselves.
Throughout the week, we saw a lot of mixing and matching of colors and styles, plus vintage meets contemporary and organic meets technology…all of which produced a beautiful effect. The air was filled with buzz words like "color theory," "connection," and "personalization," which influenced feature talks and events in addition to the products and styles on display. Here's just a few of our favorite trends so far:
Smart EVERYTHING
New innovations in kitchen and bath technology are obviously the first thing you expect to see at a show like this, and this year was no exception, from debuting products to the branding of the show itself! With smart-home technology around every corner, there's no denying that this trend is quickly becoming a must-have.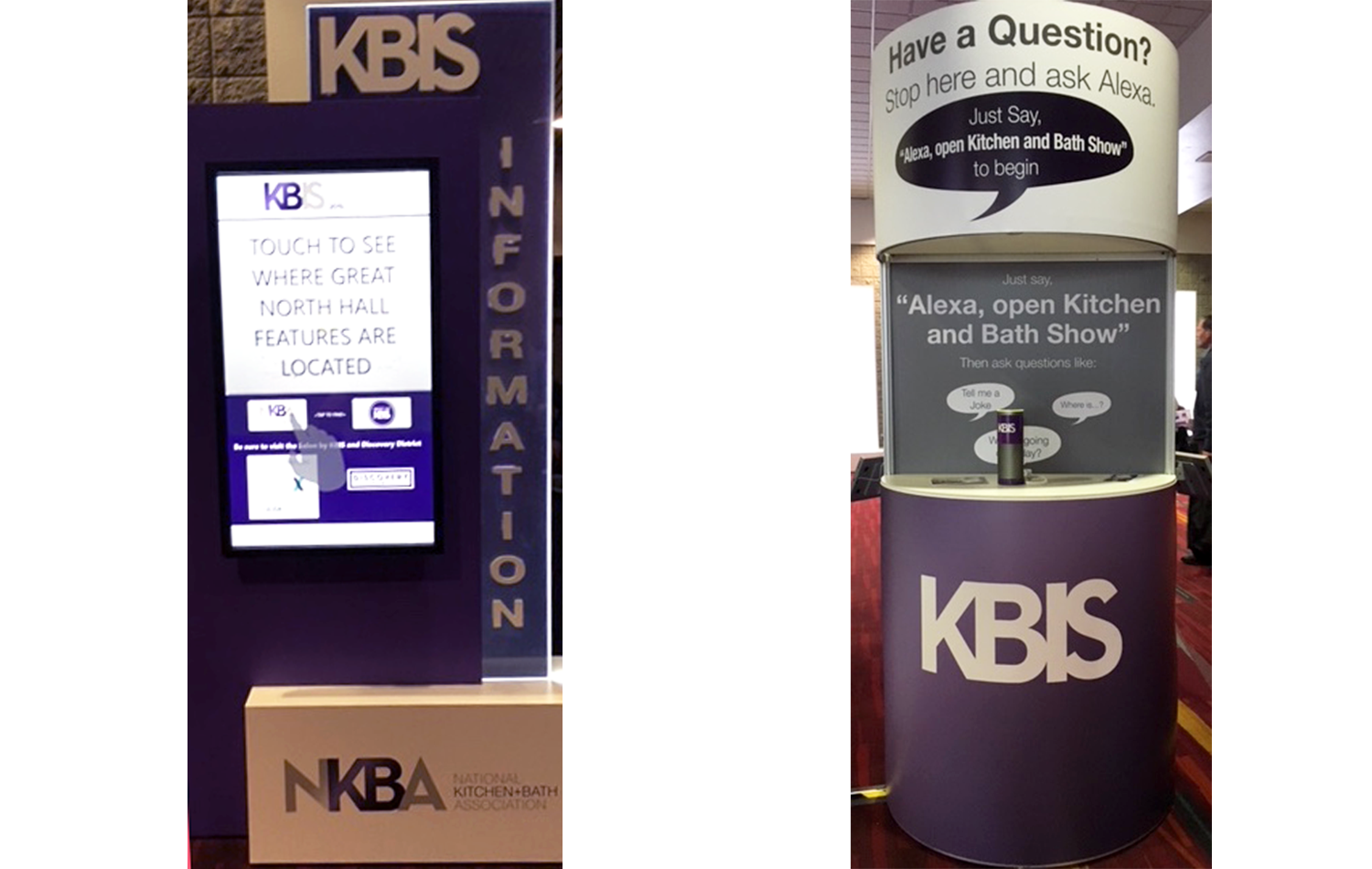 Attendees were encouraged to use Amazon's household helper to navigate the show floor or just pass the time between meetings. They were also encouraged to use other technology throughout the show, like QR codes and a multitude of social media tags, to get info quickly and stay connected. One of our favorite features was Kohler's use of QR codes to ease navigation through their booth. Representing multiple lines, Kohler's booth is always massive and packed with people. These codes transported visitors to a landing page detailing every product and feature used in their individual displays. This eliminated the need to document products then and there, leaving you free to enjoy the moment.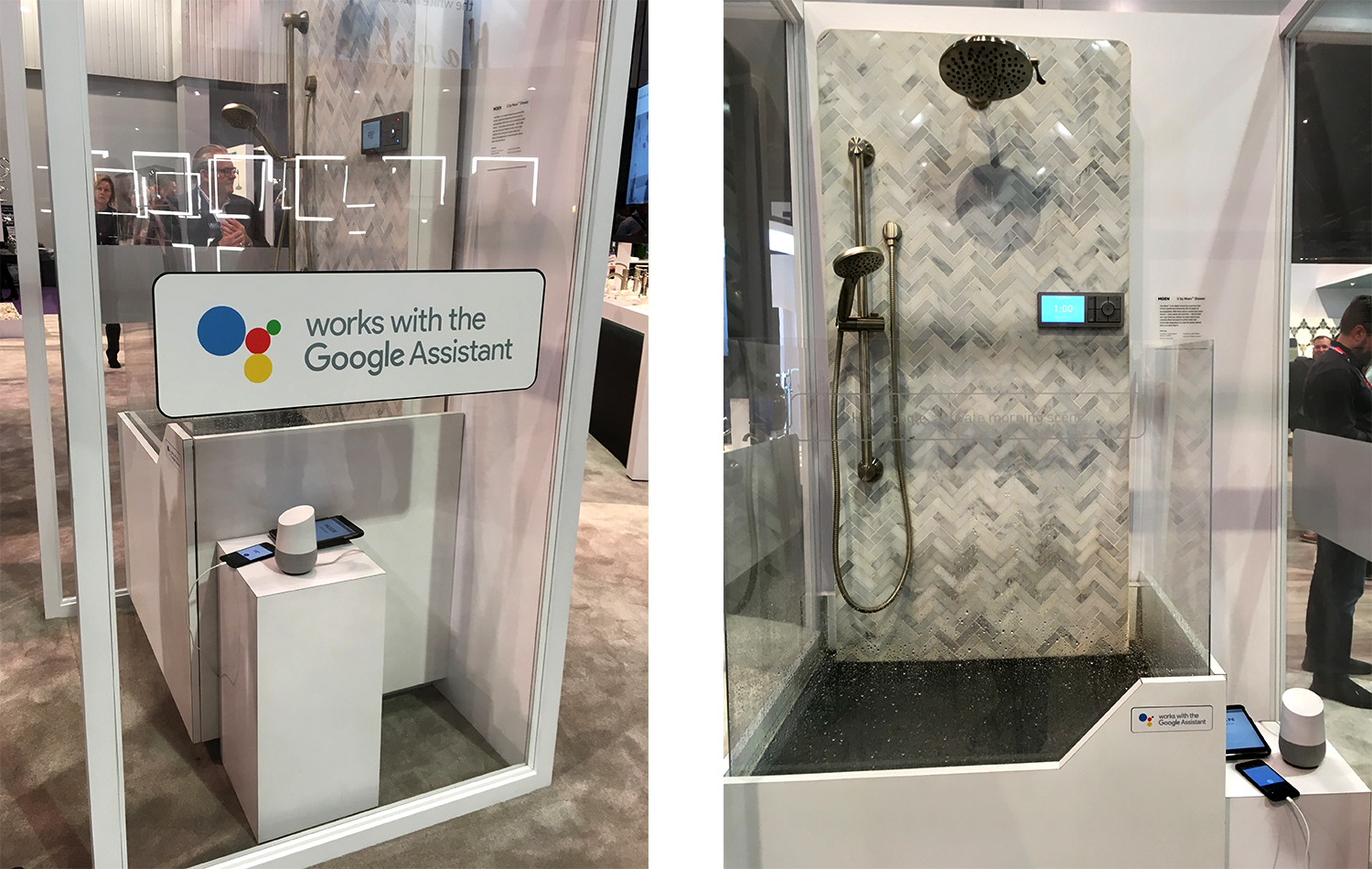 Google Assistant and Alexa allow you to control your morning or night time routine with voice command technology, preset your shower experience, and more.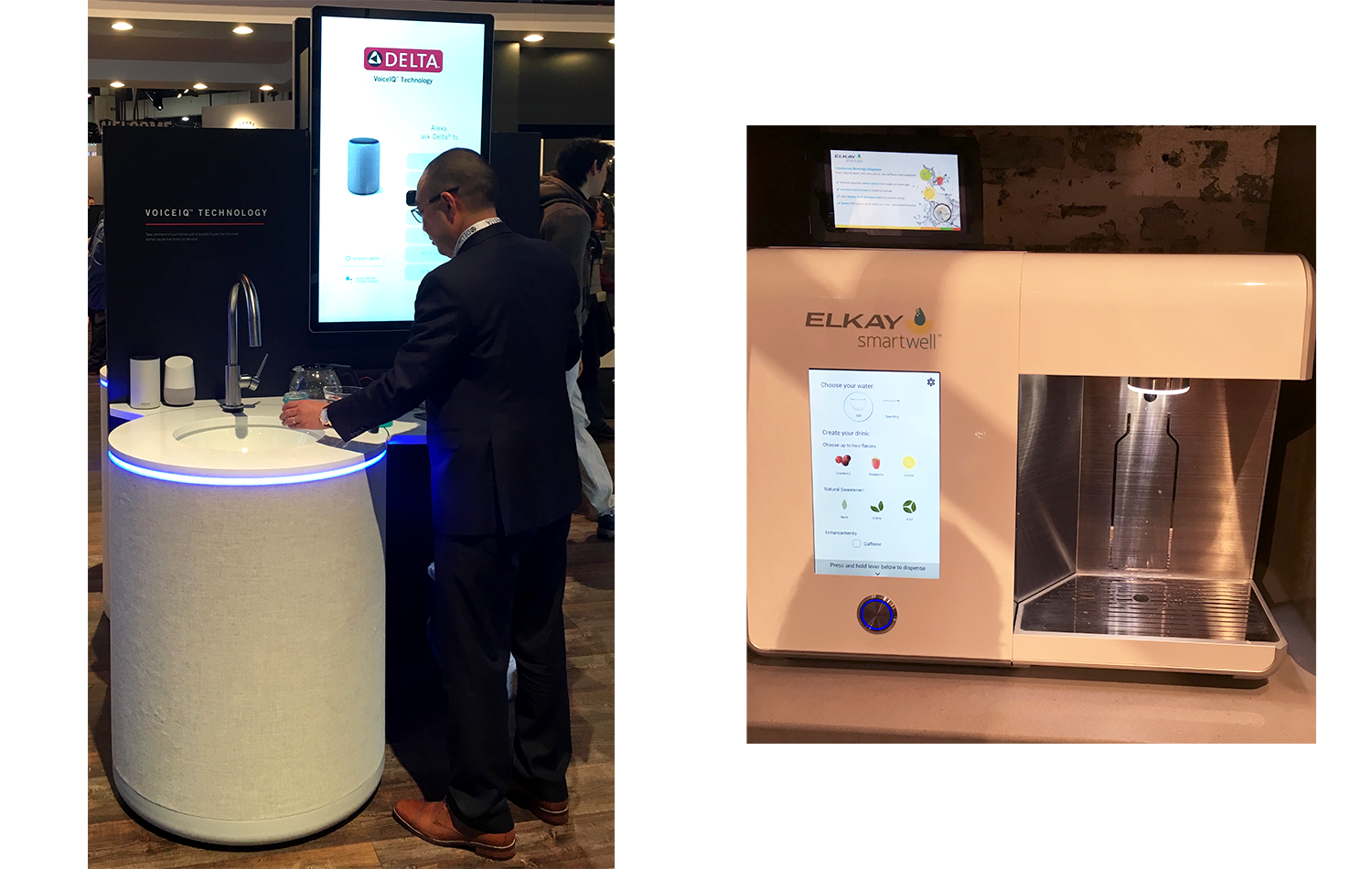 "Alexa, fill my glass with 500 milliliters." A Delta voice command water dispenser adds ease to everyday life, while an Elkay smart water dispenser makes for an innovative way to stay hydrated, with your choice of flavors, still or sparkling, and even caffeinated. These are only a few of the water filtration innovations we saw displayed throughout the week.
Styles that make a statement
Statement walls, statement mirrors, statement tubs.
This year's style trends were all about showing off your individual style in all areas of the home.
Throughout the week, we saw many manufactures take advantage of that through their vignettes and the products themselves.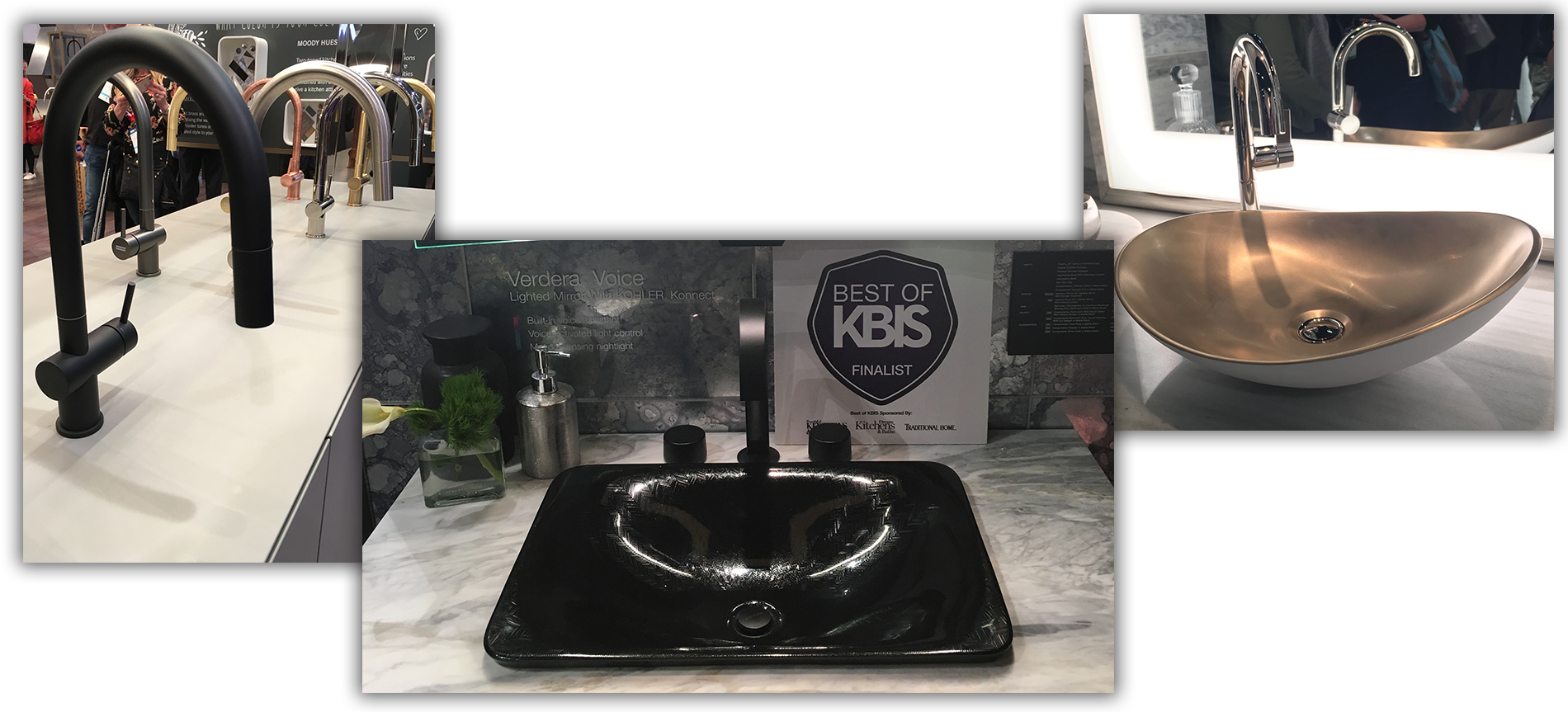 Brushed gold and matte black stole the color show, fitting seamlessly into both contemporary and traditional décor. Plus, the matte look leaves less fingerprints. <3 that function!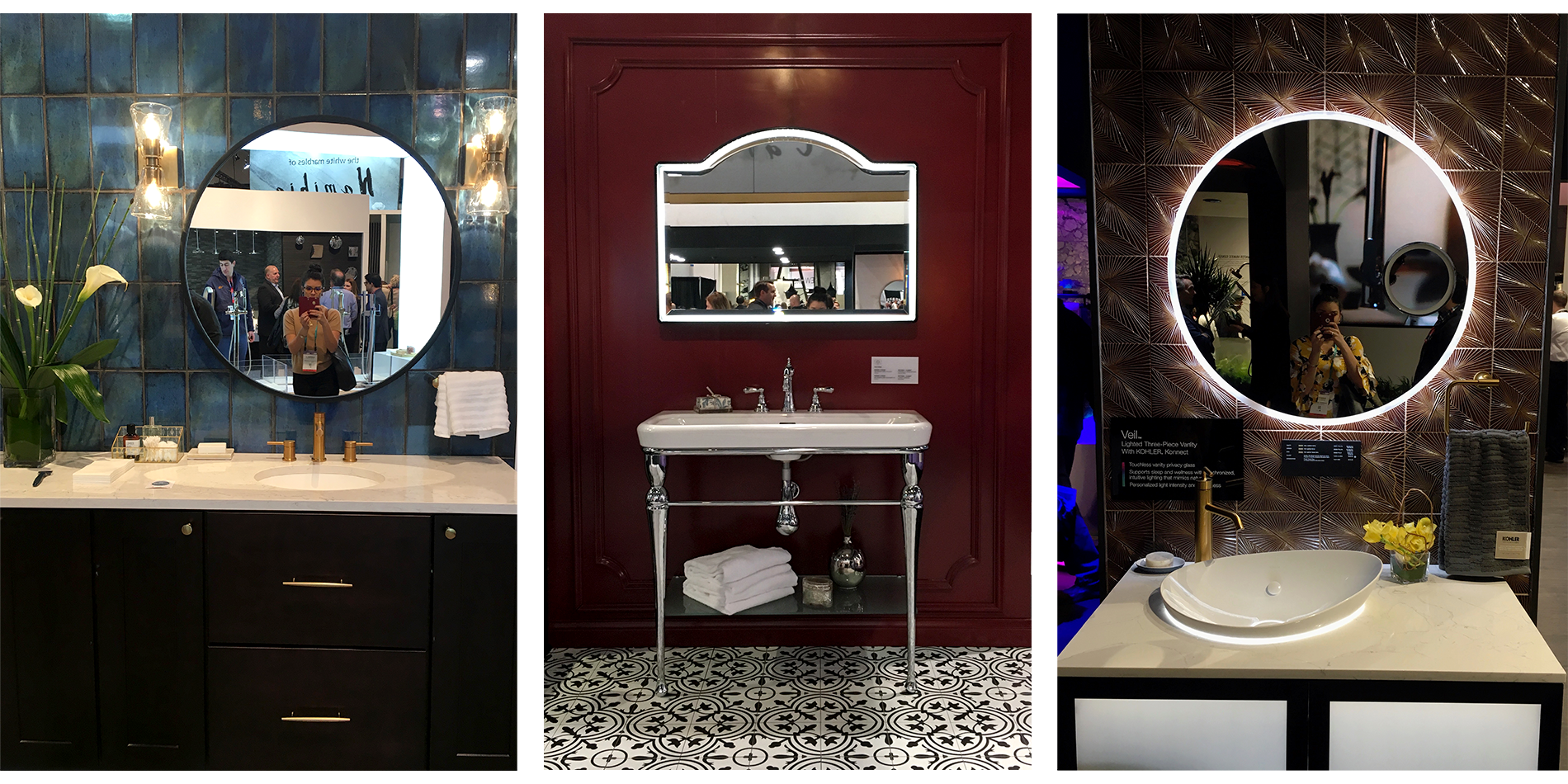 Large mirrors with simple frames or edged with a luminescent strip make a dramatic statement against colorful accent walls—and we're obsessed! Some even have add hidden functionality. See that one on the end? That's a smart mirror synchronized to mimic natural light (instead of garish fluorescents), helping maintain your natural circadian rhythm in order to promote better sleep and wellness.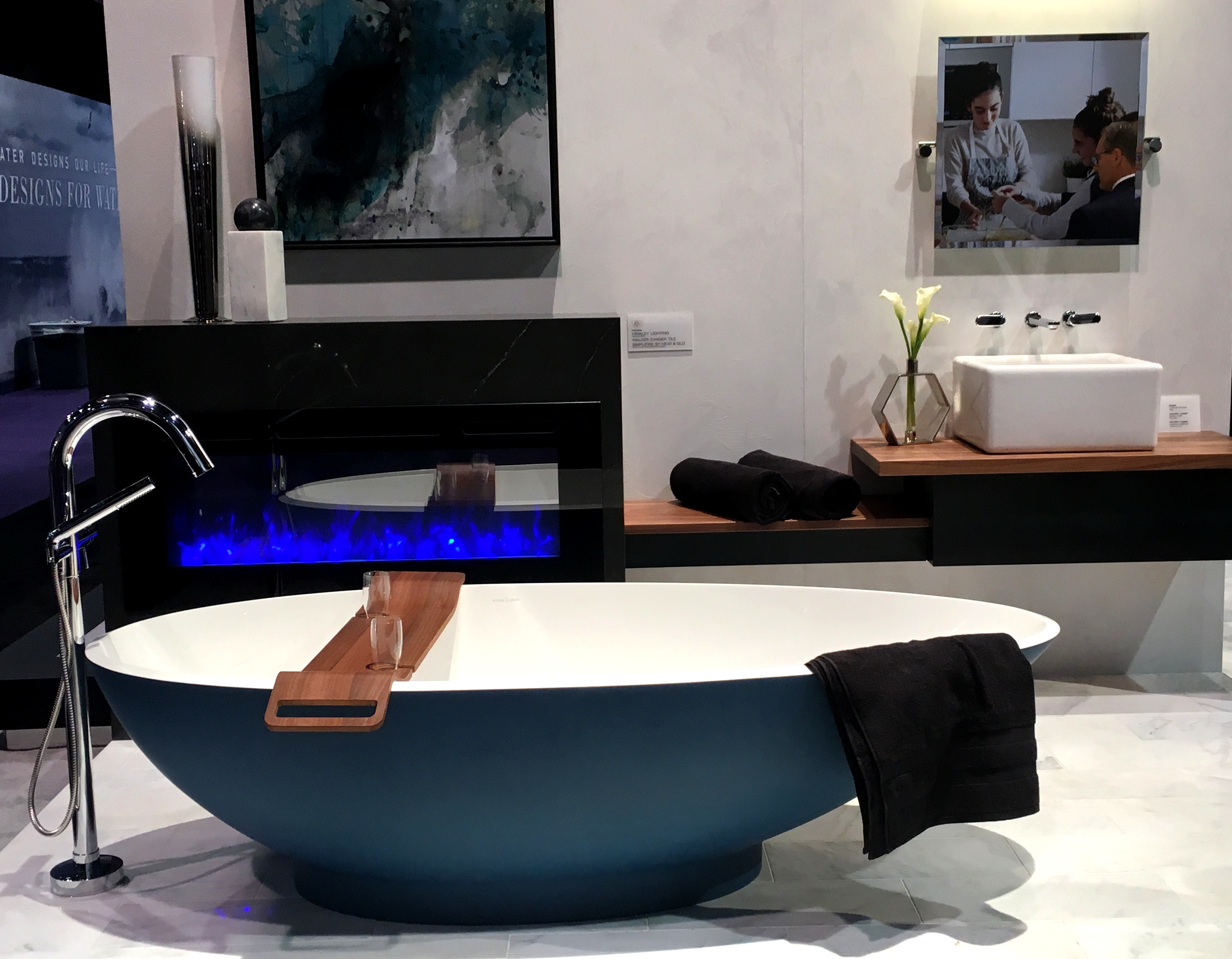 Who wouldn't want to relax and unwind in a colorful accent tub?!
Back to nature
Many lines displayed a strong focus on physical and mental tranquility through simplicity and designs found in nature.
Innovations in living small, warm neutral color palettes, and influences of hygge are just a few ways we'll see this play out in the coming months.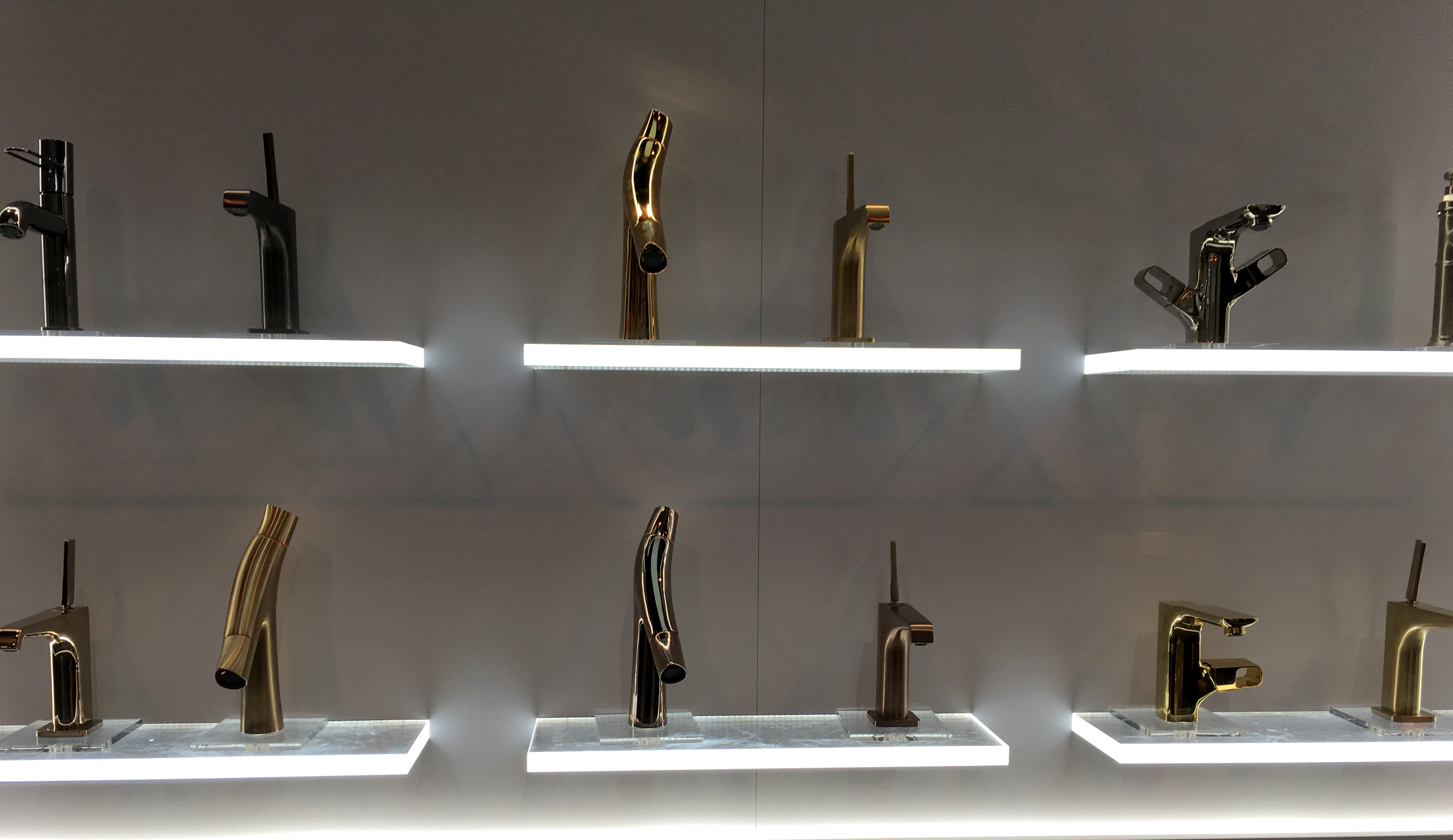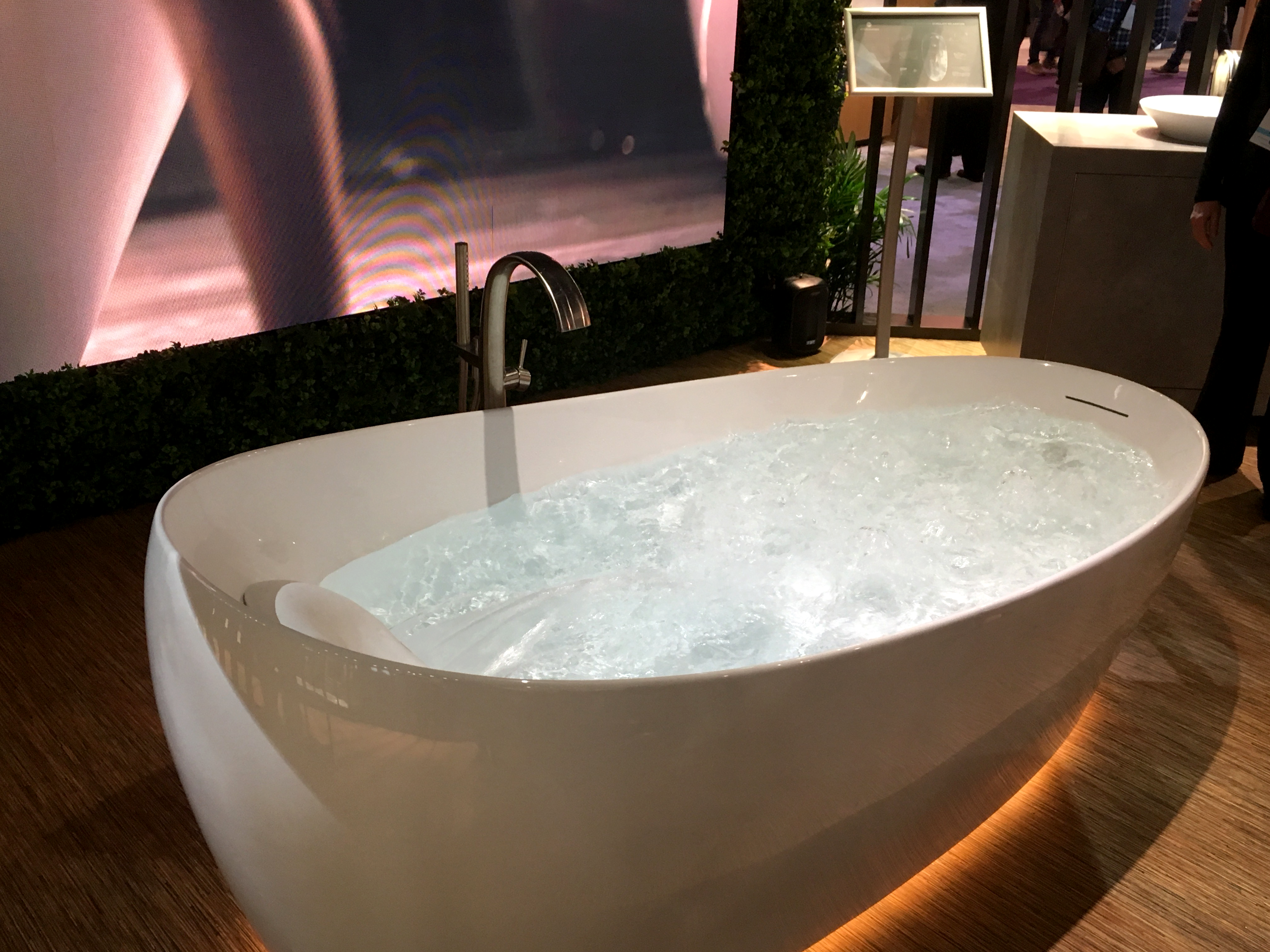 Airstream technology uses special currents to stimulate relaxation in mind and body. Plus, it's just plain beautiful!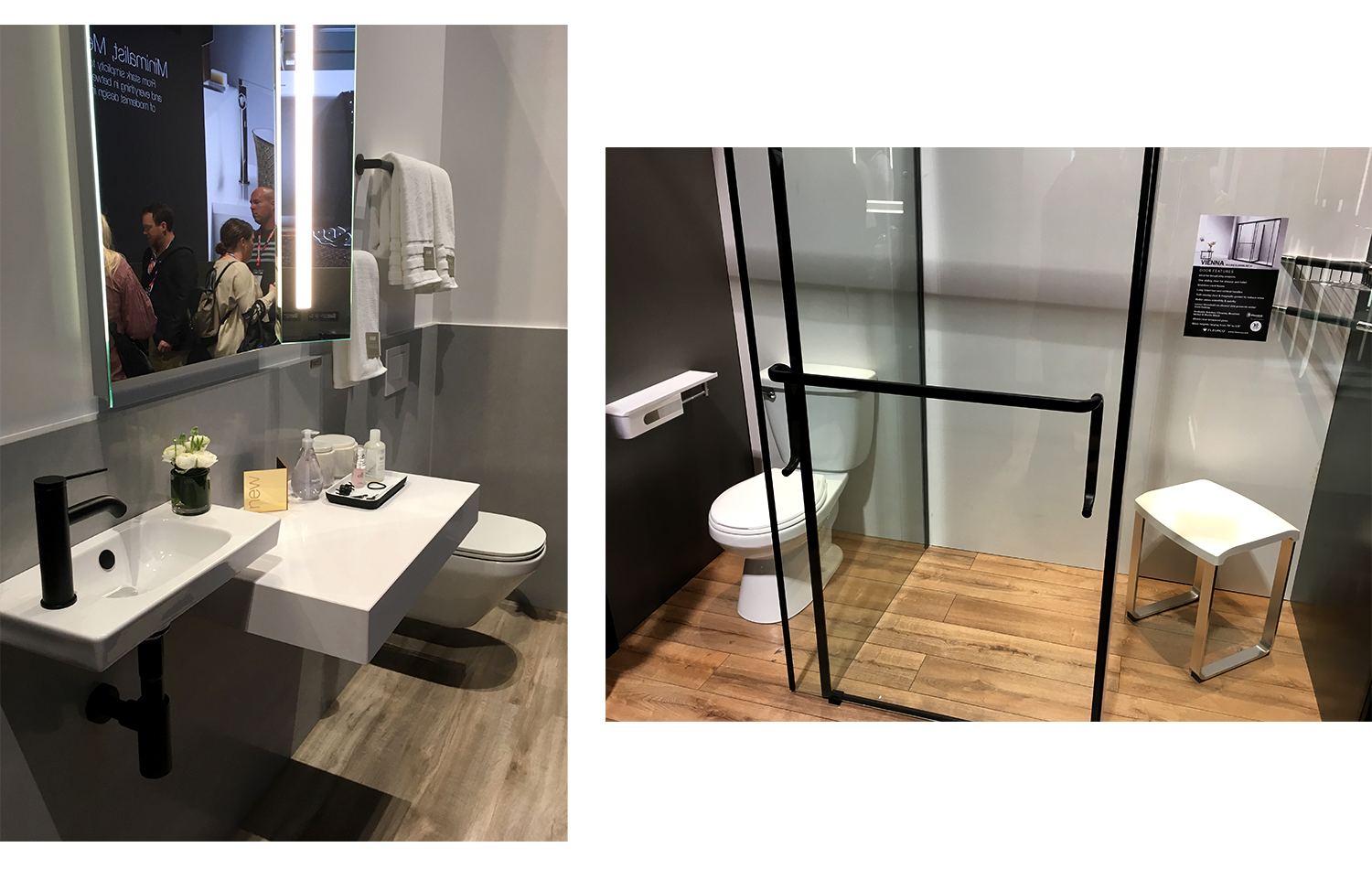 We're loving that these innovative bath spaces are perfect for small-space living or aging in place, and pair nicely with conservation-focused plumbing.
Ready or not, a smart kitchen or bathroom just might be headed your way. Trends throughout the show seemed to try to strike a balance between celebrating the natural elements that fuel this industry, like water, stone, and metal, and pairing them with today's technology to create a relaxing, functional environment tailored to each one of us.
We had a blast soaking up everything KBIS 2019 had to offer. Now tell us, which trends are you most excited about bringing into your home?