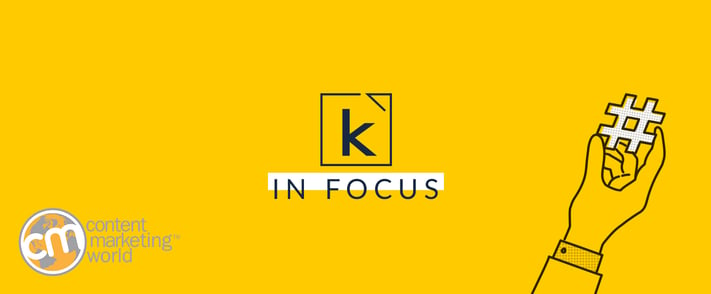 I recently had the pleasure of attending Content Marketing World, the industry's largest gathering of content marketing professionals. This conference is different from others as the content is presented by brand practitioners who share their trials, tribulations, and successes with attendees. Below I highlighted the things I took away and hope you find some things that help you in your content marketing journey.
"Content is a strategic function within a company and we have to enable the business to create good content," Robert Rose, chief strategy advisor, Content Marketing Institute.





Edelman Trust Barometer

—This survey helps us understand society's trust in government, the media, non-governmental organizations, and business. The survey is interesting and my biggest takeaway this year was that trust is local. People do not trust the government or the media, but instead trust is more local and they tend to distrust as a default. Because of this, businesses need to have a strategy for societal issues to keep building trust with the very people who purchase their products and services. This survey was mentioned in several presentations throughout the week, and I thought I would provide the information and a link so you can make your own observations from the data.


Brand voice is the new logo—A key takeaway from Ann Hadley using the Stranger Things subtitles strategy. I am not a Stranger Things viewer, but understood the point she made and the idea that we can use the written word in other ways. She had the audience laughing and thoroughly engaged in her voiceover of the subtitles. Make sure that if you cover up your logo, the voice used in your written pieces is recognizable. Additionally, she has a new book coming out next month, Everybody Writes, 2nd Edition

. It may have some tips and tricks to help. I am excited to receive my copy.




You can get a year's worth of content out of a survey. A presentation from Michele Linn taught the audience how to use a survey, gather first-party data, and turn it into content for a whole year. First, you need to ask story-worthy questions (there are questions that can help you do this). Next, you need to brainstorm an editorial angle to those questions. Once you have your angle, then choose your format. Lastly, create a plan. This can be an effective way to keep your audience engaged throughout the year and give them content that is relevant.




There are ways to sell without selling. This takes rhetoric or the art of persuasion and pathos, the understanding of a lived experience and turning it into content. In other words, take your content and ensure it always answers your audience's questions and relates to their experiences.


Content is important, we all get it, but authenticity in that content is more important to earn trust. You can do that by being the content. In the session #becontent, A. Lee Judge from Content Monsta discussed the importance of each of us being the content. People engage with people. Stop seeing content as something we create and start thinking about it as something we are. #becontent


The number one factor that contributes to success in content marketing is TIME. All great content marketing programs have taken time to create. On average, it takes two years to get a content marketing program really moving. Things that can help you along the way, according to Joe Puulizzi from The Tilt, include:

- Ensuring you use not only organic content, but also leverage purchased content in your programs. If you are struggling to create, you may need to buy a creator brand.
- Think about email first. Build your email list to create a newsletter.
- If you are thinking of a podcast, there is no need to start from scratch. Try renting space on someone else's podcast platform that has a similar audience profile to your target. Look at

Prof G

—he has several topics he covers and didn't start a new channel for each one, but now publishes more often.
Persuasive content is content that helps sell your products and services. In the session 5 Secrets to Persuasive Content, I learned the following:
- Customers listen to other people, so finding a way to let them tell their experience with your product or service will help sell it to others. In other words, social proof.
- What people hear in your messages, and rhyming your words in messaging. These are easy for the brain to process. Or use the word "imagine" in your messaging to allow your audience to imagine themselves using or experiencing your product or service.
- Tell people what you expect them to do with your product or service. If you tell them your expectation, in their subconscious they don't want to let you down.
- Ask them with an explanation. Give this a try, because you will get this benefit. Studies have shown this works.
- Use magnitude encoding when pricing your products. Magnitude encoding refers to numerical stimuli based on the size of the numbers. If a customer is getting a savings off their purchase, use $400.00 so the savings looks bigger. If you are displaying the cost of a product, just use the number 400, as subconsciously it doesn't look as large. Then there's the age-old trick of 399, which makes customers think of the price as being less than four hundred dollars.
My favorite session was Designing Your Sales Funnel for the Visual Generation. Not because it was about the generation(s) in the 14–42 age range, but because it married types of content to the funnel. I really geek out on this type of thing and liked how the presenter framed how to use the top of funnel, middle of funnel, and bottom of funnel content to bring a customer through the journey with appropriate content. I think I will save the meat of this for another blog post in November, but to give a little taste:
- Top of funnel: the awareness stage—this content should not be sales focused and the call to action should be the smallest part of the content.
- Middle of funnel: covering the interest and evaluation stages—heavy lifting content; think about what is stopping them from being a customer. Try to answer their questions to make the sale.
- Bottom of funnel: commitment and buying stage—a great place for free trials here.


Intrigued by email strategies, I attended Counterintuitive Email Marketing Strategies and found out three tactics they may help as you write your emails.
- Be transparent. This was a little hard to figure out, but when the presenters talked about some of the things they have seen marketers do, I got it. They have seen people making it harder to subscribe. How? By having the double opt-in process so that subscribers really have to want the content.
- This allows the marketer to have a tight control on their lists and can be very effective to ensure they are following procedures and practices of the privacy laws. Additional tactics were making large unsubscribe buttons and using long-form content as conversion rates were higher.
- Be relatable. Having an actual name associated with a newsletter and being vulnerable within the newsletter you write helps to make you relatable to the reader.
- Be experimental. One example they gave was to use all plain text instead of the designed marketing emails we are so used to receiving today. This may make you stand out more from all the other emails your intended audience has in their inbox.



State of Marketing to Engineers

by GlobalSpec is a survey completed every year to help understand customers as they serve the technical community across multiple industries. I wish I would have known about this survey years ago, having spent the better part of my career speaking to the technical buyer. At least now I can share it with more people. Like the rest of us, engineers are finding their data online before even contacting a salesperson, particularly through websites and directories. They prefer data sheets and CAD drawings and average about 16 pieces of content prior to speaking to a sales representative.


Google Analytics 4 and the Future of Data was a session that seemed to be a bit over my head, but I endured and ended up understanding some of the differences between Universal Analytics and the new G4. I am sure there is a comprehensive list or chart somewhere, but I thought I would share what I learned as a starting point for our readers.
| | |
| --- | --- |
| Universal Analytics | G4 |
| Sessions based on time | No session restart |
| Bounce rate | Engagement rate |
| Manual place event code | Automated events |
| Page views | Page-view ent |
| Goals | Conversions |
Kreber Has the Expertise You Need
With more than 100 years of experience, we've built a reputation for our hard work and dedication to delivering creative ideas and positive outcomes for retail and B2B clients. As an independent content marketing agency with a history of thinking ahead, we create and grow opportunities that allow our partners to thrive. We take pride in our mission to Think, Create, and Deliver compelling content that's visually stunning, innovative, and purpose-driven within the creative market. We use our century's worth of industry knowledge to help our clients save time and money, execute successful campaigns, utilize technology, and handle the strategy, planning, creation, management, and distribution of advertising and marketing content. From print and digital content marketing to social media marketing and everything in between, we're the advertising agency of choice to bring any vision to life.