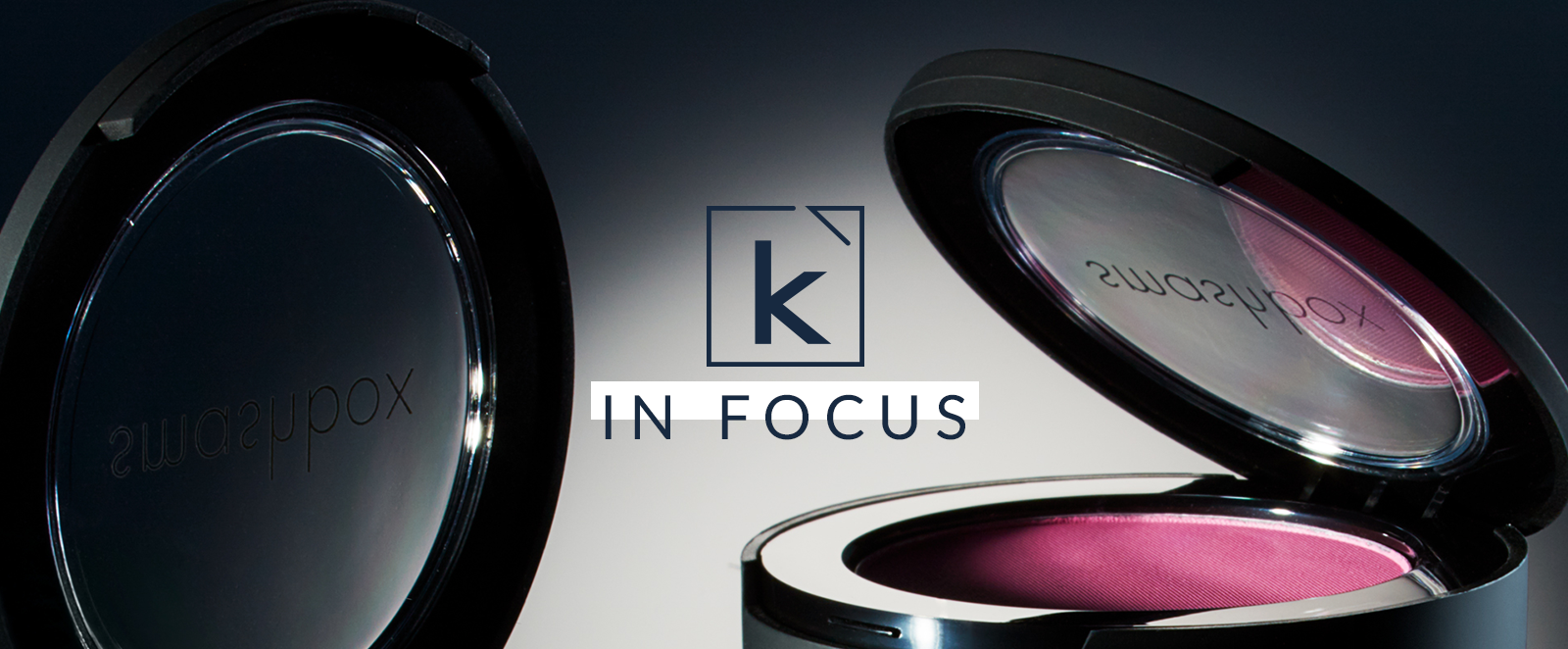 Makeup is THE hot story for Halloween this year. Unlike candy and costumes, it's calorie free, one size fits all, and works for all ages. It inspires envy and displays artistry, both IRL and online. It hits the sweet spot of social media-lovin', Euphoria-watchin' younger Millennials and Gen Zers.
This is the new generation of consumers who crave bolder looks and are willing to spend on pricier palettes and better-for-you products. (Meaning: the pore-clogging Party City grease paint of yesteryear just won't do.)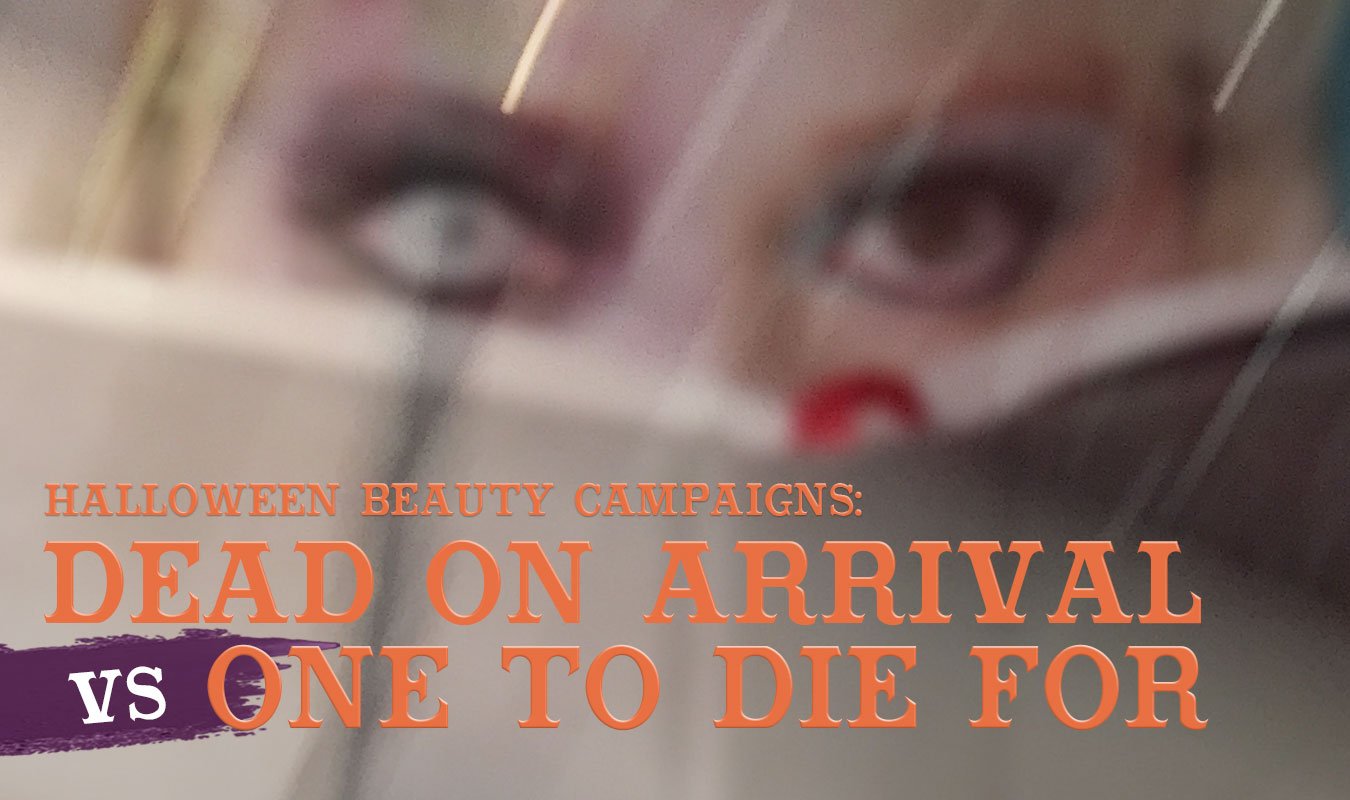 Overall, beauty is a $500 billion industry that's growing in stores and online, and has been turned on its side with the advent of Influencers, DTC brands, and YouTube tutorials that are entertaining and easy to shop. (Does your content do that?)
While candy, costumes, and décor are the big focus for traditional retailers, we wanted to see just who was committed to serving the highly desirable beauty audience in new and innovative ways. Who's executing seasonal campaign best practices? Spoiler alert: it's not the Amazons and Targets of the world.
When it comes to an example of a seasonal campaign executed as flawlessly as a cut crease…every (*clap*) retail (*clap*) category (*clap*) can learn from what we found with this audit.
A little bit better than basic
When it comes to the execution of their Halloween makeup content, Target and Walmart tick off a lot of boxes:
They each have a Halloween event page with separate "Makeup" landing pages

They show unique makeup looks either created in-house or by using influencers

You can purchase the products used to create the looks within a "Collection" on their sites. This is good!

They drive to the landing page content with social media. (Reality check: It's only 1–2 posts, which is light, but we know they have tons of other product priorities, so, que sera, sera.)

Our biggest gripe: They do NOT have dedicated video tutorials or step-by-step articles that show you how to apply the makeup to achieve the desired look. Not on their sites, not on their Insta, not in Insta Stories, not on their YouTubes. This is the equivalent of falling down while the masked murderer is chasing you: totally dumb, TBH.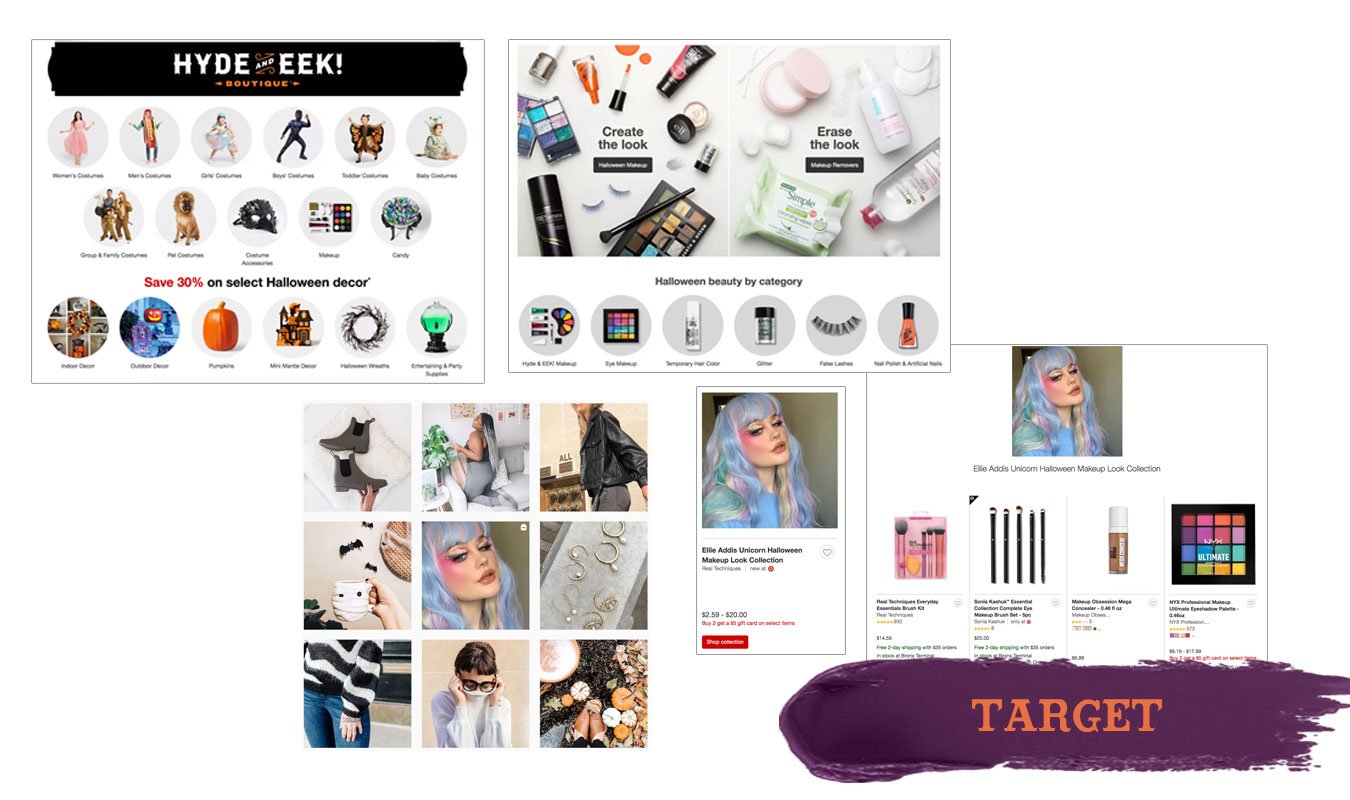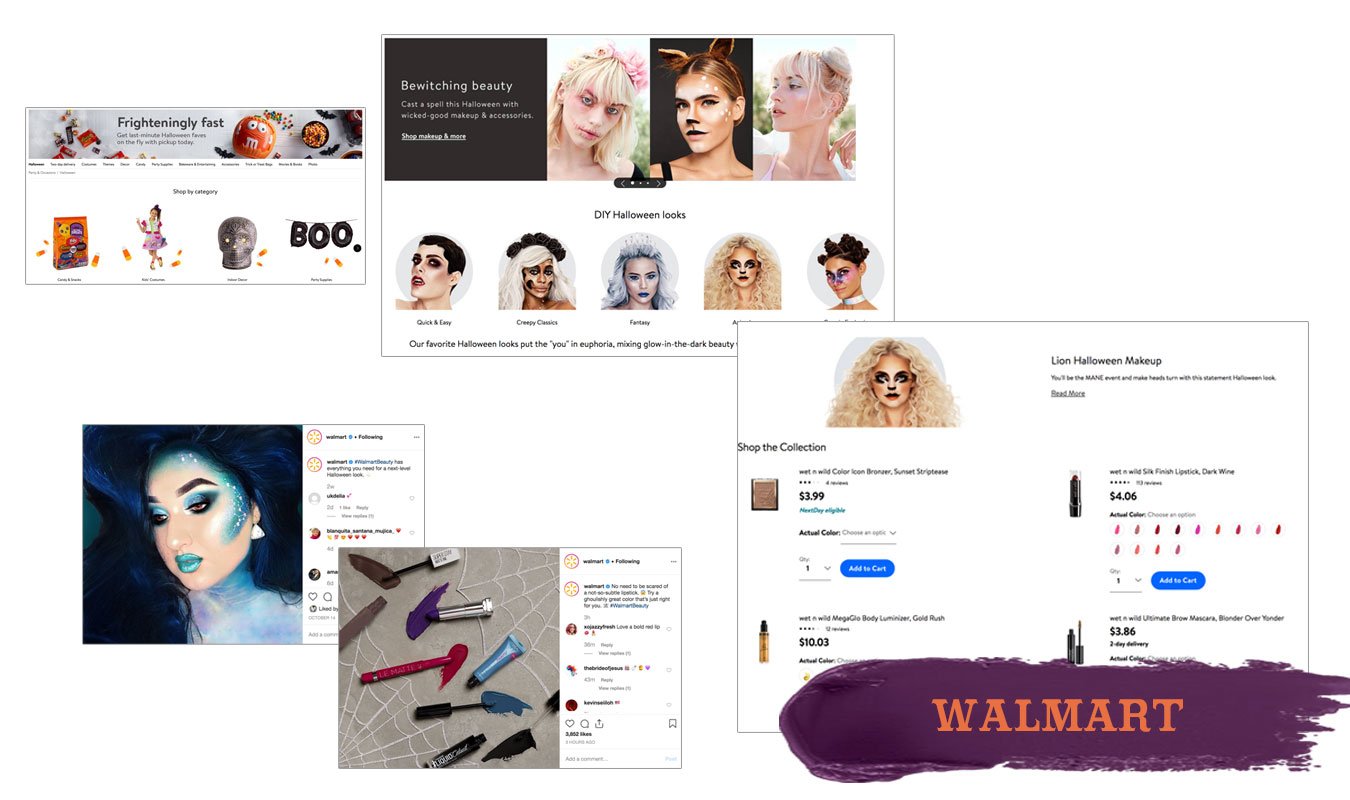 Asleep at the wheel
Amazon, as a company, has a lot going on, and giving audiences Halloween makeup tips and inspiration is clearly not high on its priority list. There is a "Halloween Store," but it does not link to the Beauty and Makeup pages. Those pages can be accessed by the main nav, but don't bother: once you get there, you only find the Lady Gaga line that was launched months ago and got a lukewarm response.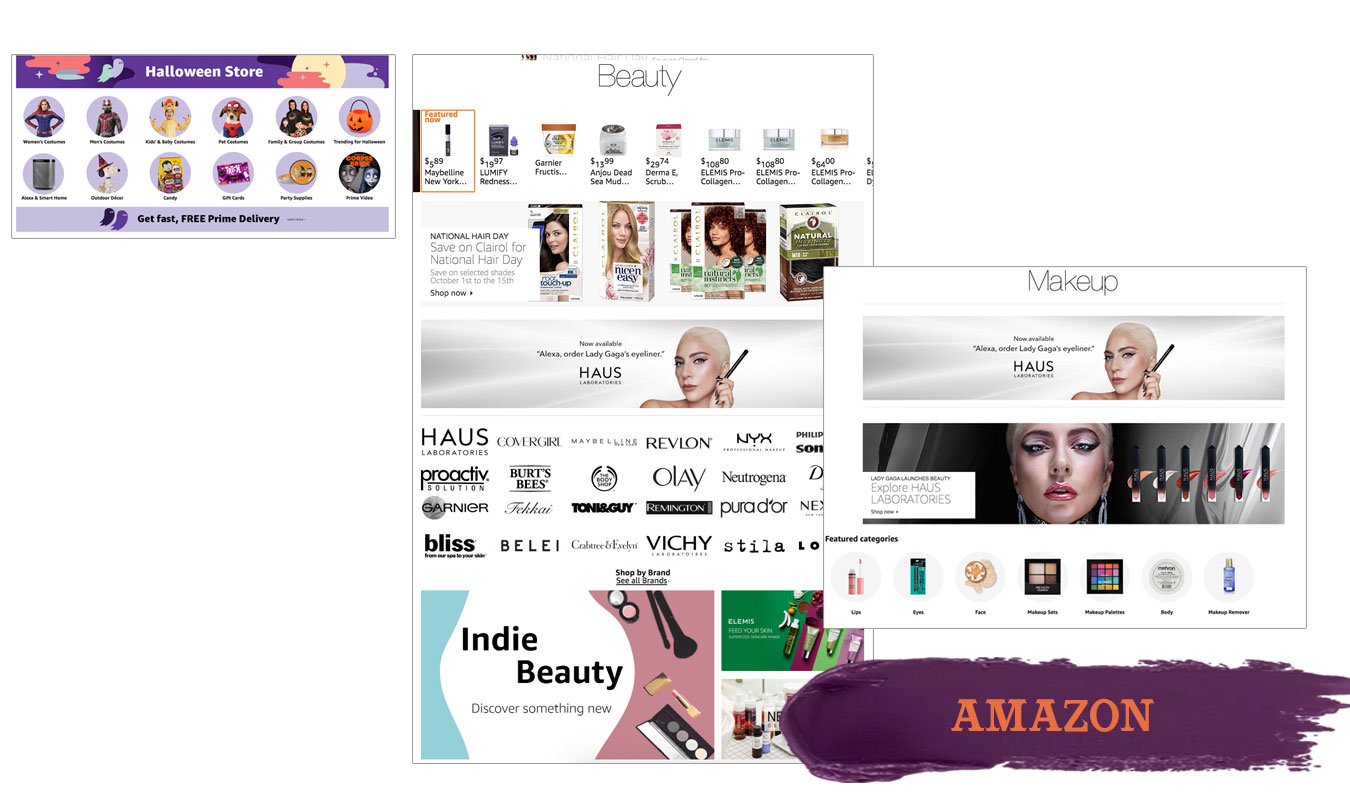 Finally, the good stuff!
NYX Professional Makeup is a cosmetics brand that is totally killing it in every way imaginable this Halloween season.
Peep this: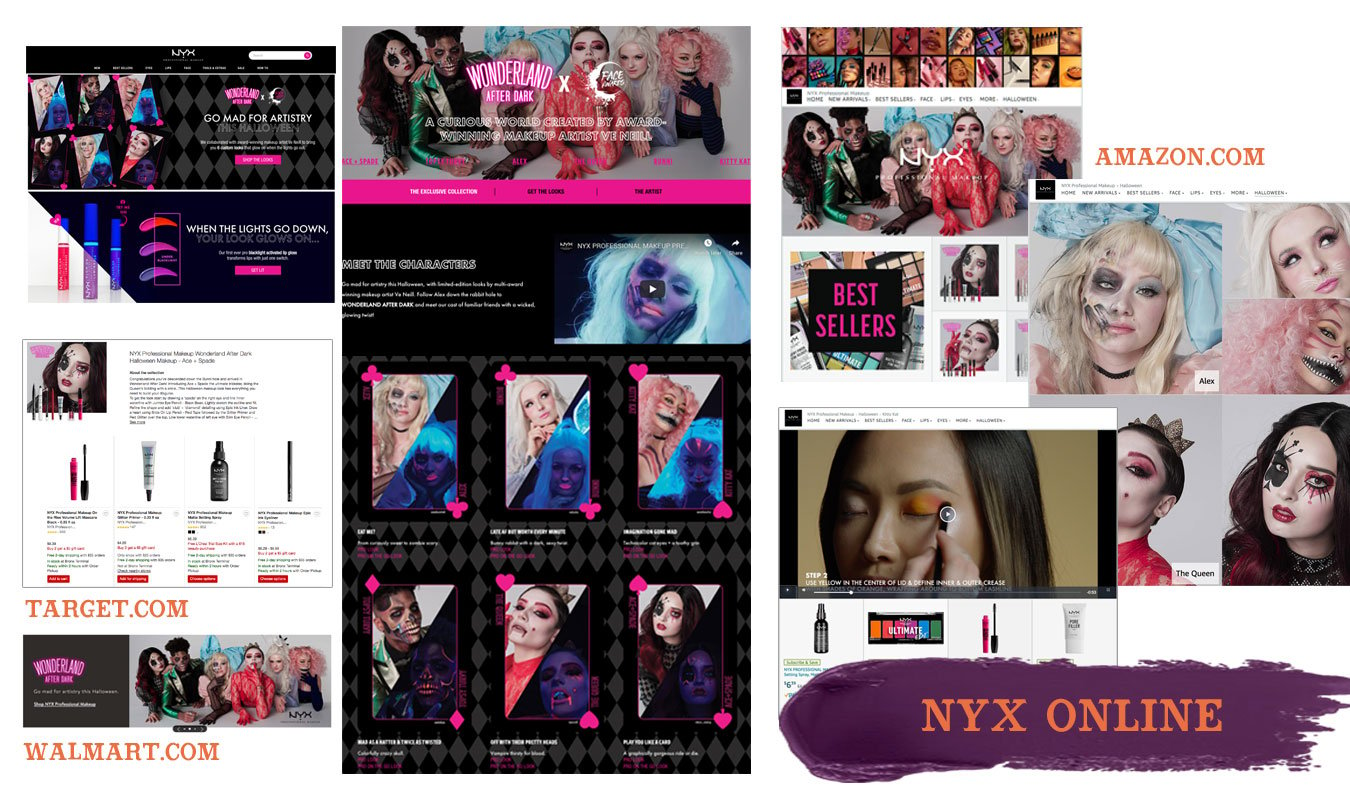 NYX's ecomm site introduces you to its "Wonderland After Dark" characters. You're given six custom looks you can shop, step-by-step articles and videos on how to apply the looks, and even a "Try It On" visualizer where you can upload your own photo.
NYX sells through Target and Walmart, too—so you'll see the character content pulled through onto those sites as well. (In some cases, the NYX campaign makes up about half of the retailers' Halloween-related makeup content, which is a great service to them.)
The bossiest boss move, though, might be its customized Amazon Brand Store. Everything is aligned with the Wonderland campaign: All of the content is repackaged a bit and includes the video tutorials.
This is content heaven, folks, and it doesn't stop there.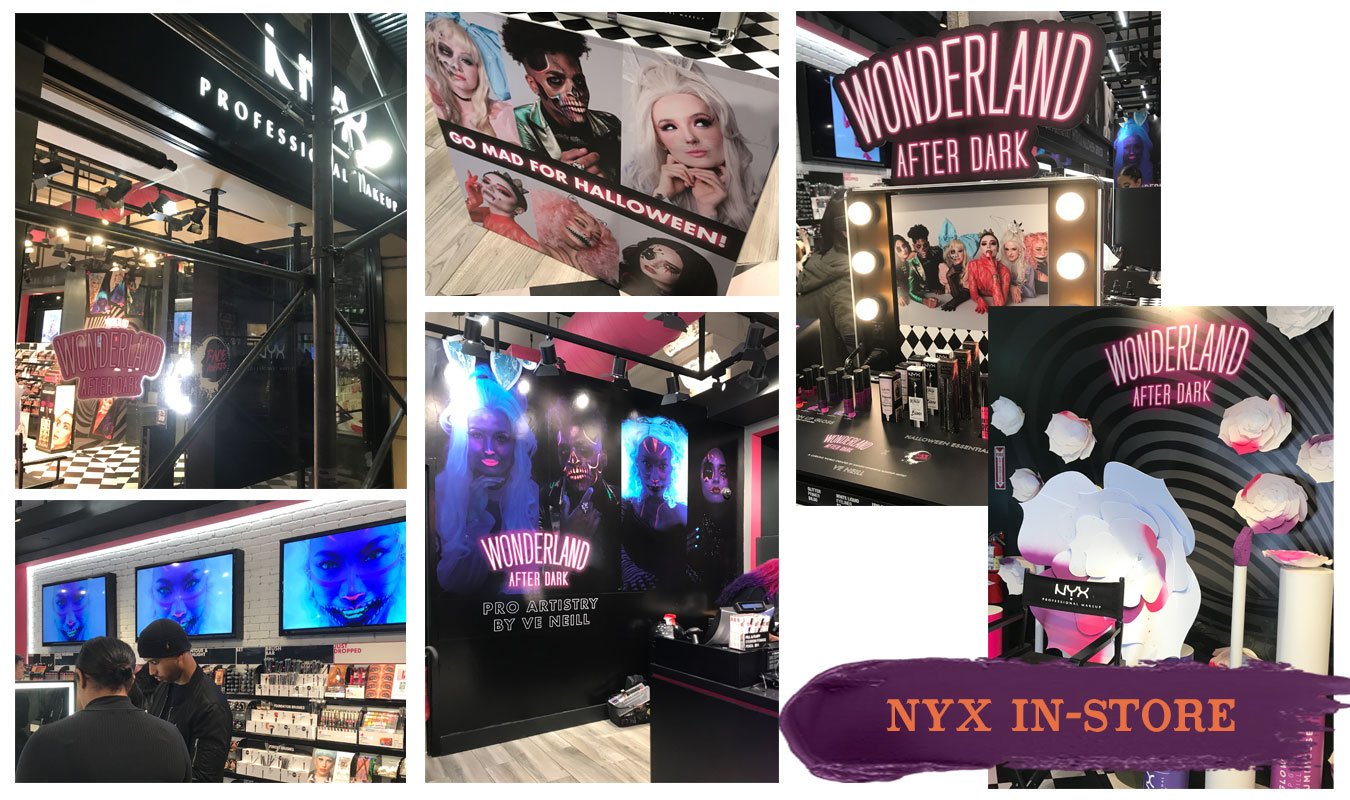 NYX has 37 stores around the country. Shots from the one in Union Square in NYC show how kitted out the in-store experience is: signage, graphics, door clings, video, the whole works. Fantastic.
Not done yet. Here's what NYX looks like at Target. This endcap was the only Halloween makeup content we saw in the entire store. They totally own it.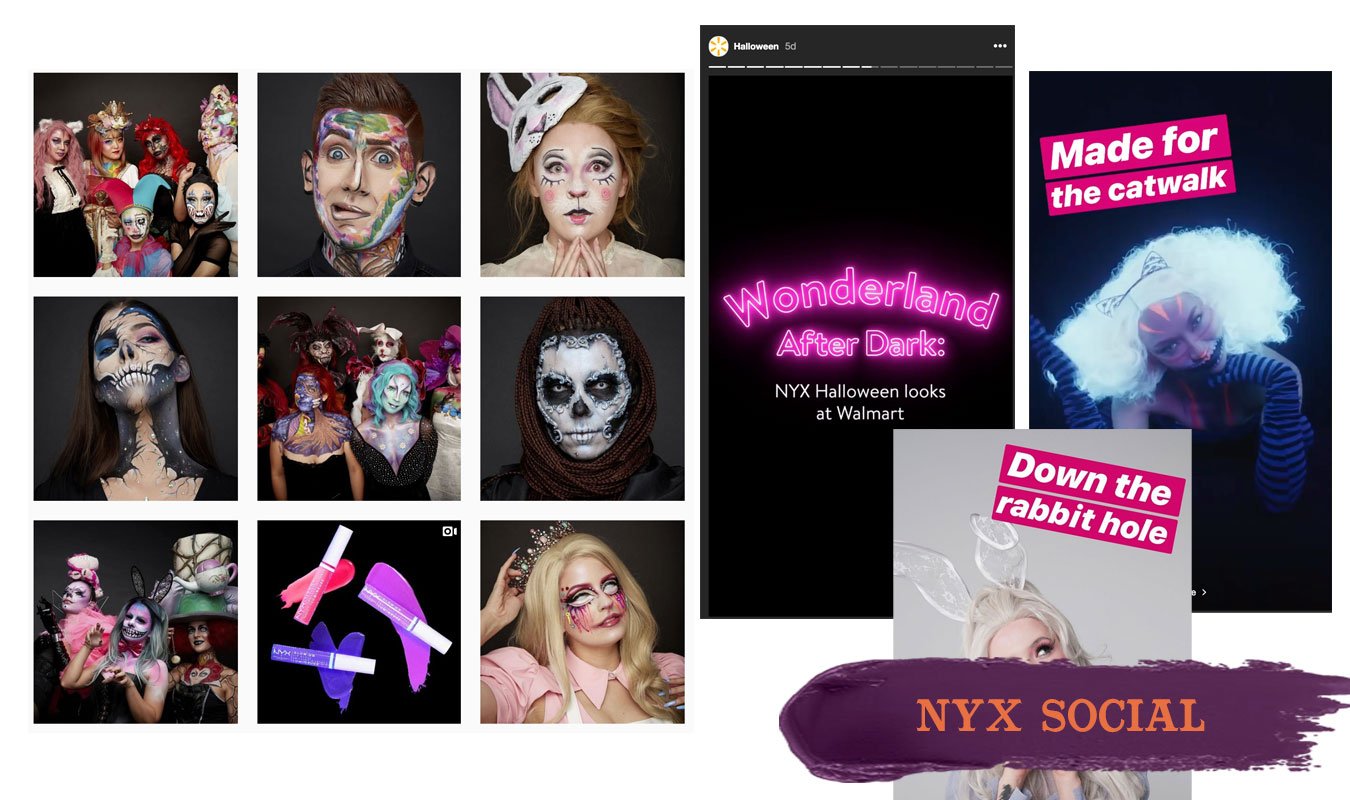 The social media? Of course, it's on point! The dedicated NYX account is filled with Halloween looks. The Wonderland Insta Story? It's from Walmart's account. It's yet another example of how the brand pulls through its priorities (with a consistent look and feel…not easy to do!) and gives retailers content that helps them look good. Total win/win.
Online, retail sites, in-store, social…it's exciting to see how a company like NYX decided it wanted to own the Halloween makeup category and pulled it off, in amazing ways. A++.
Others in the space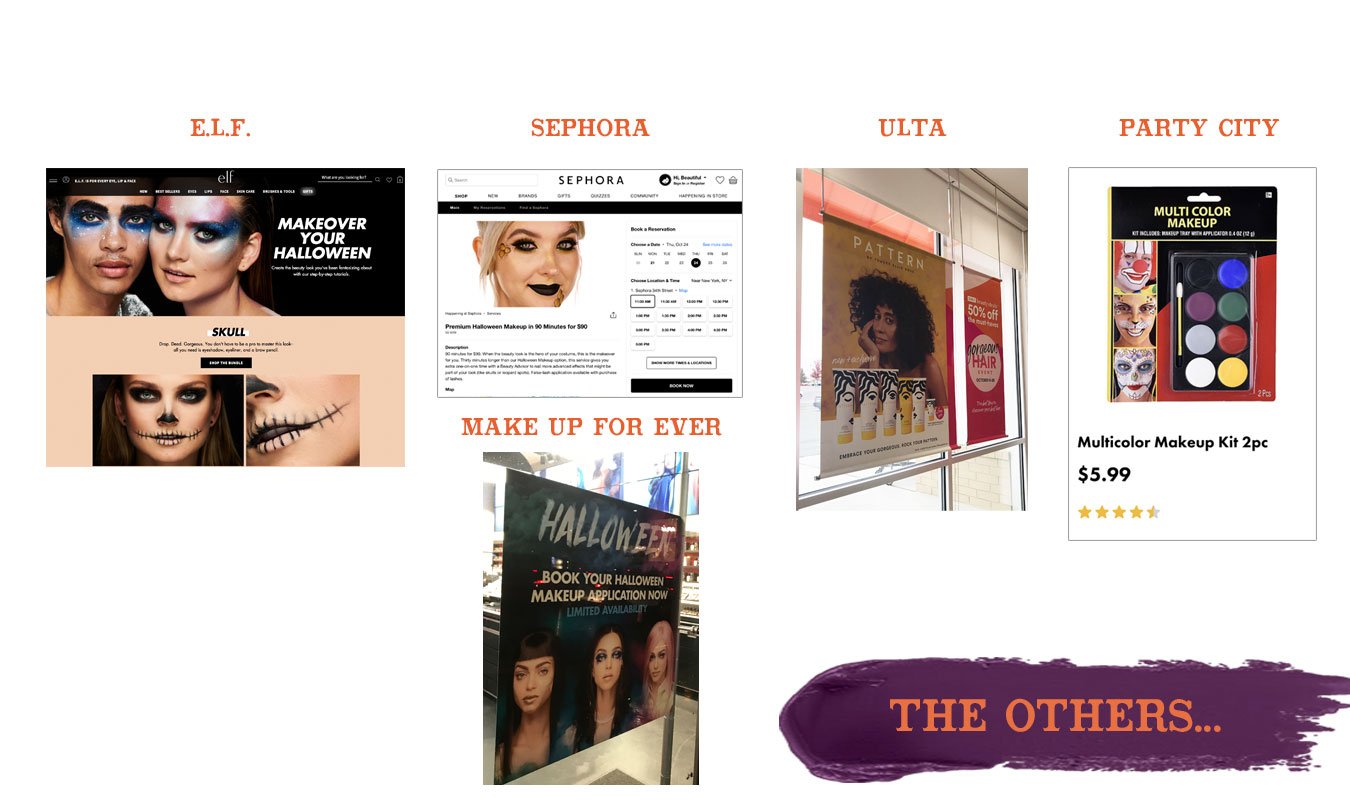 Contrast NYX's activity against other brands and retailers that are close to it in the beauty and Halloween makeup space, and you'll get even more proof of how it's so outstanding:
E.L.F. Cosmetics has a really well-done Halloween makeup landing page on its site… but not much that drives you to it, online, on social, or in-store.

Make Up for Ever (which has less than a dozen stores around the country) and Sephora both offer Halloween makeup appointments. That's a cool service and nice way to utilize brick-and-mortar locations, but yet again, not much drives you to it.

Ulta does nothing.

Party City? Ugh, that grease paint is still for sale? As if, among the ghosts and goblins roaming around, we needed something else to be frightened of this season?!
Makeup for Halloween is a super-specific category, yes. But, in that way, it's a microcosm for the retail industry overall. It highlights (pun intended) the fact that retailers and brands can't do what they've always done and still get desirable results. If you're not serving your audience in fun and surprising ways in every channel available to you, someone else will. And, no matter if you're a major player or are new to the game, that's the frightening reality you should face—and not just during Halloween.
Want to know more about how an omnichannel plan can help you wow audiences with your content, across all channels? We'd love to tell you more!