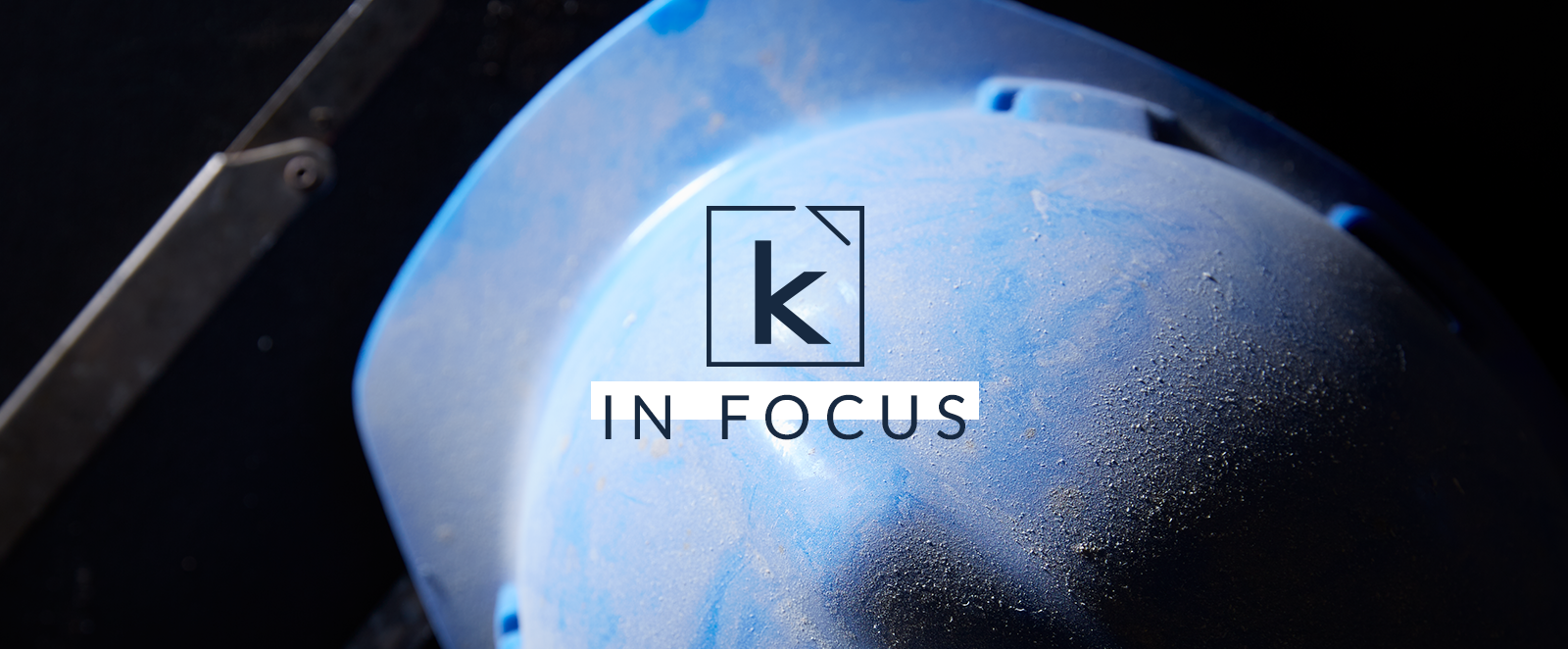 In the introductory blog to our series on power tools, we focused exclusively on enhanced product content.
To refresh: that term refers to the product details housed on retailer websites (think Lowe's, Amazon, and The Home Depot) that give customers all the information they need to make a buying decision. Except for the pros, we know that when it comes to power tool shoppers, there are two major personas: the "personal use" shopper (i.e. the DIYer), and the gift buyer. The latter is particularly relevant this time of year, when gift buying starts to dominate the shopping space, and as power tools have become a fast-rising shopping category.
With nearly $5 billion in growth forecasted for power tools by 2023 (fueled in large part by the rise in DIY popularity), many brands and retailers are reinventing how they present product content—and move customers down the sales funnel.
In this blog, we'll take a longer look at the top brands in the business to see which have taken their product marketing to a new level, and find out which brands lean into the nostalgia and brand affinity that's carried them for decades.
A handy tool for givers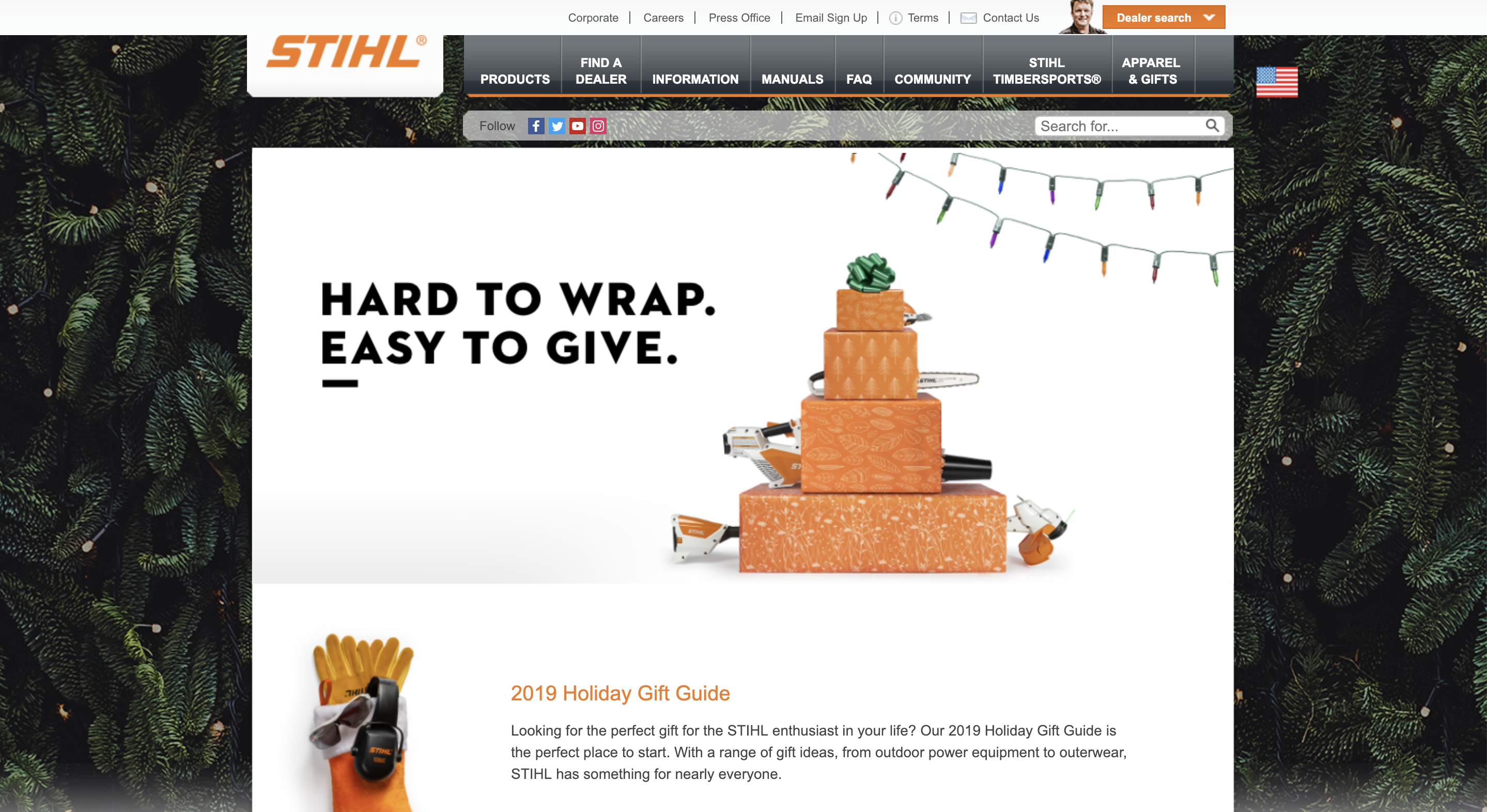 When it comes to gift buyers, one major brand has stepped up its game for the holiday season. STIHL® has developed a holiday gift guide that's prominently featured on the home page of its website. This is a great lesson for brands that sell products on retailer sites (like STIHL does with its "find local price" function on the right side of each of its internal product pages). With such large product offerings and the likelihood of the shopping experience becoming overwhelming, it's important to break it down.
Gift buyers generally want two things: to buy the best gift for the person they're shopping for and to spend as little time as possible doing so. Having the gift guide combined with a local price comparison option gives gift buyers the best of both worlds. This is a really solid customer journey.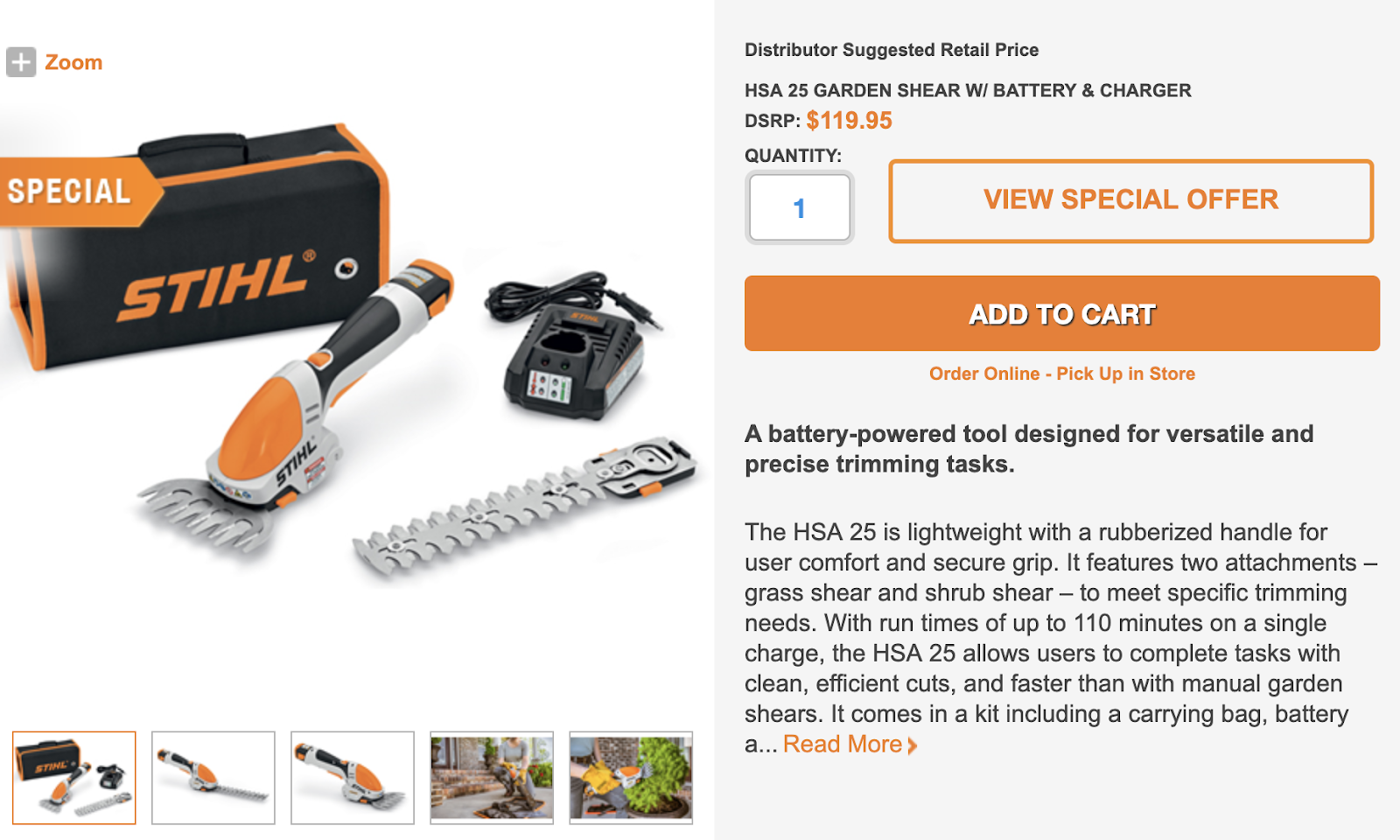 Once the customer gets to the retailer's site, it's easy for him or her to cut to the chase. This is an example of how investing in quality content—both on the brand site (holiday gift guide) and with enhanced product content on the retailer's site—can influence a customer's buying decision. Make it immersive, make it simple, and make it work.
Nostalgia reigns for DIYers
Milwaukee® Tool is a pretty unmistakable brand.
For that reason alone, it's not entirely surprising that the company really dials up the nostalgia when it comes to product marketing and the presentation of its brand. You've seen the logo many times before, even if you're not a hardcore DIYer or professional craftsperson.
On the home page of Milwaukee's website, it's leading with that nostalgic vibe but also with a throwback brand mission statement:
Since the company began in 1924, Milwaukee Tool has led the industry in both durability and performance. With an unwavering commitment to the trades, Milwaukee continues to lead with a focus on providing innovative, trade-specific solutions.
Notice what comes first in that statement? It's the longevity of the brand. Milwaukee knows, as we pointed out, that it has an iconic brand.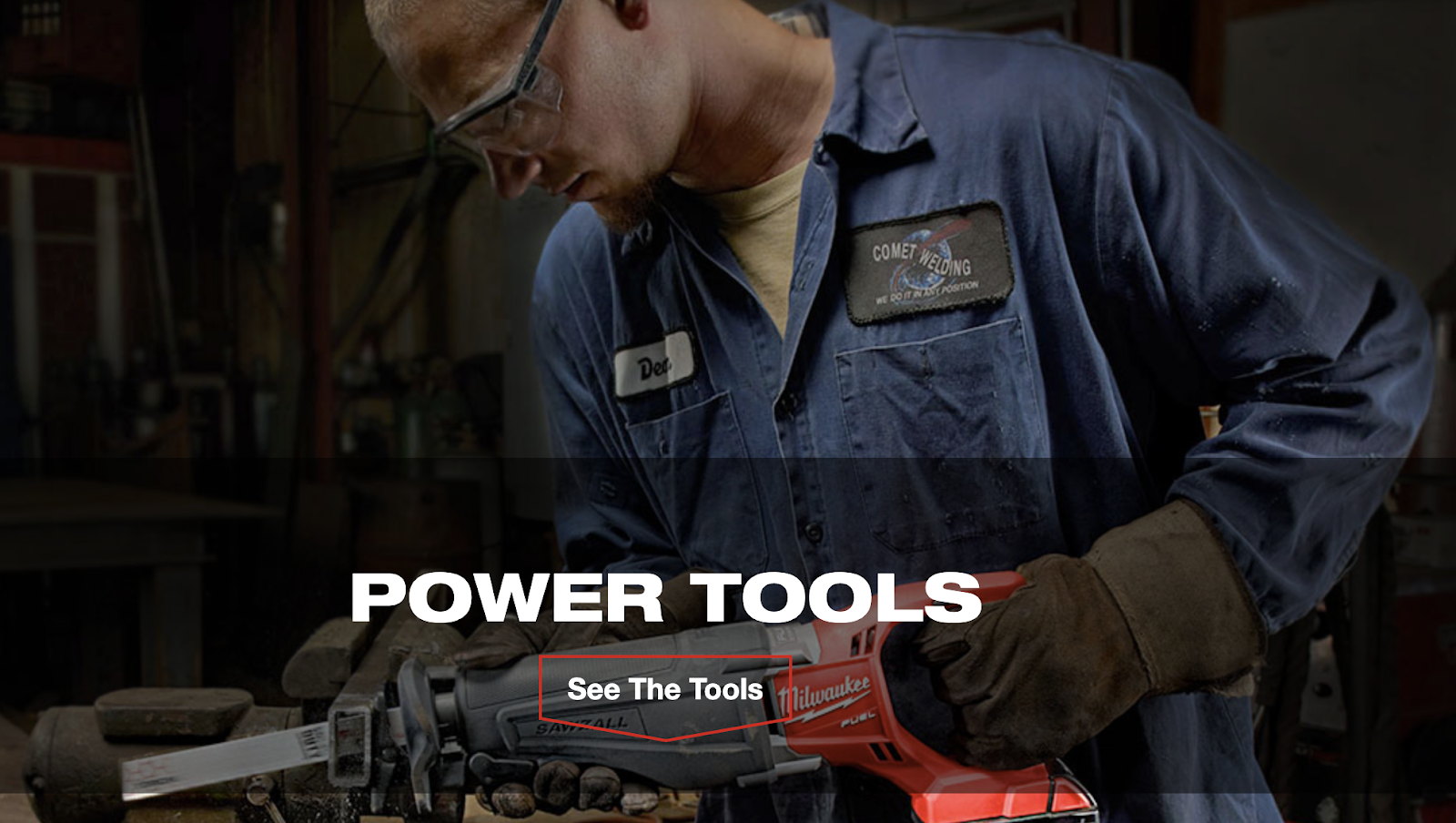 The art featured throughout the Milwaukee website has that gritty, throwback feel to it. The welder in this hero image is holding the tool with the logo front and center, and he's even got the classic craftsman's look. This is exactly what Milwaukee is going for—sure, it has cutting-edge products and is staying ahead of the game, but it wants you to know it's been around forever. And brand loyalty really carries it.
If you're going to lean into the nostalgia and brand affinity aspect, you could do a lot worse than Milwaukee.
The takeaway
What we've learned is that there are a lot of ways to cut the cake—and, if you're into it, you can absolutely slice a cake with a band saw. Just wear the proper safety equipment when doing so.
In the STIHL example, a big-name trusted brand is leveraging its digital content to reach gift buyers with a gift guide that makes sorting through a huge inventory seem more approachable—and to help accomplish its goal of getting the right product as efficiently as possible.
In 2015, the Wall Street Journal ran a story quoting the National Retail Federation, which claimed that "as much as 40% of the (holiday) season's sales happen in the 10 days before Christmas." That means accessibility and seamlessness are extremely important to secure the gift buyer, particularly in a category with which they may or may not be familiar.
On the brand affinity side, Milwaukee Tool expects you to know what it's about. The company expects that you know what you're getting when you buy one of its tools. It's a stark contrast to STIHL's holiday gift guide but is designed to capitalize on the iconic nature of the brand.
Designing that experience, no matter which persona is targeted, is best achieved with a creative partner that understands the lay of the land. We've worked with brands that have staying power to create content that elevates their messages and drives results—all while leveraging enhanced shopping experiences to bring products closer to the consumer.