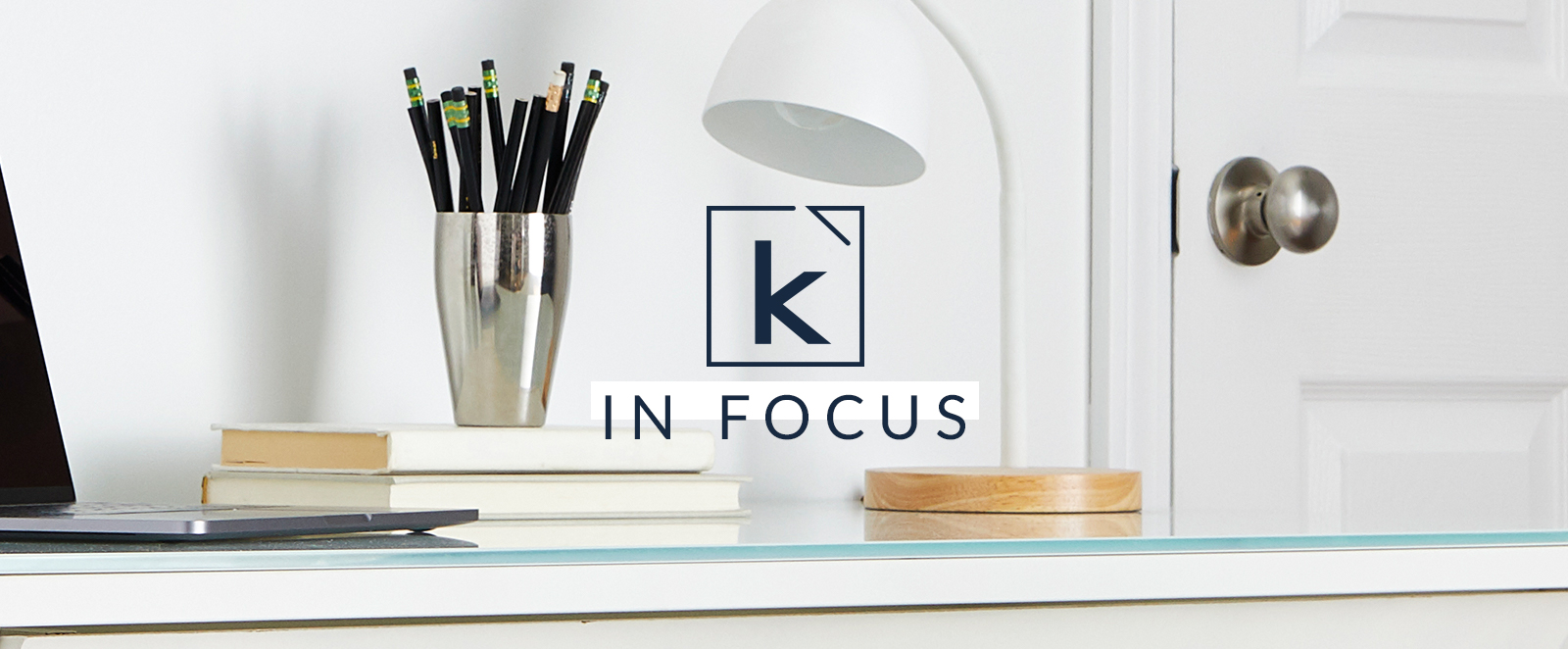 NOTE: Like many of you, we're staying home and preparing for a gradual return to the office environment. We're offering our regularly scheduled blogging (plus a few special entries) to help you refine and re-evaluate your marketing efforts for whatever comes next.
"Indian food near me."
"Retail stores reopening."
"Wine delivery service."
If you're like us, this probably looks like your search engine history at some point over the last two-plus months. While our personal and working lives have been forever changed, we've had an opportunity to learn a few things.
When we're talking about marketing, we've seen search marketing—which had already been surging prior to COVID-19—climb into the driver's seat for many brands. It makes sense, doesn't it? We're seemingly always searching for something, and throughout the pandemic, we've been on the hunt for the quickest and most accessible way to get the stuff we need.
That's a roundabout way of conveying the importance of search marketing, and in this blog, we'll get into the types of search marketing (and give you a game plan to either get started or ramp things up).
The Basics of Search
When users type a search query—a combination of words or phrases related to a certain product or service—into a search engine, they're going to receive thousands upon thousands of results. Odds are that they aren't keen on sifting through every single result, and we can't blame them. The majority of the results may not even be relevant or useful.
This is called the search engine results page (SERP), which is a key factor in determining your website's share of the traffic.
In 2019, Google accounted for just over 75% of all global desktop search traffic, followed by Bing at 9.97%.
—imPACT study
The higher you rank on the SERP, the more traffic your page is likely to get. And it doesn't just happen; there are unique strategies and tactics behind successful search marketing, from both an organic and paid perspective, that will drive results and make your content more findable.
It goes without saying: the last thing you want to do is invest in your ecommerce operation only to not appear in search results related to the products or services you're offering.
Generally speaking, we divide search marketing into two disciplines: organic (search engine optimization, or SEO) and paid (pay-per-click, or PPC) approaches.
Organic Search
We'll use Google for this example, as it's the No. 1 search engine in the world with a market share of up to 92% of internet searches, according to ReliableSoft.net.
As soon as a user inputs a search query, Google is combing the internet to find what it deems the most relevant results (i.e., websites) for that search. This tactic is SEO, which essentially means structuring your website with keywords, tags, and regular content that Google will identify as pertinent to searches.
The term "search engine optimization" also leaves little to the imagination. It's the practice of building your online presence to be optimized for better results from search engines.
But, as many marketers have learned, oftentimes the organic tactics aren't enough to get consistent results. This isn't because you're necessarily doing anything wrong, it's just that the internet is a big place with a lot of competition.
The Paid Search Approach
Pay-per-click, or PPC, should be viewed as an asset or complement to your organic search efforts. They should work in concert, not in silos.
What you're getting with PPC is a greater opportunity to have your site appear in search results. Search engines will often label these as "sponsored" listings, which are pinned to the top of SERPs.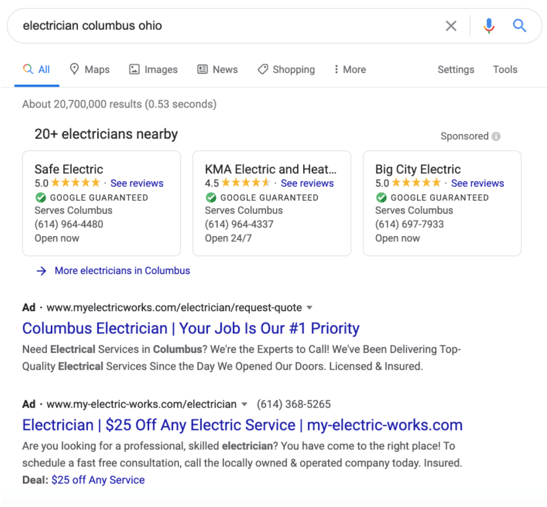 When entering a query such as "electrician" and then your city, you can see where PPC can be helpful. There are 20.7 million results for electricians in Columbus, Ohio, but the first two listings are PPC ads—and when advertising on Google, you'll need to start with a Google Ads (formerly known as AdWords) account.
PPC means that you pay a certain amount when someone clicks on your listing (the cost per click, or CPC). You'll set a maximum CPC for each keyword you're targeting, as well. Google makes creating PPC ads simple: you'll set your goal—website clicks, for example—then choose where to advertise, set a budget, and then monitor its performance.
Where the Rubber Meets the Road
Google will offer suggestions for how to refine and adjust your ads if they're underperforming.
Here's a quick crash course on Google Ads that will help you get started.
Now that you have the basics of search marketing and the two primary methods, you have a foundation to start with. It's key to remember: from an organic perspective, success won't be instantaneous. And with respect to paid search, keeping a close eye on performance will help maximize your budget and get better results.
Got questions, concerns, or need a creative partner to get the ball rolling? Drop us a line and we'd be happy to chat.