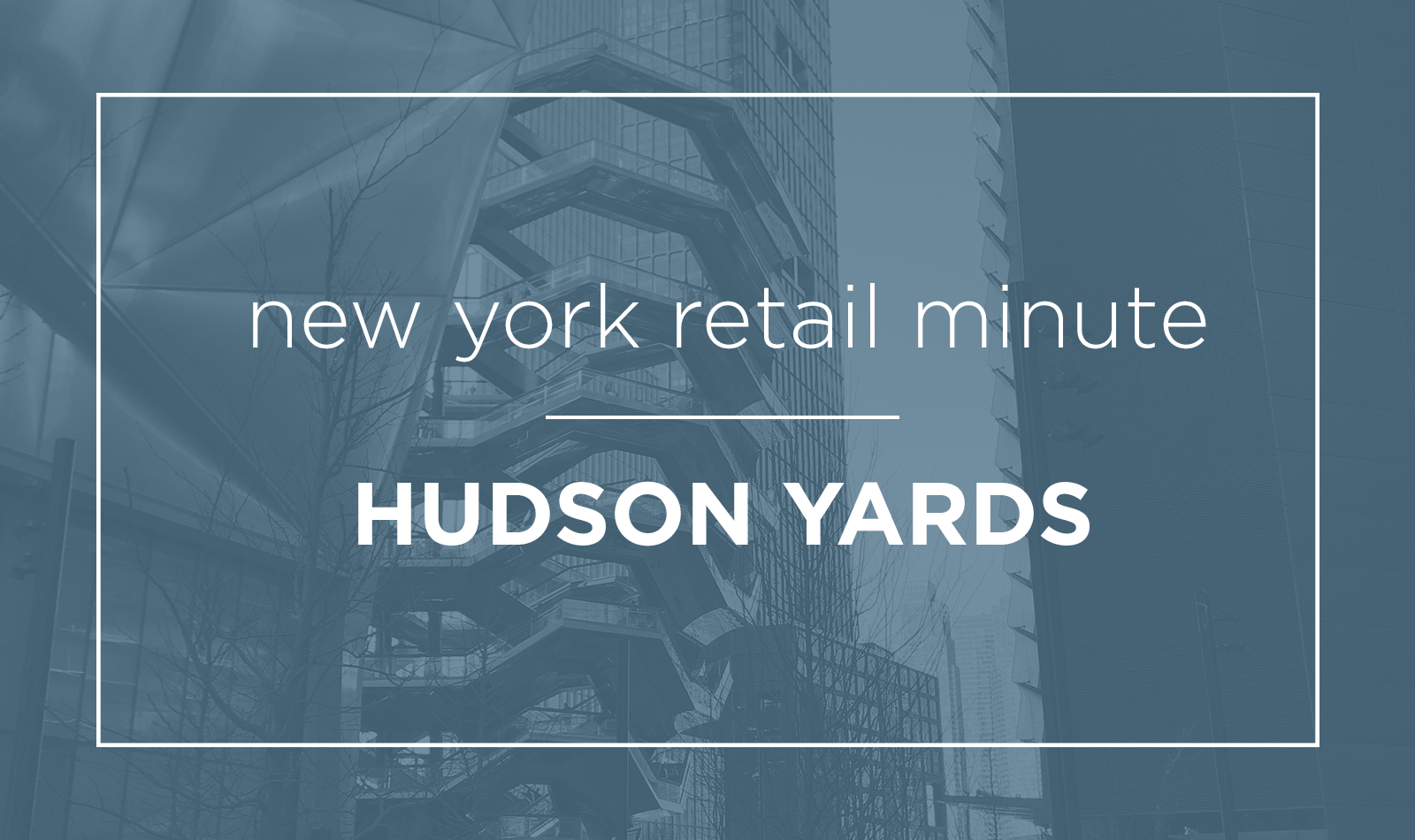 Hudson Yards, a brand-new $25 billion development, officially opened about a month ago on the west side of Manhattan. It's a spectacle—but you may be shocked at how old-school the shopping experience is.
Overall, the area is built to be a mixed use mini-neighborhood. A playground for the well-to-do. Within steps of its luxury residential towers, you'll find an arts center, the world's first Equinox Hotel, a public square and gardens, and lots of restaurants.
You may have already seen the jewel in its crown, a sculptural winding staircase called The Vessel floating across your Instagram feed.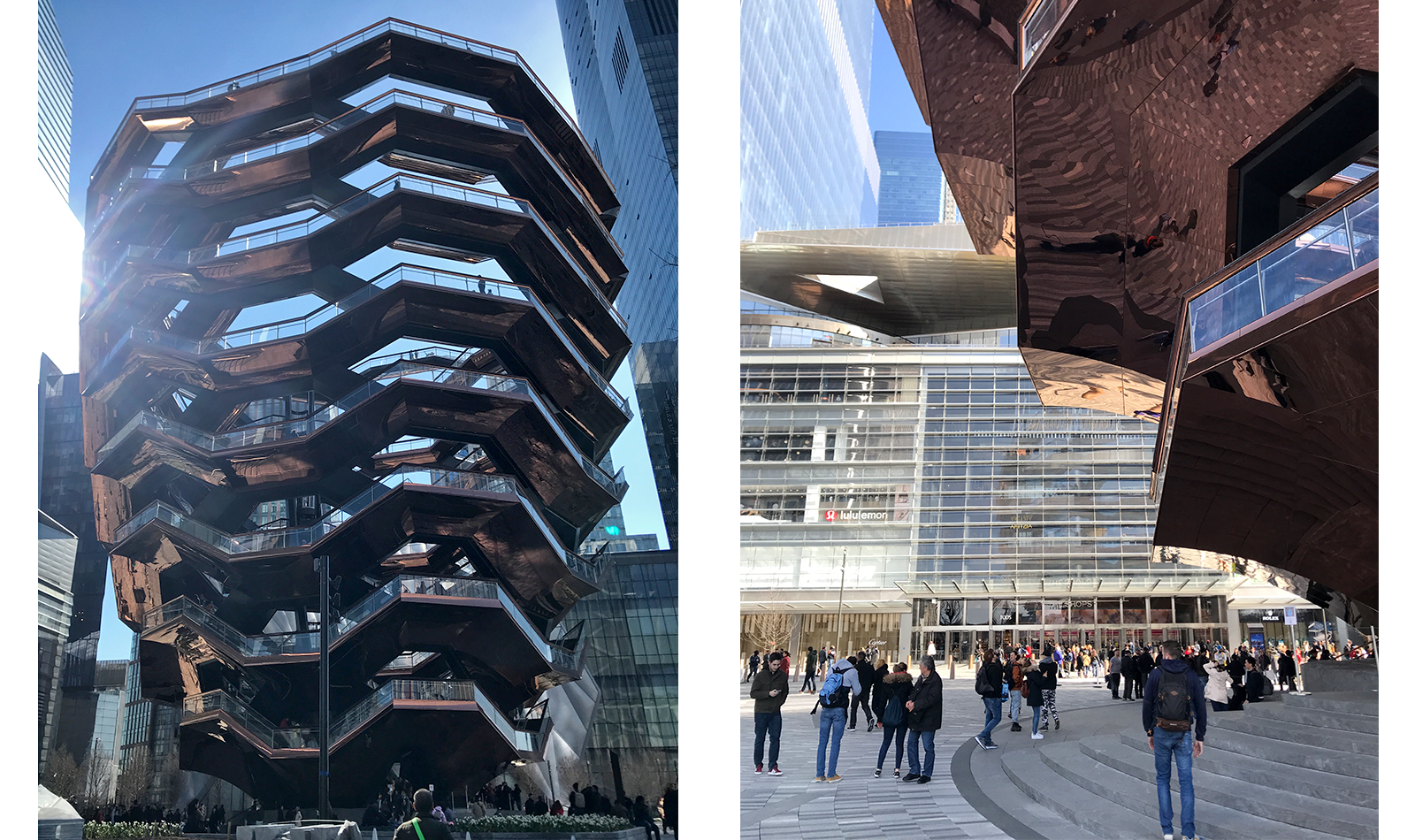 The shopping complex is 7 stories tall, with New York's only Neiman Marcus location as its anchor. It's full of luxury destinations (Chanel, Fendi, Dior) as well as the fast fashion places we can still afford (Zara, Banana Republic, H&M).
What's going to surprise you, especially if you're coming from out of town, is how OLD-SCHOOL MALL-ISH IT IS. Seriously. From the piped in music overhead to the escalators that may or may not be working…for some reason, the developers have actually dipped back into retail's dark, dusty past in order to build "a 21st-century urban experience."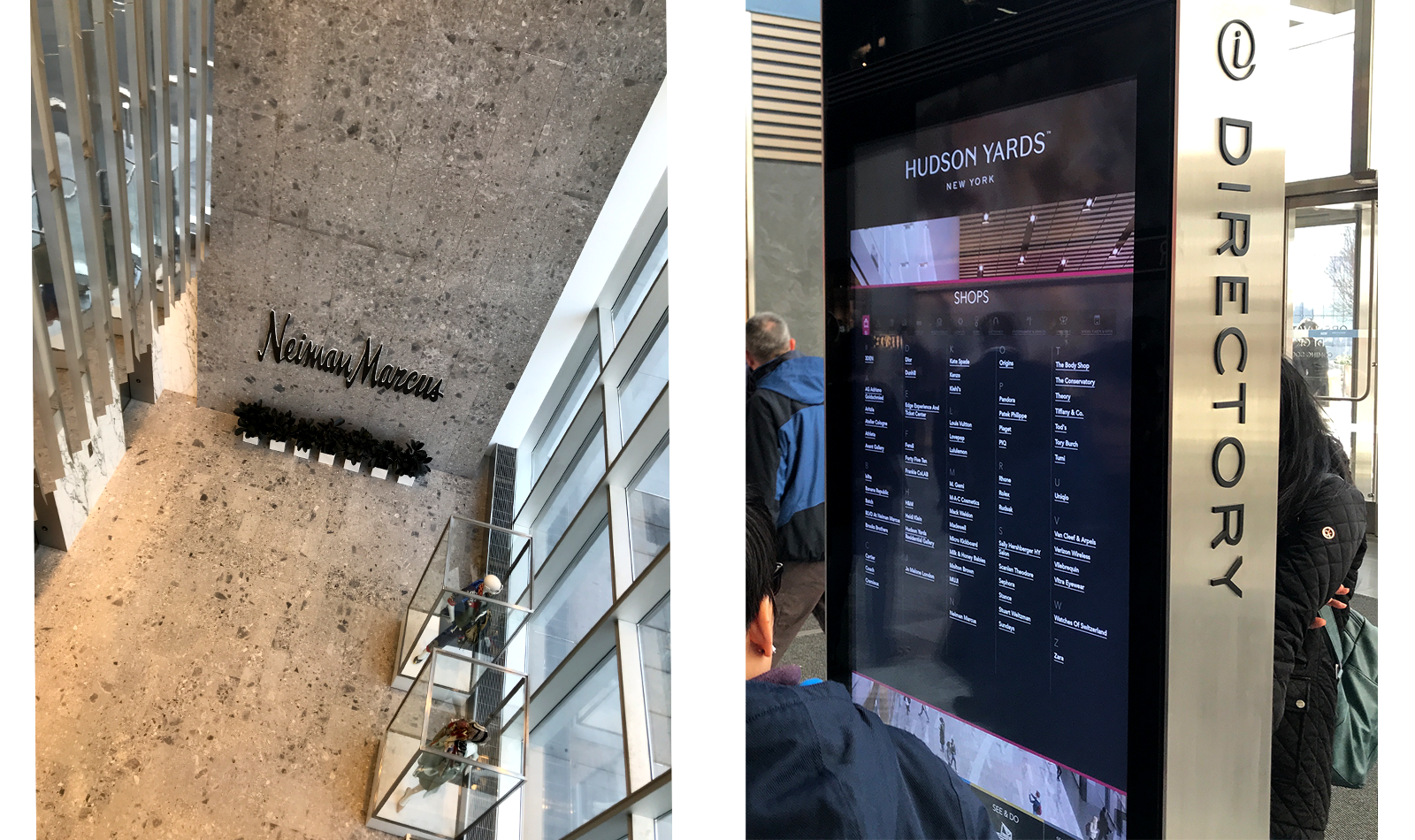 What?! I know.
While the rest of the country is opting for open-air "being spaces" that allow stores to have their own entrances, facades, and personalities, Hudson Yards has taken it way, way back. You can practically smell the Cinnabon wafting through the air (though, of course, it's not there, and if it was, it would be something artisanal for $27).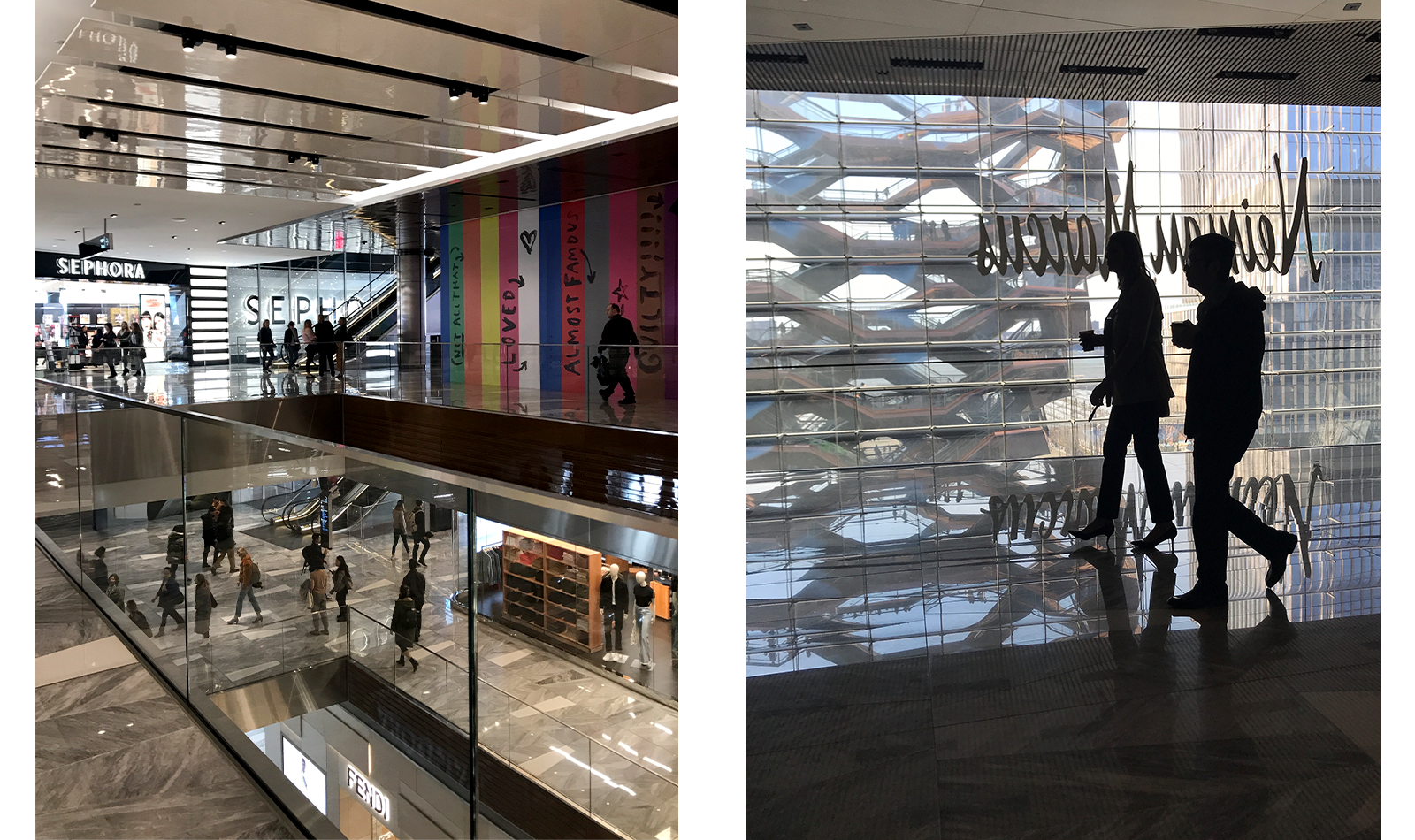 It's odd. It's similar to the recent Brookfield Place development in lower Manhattan. It's nice. It's enclosed. It's away from the elements. When you're there, you forget you're in New York City, but who wants to do that?
New York shopping, at its best, is those iconic, historic shopping districts. Whether it's the high-end stores on 5th Avenue or the "High Street" shops on Broadway in Soho, you feel like you're in a movie montage, going from store to store, hair all shiny and bouncy, cabs honking, shoppers whizzing by. That's best life territory!
There's not even that much next-level tech in play visibly at Hudson Yards. The directory when you walk in is touch screen. Apparently the Neiman's has virtual shopping assistants? This is the shopping structure of the future?
The Vessel is definitely a spectacle and worth seeing in person. Maybe Hudson Yards' shopping area will find its footing. (Art installations on the walls are a step in the right direction.)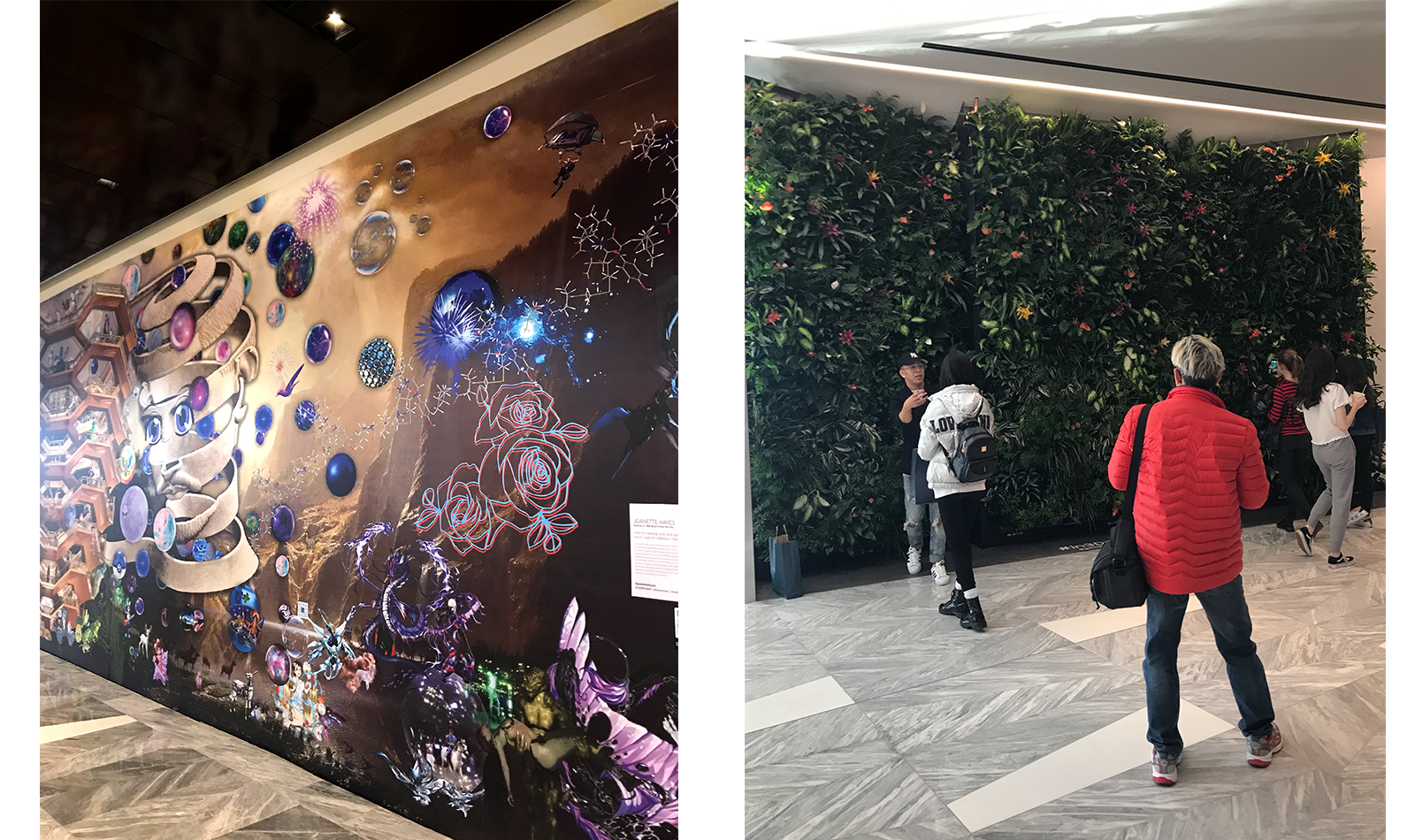 See it once, dress cute, take your selfies—then get yourself to a more traditional New York shopping area when it's time to really throw down.
Celebrating the uniqueness of a city while taking in all of its messes and its marvels...that's a more modern retail experience we can get behind.