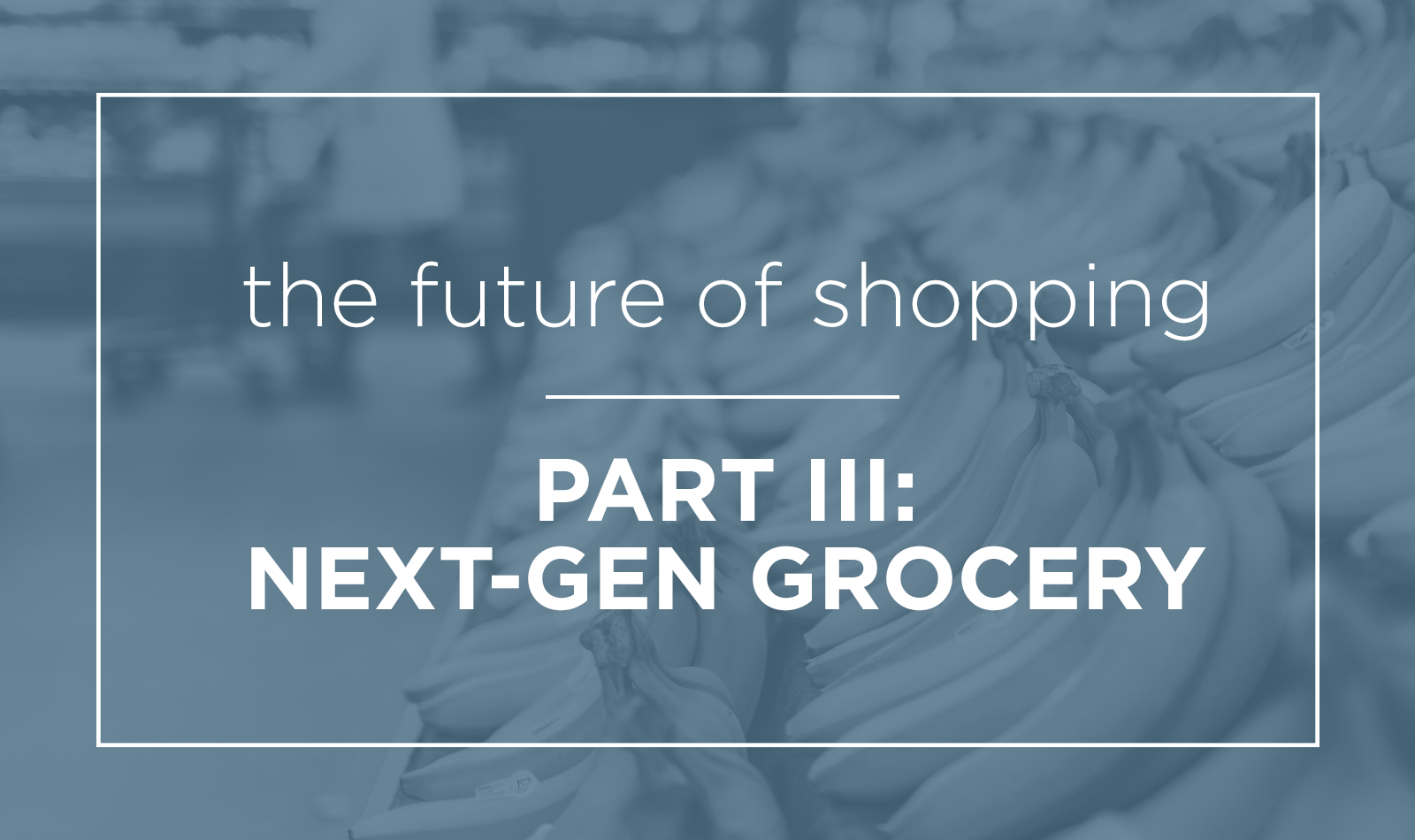 Amazon's investment in Whole Foods was a signal to the rest of the grocery industry—the times are changing. We're at a period of time when it seems as though no big-name retailer is safe from Death By Amazon, but rather than take a back seat, grocery chains are in a position to grab the wheel. For starters: their inherent knowledge of the industry is a big-time advantage.
While the numbers don't lie (Amazon's revenue is measured in the hundreds of billions), they shouldn't be a white flag. Retail as we know it is entering a new era, and in Part I and Part II of this three-part series, we examined how big-box retailers are adapting in both home improvement and consumer goods.
Here, we'll talk about grocery stores and a rapidly changing customer experience that's been largely untouched for generations.
Kroger's bold play
When you think of grocery shopping, there's a better-than-decent chance you'll think of Kroger. The grocery chain, which first opened its doors in 1883 (yes, that's 1883) is one of the longest-standing in the country; Kroger now operates stores in 35 states, and amassed $121 billion in revenue in 2018.
Sure, Kroger's kind of a big deal, but the Amazon foray into the grocery business has forced some creative thinking. You can't just survive on pitching low prices with a traditional experience anymore, because the consumer has told us that price isn't top of the list. Convenience and ease-of-use are on the rise. That means online shopping, in-store and curbside pickup, grocery delivery, mobile technology in-store (Scan, Bag, Go is Kroger's entry into this market)—among many others.
Some of Kroger's latest innovations are inspired by Amazon's approach to Whole Foods. Kroger is clearly trying to give its customers the option to customize their experiences, whether they want to shop in-store or online, and whether they prefer to grab a cart and explore or have their order ready when they arrive. Instacart, a mobile shopping startup that was available to 70 million U.S. households near the end of last year, is Kroger's partner for online shopping, pickup, and delivery. The grocery shopping experience is now smartphone-friendly and, if you prefer, is start-to-finish mobile.
But that's only one piece to this multi-aisled jigsaw puzzle. What if consumers don't have time to do the shopping, even if it's order-ahead? Kroger has an answer for that, as well; it bought DTC meal kit company Home Chef—the country's largest meal kit provider—for $700 million in 2018 and has brought Home Chef into stores nationwide.
It's a game-changer for Kroger as it strives to make grocery shopping as seamless as possible: Home Chef's distribution centers ship to 98% of all U.S. households within two days, and the partnership is a win-win for both Kroger and Home Chef. Kroger wants to provide its customers with as many options as possible to acquire groceries, and Home Chef is getting its product into a different arena while also making it more accessible.
Ugly, yet pretty cool
Kroger is planting its flag in the social responsibility category—something Amazon and Whole Foods haven't been able to nail down yet. The company made a major announcement in 4Q 2018, announcing it has a "zero food waste" goal by the end of 2025, an initiative that also includes ending hunger in the communities it serves.
"Pickuliar Picks" (clever, right?) is Kroger's bold new endeavor that re-introduces "imperfect" produce to its stores, products that would have otherwise been thrown away because they don't meet visual qualifications to be available at retail. Because of this, 6 billion pounds of otherwise-eatable fruits and vegetables are wasted every year in the U.S., something Kroger hopes to end with this new "ugly produce" brand.
Kroger aims to end what it calls the "fundamental absurdity" in the U.S. food system: 40% of the food made in America is thrown out, while 1 in 8 Americans goes hungry. Absurd, indeed.
How Kroger Stacks Up:
Record $121 billion revenue in 2018
Creating revamped, digital-driven retail experience
"Zero Food Waste" initiative launched in 2017
$700 million acquisition of Home Chef brand
Make way for Albertsons
Similar to Kroger, Albertsons (another leading grocery chain) is leaning into the digital-first consumer experience. Also a partner with Instacart and boasting 2,300 stores, Albertsons has taken numerous steps to get in front of this "next-generation" grocery revolution, and one notable addition is a mix of internal and consumer-facing technology.
Albertsons has invested in technology (Performance Media) somewhat inspired by Amazon that captures consumer data, like preferred products, to serve ads within its own digital platforms. Kroger's grocery-delivery service, Clicklist, features similar mechanisms for customizing coupons and featured products based on its customers' shopping behavior. This technology is applicable at both ends of the buying spectrum, both for the grocery chain's vendors and for shoppers.
So, what does that mean? It means whenever a customer uses Albertsons' digital platforms to shop, the company gets information on what they buy, when they buy it, and how they buy it, as well as trends in their purchases—which gives both Albertsons and its product vendors an opportunity to customize digital ads. A customer that buys a lot of fresh meat from the store will, in all likelihood, see targeted ads for those products upon using the app and digital platforms again.
The next question is, obviously, the most important: does it work? For Albertsons, the answer is yes. The company increased its ecommerce revenue by 73% in 2018 and acquired brands like Plated and Safeway, continuing to grow its customizable food offerings. There's real momentum here for Albertsons and, based on what the company has done over the last 12–18 months, it's not satisfied with merely hanging around in this grocery arms race—it's serious about being a leading contender.
How Albertsons Stacks Up:
More than 2,300 locations in the U.S.
$59.9 billion revenue in 2018
Built and launched its Performance Media tool
Major acquisitions of leading brands Plated and Safeway
Increased variety of shopping and product options
Will grocery shopping ever NOT be a chore?
In short, the answer is yes. And it's happening right now.
Grocery shopping as we've known it for so long—carts, lists, your kids, and at least an hour out of your day—is undergoing a seismic transformation. Whereas other industries have seen evolutions that aren't exactly consumer-friendly, the grocery revolution is entirely focused on consumers' needs.
Amazon fired the first shot across the bow with an investment in Whole Foods and then "Amazon-ifying" the shopping experience, but it appears to have shaken the traditional grocery industry in a good way. Kroger and Albertsons are two prime examples of grocery chain giants responding to Amazon, and while their back-and-forth clamoring for competitive advantages is surely just getting started, it's all gravy for shoppers.
The more customer-friendly and efficient grocery shopping becomes, the more we (the shoppers) benefit.