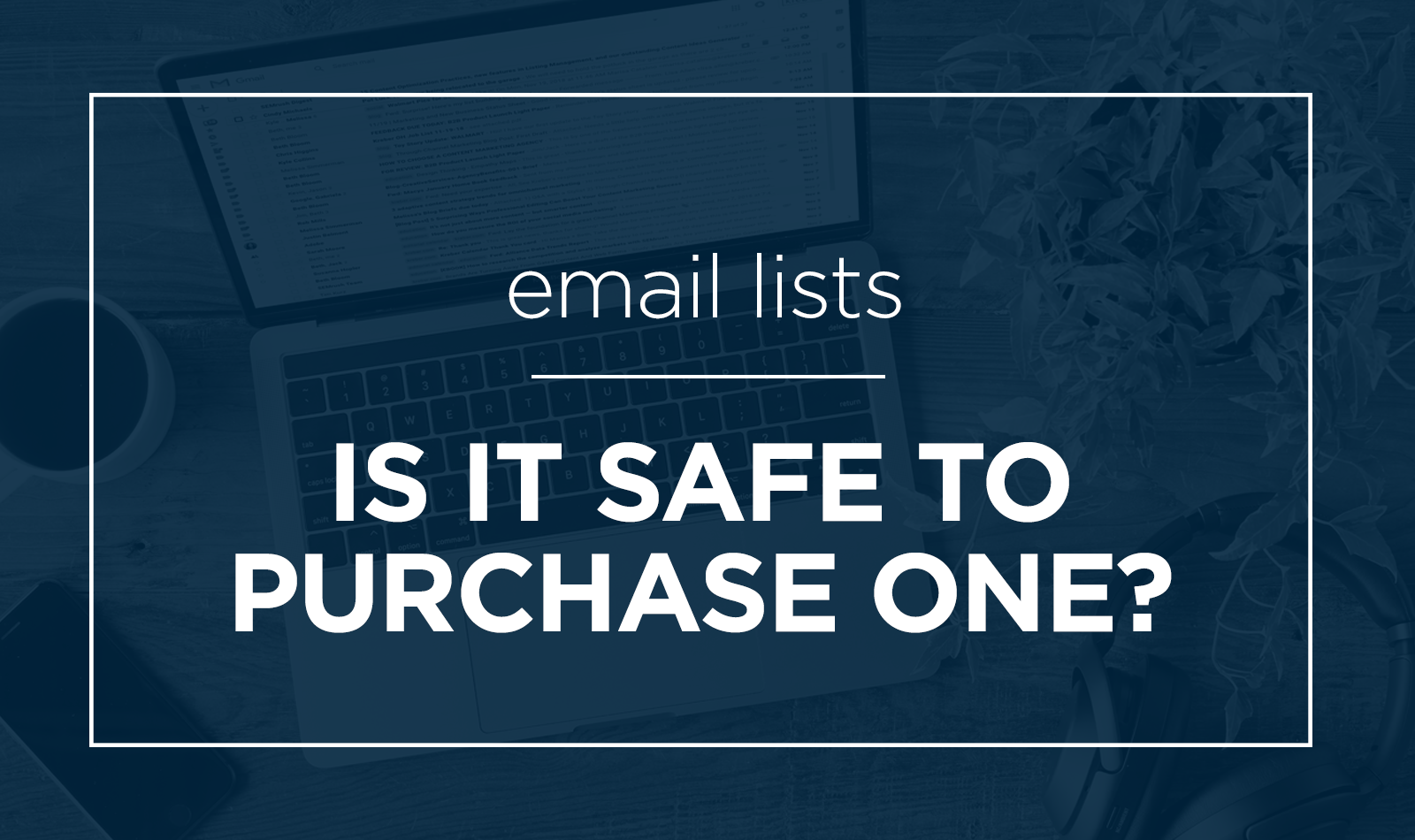 It's perhaps the most common conversation I have with prospective clients, and it goes something like this: Tim, I really need to communicate with potential new customers, but I don't have a database list to send to. Where's the best place to buy a list? Oh, and by the way, I need it fast and I don't have much budget to work with.
As I interrupt the question, I respond that there is no place to safely buy/rent/gather/assemble a safe email list at any price. A look of despair ensues.
Huh?
I repeat: There is no place to safely buy/rent/gather/assemble an email list at any price.
The devil is in the detail
But the list I want to buy is an opted in list, you're thinking. In that case, please return to the previous paragraph and re-read.
While buying an email list seems like it should be a reasonable, easy, low-cost way to jumpstart your email marketing, it's fraught with some serious consequences. The gamble simply isn't worth the long-term damage you're about to do.
And there are real benefits to building an opt-in list the right way. It's just not going to be fast and easy—or probably even cheap. It is going to help you organically connect with real prospects who are truly the people with whom you should be communicating. And you're going to be sustainably creating value for your business.
So, Tim, how exactly do I do that? And what am I going to tell my boss?
The boss part is easy. You're going to tell her you just saved the company email sending domain from being blacklisted and hitting every recipient's spam box—including your legitimate customer communications; months of hassle unwinding the damage; and you're creating a quality list of engaged prospects that will be a source of revenue for years to come. (Thank me later).
Try these legal list building methods
The how part takes a little more thought and effort—but, trust me, it'll be well worth the effort. Here are 10 legitimate CAN-SPAM-, CASL-, and GDPR-compliant list building methods to consider that will build your business without putting you in email marketing purgatory.
1.

Put lead gen forms on your website (and include an opt-in checkbox)

The simplest way to know if someone wants your offers and company information in their inbox is to ask.
Put an accessible widget on every page of your website that gives interested prospects the opportunity to raise their hands and ask for more information. Don't ask for the world on your form. You don't need to know how many employees the company has, their annual revenue, or if they're planning to buy from you in the next six months to start a conversation. You just need a name and an email address, maybe their company name. Don't start the relationship being the needy one.
2.

Start a blog (or kick-start your abandoned one)

Publish interesting insights and ideas about your industry, company, or products and tease topics from your gated content, webinars, and events (see #4, 5 & 6).
When Google finds it, your prospects will, too. Put a simple blog subscription widget in the sidebar for interested prospects to subscribe to your blog—and when they do, you have permission to send them relevant content.
And blogs have long lives. While you'll get a quick bump from current posts, the steady stream of prospects that find you through search lasts for years.
3.

Create gated content

This one takes some time and effort but it's well worth it. Create a valuable piece of content that's worth giving up something of value (as well as an email address and, in this case, maybe a little more). Not a sell sheet or a brochure. Not a special or offer. Something truly valuable—something that will help the reader in his or her own job.
You're probably more of an expert than you think in your industry. Sharing some of that experience will elevate you as a thought leader, enhance your visibility and reputation in your industry, and generate quality leads. Try educational guides, cheat sheets, calculators, industry trend reports, toolkits, research and data, and presentation templates.
4.

Host a webinar

This one is a B2B classic. Take the same valuable knowledge you put into your gated content piece and transform it into a presentation. Present it live (on the internet) to a group of opted-in prospects and you've just moved them a notch down the sales funnel.
Record the presentation and offer it up (gated, of course) on your website for prospects to view on their own time for the next several months.
5.

Host an event

Better yet, host an in-person presentation to a group of prospects. Their sign-up information is now part of your most engaged list. Just like the webinar, plan to record it for use as a gated web asset.
6.

Leverage your social media channels

Use your LinkedIn and other social media accounts—both company and personal—to spread the word. Add CTAs to your social posts. Link to your blogs and gated content from those posts. And don't forget about paid channels by creating sponsored social content.
And when you engage with your social contacts through comments and PMs, include a link to your Contact Us page or relevant blog posts and gated content. Those lead gen forms you created in #1, 2 & 3 will do the heavy lifting.
7. Share with a friend

You're probably already sending some email. When you do, make sure to add a "forward to a friend" button. People love to look smart by sharing interesting content with their bosses, colleagues, and friends. When they do, they've just added to your list. Thank you very much.
8.

Do trade shows the right way

This one often leaves me shaking my head and might be the second-most common conversation with prospects.
Tim: I see you've invested in some trade shows. How are you following up with the leads after the show?
Prospect: Well, we've been going to shows for years and our sales team says they're super important. But they don't really collect email addresses, and we never really get the leads into CRM.
Tim: [SMH] Then what's the point of going to the show? In my experience, if you're investing in the shows but not collecting and nurturing the leads, you're throwing money away. Every scan, every business card, every meaningful conversation at the show should result in a lead entered in CRM. That's the point.
9.

Upgrade point-of-sale and online/phone orders

If you're in a retail business, you're talking to customers every day, all day. Offer them receipts, coupons, and offers in their email inbox. Who doesn't love a coupon or discount? Some will choose to decline but most will be intrigued enough to opt-in.
But the onus is on you to give them something of value in return. Remember, that email address is important to you because it's valuable. Keep up your end of the deal or risk losing a customer.
10.

Run contests and sweepstakes

Perhaps the only thing more popular than a coupon is a chance to get something totally FREE. People willingly give up boatloads of personal information for the chance to win.
The prize doesn't need to be a car or a trip to Tahiti, but do consider your buyer persona when selecting one. An autographed Derek Jeter baseball bat doesn't make much sense when you're hoping to connect with plumbers. But, an awesome set of high-quality tools might. And consider how much information you're hoping to collect—the more valuable the prize, the more detailed the information you can be expected to gather.
Remember, there are sometimes complicated rules that are required when running contests and sweepstakes and they vary considerably from state to state. Do yourself a favor and consult an expert before promoting yours.
Trust us, buying a list isn't worth it!
A high-quality, opt-in list of the right prospects and customers is one of your most valuable marketing assets. You shouldn't expect to buy one from a broker with a click and a credit card swipe.
Putting in the foundational inbound marketing work now will have a valuable impact on your sales funnel for years to come, and keep you on the right side of the spam police.