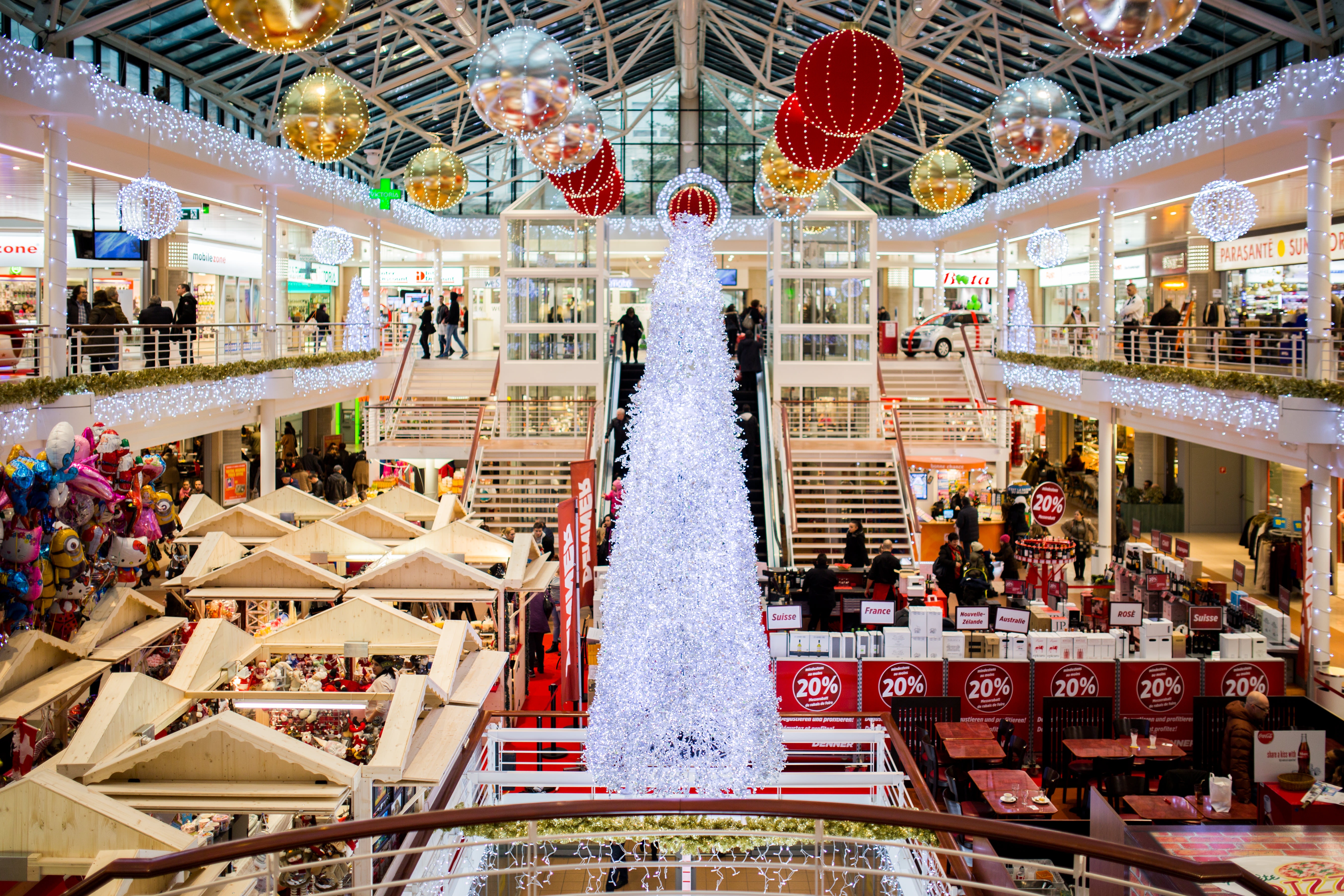 There are hundreds of pages of circulars, thousands of items, and millions in sales to be made this Black Friday. With the prospect of a positive holiday shopping season ahead (consumers are ready to spend more than $1000 each!), 'tis the season for retailers to go all out to get you in-store and to shop online this Black Friday.
So...who's doing what?
We're seeing many of the same tactics this year that we've seen before:
Extending the in-store Black Friday shopping hours, with most starting around 5:00–6:00pm the day before (a.k.a. Thanksgiving). Big Lots seems to be opening the earliest at 7:00am on Thanksgiving Day, while JCPenney follows, opening at 2:00pm.
Starting early deals ("preview" or "early access" sales or "5-7 days of savings" Black Friday events) ramping up to the day itself.
Many retailers, from Macy's to Target to Best Buy, are promising "doorbusters" this year. It's an old-school department store word that kind of conjures up the dark side of Black Friday: customers willing to break down the doors, other shoppers be damned—but, in terms of economy of characters—we must admit: it kind of says what it says, doesn't it?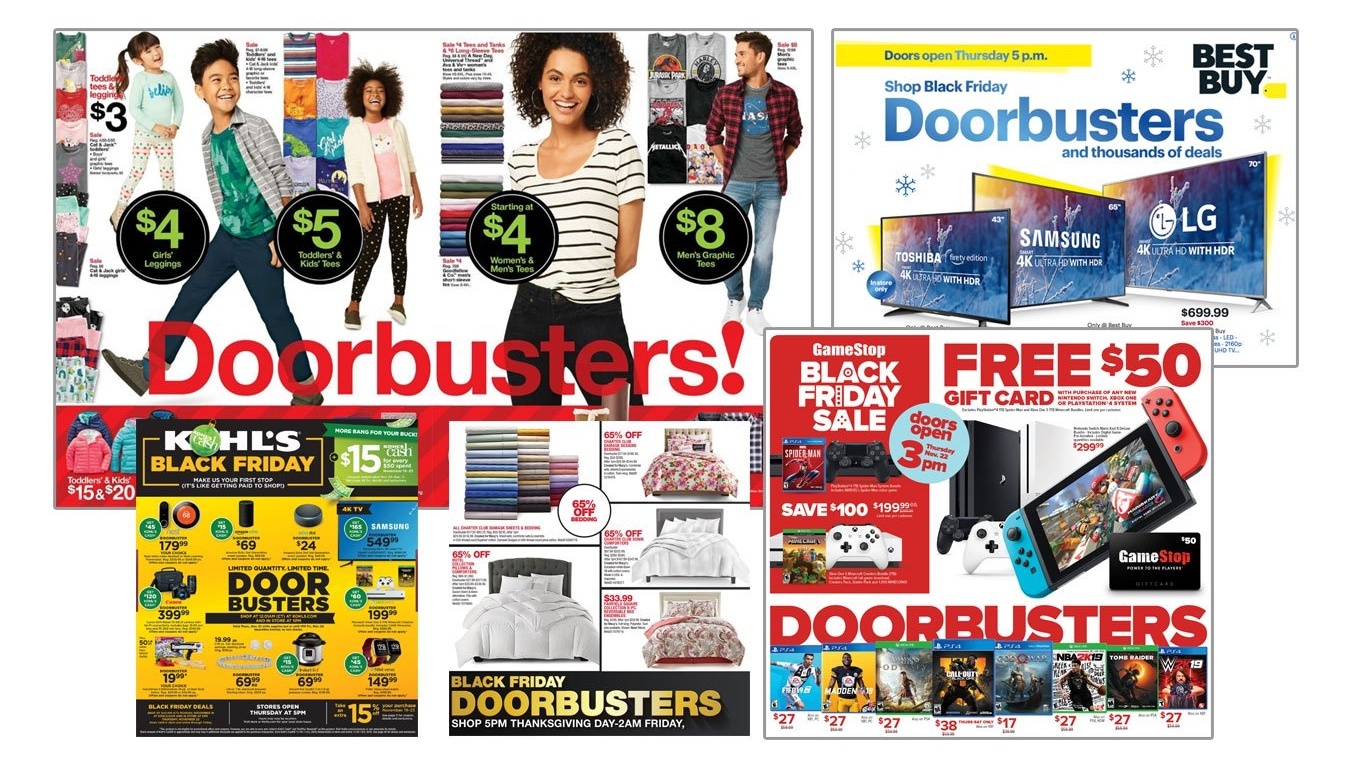 At least Old Navy has the guts to lean into the madness. Its ramp-up sale, "5 Days of Crazy," lets you know that, yes, the deals they're giving you are "insane."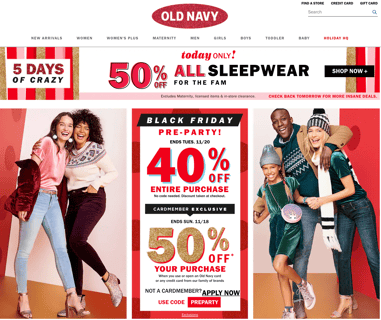 Big Lots tries to spread it out a bit for us: some deals are 1-Day only (Thanksgiving Day), while others stretch into the weekend. Other retailers have tried this method before, too.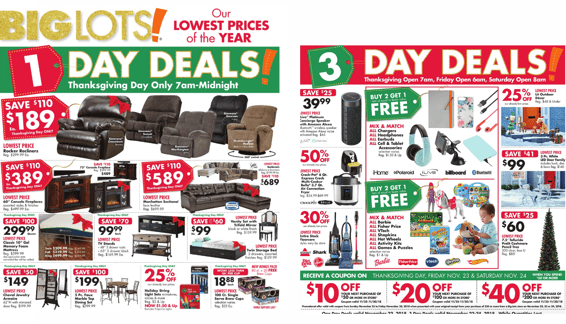 Although these tactics are all essentials to run a good Black Friday ground game, the BEST idea we've come across is a little sharper and smarter—and could yield big results, not only for sales, but for a shopper's peace of mind.
The BEST: Walmart's wayfinding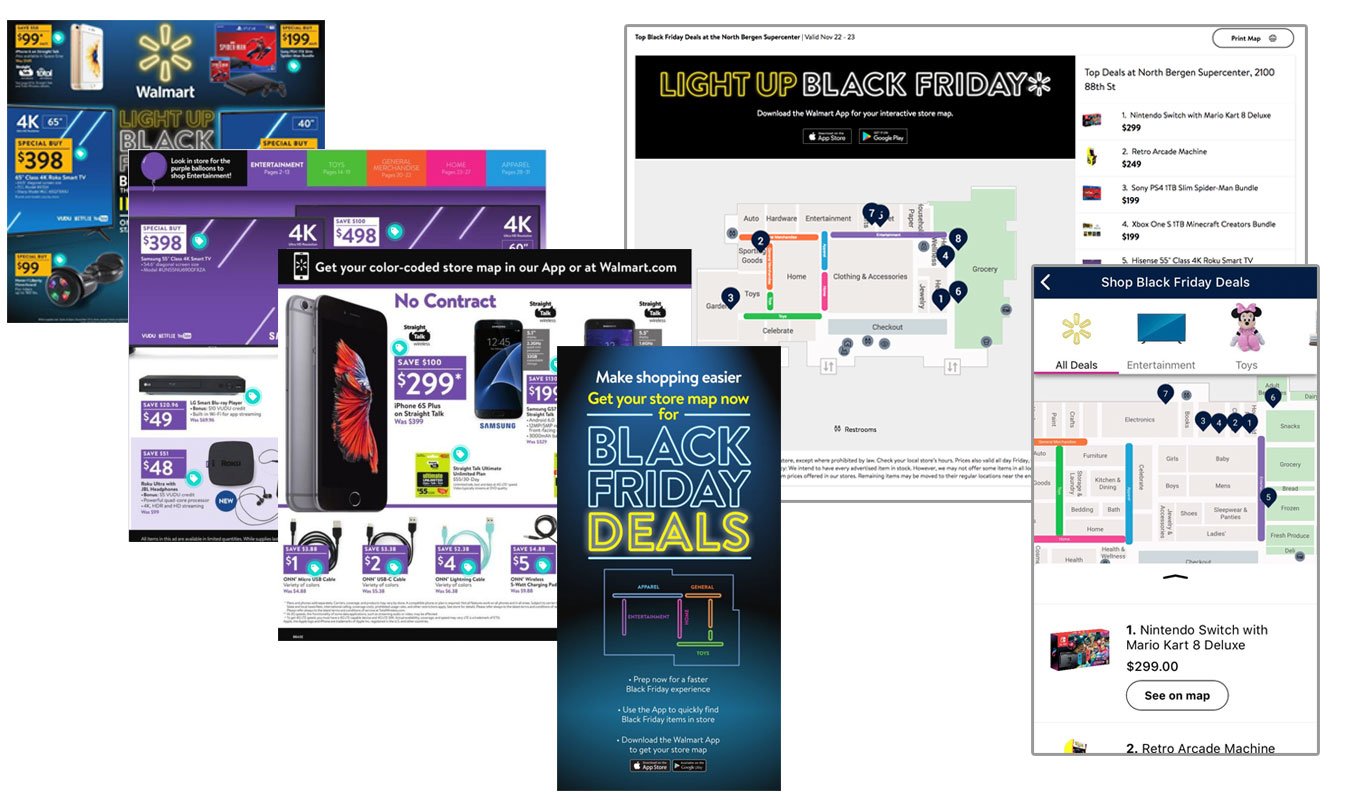 Picture this: Thanksgiving is over, and you're perusing print circulars from all the stores. You see an unbeatable deal, but you don't really want to deal with the hassle of Black Friday crowds. You have images of stampeding shoppers in your head, and it's just not your style. You could shop online for the item you want—if it's available. But what if you could get a better deal if you just braved the crowds and went in-store?
Walmart's wayfinding approach is here to help you out. Here's how it works:
The Black Friday ad is color-coded by department: Electronics are purple, toys are green, and so on. The book itself is organized that way. The price point blocks for that department correspond to the department's color.

The ad tells us that stores also will have color-coded balloons in the departments, if you need help zeroing in on where you need to go ("Look in-store for the purple balloons to shop Entertainment!").

The circular tells you about the store map that you can get online and in the Walmart app. You see that the map is color-coded, too.

You go online or download the Walmart app, and the real magic happens: your local store page (found with the Store Finder function) shows you a map that's not only your local store—but where the hot items are placed there.
It's a strategy that's simple (check!) but also omnichannel (print, app, online, in-store). It plays into the Thanksgiving Day pastime of plotting out your must-haves and planning your Black Friday shopping routine in a way that's fun, but also helpful. It helps you do your ground game better.
Target gets close to replicating this kind of wayfinding: it gives individual store maps and tells you the aisle some products are in, but lacks the color-coded wayfinding that weaves through Walmart's creative strategy across all channels.
It's the kind of idea that might just help make Black Friday shopping a more organized, insane-fun (but not insane-insane) experience, overall.
Let us know what you see out there this Black Friday and holiday shopping season! Snap a pic & tag us on social media with #KreberHolidayHQ!