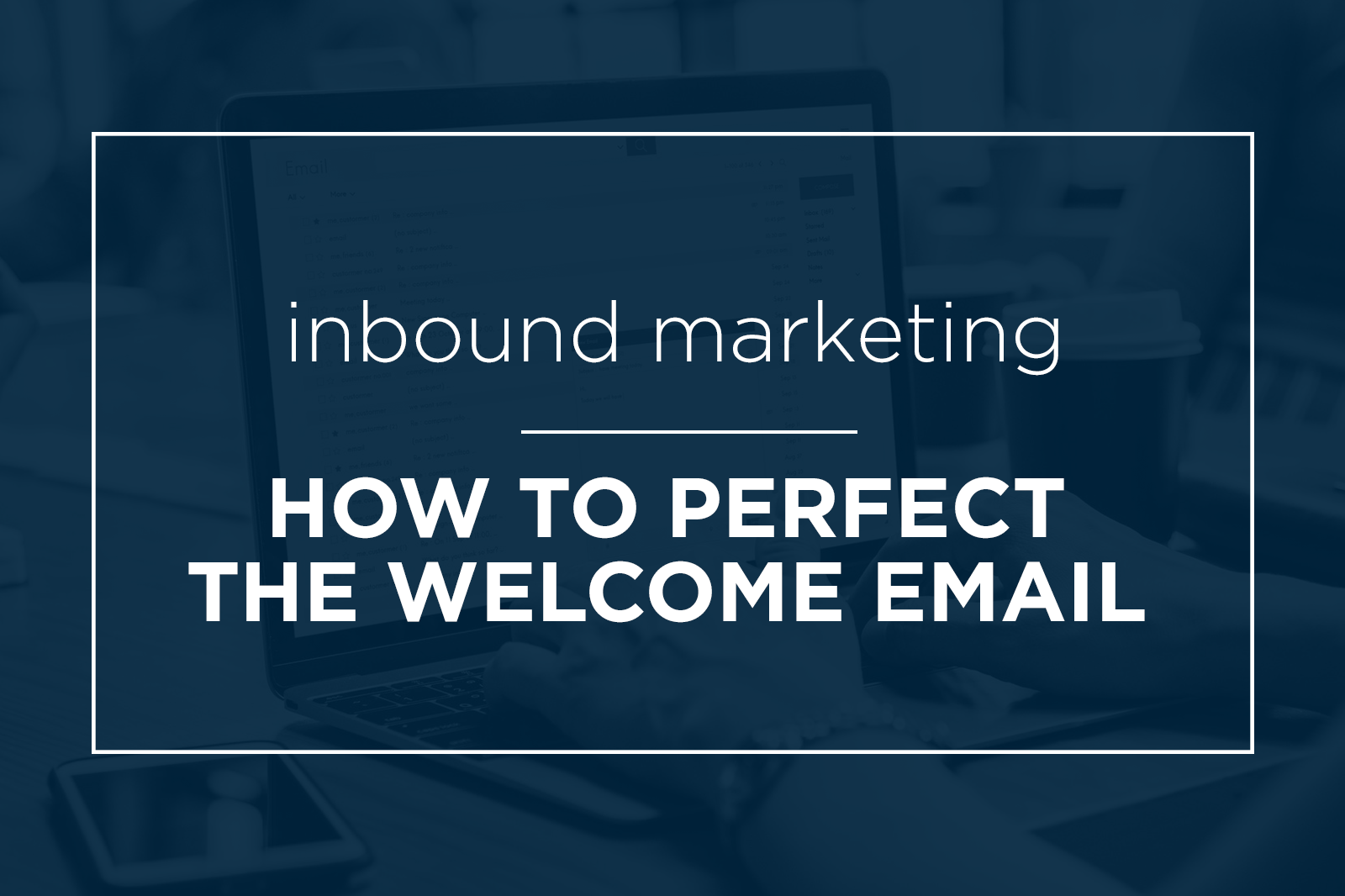 Here's a familiar situation: You're eyeing something interesting online that you might want to buy, so you sign up for the email newsletter—something that might just offer a discount code or special access to a sale. After you click "submit," the anticipation grows.
You check your inbox right away and hope to see an email with a special offer...and all the email says is "welcome to the newsletter!" No discount code. No special access to a sale. You're bummed. You were hoping for something more. How do you feel about the brand now? You probably haven't been convinced to make a purchase or take further action, have you?
Don't let this happen to potential new customers of your brand! After you've reeled them into your email communication, impress them with a strong follow-up that will win them all the way over.
In this edition of our ecommerce inbound marketing series, we'll discuss welcome email campaigns and how they can make or break the perception of your brand.
What is a welcome email campaign?
A welcome email campaign serves as the first impression a brand makes on someone who has signed up to receive email communication—either via blog subscription, email newsletter, or after making a purchase. Welcome emails can include anything from a friendly welcome to a special offer to a video explaining the brand or service.
"74 percent of people expect a welcome email when they join a list...and the average open rate is 50 to 86 percent." —Jilt Email Marketing
Don't disappoint your new customer! Whatever you decide to send them, it should be engaging enough to establish a positive relationship.
Which type of welcome email is best for my brand?
Welcome emails can come in many forms, and you'll want to decide on your tactic based on your specific brand. We all know by now that sending the same emails to everyone on your list is bad practice—as not every subscriber is in the same stage of the buyer journey.
To explain this further, we've done a quick audit of two brands—one is a retailer everyone knows and one is an exclusively ecommerce brand that's up and coming. Here's what we found.
REI: The get-to-know-us welcome email
So, of course you've heard of REI, the American retail and outdoor recreation giant that functions as a consumer co-operation. The company is about more than being a retailer; it's committed to providing a community for outdoor enthusiasts of all kinds, while supporting conservation efforts across the country. And its welcome email does an excellent job of explaining that, and more.
The first portion of the welcome email is straightforward: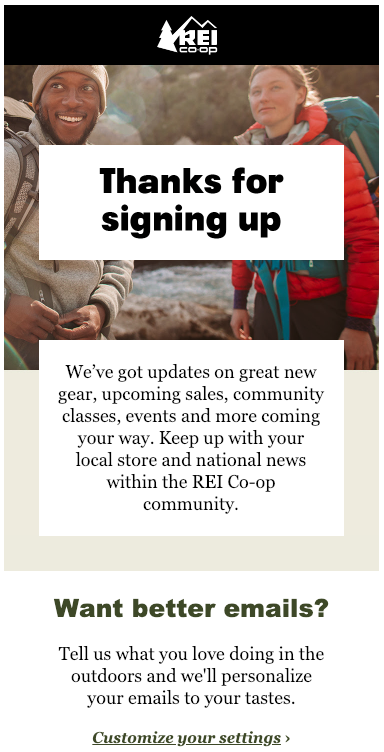 First and foremost, it thanks the contact for signing up for the newsletter. Don't forget this crucial communication...it takes a lot to be seen in the digital world, and for someone to choose your brand over the countless others they're bombarded with on a daily basis is a huge deal! So, say thank you.
The email then tells the contact exactly what to expect from REI's email communication. Next, it promptly suggests the reader customize email settings to tailor the content he or she will receive. This is a good move. If acted upon, REI will find out exactly what they're interested in, thus making it easier to place them in the proper buyer persona segment. Finally, the fun stuff!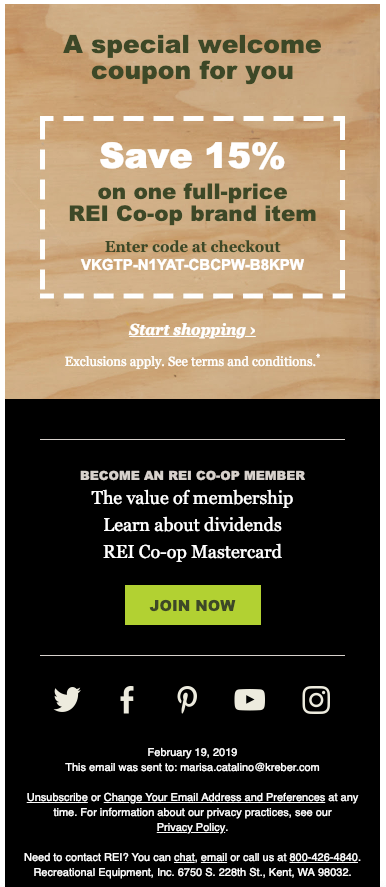 REI offers a 15% off coupon for new subscribers! (Granted, it only counts for one full-price REI Co-op brand item, but it's still an incentive for the reader to make a purchase.)
Following the special offer, the reader has a chance to become an REI Co-op member, something that provides even more exclusive benefits at a low entry cost (but those aren't really spelled out in the email).
What missed the mark
The REI welcome email is almost perfect. We'd suggest including a preview into some of the perks of becoming a member of the co-op, as the email requires the reader to click the "Join Now" button to see exactly what membership includes. One option would be to change the CTA copy to read "Learn More," but we'd recommend taking it a step further.
Editing that section's copy to read something more like what can be found on the page when you click "Join Now" could potentially help the conversion rate. Something like, "Become an REI Co-op Member and enjoy 10% back, members-only special offers, access to in-store sales, and more" might prove to be a little more convincing.
Corpus Naturals: The special offer welcome email
Lesser known than REI, Corpus Naturals is a newer ecommerce brand that sells completely naturally derived deodorant. With all the talk surrounding deodorants with aluminum actually having a negative effect on the body, Corpus is banking on the vegan, all-natural, paraben- and talc-free angle to attract new customers.
First, the website has a pop-up offer to get 10% off your first order if you sign up for the email list. The message is simple and clear, and upon submitting, a thank you message is displayed along with a discount code.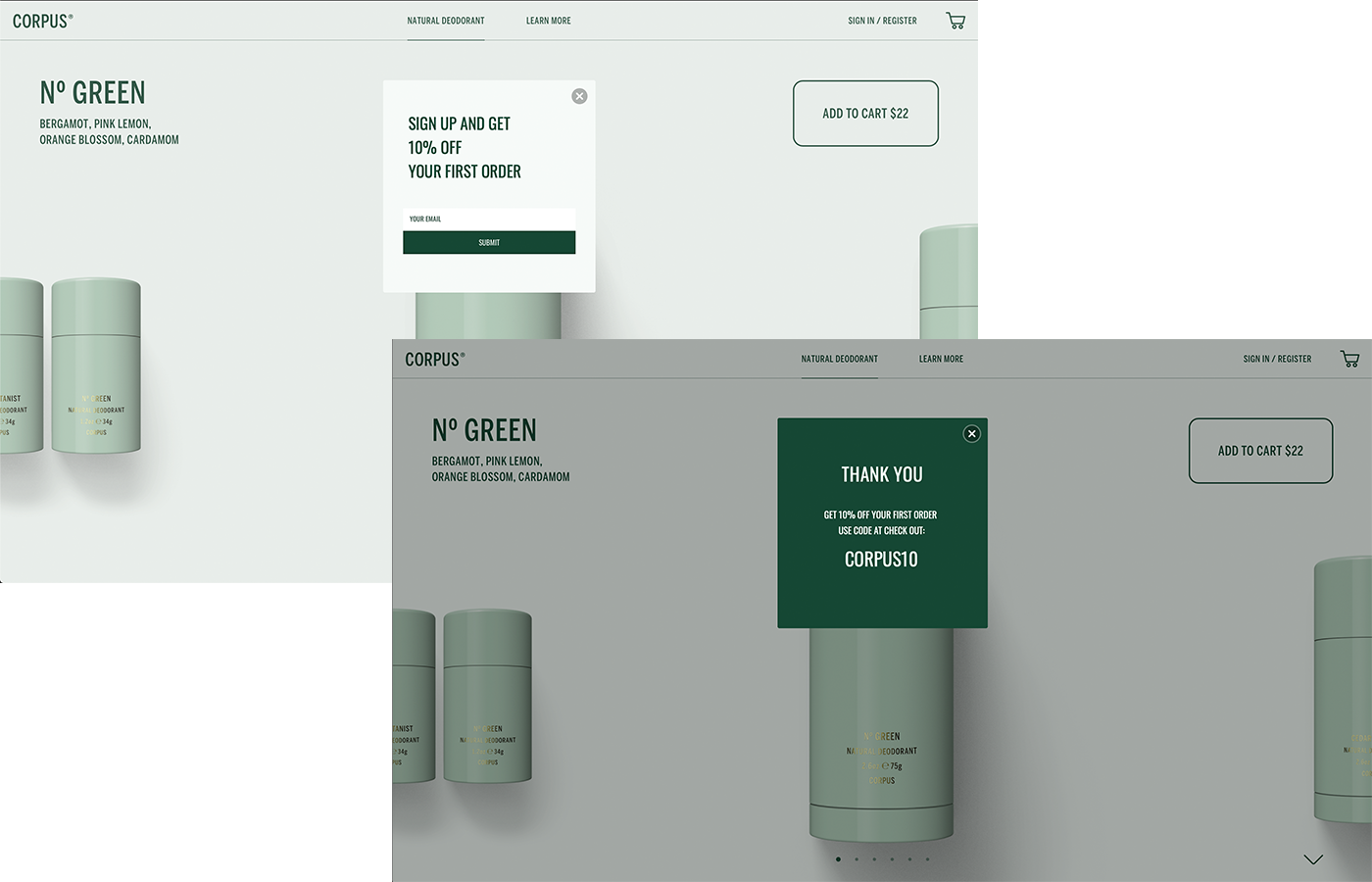 The submission also triggers an email that reiterates the discount code right away: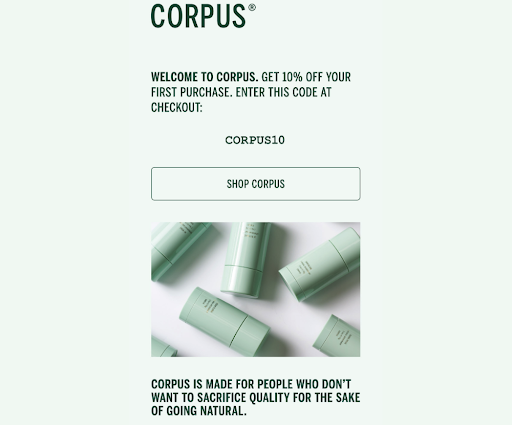 This is a smart move...if the customer doesn't go through with a purchase immediately after seeing the thank you message on the site, they'll have a reminder when they make it back to their inbox. The email then goes on to educate the reader on what the brand stands for:
Corpus focuses on selling just a few products and understands what a prospective customer cares about: natural, sustainable, non-toxic (aluminum-free), vegan deodorant. In the welcome email, the message is simple and clear. Corpus explains exactly what its products are, and exactly what they are not.
What missed the mark
Nothing! We'd change nothing about this welcome email. It's short, sweet, and to the point—plus, it gives the reader a little incentive to make a purchase.
With Corpus being a newer ecomm brand, the immediate offer for a first purchase is a smart way to lure in new customers who might not make a purchase otherwise. The brand also took a clean, refreshing approach to its branding—helping it stand out amongst other natural deodorant brands, most of which aren't especially appealing.
Creating a welcome email campaign for your brand could help you gain more first-time, and hopefully long-term, loyal customers. Whether you're starting from scratch or taking another look at your current welcome email, make sure you're delivering what your audience wants to see—and don't hesitate to throw an offer in. Shoppers love discounts!