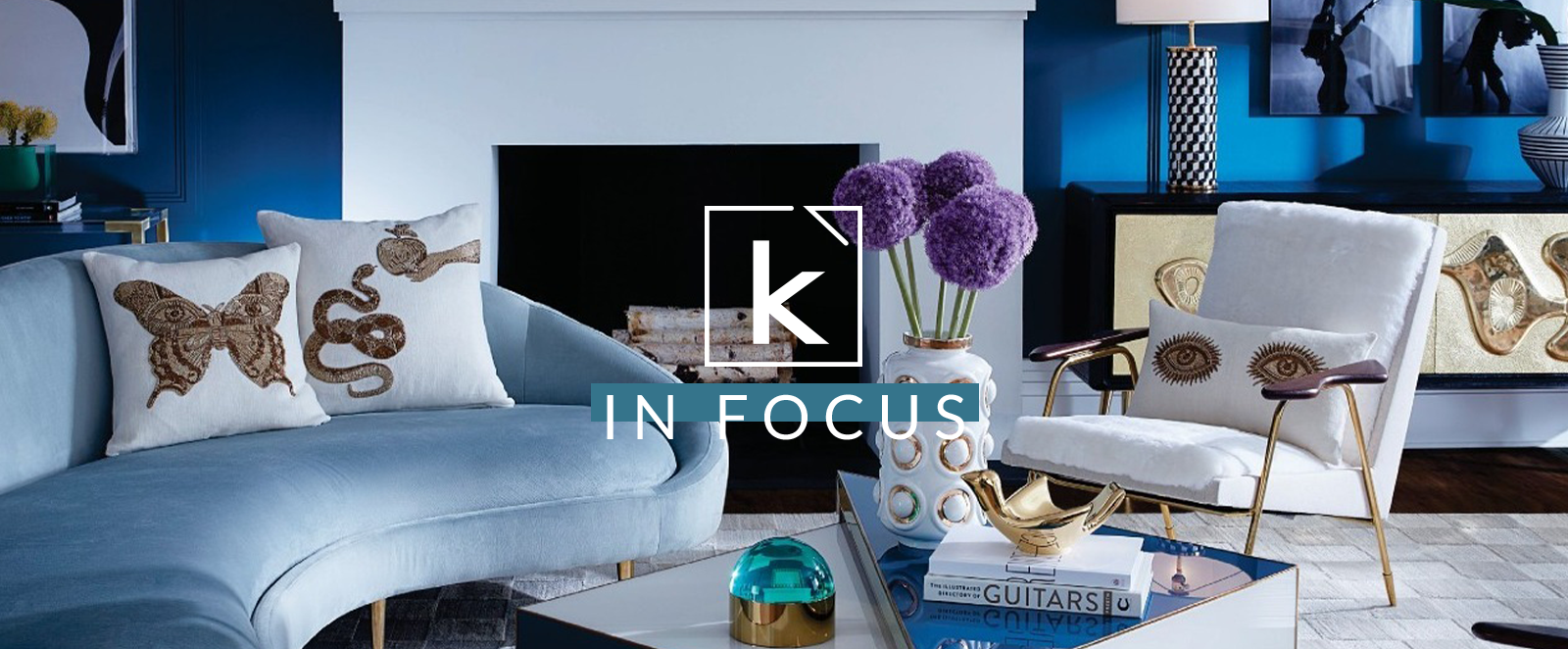 It started with dinner and a conversation.
It turned into a collaborative relationship with one of the foremost names in modern American style.
Because we love a good story, we had to share this one. During High Point Market (not far from our studios in High Point, NC), one of our producers was introduced to a marketing professional who would eventually join the leadership team at Jonathan Adler.
Following the market, they both went their separate ways.
Our teams stayed in touch, developed a relationship, and when the time came for Jonathan Adler to find a new studio partner, Kreber was first to come to mind.
"They'd been using a bigger studio in New York, and they didn't have the flexibility with set parts, painting, and more," said Jynne Harris, VP of Client Services for Kreber. "It had become so cumbersome. But as it turned out, their distribution center was an hour away (from Kreber's studios) and that meant their product was close by. It just made a lot of sense for us to work together."
Showing Off Our Studio Strengths
Taking on a catalog project is a big deal.
And when you're doing a catalog for a brand like Jonathan Adler, of course you want to nail it. Kreber's first catalog with Jonathan Adler drew rave reviews, so much so that a second catalog was in the works shortly thereafter.
Today, Jonathan Adler stores its product in our 70,000-square-foot warehouse space in North Carolina, and the studio has become a central hub for the partnership as it continues to grow and evolve.
This is one of the many reasons brands choose to partner with Kreber on an array of photography projects: our studios are a tremendous asset (more on that in a minute).
Photo Studio Space That Can Do It All
Early in 2020, COVID-19 forced shelter-in-place orders, and we had to recalibrate our shoot with the Jonathan Adler team—quickly. It was a big shoot, after all, with a lot of moving pieces.
"Their team wasn't able to be in-person for our shoot, and they asked if we could handle things without them being there," Harris said. "And we knew we could. We modified, we adapted, and we made sure we could do this remotely and brought them in via FaceTime and Zoom."
Their belief in our space—and what it can help them accomplish—enabled us to pull off a shoot and a catalog that at one point seemed like it would be a massive challenge.
"The flexibility of the architecture (in the High Point studio) was a big deal," Harris said. "They'll come to us with style guides and can look at our sets, and we have about 40 now. They pick and choose them, and can visualize how they'd like to modify them for what they need.
"They came to us so organized and had a vision of what their expectation was. The architecture we could provide them according to their style guide was huge. We worked closely with them on things like fireplaces, and certain aesthetics they were looking for were already in our studio."
Belief in the Art and Impact of Print
Like Jonathan Adler, we believe in the importance of lookbooks and catalogs.
Yes, this is the digital age and most everything we think we could ever need is at our fingertips—but one thing is still lacking with the mobile/web experience. A lookbook is real, it's physical, and the photography takes it over the top.
"When you get lookbooks, it's inspirational. It drives you to the brand's website," Harris said. "The web experience can't immerse you in the brand the way a catalog can. What these pieces do is inspire you and provide ideas and a vision of how that can fit in your space. Then, you can go online and find the pieces you like. It's the key visual to build your room around."
A Match Made in Creative Heaven
People love working for the Jonathan Adler brand, and we love working with them on these exciting projects, which you'll see more of in 2021.
When a relationship clicks, you just know. Our teams have been aligned on everything from styles to schedules to budgets and everything in between.
"From the start, this has been a rewarding and just simply fun thing to be part of," Harris said.
Take a look at Kreber's work on the Jonathan Adler catalogs here.