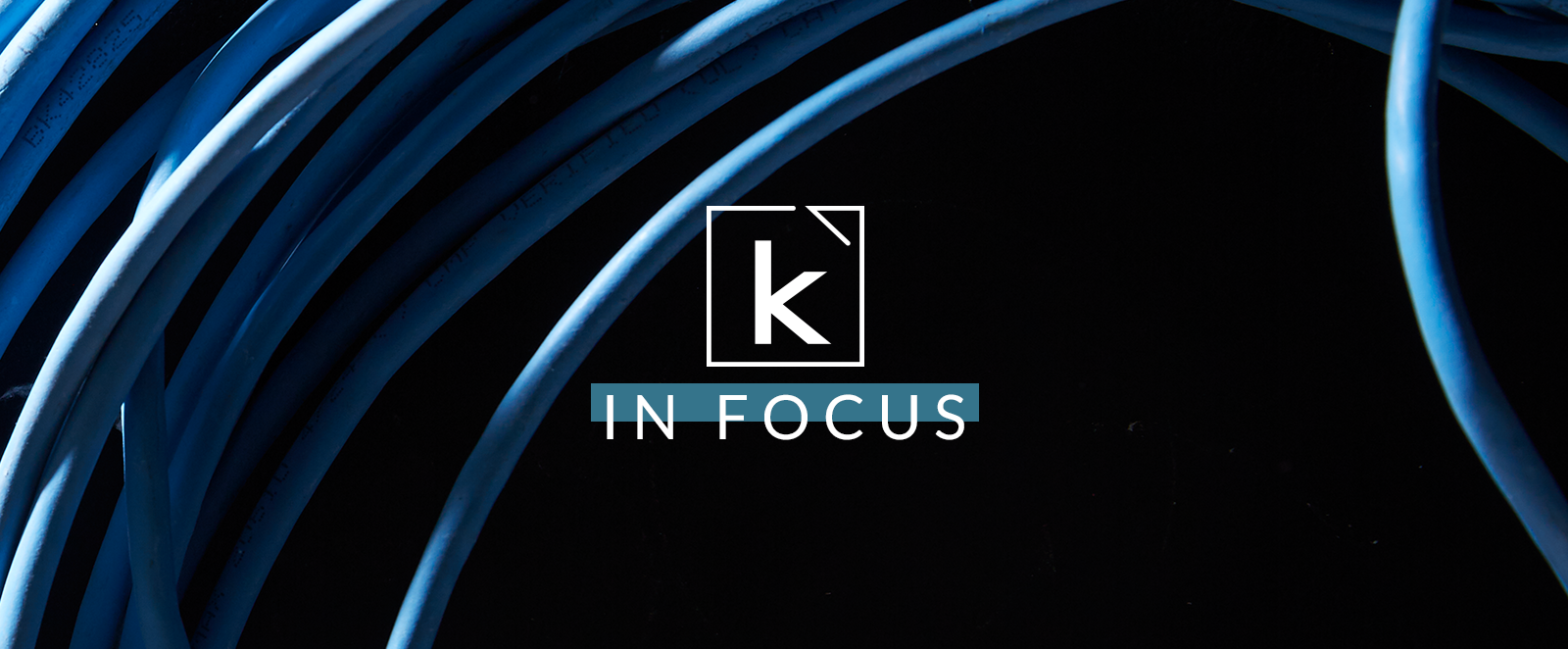 With each new blog entry in our series on power tool shopping and product marketing trends, we're getting deeper into the holiday shopping season. It's hard to believe, but we're almost there.

Sorry to scare you. But we don't control the calendar.Previously, we took a dive into enhanced product content and how power tool brands present product offerings on retailer sites like Amazon, The Home Depot, and others. What did we learn? Well, "how" is the operative word: how content is presented for two major personas is extremely important to securing a conversion, and (this pertains largely to the gift buyer) to getting them what they need as efficiently as possible.

In last week's blog, we ventured into the different brand vs. retailer landscapes and how the two experiences are laid out. Power tool brands fall into several different categories, but one thing we found is that brand loyalty and nostalgia are quite prevalent, as evidenced by brands like Milwaukee®, which don't go above and beyond to innovate, but have an iconic look and pedigree that keep customers coming back.

That's a hefty recap—but there's more good stuff to dig into!

This week, we break down the competitive landscape in power tools by revisiting how the two personas (DIYer and gift buyer) approach shopping, and which brands understand that marketing to both is the proper strategy. As a bonus, we'll give a nod to the disruptive brands in the space.
The two personas
DIYers, also known as the shoppers who have "done this before," want the necessary information (specs, technical capabilities, etc.) needed to make a buying decision. They might have some brand loyalty because, in all likelihood, they've bought power tools before, but they have intent and want to make sure a product is right for their job.
We've seen in previous blogs how big brands like The Home Depot (THD) make this a painless process for DIYers, which is a big reason why THD is a go-to for DIYers. There's a massive inventory, of course, but it's easy to wade through the ocean of stuff and find what you need—and online, the important stuff is front and center.
Similarly, Amazon nails its approach for gift buyers (and that's not exclusive to this category). Those buying a power tool as a gift display the same behaviors as shoppers buying just about anything else: they want to get a good product that serves as a good gift, and they want the purchase to be as quick and painless as possible.
While we've seen what big names in retail can do when it comes to product content (and adapting to how different personas prefer to shop), those aren't the only options. Niche sites fall on both ends of the spectrum.
On board, or missing the boat?
Here's a quick example of an online-only retailer that's not exactly fulfilling any of the needs or wants of power tool shoppers. MyToolStore.com boasts an expansive inventory, big brands...everything a shopper is looking for. But the online shopping experience, i.e., the only shopping experience, falls short of consumer expectations.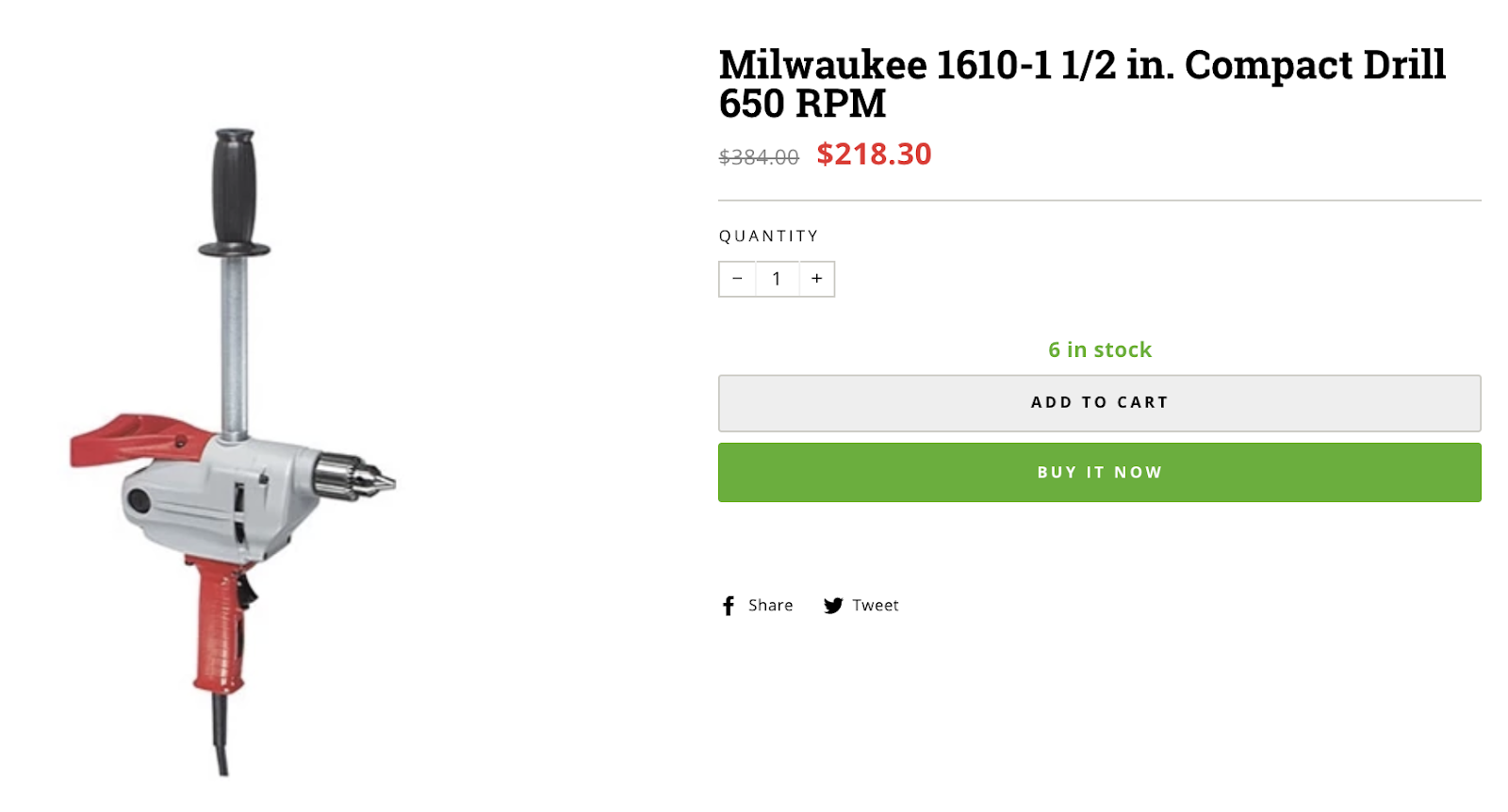 You can probably deduce most of the analysis here, but mainly, where is...everything? The products are easy to find in the site navigation flow, but once you get to a product page, there's a glaring lack of information, detail, warranty options, shipping options and offers, delivery information, and so on. This is what customers want, and here, they're not getting it. The product details and specs are buried way down the page, too.
Contrast the above with the example below, from Northern Tool. Why have we used these two examples here? Because they're two of the top Google search results for "buy power tools."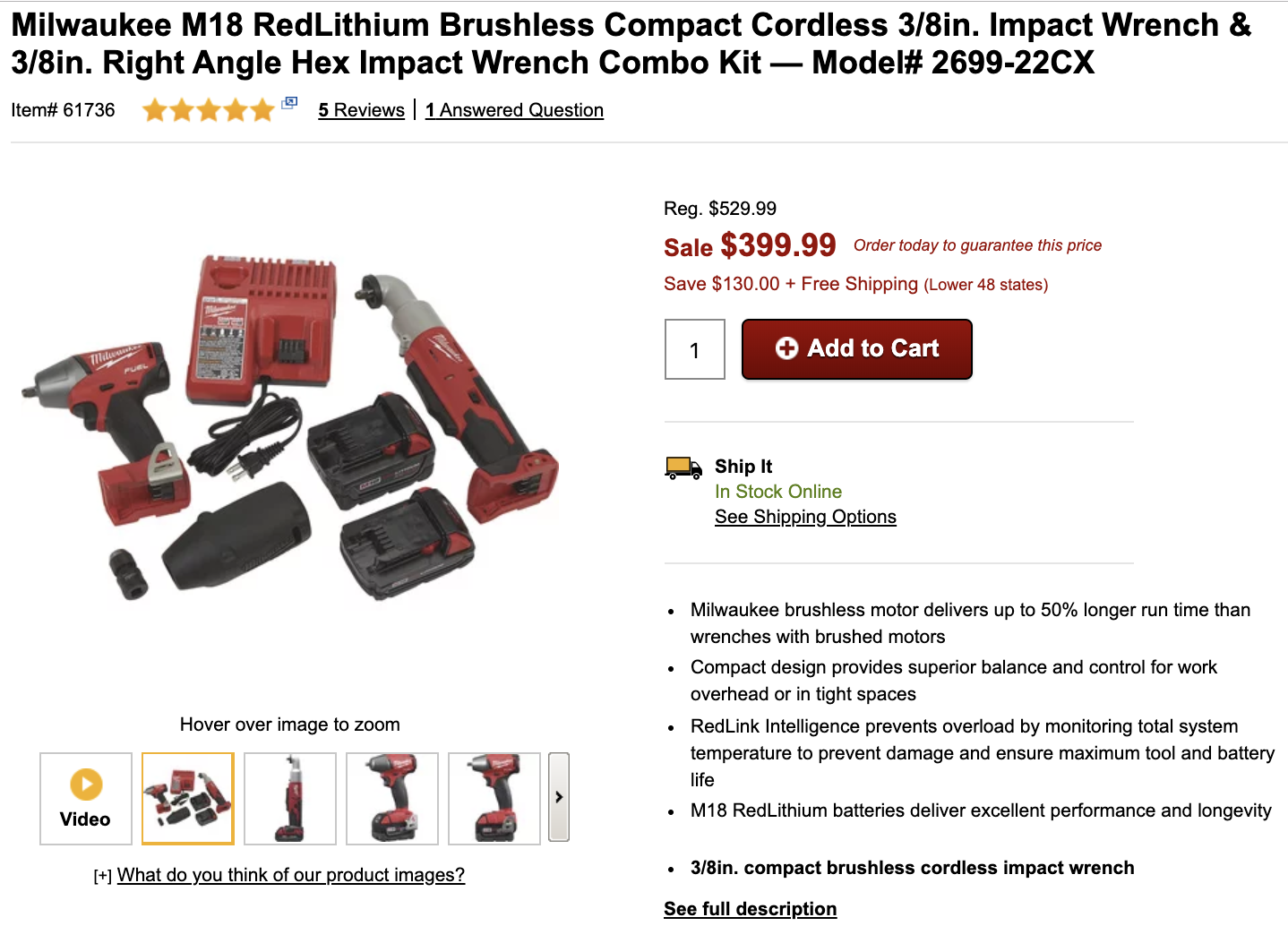 Knowing what we know about online shopping—primarily that 1.92 billion people will shop online in 2019, and the number one reason for online shopping is that shopping can be done on the customer's time—providing a ready-made, top-of-the-line online experience is vital. Especially if you're one of these two brands and show up near the top of Google.
Northern Tool gets a lot of things right here.
Relevant, useful information. Images and video (major plus). And inventory, shipping, and applicable discounts are displayed at eye level to grab your attention.
Cause for disruption
The power tool category is pretty cut and dry.
There are the mainstay brands, the big-name retailers, and the modern ecommerce options (Amazon) that can offer on-demand purchase and shipping/delivery. Those aren't going anywhere. But perhaps more surprising is that this category has been immune to disruption or a shake-up; think about those that have been, like razors and skin care products (Dollar Shave Club was one of the originals), pet supplies (Bark Box), and rental wardrobe (Rent the Runway). Almost every major consumer category has been changed by DTC or more on-demand options, but not power tools.
It's heavy on brands, brand affinity, nostalgia, and driven by major personas (note that we're not talking about professional buyers here; they're a separate persona with different behaviors). In the final installment of this blog series next week, we'll show you how to bring a well-balanced, productive content marketing plan to life, so you can get ready for next year's holidays.