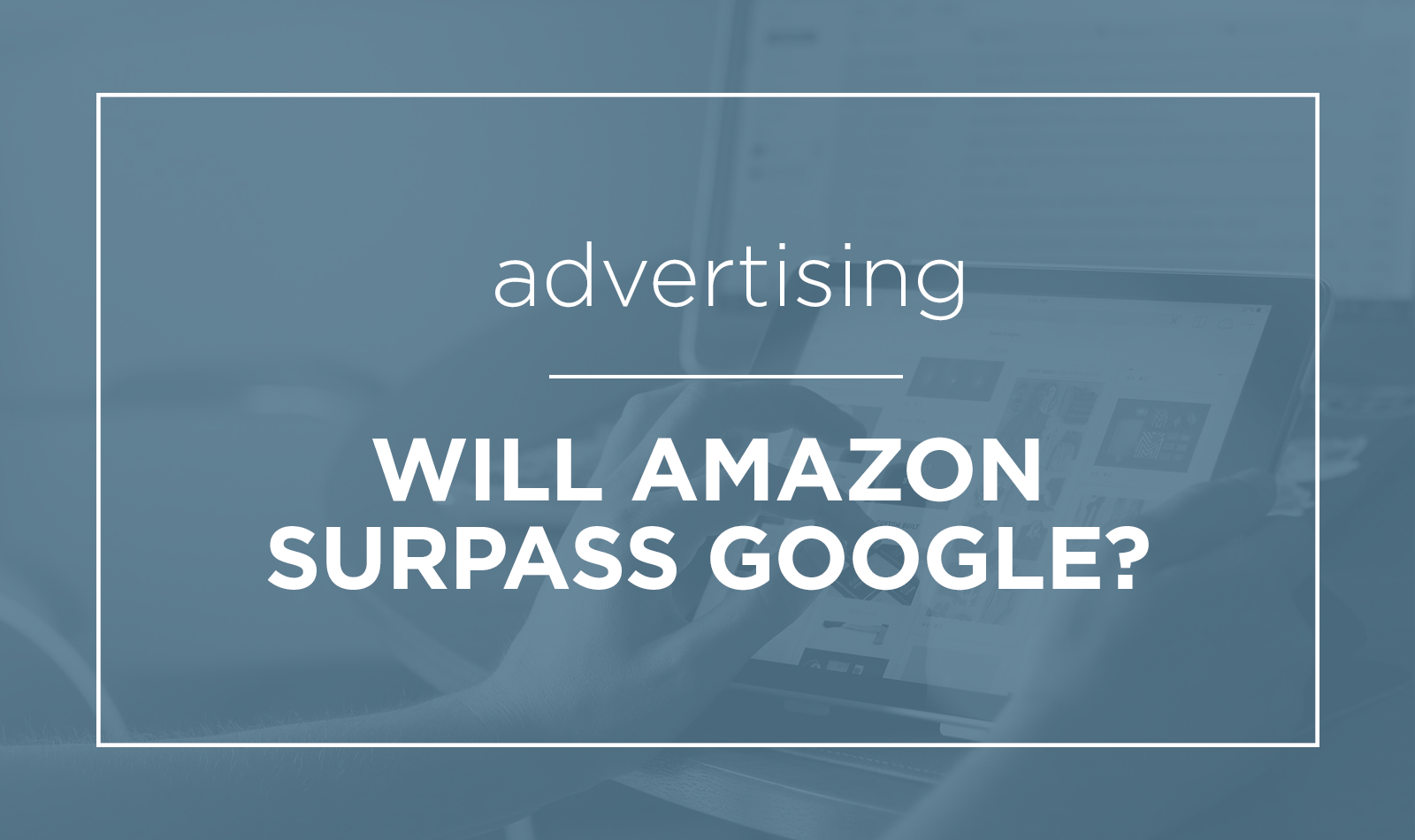 We often think of online shopping as convenient (probably too convenient), useful, and just the way things are in 2019. But it's about to get personal.
The use of consumer data to influence marketing strategy isn't new–it's been a core tenet of advertising for generations, well before re-targeting and customized content was even a fleeting thought. But in this Age of Amazon, the landscape is rapidly changing and many brands are forced to play catch-up.
We don't need to tell you the basics of Amazon's rise, as it's now a multi-hundred-billion dollar company and the world's largest online retailer. But we can learn a lot from Amazon's approach to advertising and how the company is a step ahead of other brands when it comes to selling ad space.
If you're a marketer, odds are that Google advertising has been a key part of your advertising strategy. Search engine ads, product ads, you name it. Google has been at the forefront of digital advertising...but that's changing, and it's changing fast.
The revolution is upon us
It took only three years for Amazon to surpass Google in the product search category, which is kind of insane to think about. The long-standing dominance of Google was overtaken by Amazon in a fraction of that time; in 2015, 54% of online users initiated a product search using the Google search engine. Just three years later, by the end of 2018, that split had flipped–now 46% of users search for products using Google compared to 54% who use Amazon.
"Consumers are no longer double hopping between Google and Amazon, they just go straight to Amazon," said Scott Hagedorn, chief executive officer of Omnicom Media Group North America, the ad-buying division of Omnicom.
Amazon is "monetizing consumer data," but what exactly does that mean? Let's unpack it. Unlike Google and Facebook – which aren't able to offer brands a guarantee that their ads will be successful – Amazon is different. Amazon can connect purchase data and targeted consumers back to the ads that brands have purchased. However, there's plenty of ground to make up: Google still has 78% of the search advertising market in the United States, but Amazon is on track to surpass Microsoft for second-most search ad revenue by 2020. Tying sales data and sharing that with brands is a huge advantage for Amazon, one that's going to shift marketing strategies in the immediate future.
The path forward
Of course, the next question should be: what does this mean? It means a few things. So, let's talk about them.
*gathers you all around the ad-nerd campfire*
It's important to understand this shift in advertising because we're talking about maximizing your marketing dollars by diversifying your strategy. Now, your brand must be prepared and equipped with the necessary content to deploy ads to Amazon and other retailers, so that your advertising is supported wherever it's placed.
In order to fill these ad spaces, you're going to need A LOT of content. More than you think. This new frontier of product advertising will require content that's versatile and dynamic enough to be used for the various ad spaces available – and now, the need for content becomes even more urgent with the fast rise of Amazon ads. Amazon also seems to understand the new landscape it's helped create; there are more and more ad placements available for products and it's on brands to have that content at the ready.
"They have started to leverage that strength with more sponsored placements, making billions on their product search even while their market share plateaus." – Deren Baker, CEO of Jumpshot, on Amazon
Maximize that content
It's easy for an agency partner to tell you "we need to produce content." What's not as easy, especially given where Amazon advertising is headed, is how to identify and deploy great content across platforms.
How do we do that? It's a three-pronged approach:
Consistency: This is the straw that stirs the drink. With a PIM (Product Information Management) system in place, you'll be able to process the content, data, and other information needed to properly advertise your products. PIM systems ensure quality of data, which in turn will help you produce better quality content. A core component of a good PIM is product keywords, which are stored within the system and can be updated (as needed) to ensure you're maximizing search.
Interest: You can have a great product, but if your ad falls flat, you're in trouble. An agency partner works with you to craft content that's engaging from both a visual and a messaging perspective. The ad has to look good and sound even better.
Trackability: When a consumer sees your ad and engages with it, what action should they take? This flow is crucial to understanding their behavior, which then allows you to test, learn, and optimize subsequent versions of the ads.
Grab a partner
What we're facing is a good problem to have, but the solution is one that many brands will need help with. Amazon ad spaces present enormous opportunity, and the phrase we keep coming back to is the "monetization of consumer data."
Amazon's share of the product search marketplace is growing with no end in sight, reflective of a stark change in consumer behavior. To be prepared, it's important to partner with an agency that possesses the experience required to navigate this new territory.