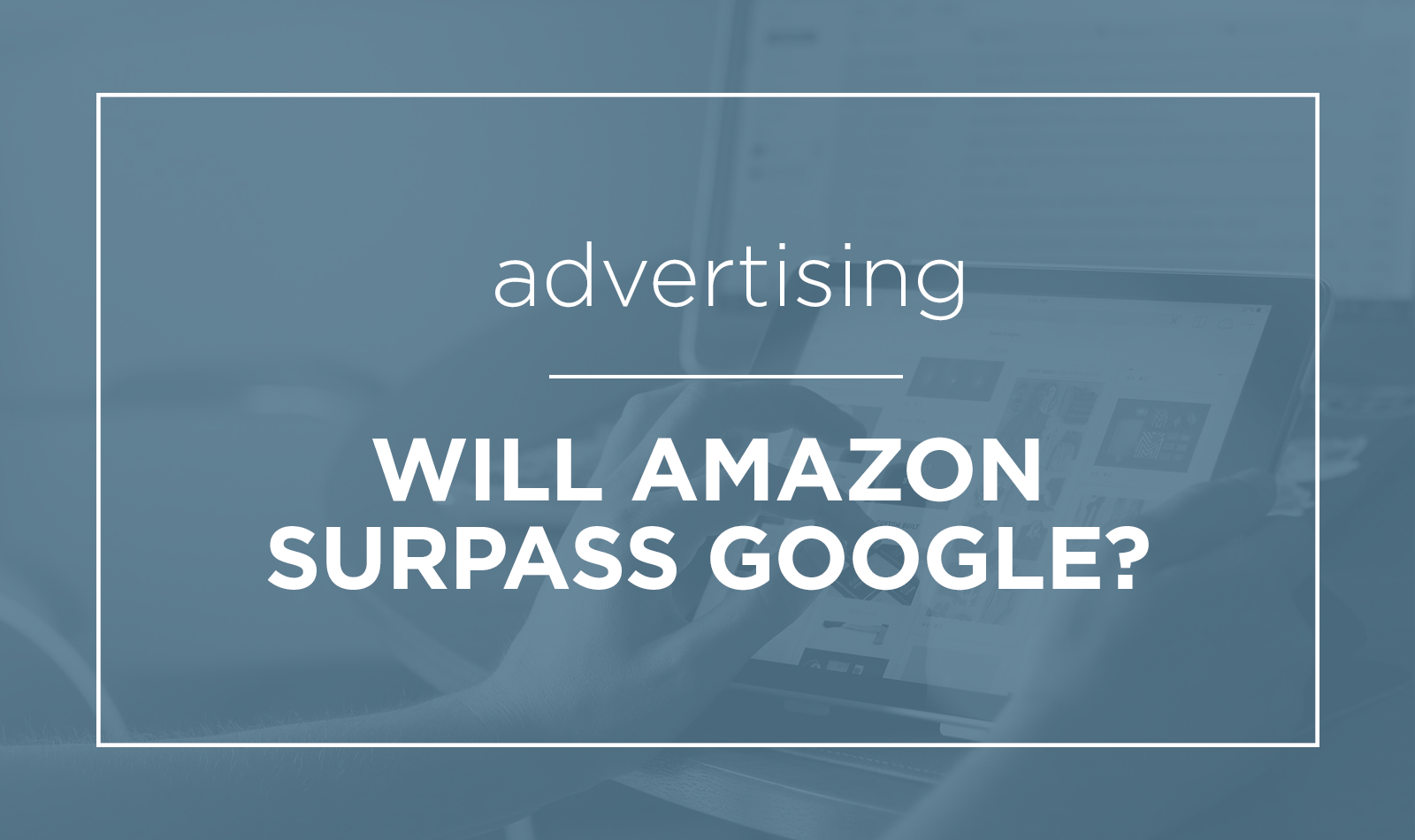 The use of consumer data to influence marketing strategy has been integral to advertising for generations, well before re-targeting and customized content were even fleeting thoughts. But in this Age of Amazon, the landscape is rapidly changing and many brands are forced to play catch-up.

We don't need to tell you the basics of Amazon's rise to become the world's largest online retailer. But we want to take a closer look at Amazon's recent foray into a related-but-very-different area—one in which Amazon aims to dominate as an advertiser.
The revolution is upon us
Amazon advertising has arrived, and it's a big deal.
It took only three years for Amazon to surpass Google in the product search category. In 2015, 54% of online users initiated a product search using the Google search engine. By the end of 2018, the split had flipped. Now, 46% of users search for products using Google, compared to 54% who use Amazon.
"Consumers are no longer double hopping between Google and Amazon, they just go straight to Amazon," said Scott Hagedorn, chief executive officer of Omnicom Media Group North America, the ad-buying division of Omnicom.
For its ads, Amazon is monetizing consumer data, just like Google and Facebook. Each can connect to purchase data (if a transaction occurs online) and target ads to consumers. Although Amazon is making waves in this area, there's plenty of ground to make up: Google still has 78% of the search advertising market in the United States. However, Amazon is on track to surpass Microsoft for second-most search ad revenue by 2020.
A plethora of opportunities
Amazon has an expansive number of options when it comes to placing ads on the platform.
While Amazon offers a range of media placements and formats, not all apply to product sellers. The most important ad options for product sellers are Sponsored Product Listings and Sponsored Brand Listings. These two options are the best at driving users to the product detail page (PDP), where they can transact.
1. Sponsored Products are a self-service, cost-per-click ad option for individual product listings. These ads will appear in a customer's shopping results and also on PDPs. Sponsored Products will appear when customers are shopping for products similar to yours, and with one click, they're redirected to your product page.
2. Sponsored Brands are, as you'd expect, geared toward brands. Like Sponsored Products, these ads also appear in shopping results and can be customized with a brand's own headline and logo, as well as the ability to feature multiple products in the same ad.
Other media options, such as display ads and Sponsored Display placements, apply more to brands and include things like video across owned properties such as Amazon TV, IMDB, and others.
Maximize your impact
With more shoppers now starting their product searches on Amazon, it's important to spend your advertising dollars in a targeted way to maximize impact. By meeting customers where they are along their shopper journey, you will help to drive qualified traffic to your PDP. Performance-based advertising models (e.g., CPC) like Amazon Sponsored Search exist where fees are only incurred when ads are clicked on, helping to eliminate waste. As a result, product marketers have flocked from Google to Amazon in order to maximize impact and show a return on ad spend (ROAS). It's that old notion...fish where the fish are!
Keep in mind: In order to drive qualified shoppers to your PDPs, you're going to need a lot of optimized content. That content needs to be versatile, dynamic, and omnichannel in order to be used for various ad placements and product feed integrations, as well as offer enough value before the scroll and after the scroll to drive transactions! Yep—it's the new Point of Sale.
Companies who do this well see 5%–20% ROAS. So planning is even more crucial and an area we happen to excel at.
Buckle up
New ad opportunities and new content needs are good problems to have, but the solution is one that many brands will need help with. If you're not adept in this space, consider reaching out to a partner (like Kreber) that can help you navigate the new terrain.
Amazon's share of the product search marketplace is growing with no end in sight. It reflects the stark change in how customers research and shop online, and it will be interesting to see what's next.
---
Just what does best-in-class Enhanced Brand Content on Amazon and other ecommerce platforms look like? Our new video series, On Topic, shows you! Sign up now to see it.