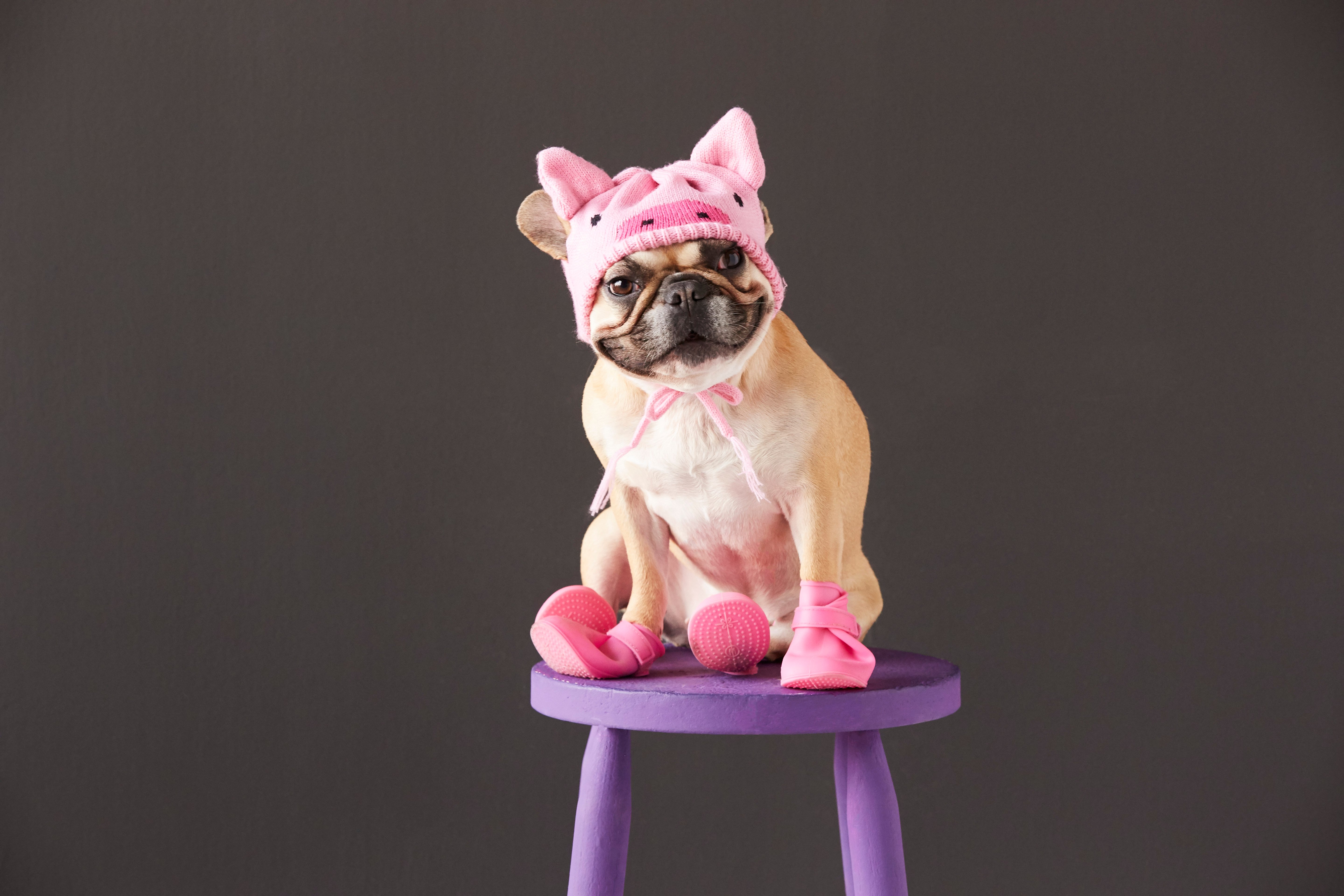 Their tricks, your treats. Here's our round-up of who's going hard (and who should go home) to get more of your Halloween spending this year.
Witches, goblins, and ghosts aside, this Halloween shopping season is expected to be anything but scary for retailers. Talk about treats—the Halloween season represents $9 billion of business and is a top 10 spending event of the year.
According to the National Retail Federation (NRF), 7 out of 10 people participate in Halloween festivities, and each customer will spend about $90.
As a top ten retail event, Halloween is ahead of only the Super Bowl, and the NRF says customers spend $40-$50 more on events like Mother's Day, Easter, and Valentine's Day (and hundreds more for Back to School/Campus and Christmas).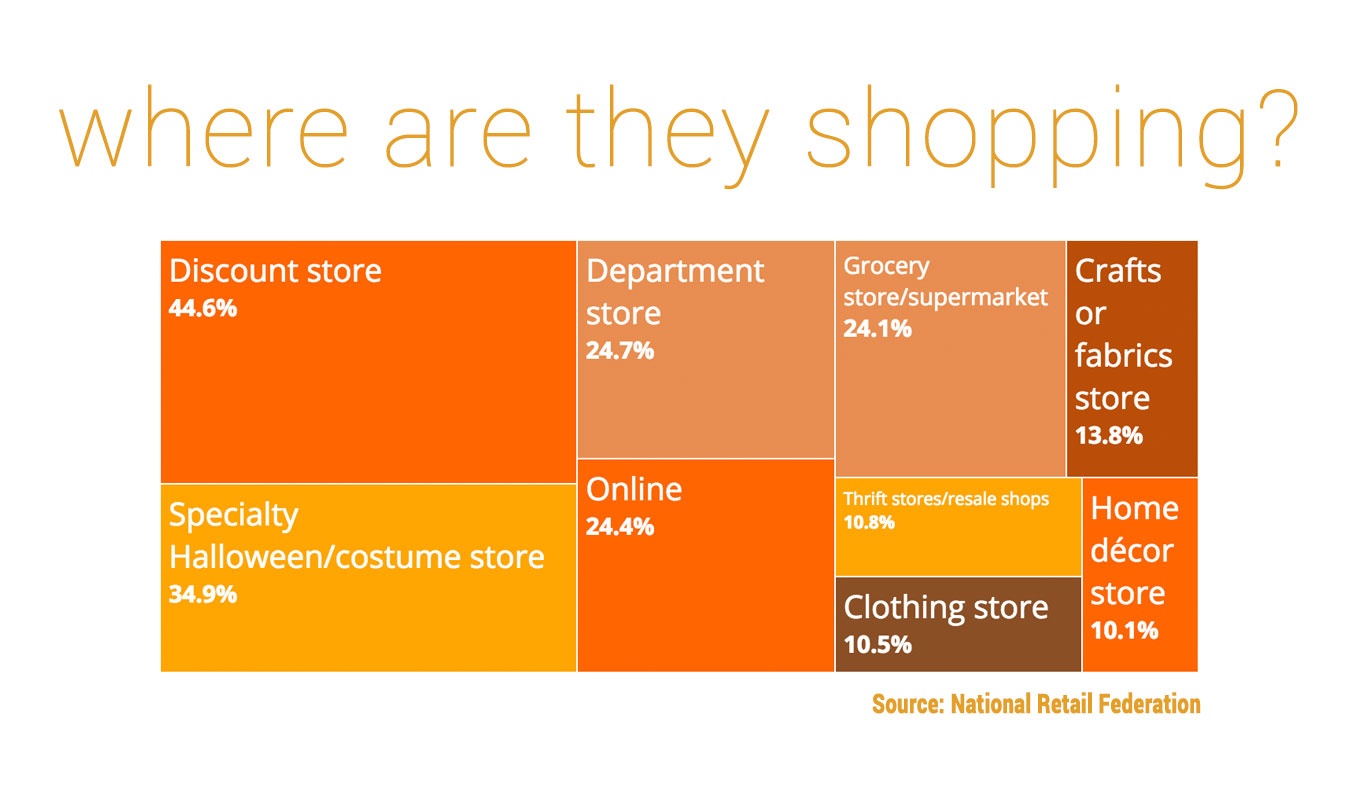 In keeping the top three categories of purchases in mind: candy, costumes, and decor—the trick is for retailers to get as much of your $90 as possible. We wanted to see who's doing what to help you check even more items off your Halloween shopping list. Who seems to be moving into new product categories and who's leaving money on the table?
Party City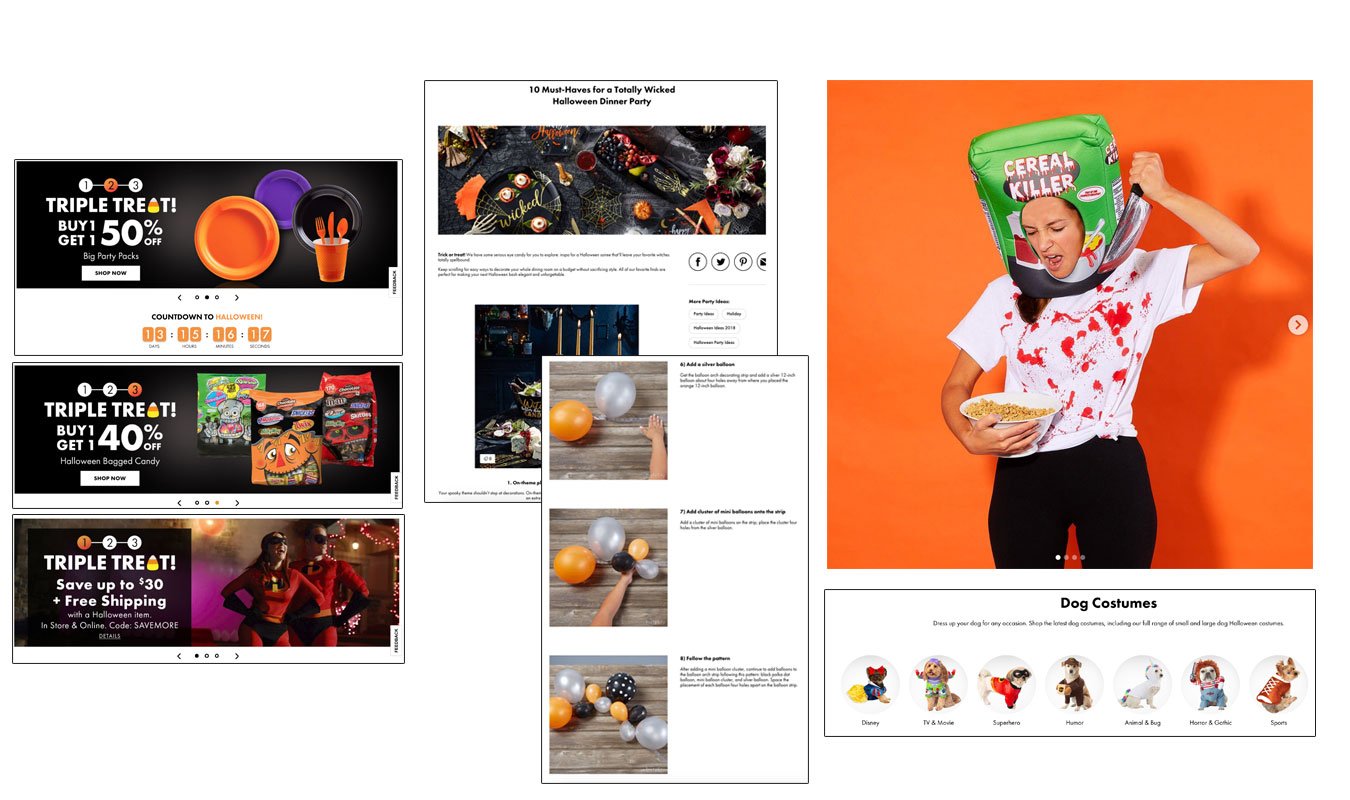 We know Party City is the Halloween leader, as 30% of its annual sales come from its holiday events. And that's just one income stream—Party City says one-third of its profits are generated by its third-party wholesale customers in 100 countries across the globe. So even if you shop elsewhere, it could still be a Party City-related product. How's that for being a leader?
When it comes to its core in-store and online retail business, they're the Halloween player to beat.
Highlights:
Clear leader for costumes (seriously… so many costumes!).

Strong presence for decor, and even candy (for some reason, we don't think of Party City immediately for buying the kind of on-brand candy we'd really want to eat).
Good editorial articles: how-tos on everything from setting up a party to creating a balloon arch, step-by-step. Very useful!
Fun use of social media to engage people with funny, unique costumes (more than just the bagged costumes for kids).
Pet costumes are arranged by type (humor, sports, etc.—but dogs only?).
Opportunities for improvement:
Our biggest challenge here is the gap between in-store (where approximately 90% of Party City's sales happen) and online (which offers 50,000 more SKUs). We have yet to see a strategy that ties the two worlds together seamlessly for that proverbial "endless aisle" experience.
Target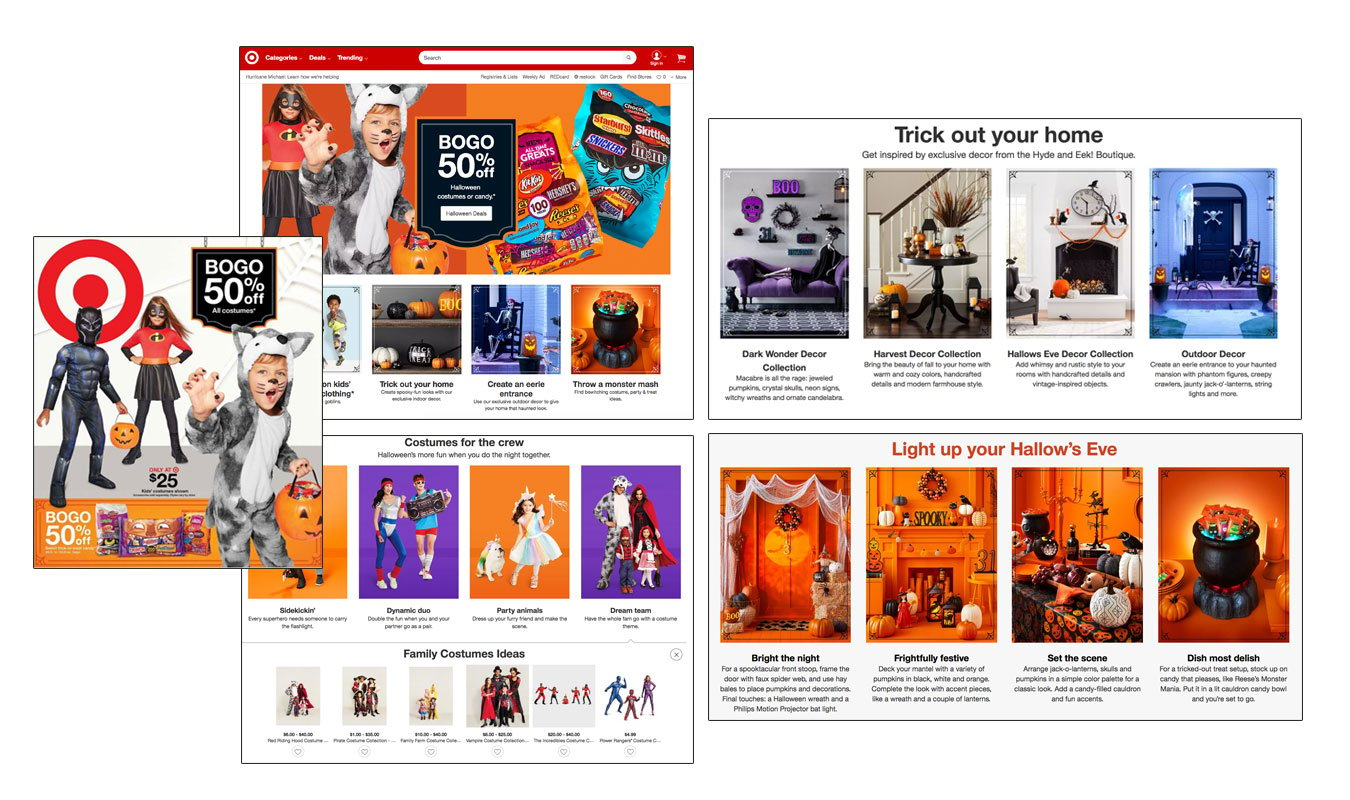 Target just celebrated its biggest sales boost in more than a decade, and is clearly looking to build that momentum to scare up some Halloween ka-chings! Target is doing a lot right.
Highlights:
It clearly communicates its focus on all three categories: candy, costumes, and decor.

A very simple (and convincing) BOGO promotional offer.
Check out the creative consistency, from the home page to the front of the weekly ad.
Exclusive costumes and costume ideas for sidekicks, duos, pets, and families take it to Party City-like territory.
Of all we've seen, Target owns the pet costume category, with ideas for dogs and cats, and user-generated content that's shoppable! Five stars.
Opportunities for improvement:
The editorial article focus it uses for the decor section ("Trick Out Your Home") is light, but a decent start. What could be an informative article or step-by-step how-to (like Party City) ends up feeling like just marketing copy.
Walmart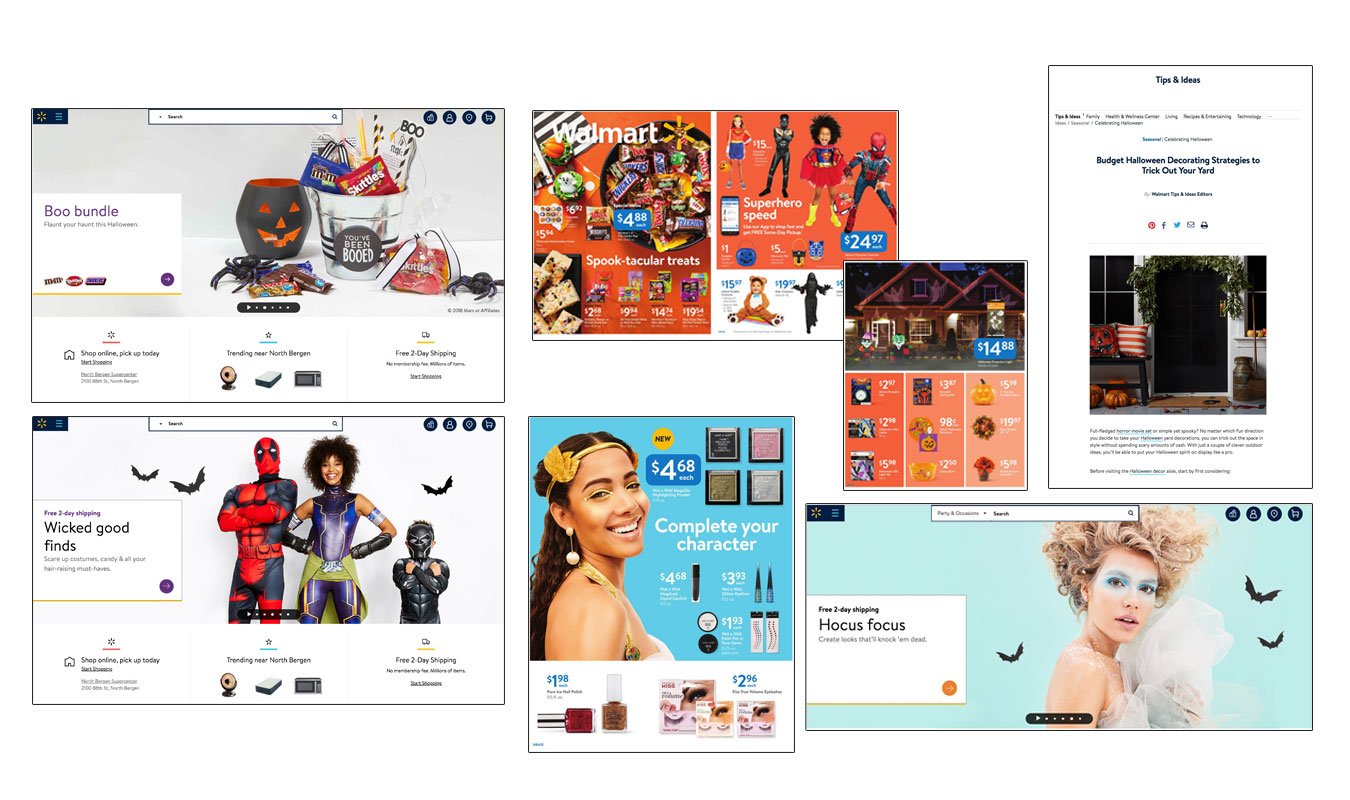 Have you seen Walmart.com lately? It's surprisingly bright, clean, and uncluttered. While the look and feel (left, above) is different from its weekly ad (center), we'll chalk that up to "generating seasonal excitement" in a very promotional vehicle and give them a pass for the visual inconsistency—this time, at least.
Highlights:
Like Target, it clearly communicates its focus on candy, costumes and decor online and in print.

We found a good, Real Simple-esque article on how to decorate on a budget (more, please!).
We LOVE the weekly ad page for makeup, positioned as "Complete Your Character." We think make-up is an underserved Halloween category, and this is a simple way to do it.
Opportunities for improvement:
The "Hocus Focus" online banner is gorgeous, but just leads directly to an ecomm page of products. Boooo. This is an example of a missing how-to video tutorial opportunity that drives us batty. Its Instagram Stories helps a little—but not enough.
Joann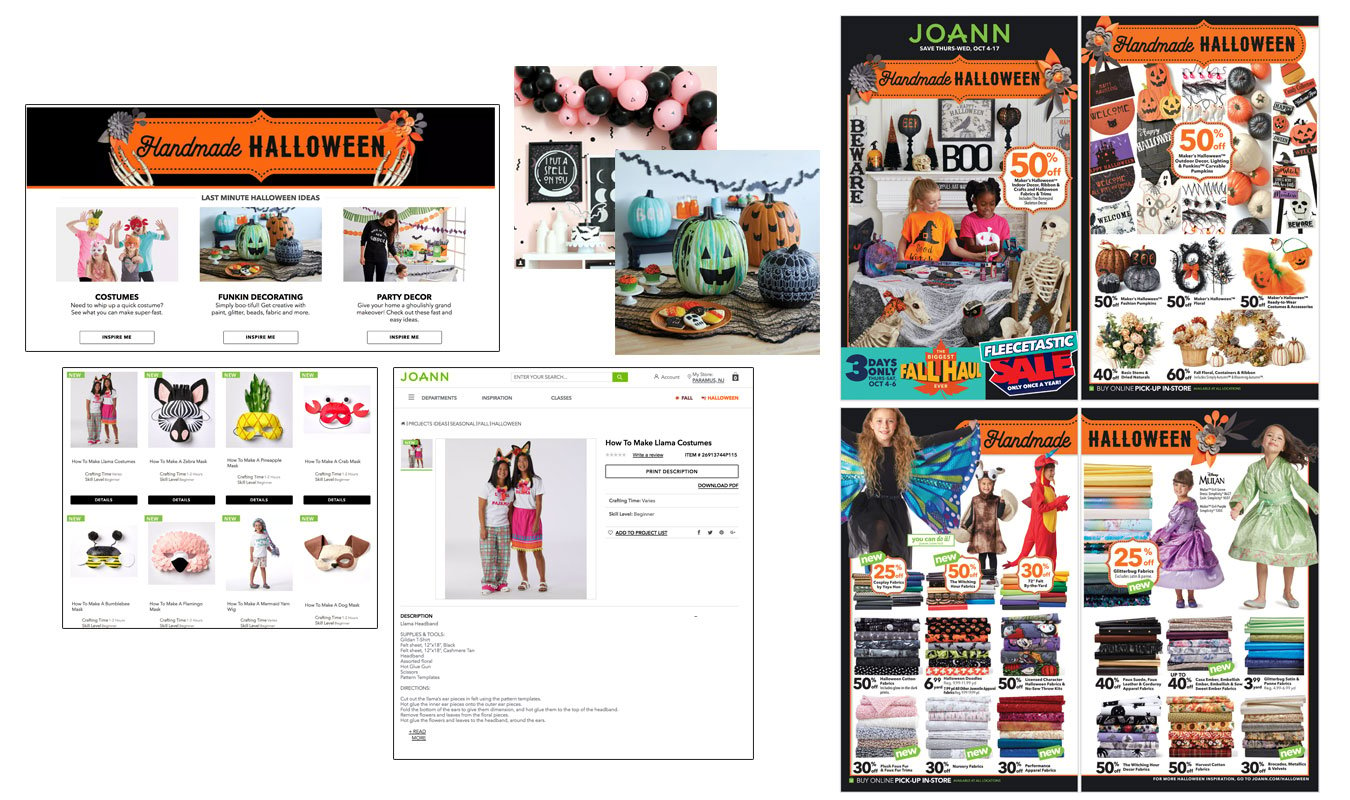 Joann is currently going through a rebrand, and let it be clear: Joann is not here to play! For its "Handmade Halloween" campaign, the crafts store goes all out to help you make your costume this year, with creative visuals and DIY tutorials that are nothing less than spooktacular. It strongly supports the company's refined position as "your happy place" with experts who can help you create beautiful handmade things.
Highlights:
DIY costumes are the focus, with a strong presence in crafty DIY and party decor (watch out, Party City!).

Step-by-step tutorials help you create your own fun, current costumes (yes, let's go as llamas!) and costume accessories (who doesn't need a mermaid yarn wig?).
A 60% off one item coupon trumps the 40% ones found at rival Michaels.
Its social media gives even more unique creative ideas and allows Joann to celebrate the work of crafters and influencers.
Opportunities for improvement:
No changes here! We just want to get to crafting!
Michaels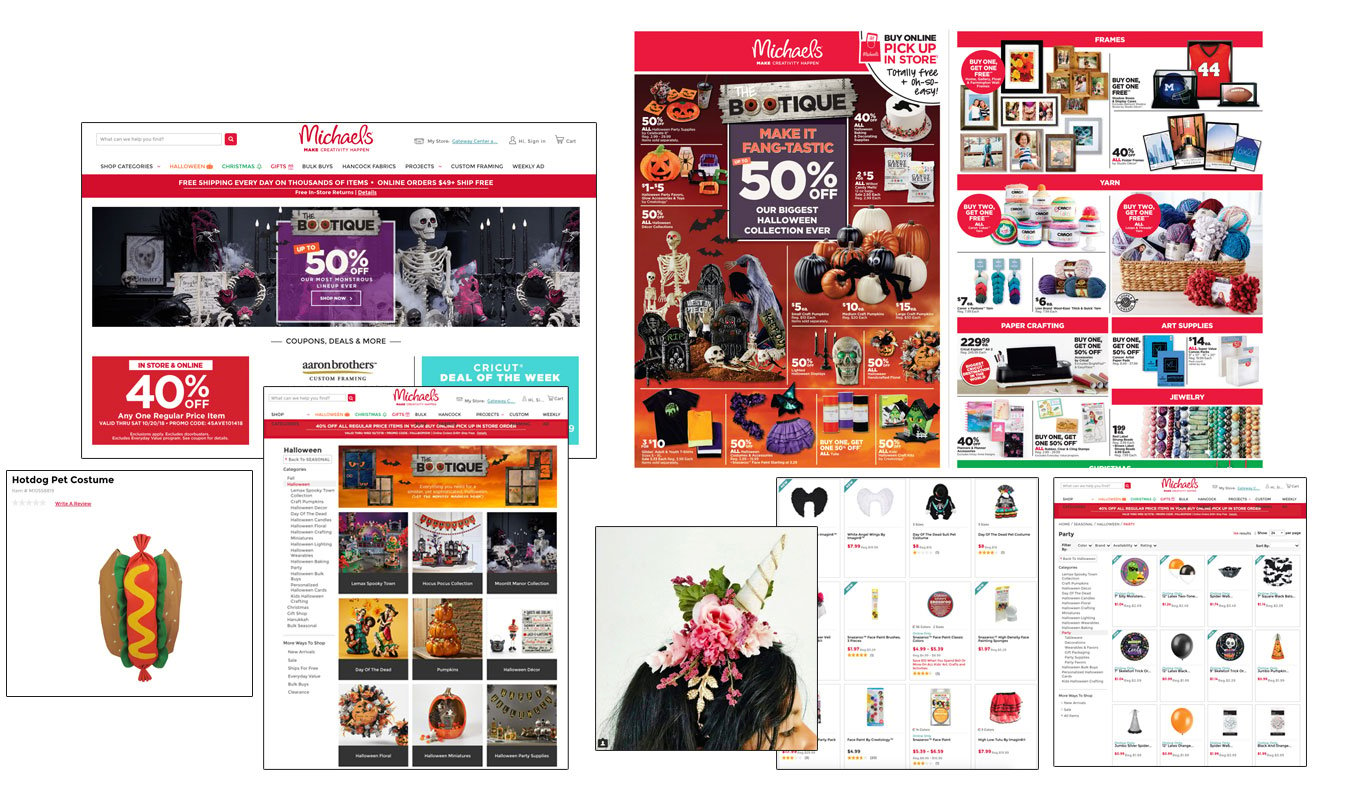 Well, this is awkward. The focus for Michaels, at least when we checked here, seems to be decor, decor, decor (from its "Bootique"). That's...good? If you're HomeGoods? It's not that Michaels is doing anything wrong, per se—but when it comes to new ideas or a fresh take on the season that gets us excited and makes us want to SHOP—we're getting more chills than thrills.
Opportunities for improvement:
The decor Bootique has a robust assortment of collections, but it's more of a Target play, rather than a brand-right DIY decor spin that Joann is taking.

Little to no focus on the other categories: costumes and candy.
Light costume accessories are available, and party supplies might hint at a bolder move towards Party City's arena.
No editorial how-tos or tutorials found.
Pet costumes, minus the pets (???) miss out on the cute factor that we demand from the internet (bottom left).
Michaels, it might be time for an intervention...

Fast fashion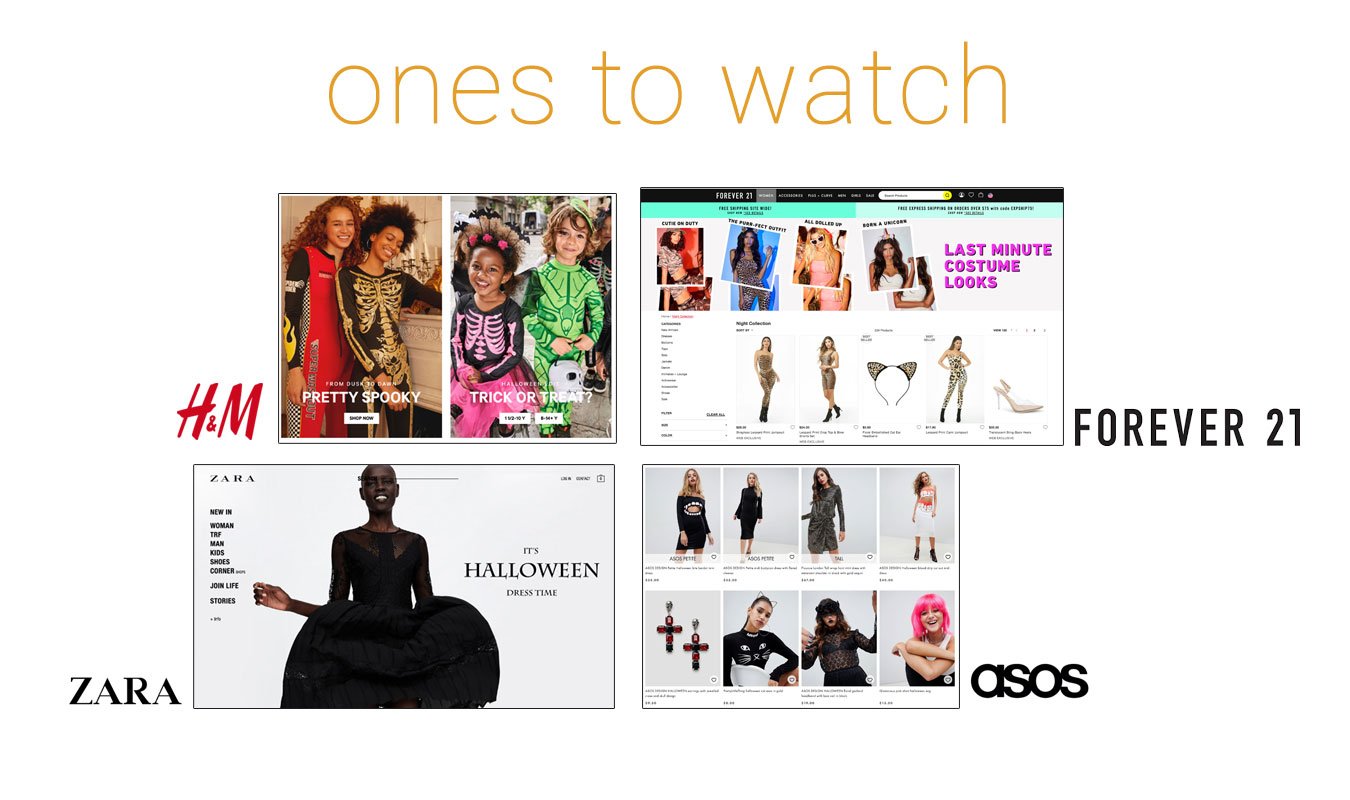 This one's really smart and unexpected, though it makes perfect sense.

Of all three categories—costumes, candy, and decor—customers will spend MOST on costumes ($3.2B compared to $2.65B for decorations and candy), says the NRF.
If you're a fast fashion retailer, you know you've got an audience of teens, young adults, and adult-adults who want to celebrate…but may not want to go all-out with a themed costume. This crowd wants season-appropriate party dresses and disposable accessories (a pink party girl wig, bodysuits, inexpensive jewelry, etc.) that they can wear to a party to give a nod to the holiday without trying too hard.
Or they can use these elements to make other, more elaborate costumes, and make them their own—which we know Gen Z and millennials love to do.
For both of these needs, fast fashion retailers like H&M, Zara, F21, and ASOS deliver the goods in a way that's fun, a bit more sexy and sophisticated, and uniquely them.
(But we gotta ask: Where are the makeup tutorials and user-generated costume idea galleries and hashtags???)

Grocery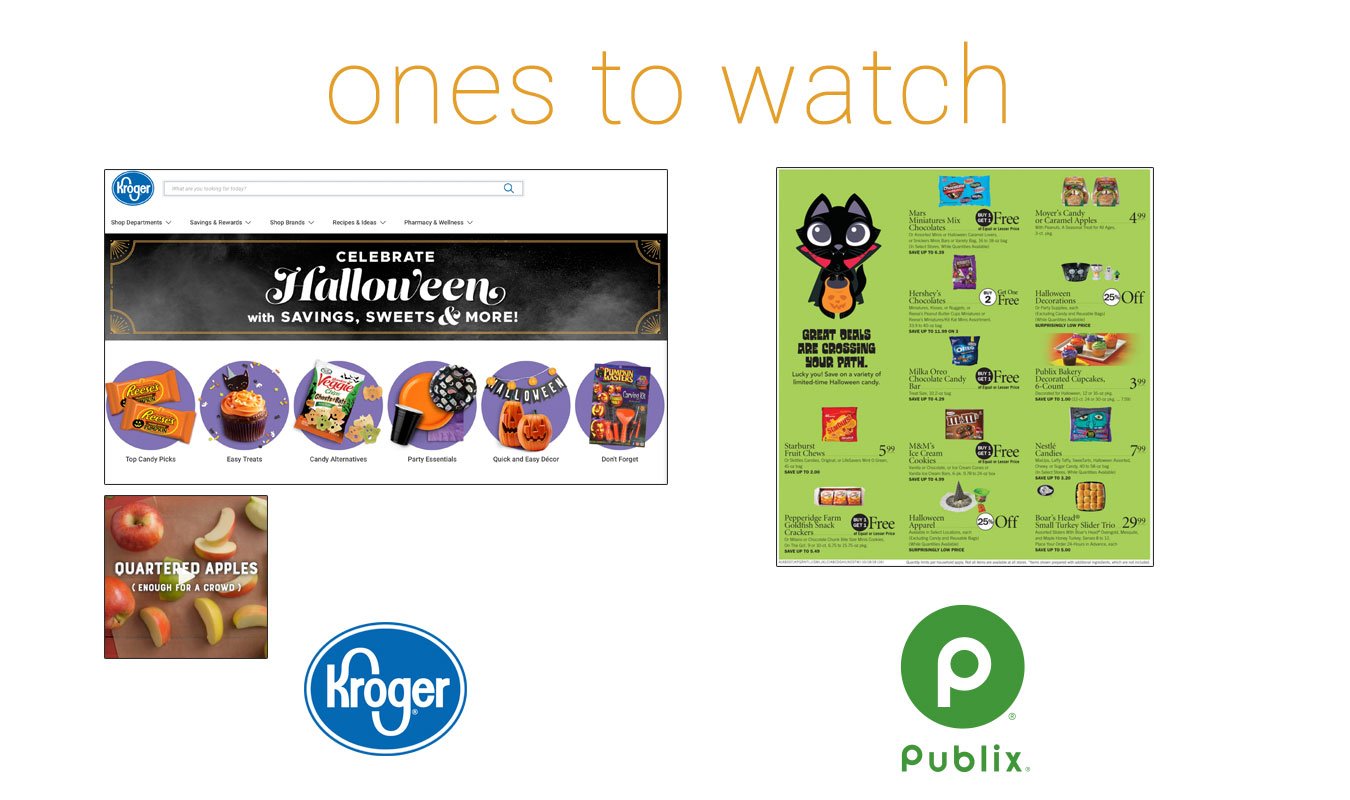 You're a retailer. You have customers coming through your doors weekly. You know they'll each spend $90 on Halloween. Sell them some bagged candy? Sure! But while they're there…maybe they could pick up some decor and party supplies, too!
Grocery stores like Kroger and Publix haven't completely gone there with a super-surprising seasonal assortment quite yet, but they could continue to make moves in that direction. (Kroger's online "Halloween" landing page and an Instagram video shown on the left. On the right is the back cover to Publix's weekly ad.)
If Target and Wally World can carry groceries, it's not too much of a stretch to envision ready-made costumes and costume accessories popping up more and more onto the shelves of your local grocery store.
Whether it's pet costumes, giant bags of candy, or boo-tiful pumpkins to grace your home, you can always count on your favorite retailers to come up with surprising ways to delight you (and get more of your $90 Halloween spend). And you can always count on us to keep you posted on what they're doing each season!
See more trends and information about Halloween 2018 in the NRF's Consumer Trends report.