One of our clients, a global seller of lawn and garden products, has a term for how its teams manage content syndication across online retailer platforms: "spreadsheet hell."
There's a good reason the practice has such a bad rap. Multiple marketing and product groups, as well as vendors, are juggling the content details for thousands of products in Excel sheets. You can imagine the margin for error, let alone the hurdles in sharing data updates with many partners. (If you're living this right now, we're sorry...but keep reading, because we have a solution.)
That's not the only pain point. We've also heard:
None of the SAP, SaaS, or other systems typically in use at large companies talk to each other
Employee turnover means valuable content and content management knowledge is often walking out the door
Internal disagreements about process lead to paralysis
There's no single place to store the complicated legal footnotes that belong with certain products
When content becomes outdated, the process to update it (and communicate those updates to online sellers) is laborious
Third-party sellers often "go rogue" and pull incorrect content from the web, rather than from one central, verified location
Teams are just too.dang.busy to monitor the vast amounts of content they must deploy
It's downright panic inducing. So, how do you get it under control? And once you do, how do you continually optimize your content to keep up with constant retailer platform changes—and evolving buyer behavior?


Meet the PIM: a Product Information Management System
Since the early '90s, Kreber has been developing Product Information Management systems (PIMs) for brand-name clients to help them effectively manage content. Back then, we did it for print, allowing for the scalable production of catalogs and circulars dense with product info. Today, our customized systems can handle all the data needed to help your team avoid the problems stated above—even as the placement of content has gotten more complex and widespread. In fact, a PIM is more important now than ever.
"Data quality and data consistency are naturally improved by reducing the need to manage redundant information in multiple systems." —Stephen Rogers, R3 Consulting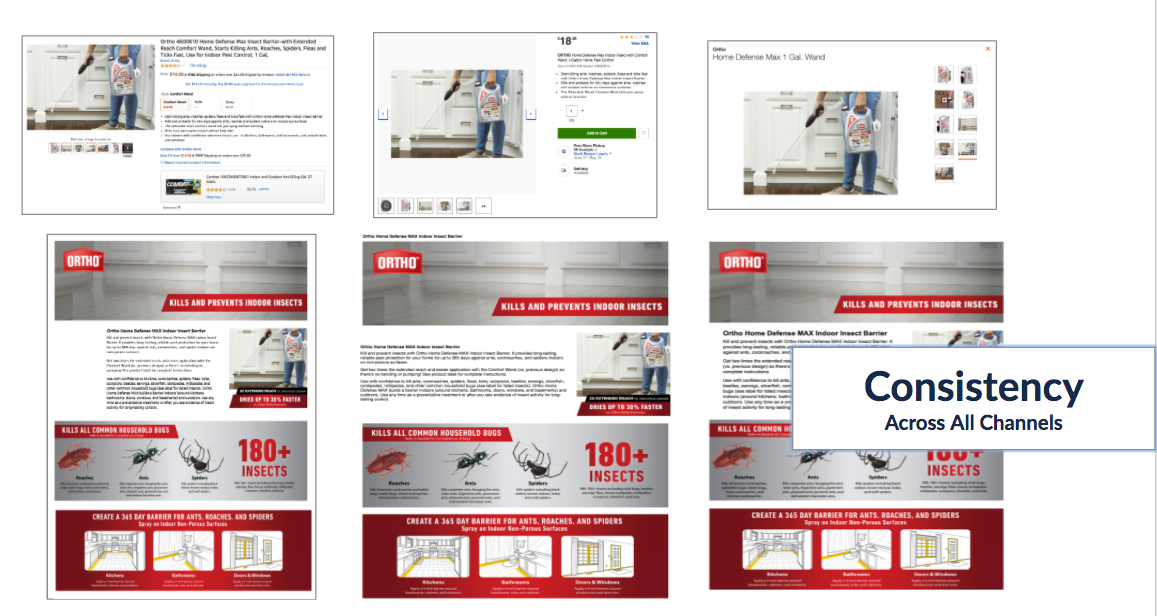 Ahhh...check out the consistent content for Ortho across Amazon, Lowe's, and The Home Depot, courtesy of a custom PIM.
If you're struggling to wrangle thousands of items of product or marketing content for your company, consider the advantages of a PIM:
It provides a single "source of truth" for your content, and updates can be pushed out in real time
It requires only a few admins and is comprehensive enough to house all data—so you can ditch the spreadsheets and save your teams a ton of time and headaches
It ensures your content is accurate and brand-true, no matter where or how it appears
It guarantees the right keywords, search terms, and metadata are present, every time
The good ones (and it's critical to vet any PIM thoroughly) play nicely with your existing software systems, meaning you can keep what's working and get rid of what isn't
Sold? Good. Let's talk about how to find the right PIM for your specific business and content needs.


What to Look for in a PIM
As mentioned above, we have deep experience developing PIMs, but there's no shortage of options on the market. Plytix, Salsify, and Syndigo are just a few of the big players out there, and the power of their programs can be overwhelming. So, don't dive in until you've done the following:
Align your internal teams on the goals and expectations of implementing a PIM—and understand that it won't solve for poor content. It's still on you to get that part right at the brand and product level.
Consider how much time you really have for onboarding and program management. Do you need a dedicated account manager—maybe even someone from the PIM vendor who can be on-site with your staff for a time?
Assign leads who can liaise with the vendor, initiate data transitions, and keep track of internal product updates.
Ensure the PIM provider truly "gets" the full complexities of your product content, and is well versed in the variances of Enhanced Brand Content across online retailer platforms.
Map cost vs. efficiency. If the system doesn't alleviate pressure on your teams, it's not worth the subscription fee.
Instituting a PIM takes work, especially if you have thousands of products to store. There will be time needed for research, discovery, and development; training; data migration, and hygiene; and the dreaded change management. But let's face it: content—the good, thorough, enhanced kind that works well in places like Amazon's A+ area—is the only way to successfully sell your products online. And you can't go on in spreadsheet hell forever.


PIMs Are the Solution for Online Product Content
You might be thinking, "I'm sold. Now help me sell it up the chain." Well, when teams are at capacity internally, it's usually easy to see how the right content management system can help. But a good sale ultimately depends on what it can do for the customer.
As customers comparison shop across the internet, they may see your product on Amazon, Lowe's, Target, Walmart, The Home Depot, Wayfair, and other sites. If that product experience varies widely (which can be especially true for small to medium-sized manufacturers), it hurts sales at the moment of truth and your brand's integrity. And that's a risk no brand can afford to take right now.
If you want to protect your sales potential online—and save your teams' sanity—remember the acronym.
---
Just what does best-in-class Enhanced Brand Content on Amazon and other ecommerce platforms look like? Our new video series, On Topic, shows you! Sign up now to see it.