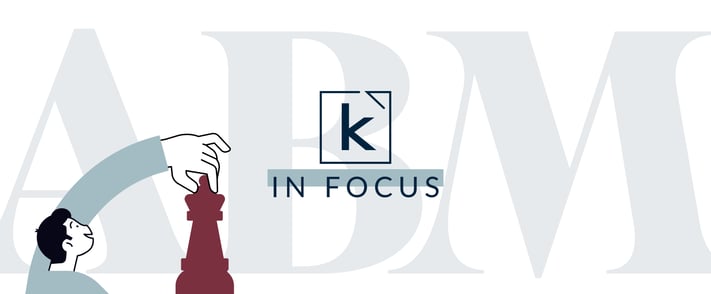 Account-based marketing, or ABM, has been part of marketing professionals' vocabulary for years. However, in the last 3-5 years, there's been a renewed focus on ABM as technology has become smarter and companies have realized that marketing to the masses isn't as efficient as narrowing in on their ideal customer profile (ICP).
Yet, it can be hard to launch an ABM program. There are many facets to consider, you may be asking yourself, "Where do I begin?"
Account-based marketing starts with finding the right customers
The most important thing is to understand the right customers for your business. Work with your leadership and sales team to identify the customer profile by setting parameters around revenue, industry, go-to-market strategy, location, and other demographic and firmographic information that will impact the success of your ABM program.
When it comes to the marketing side of it, Hubspot offers some great tips in the ultimate guide to ABM. There are a few areas—including data, technology, content, channels, and owned and paid media, as well as offline activities—to consider. Let's take a look at some of them to help you get started.
Data is critical to ABM success
All good ABM programs start with data. Data will be your team's foe as you begin; however, a long-term friendship with it will bloom along your ABM journey.
Reviewing your current dataset to ensure the correct target accounts are within it will be the first priority after you've identified your ICP. If the right targets are already in your dataset, you'll be well on your way through your ABM process.
Connecting contacts with the target account or ICP is the next step. Though you target companies, it is the people at those companies who make the buying decisions and will ultimately be your customers. At this step, you're looking for contacts within your dataset that are working for those target accounts. This is where it can get tricky, because people switch jobs every few years and, depending on how old your data is, some cleansing will be needed.
Now, if you do not have contacts at those companies, a process for finding the right contacts will need to be defined. The success of your ABM program relies on the quality of data used for outreach by the sales and marketing teams.
Keeping your data clean and complete helps to ensure the success of your ABM program as you look to sell more services to your existing clients.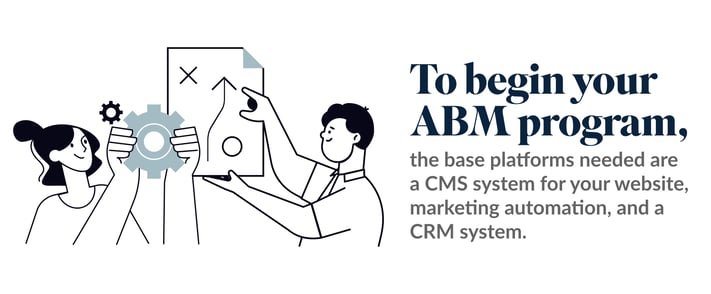 Account-based marketing technology…so many platforms
There is no shortage of technology platforms, from CRM, CMS, and marketing automation to business intelligence, data enhancement, and beyond. Many overlap from a functionality standpoint, and the confusion sets in very quickly.
To begin your ABM program, the base platforms needed are a CMS system for your website, marketing automation, and a CRM system. Beyond those three, depending on how sophisticated your program becomes, you may want to look into others to help you with analytics, offline marketing, and outbound activities.
Additional platforms for data mining and enhancement may also be necessary for your sales and outreach teams as they find more contacts in your ICP. They can also be useful for the marketing team as they launch targeted paid media programs—just to make certain they're targeting the right customers online, wherever they tend to spend time.
Content is still king
An ABM program needs content to help your ICPs along their journey. Be sure to map out that buyer journey to understand the types of content best for each touchpoint. After all, the best way to demonstrate your company's value is to offer the right content to the right person at the right time. Ensuring you understand those buyers is imperative. (Check out Forresters' The Buyer's Journey is the Portfolio Marketer's Key to Planning for 2022 blog for some insight.)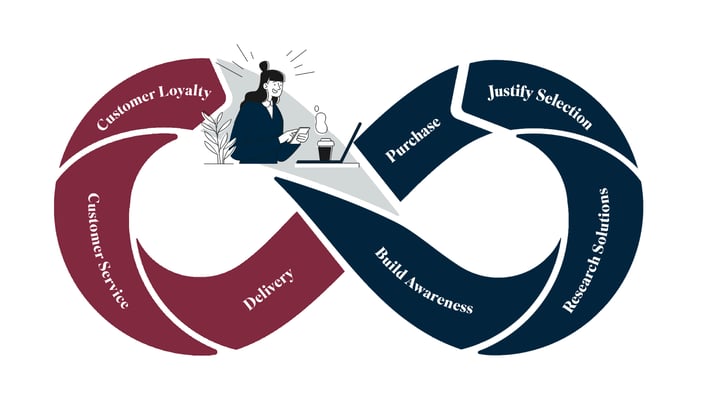 Where to start? Think about the types of content that educate and inform to create awareness of your offering and help loosen up a potential customer, as well as content that gives them freedom to explore your solutions before moving them to buy.
Smart media use is imperative to ABM
Using all of your media—both owned and paid—is crucial to the success of your ABM program. Make sure you build awareness with B2B buying committees, starting with owned media. (Owned media includes your website, blog, and social channels.) Use it to show how you help your customers solve pain points.
Social channels can help you discover which conversations your clients participate in—so you, too, can participate by sharing info to help them with their day-to-day challenges. Additionally, look for industry groups of which your target accounts are part, then join those conversations to demonstrate your thought leadership.
Paid media plays a role in ABM as well. It has varied execution techniques depending on the platform, so it's important to understand what you need prior to uploading creative assets (doing this will significantly limit your frustration).
Paid social is another avenue through which to reach your targets. On LinkedIn, you can upload a list of target companies (even specifying job titles). Or, if you already know your contacts, you can do the same—keeping in mind it takes up to 48 hours for the matched audience to load so your ad can run against it.
Running display advertising on Google and other platforms is a different process, and it can be constrained by lifetime spend to utilize Google's audience match capability. Doing some keyword research will help you determine how best to set up your campaign, or retarget those who visit your website as they shop online. With display ads, remember to have the demographics you want to target at the ready; added into your campaign, these may help find your ABM targets if you have not yet reached the lifetime spend minimum.
Beyond display, a faithful advertising method is keyword text ads on search engines. Keywords are important in helping your audience find your services. Creating text ads that link to your website to pay off those keywords is a very effective advertising tactic. Though not targeted to your ABM accounts or contacts, this will still help aid general awareness of your company and the products and services it provides to help solve the pains of potential clients.
Whether you're just starting out with ABM or already on the path, your program will always need to be adjusted based on insights being gathered along the way. Keep watch on what is working, how your audience is interacting, and the best ways to iterate your program for better, quicker conversations with potential customers—which will help your sales cycle become shorter.
Kreber Has the Expertise You Need
With more than 100 years of experience, we've built a reputation for our hard work and dedication to delivering creative ideas and positive outcomes for retail and B2B clients. As an independent content marketing agency with a history of thinking ahead, we create and grow opportunities that allow our partners to thrive. We take pride in our mission to Think, Create, and Deliver compelling content that's visually stunning, innovative, and purpose-driven within the creative market. We use our century's worth of industry knowledge to help our clients save time and money, execute successful campaigns, utilize technology, and handle the strategy, planning, creation, management, and distribution of advertising and marketing content. From print and digital content marketing to social media marketing and everything in between, we're the advertising agency of choice to bring any vision to life.