Seasonal Planning is great for aligning internal stakeholders and giving your internal (and external) creative partners time to do what they do best. But let's not overlook the real fruit of all of that labor: creating external events that get customers excited to shop!
As spring rolled in this year—warmer days, cherry blossoms, finally that first 70-degree day!—so did the seasonal and retail events at major retailers around the country. We wanted to see who did what and to cherry pick some key takeaways that can help you with your seasonal planning efforts.
Take a stroll down the aisles and through the landing pages with us…
DSW: Nails it (!!)
If you popped into DSW on your lunch break in April looking for a little distraction, a break from the norm, a chance to get away from the sheer madness of it all (I mean, theoretically), you were greeted with the essence of what Seasonal Planning delivers: excitement.
Maybe it's the bold orange background. The clear but purposeful "Mega Sale" type. Or the friendly, slightly manic (!!) treatment. DSW's sale event definitely put a lot of pep in our step.
In-store, discounted shoes (apparently the "Lowest. Prices. Ever." for select brands) were clearly grouped—signed—made special. The energy carried through to DSW's social media and website. Clear, engaging, purposeful… Perfect.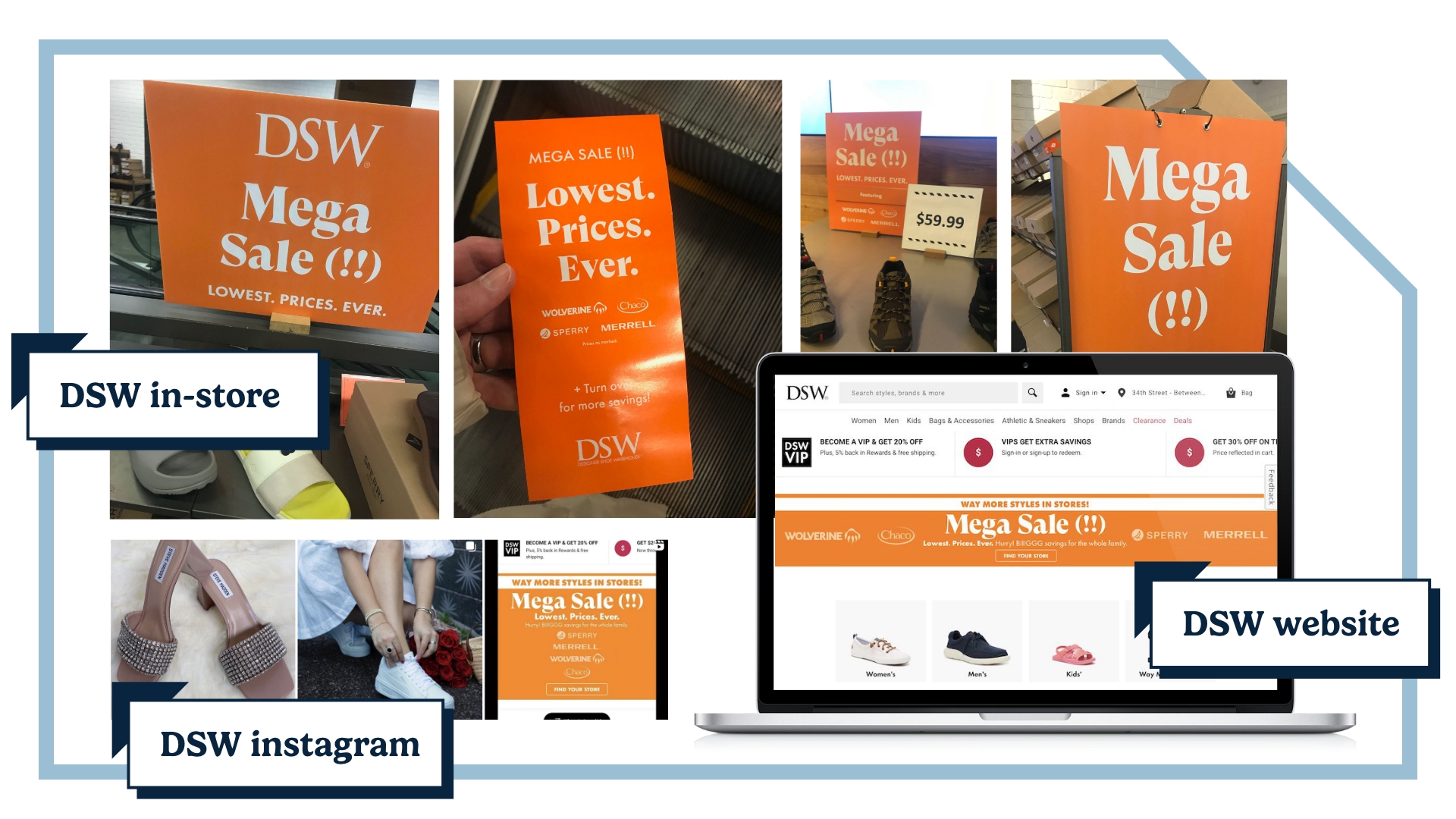 Key Takeaways:
Keep it simple. Although we do love clever catch phrases or taglines for retail or seasonal events, they're not always necessary. Be direct instead, because not much can match the inherent excitement of "s-a-l-e."
Pay it off. DSW reminded us that it's okay if your whole assortment isn't a part of the event. Just be clear about what is and isn't by corralling them into their own areas in-store and online.
Target: A garden stroll
Target has historically been a master at Seasonal Planning, developing seasonal events and product assortments with an efficiency and ease that's enviable. Target could rest on its laurels… It only takes one 70-degree day to stoke the desire to stock up on short-sleeve tees and, okay, maybe another bright beach towel. But Target still wrapped its seasonal offerings in a beautiful bow, from apparel to outdoor and everything in between.
This year, a floral cutout motif welcomed you as you entered and followed you around throughout most departments, in different colorways. Target run or garden stroll? Who can tell the difference? And, for that, we love them.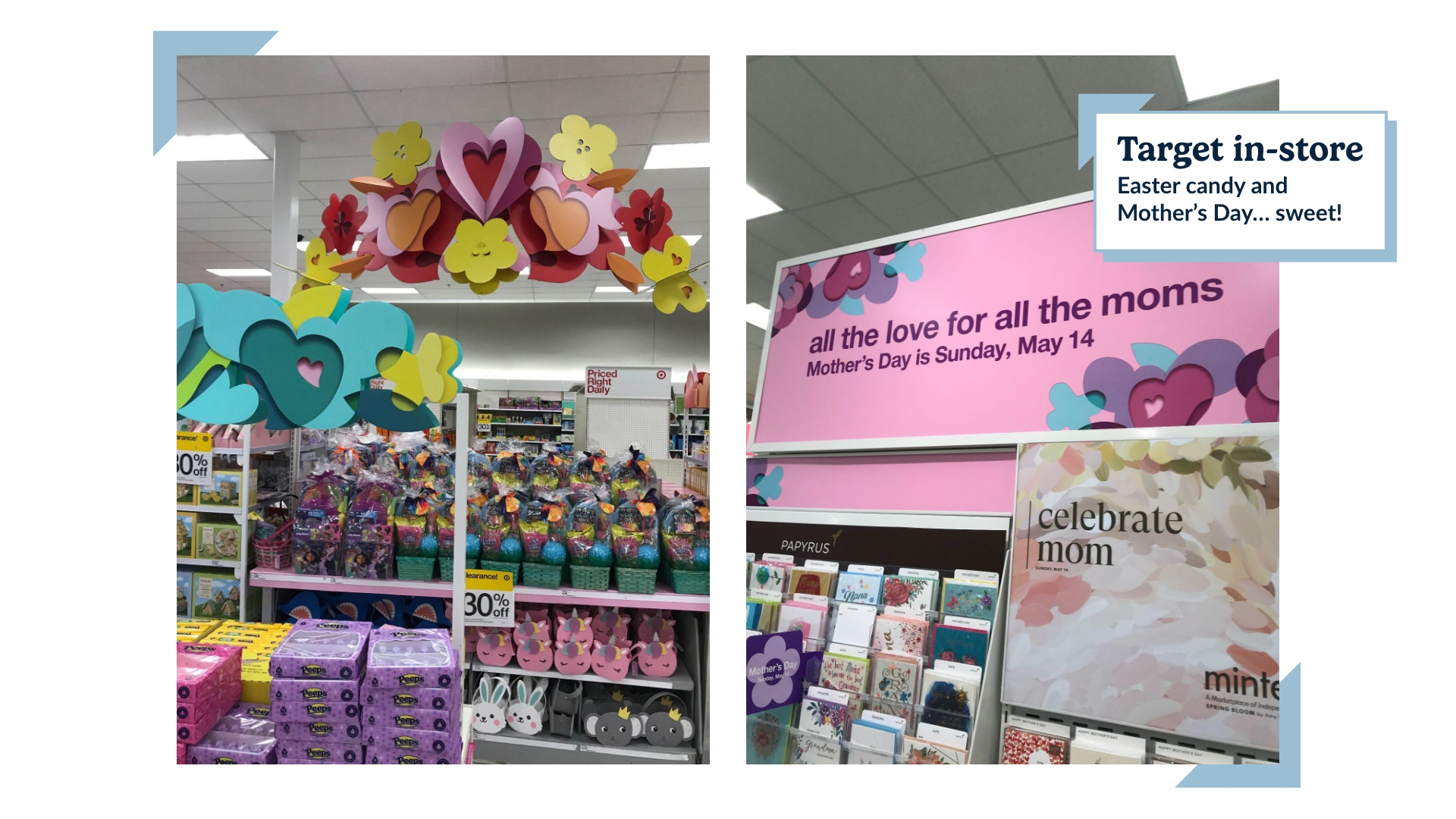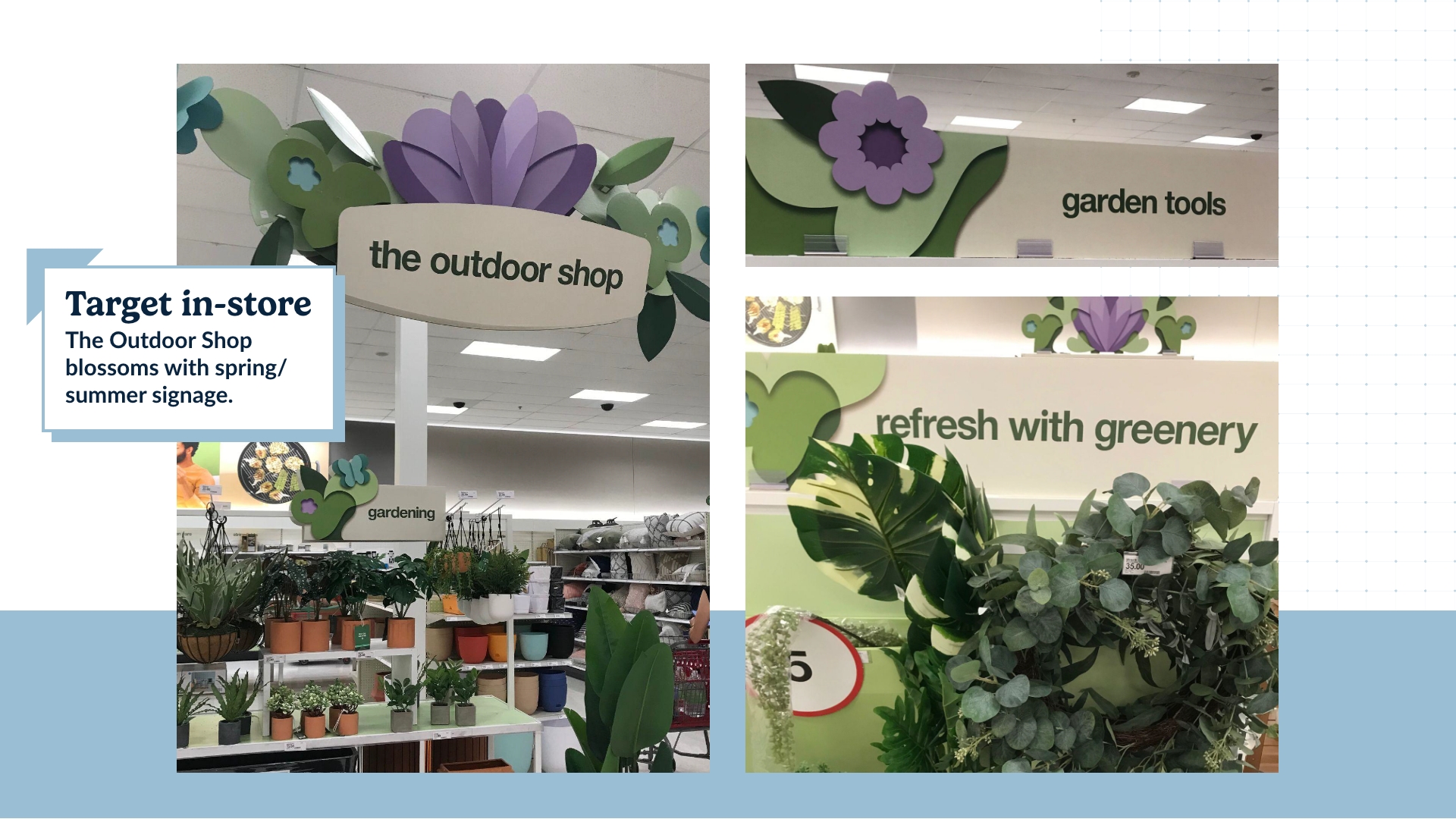 Key Takeaways:
Plan purposefully. It wasn't just all pretty flowers at Target—it was efficient and strategic, too, from an operational perspective. Notice how the 3D flower treatments (more expensive to produce, harder to assemble) seemed to be generic enough for the full run of the campaign, whereas the Mother's Day one was a banner that could be switched out easily once that specific holiday passed.
Be specific—but not too specific. The apparel set in the front of the store seemed to be geared for Easter Sunday, but the signs don't say that. Target opted for "Party-ready styles for the whole family." That allowed the fixture to stay untouched after Easter came and went and made the clothes more applicable to other events happening that season.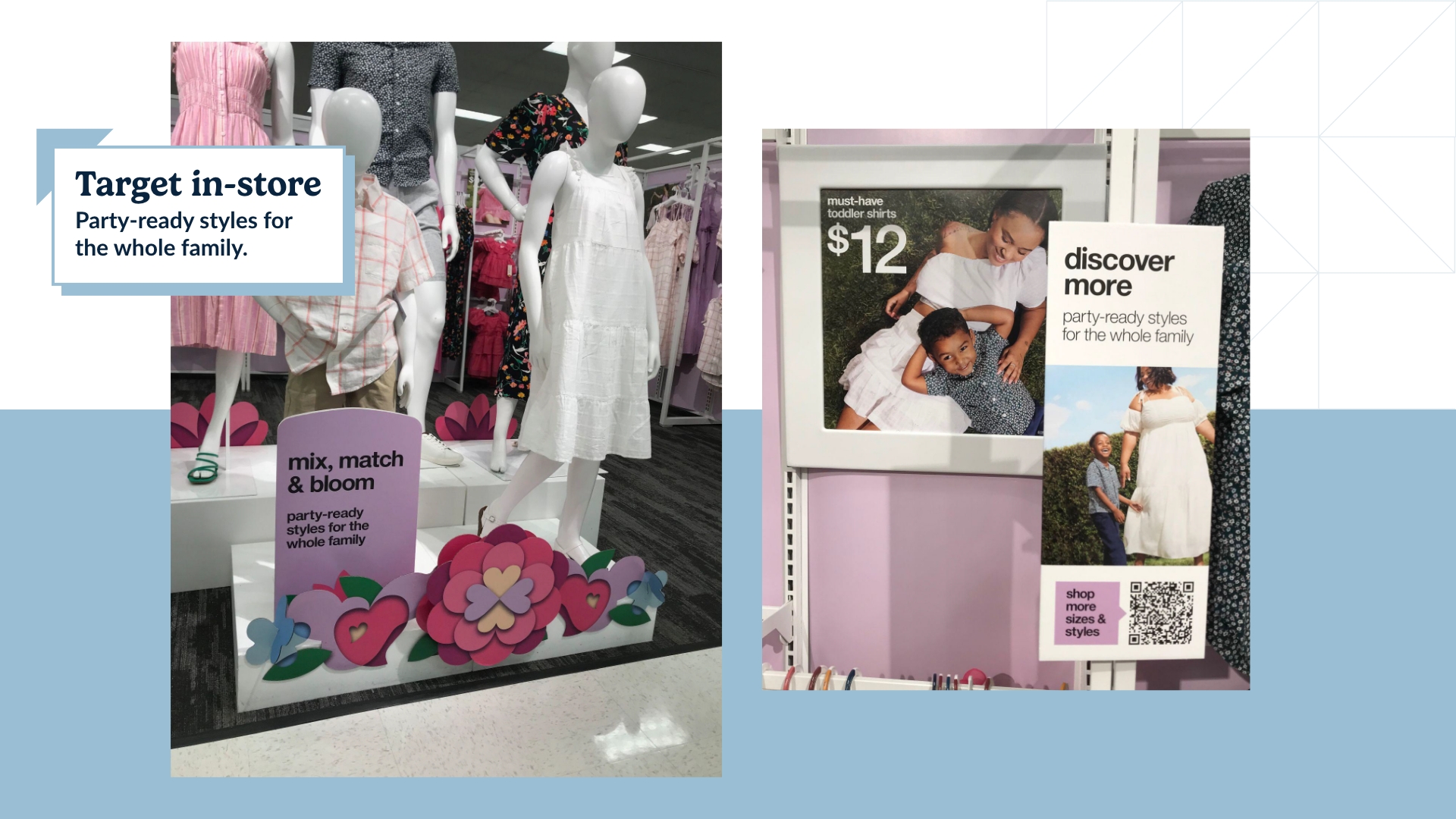 IKEA: It's not all sunny…
In-store at the Atlanta location, it was very clear that IKEA had a "Spring Sale" going on, March 15 through May 29. Signage dotted the aisles at almost every turn. Such a long event must have surely been stocked with tons of deals, offers, and values, right? It was… unclear. We saw more generic "Spring Sale" signage than we saw actual items discounted… but maybe it was a lighter week when we were there?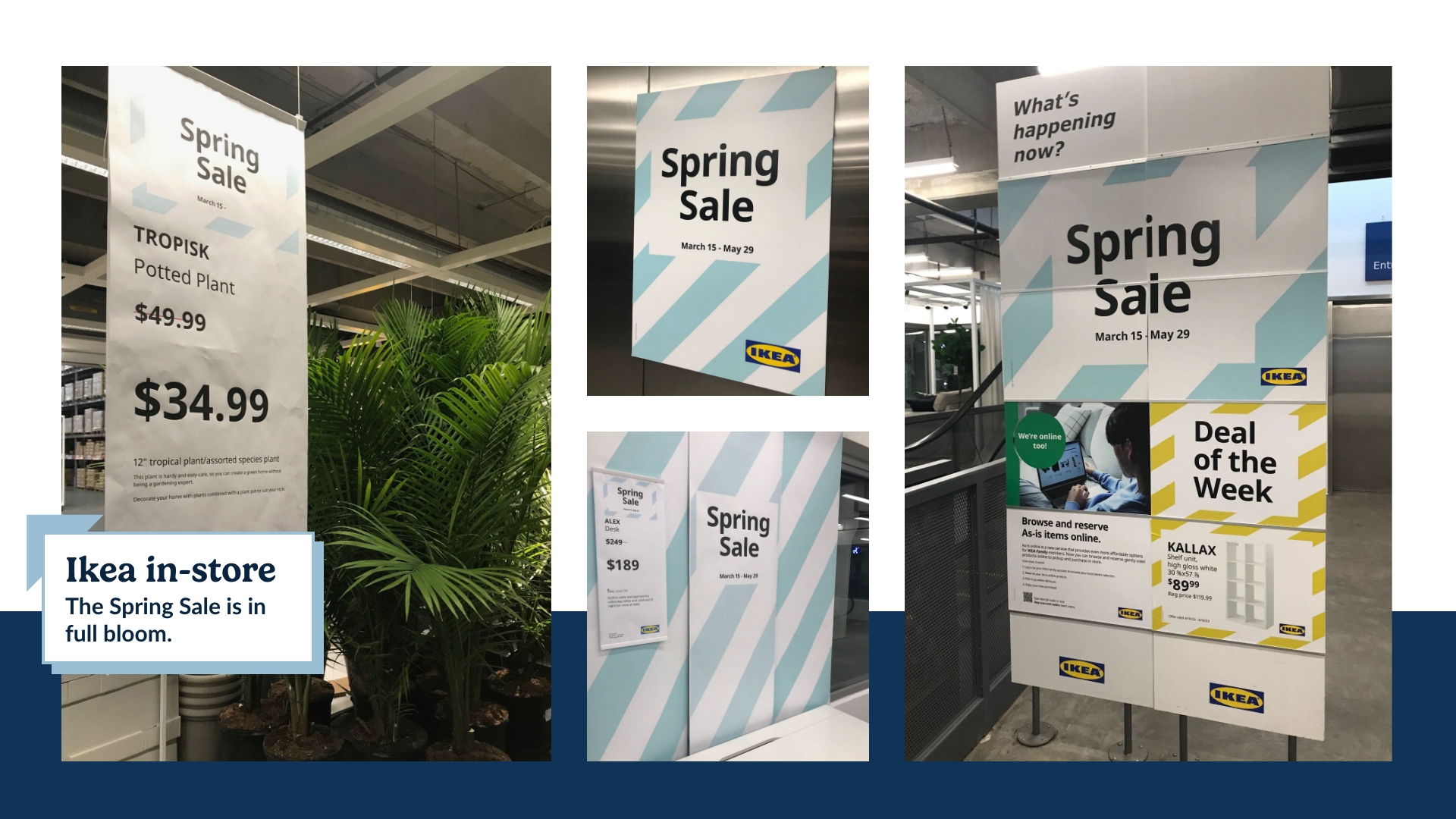 It was a promising but ho-hum experience in the store, and things actually took a turn for the worse on IKEA's digital channels.
On IKEA's Instagram and website home page, the Spring Sale was hardly mentioned, besides a similar stripe treatment (in green, for Earth Day). The green stripe made a brief appearance on the Offers page, too, along with a mention of Spring Sale (finally!) very low on the page that just linked… back to the same Offers page we were already on. Confusing!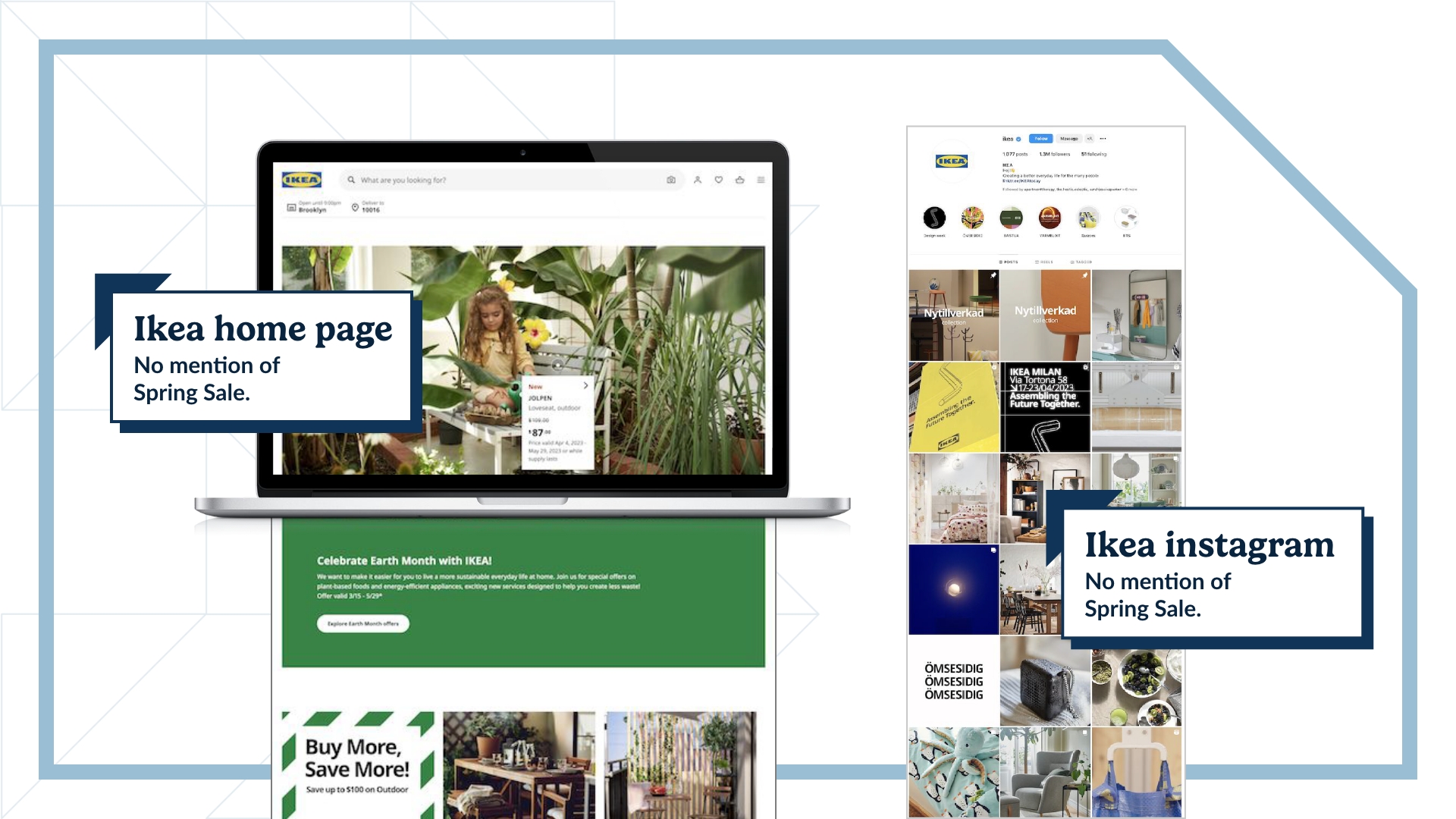 Key Takeaways:
If you go all-out on an in-store event, prioritize it similarly on other channels to drive traffic and/or support the post-store experience. (Prepare for both scenarios: shoppers who see digital channels that drive them in-store and vice-versa.) Otherwise, your customers may wonder what all the fuss is about.
If your event spans a long period of time, that's fine! But make sure each week is filled with something exciting. You may only get one chance to be in front of a customer, and you don't want it to be on an off week.
Get in touch!
From a brand-level promotion that could technically happen any time of the year to a spring-themed assortment that's meant to help customers dream of carefree days outdoors, we believe you can take your retail or seasonal event wherever it needs to go. Just plan accordingly (Seasonal Planning—again!), so everything a customer sees adds to their experience (DSW, Target) and doesn't leave them out in the cold (IKEA).
If you'd like to know more about our approach to Seasonal Planning, reach out! We'd love to tell you more.
-----
Kreber Has The Expertise You Need
With more than 100 years of experience, we've built a reputation for our hard work and dedication to driving positive outcomes for retail and B2B clients. As an independent marketing agency with a history of thinking ahead, we help you connect with customers, from print and digital marketing to social media content and everything in between.