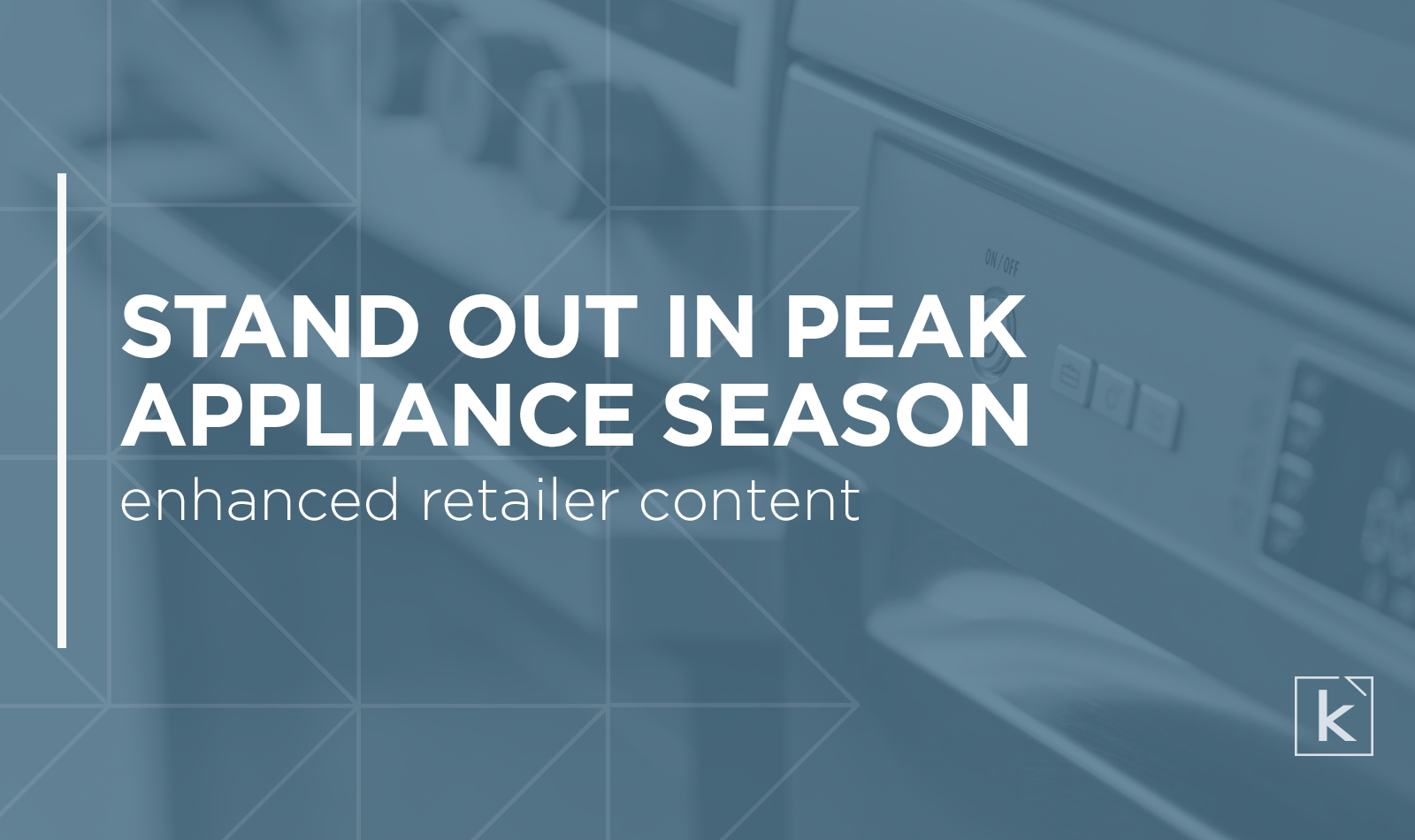 For many consumers, appliance shopping is their least favorite kind of shopping.
And it's not too difficult to understand why.
Appliances are expensive, and some can cost as much as a car. They're big, bulky, and getting them from the store into the home isn't the easiest process—even though the majority of retailers offer home delivery and installation/setup for an additional fee. It's nearly the complete opposite of walking into a department store and trying on clothes; you can't demo a dishwasher and you can't watch a washing machine in action on the showroom floor...yet.
These days, customers are doing a lot of homework before they make a buying decision, which means there's less wiggle room in the funnel. Because of that, consumers are informed more than ever before and they have more options, which puts the onus on you (the brand or the retailer) to stand out from the pack.
We'll talk about that (and more), plus the latest trends in appliance shopping and how to put your best foot forward.
Spin cycle
We know there's a back-to-school shopping season, which is now happening as early as late June and early July, thanks to Amazon Prime Day. There's a generally accepted furniture shopping season, and there's obviously holiday shopping. When, exactly, is appliance shopping season?
There are a couple of different schools of thought on this. Most experts will tell you that consumers' antennas are up regarding new appliances in the fall (September, October, November) when new models are being released and older models go on sale. Note to retailers and brands: This is a great time to have your biggest sale of the year.
While fall is accepted as the peak appliance shopping period, others believe it to be year-round and that consumers will make a buying decision when they feel they have enough information. How they're doing that research should have a heavy influence in how you, the brand or retailer, structure your customer experience both in-store and online.
One significant thing to keep in mind: Studies have shown that appliance shopping is "high intent" shopping. That means consumers aren't merely browsing; they have a clear goal to make a purchase and, more often than not, they know exactly what they're looking for. Factors that influence their decision are (in no particular order of importance) price, features, and brand name.
As recently as late 2017, nearly half of appliance shoppers (48%) said they purchased an appliance within a week of beginning their research.
That's a small window for brands and retailers to capitalize on two critical factors—interest and intent—and funnel customers through the buying process expeditiously.
That's what Home Depot is trying to do. The second-largest appliance retailer in the United States, which pulled in $6.5 billion in 2018, seems to understand one trend among consumers shopping for appliances: 87% of them (!) said they did their product research online, but made the purchase in-store. Home Depot is rolling out its appliance sales online, letting shoppers know these deals are available AND if the products they're searching for are available on display in their local store.
Want to buy an appliance? Cool. We're offering a deal. And, if you want to come in-store to purchase it, you can see it on display. Or if you're cool with it, we'll deliver it to your home for free. Take that, Amazon.
Lowe's is paying attention, too. The nation's No. 1 appliance retailer ($7.72 billion in 2018) is keeping pace with Home Depot, its primary competitor, and advertising appliance sales of 30% off select models right on its home page. Clicking the ad on the home page gives shoppers the information they want: Lowe's will match a lower price you find elsewhere, and they'll deliver it for free as long as it meets a certain price threshold.
One thing Lowe's is preparing for? Different types of appliance shoppers. Their website categorizes appliances based on who you are and your needs: Single-family home? Dorm room? Apartment? There are specific links for each product type, as well.
What we've learned here is that as much as product features and pricing are important, it's equally important to cut to the chase and make your shopping experience as navigable and sensible as possible. The country's two major players have definitely done their homework.
Start the engine
Ok, so let's talk about content.
First, make sure your website is up to date with your current offerings and you lay it all out there for your potential customers. Because appliance shopping is high intent, as we mentioned earlier, everything you list on a product detail page (PDP) must explain exactly what the customer expects from the price to the features to the ability to see it in-store.
Take it from Home Depot and Lowe's, the two biggest fish in the appliances pond: They've done their research on the trends and tendencies of their shoppers. Enhanced content on their product pages isn't just a luxury—it's a requirement.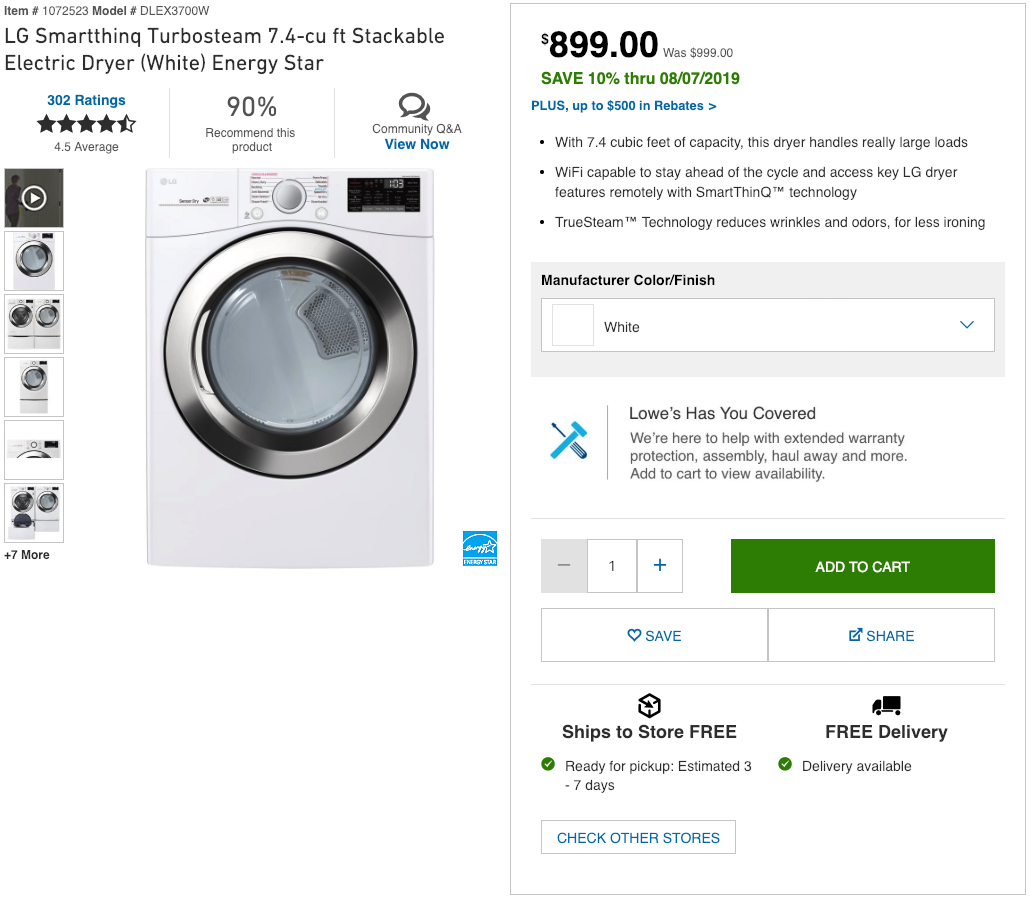 Lowe's product detail page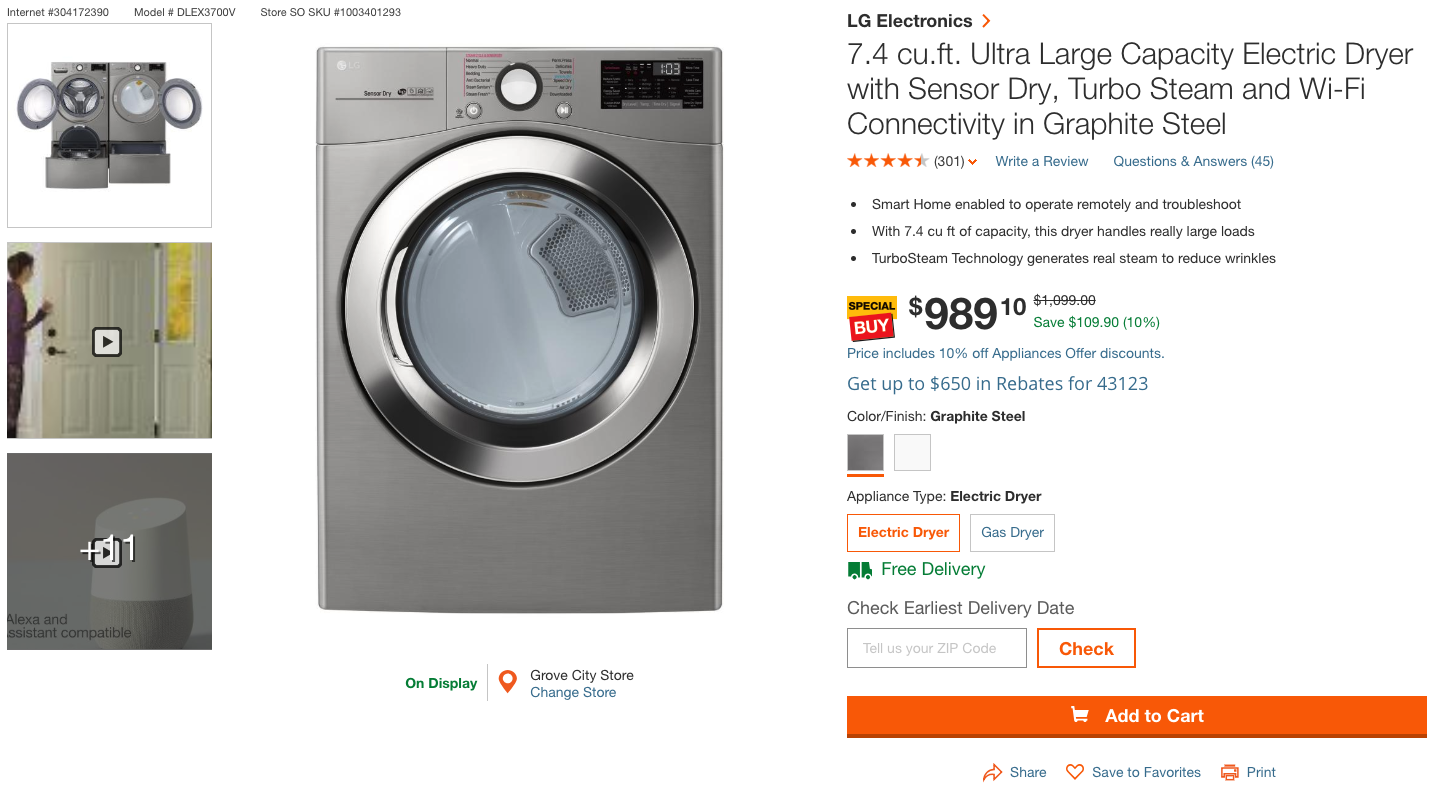 Home Depot product detail page
Can you buy it online and have the appliance delivered? Can you view it on display in-store? Do you match prices? All of these are questions that customers are seeking answers to during their research process, so when it comes to capitalizing on their intent, it's also about answering the questions they haven't asked.
What does this product look like when I open the doors? Do other people like it and recommend it? Is there a special deal if I buy it now?
Done right, enhanced content and a strong PDP drive results. Done poorly, they'll drive customers to your competitors.
For more on product detail pages, check out our blog post How to Win Appliance Shoppers with Micro Content.