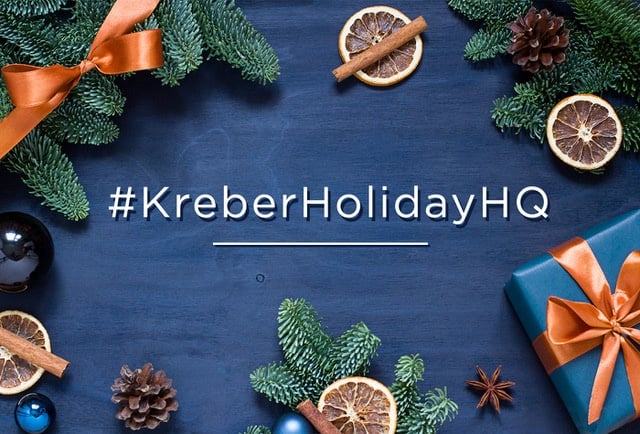 The demise of Toys 'R' Us earlier this year means there's about $2 billion in toy sales on the table this holiday season for other retailers to snatch up.
Always ones to maximize opportunities, the remaining toy destinations, like Walmart, Target, and Amazon, are working overtime to fill that void in the market. Even grocery players like Kroger are getting into the game! For all of them, scooping up more of your toy purchases this November and December is anything BUT playtime.
First, some perspective.
How much are consumers spending this year?
The average consumer will spend $1007 this holiday season, up 4% from $967 last year, according to the NRF.

They'll spend most of it, $638, on gifts.

About 20% percent of those gifts will be toys (only clothes and gift cards are higher).

The highest sales for toys come the week before Christmas; customers are crossing other items off their lists during Black Friday and Cyber Monday.
Where are they shopping?
We know that some product categories fare better than others in the in-store environment; you want to sit on the sofa or try out sports equipment before you buy it. Conversely, categories like electronics and shoes are more suited for an online purchase. You find something you like, you do a little research, and you're good to add it to your cart.
Interestingly, with toys, it's about half-and-half. Pricewaterhouse Coopers found both channels are popular: 39% of global shoppers like to make their toy purchases online, while 37% prefer to purchase in store.
What are retailers doing this year to capture more toy sales?
From new tactics that are old (Amazon's toy book) to old tactics that are new (what kind of allowance did Walmart give the kids for its focus group?), the big retailers are going BIG this year to give parents (and other toy gift givers) a reason to shop in-store and online.
Beyond a broad ("bestest") assortment, watch for "new & exclusive" to be big buzzwords this year for toys. It's a point of differentiation only a big retailer can tout, and we expect the big guys (Walmart, Amazon, and Target) to really fight it out on this front.
We'll update this throughout the holiday season to give you a round-up of the very serious business happening in the toy category.
Amazon: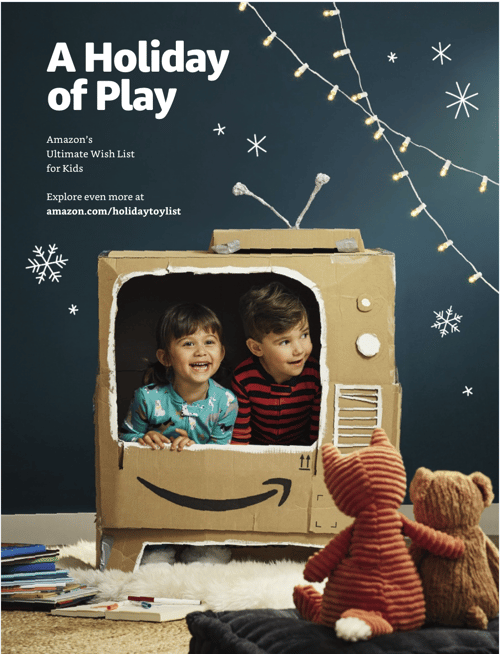 Taking a play from the Toys 'R' Us Big Book strategy, the online giant has already started shipping a 70-page toy catalog to millions of customers. We hear they may even distribute them at Whole Foods locations, in addition to its bookstores and 4-Star store. (Let us know if you see some by tagging us in your posts with #KreberHolidayHQ!)
The book bridges the online and offline worlds; all products are scannable with the app, so you can see the price and add them to your cart. The toys with "SmileCodes" lead you to more information and even more gift ideas related to that item.
Walmart:
Walmart wastes no time in declaring itself "America's Best Toy Shop," and it promises a lot to lure in toy shoppers.
Walmart is offering more toys...
Its biggest toy assortment ever, in fact: expanded aisles with 30% more toys in-store and 40% online, and thousands of items it considers "new and exclusive."
Presented in a more engaging way…
More than 2000 in-store events and demos, where kids and parents could test and play and build their holiday wish lists, happened across the country from August 31–November 1.
Built off of the "Top 40 Toys" as rated by real kids...
Walmart says it engaged "hundreds of youngsters" to determine their top 40 favorites. The list is expanded; last year, it focused on the Top 25. Here's what it looks like online.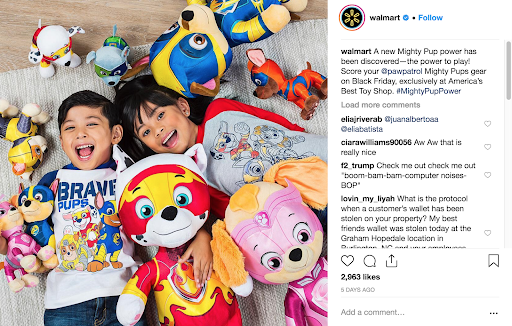 Walmart gets bonus points for strategic, well-executed copy that tells its Insta audience the toys shown are "available exclusively at America's Best Toy Shop."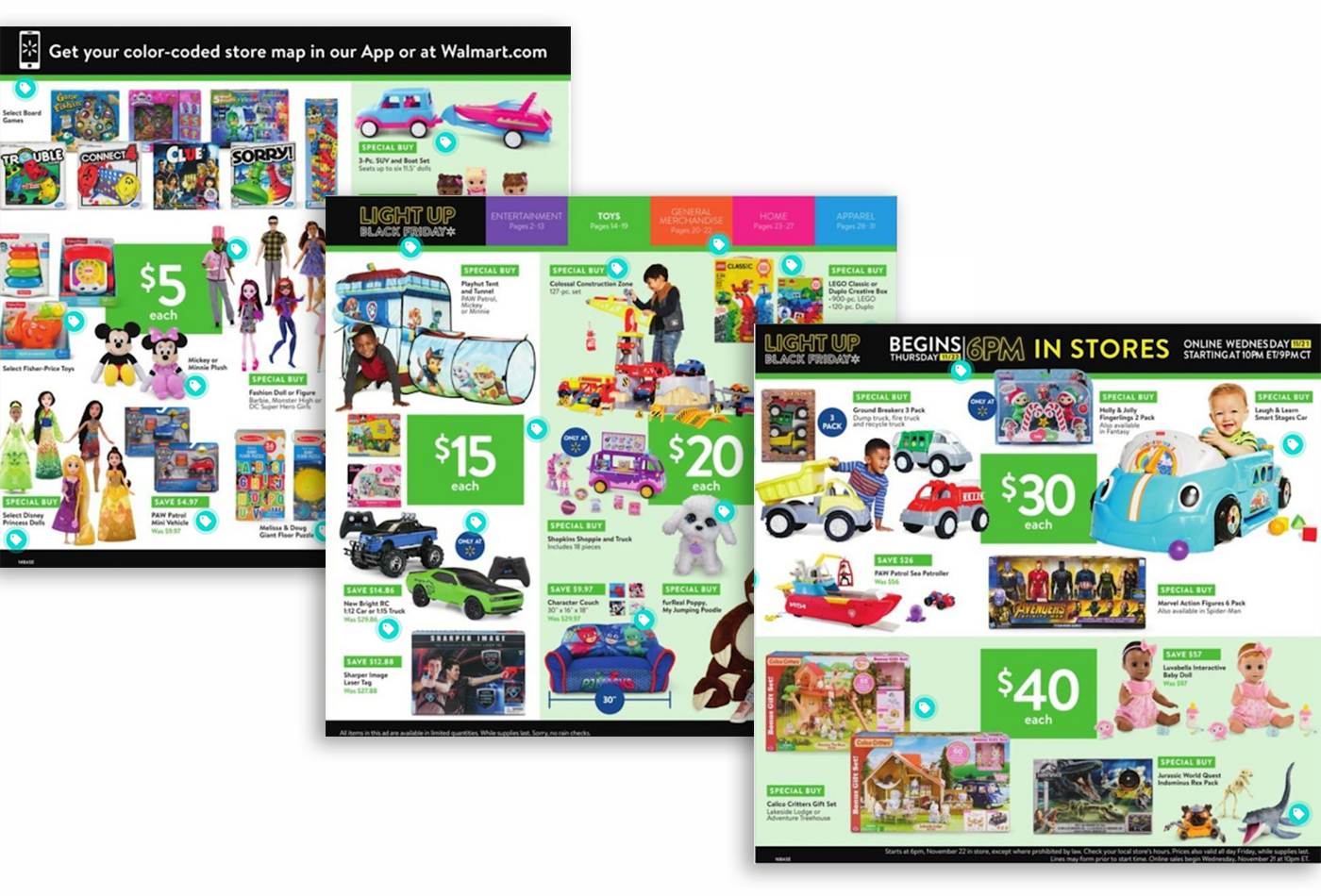 The Walmart Black Friday ad is color coded (green for toys… the color of CASH MONEY!) and is grouped by price. No mention of "America's Best Toy Shop" – the campaign is under the Black Friday campaign umbrella, so maybe that's why it's not afraid to let it go here?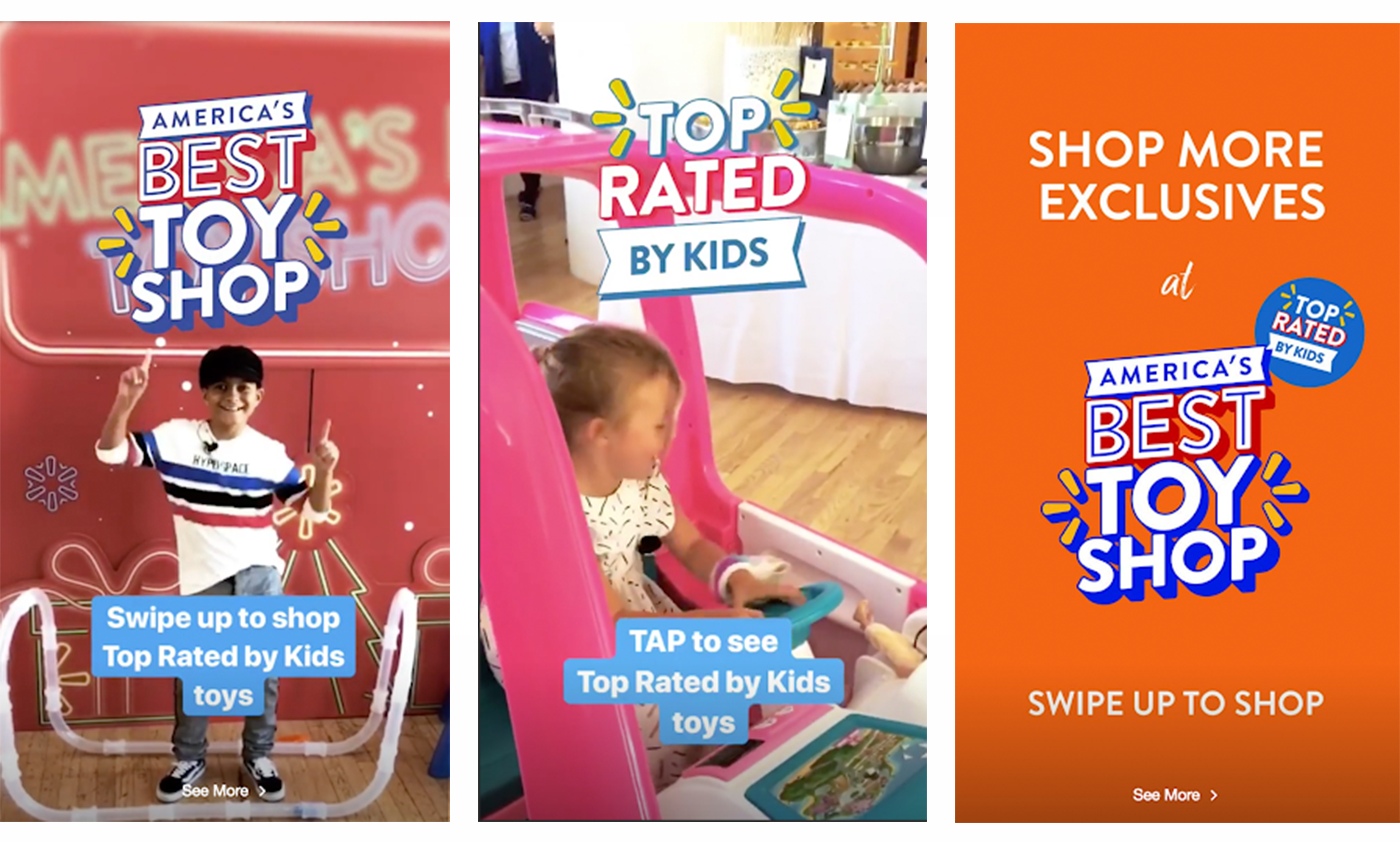 Instagram Stories, a great place to reach real-life moms, dads, aunts, uncles and other toy buyers!
Target: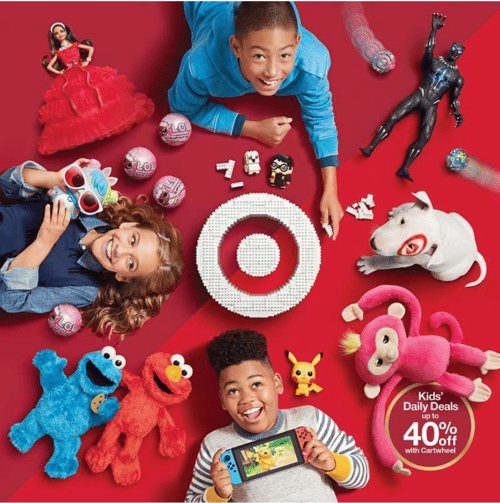 Target shoppers will find an expanded toy assortment in-store.
The retailer's annual "Kids' Gifting Catalog" (boring title!) is 15% bigger—says the company—giving shoppers 88 pages that, like Amazon, are scannable and add-to-cart shoppable.
Kroger: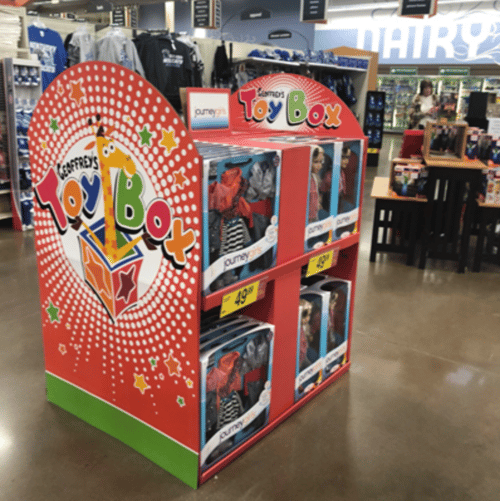 We started to see Kroger doing some interesting, supermarket-defying work with expanded product assortments (and creative that was better than you'd expect or need it to be). Now, in a partnership with Geoffrey LLC—yes, that Geoffrey—more than 600 Kroger stores will carry "Geoffrey's Toy Box" merchandise, a selection of toys from $19.99–$49.99. (Read more in the article on Supermarket News).
Party City:
The company will transition its "Halloween City" pop-up stores into about 50 "Toy City" locations for the holiday season.
Kohl's:
Through an expanded partnership with Amazon that began last year, some stores will allow you to make Amazon returns in Kohl's stores.
Even though stores that offered the returns experienced an 8.5% bump in traffic, only about 10% of the stores are expected to offer this service this holiday season.
Check back in for more updates!
We'll update this running list as we hear and see more toy stories happening—let us know if you see something interesting, too. Just use the hashtag #KreberHolidayHQ in any of your social posts.