Have you ever left an item in an online shopping cart, then been convinced to go through with the purchase based on the seller's follow-up communication? I know I have—because the email either reminded me of an item that I didn't complete the checkout process for or, more likely, gave me an incentive like free shipping or a discount.
This is true for many others; in fact, cart abandonment emails have a greater than 10% purchase rate according to Campaign Monitor. We covered the reasons why it's crucial to have a strategy in place in part I of our Abandoned Cart Email Strategy series. In this follow-up post, we'll take a look at some examples to break down what works, what doesn't, and what other incentives you might encounter during the online browsing process.
Adidas has [just enough of] what it takes
Being one of my favorite brands for workout apparel and soccer gear, I had to audit what Adidas was up to with cart abandonment emails.
No offer until you reach the PDP
One of the major tactics to improve conversion you'll find is some sort of pop-up on the homepage that offers free shipping or a discount when you sign up for the company's email list. This is not something you'll find on the Adidas site until you make it to a product detail page.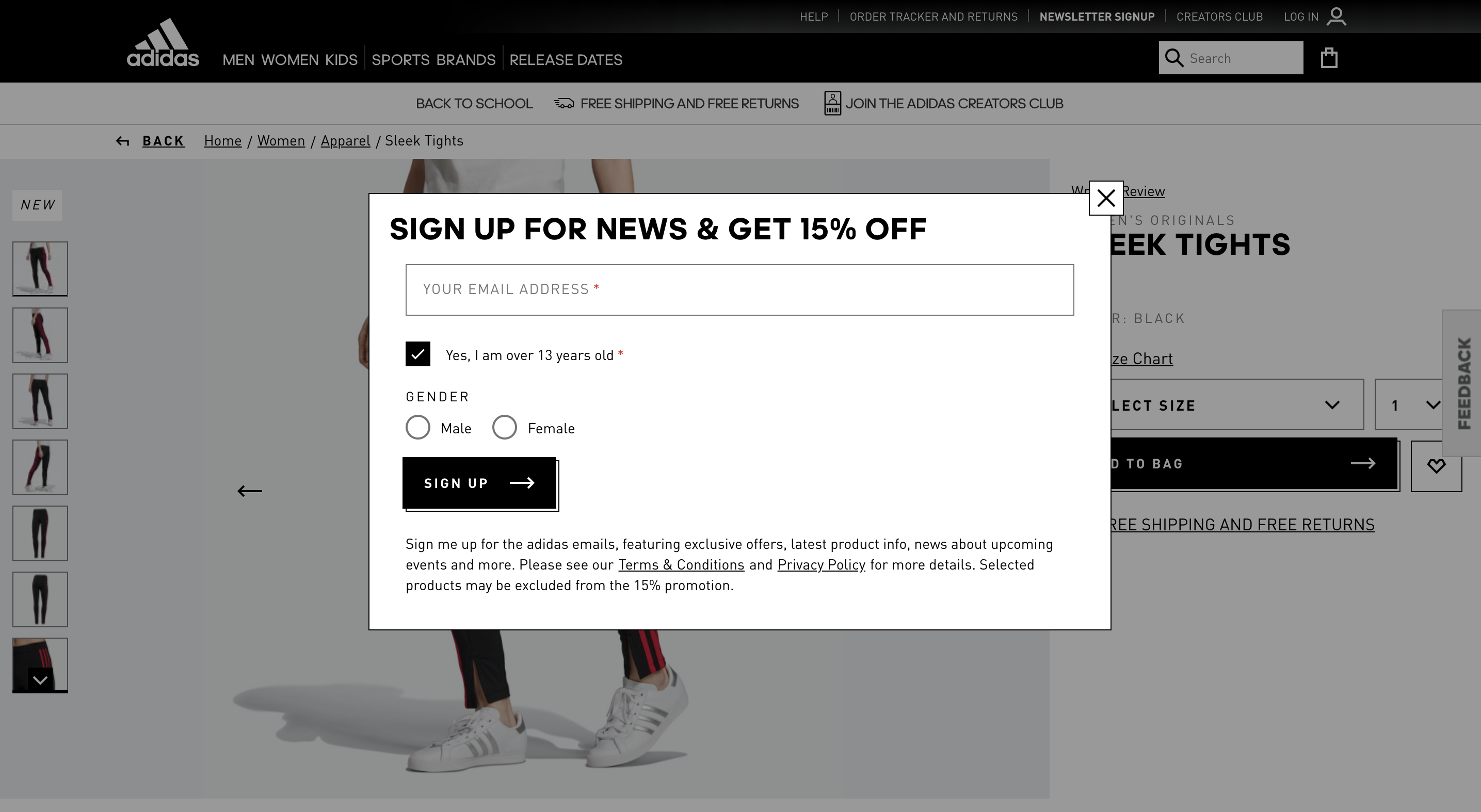 I submitted my email address there, which triggered an email confirmation—the first of Adidas' welcome series workflow.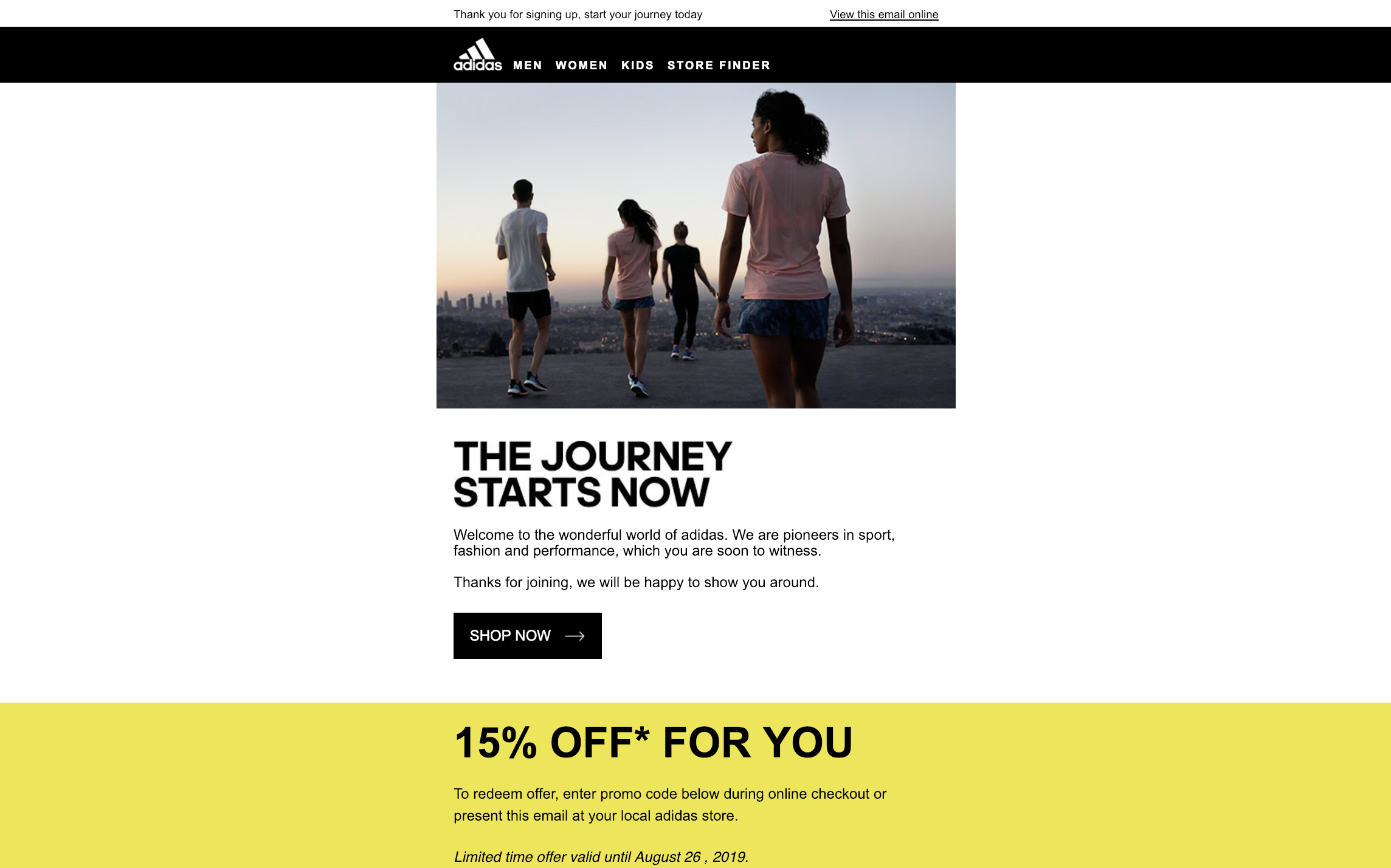 The subject line was, "You're In. Welcome to Adidas." and although it didn't hint at a discount, it was promised in the pop-up, so I expected the email to contain a 15% off promo code. This coupon might have been the little nudge I needed to buy something (but I had to abandon my cart in order to get the info for this audit! 😂).
A polite reminder
After viewing the product detail page, I added a pair of running tights to my cart, then promptly abandoned them. A little over an hour later, I received a reminder email. The subject line simply read "Thank you for dropping by" and didn't mention the product in my cart. The CTA was to "continue shopping"—no language about checking out or completing my purchase.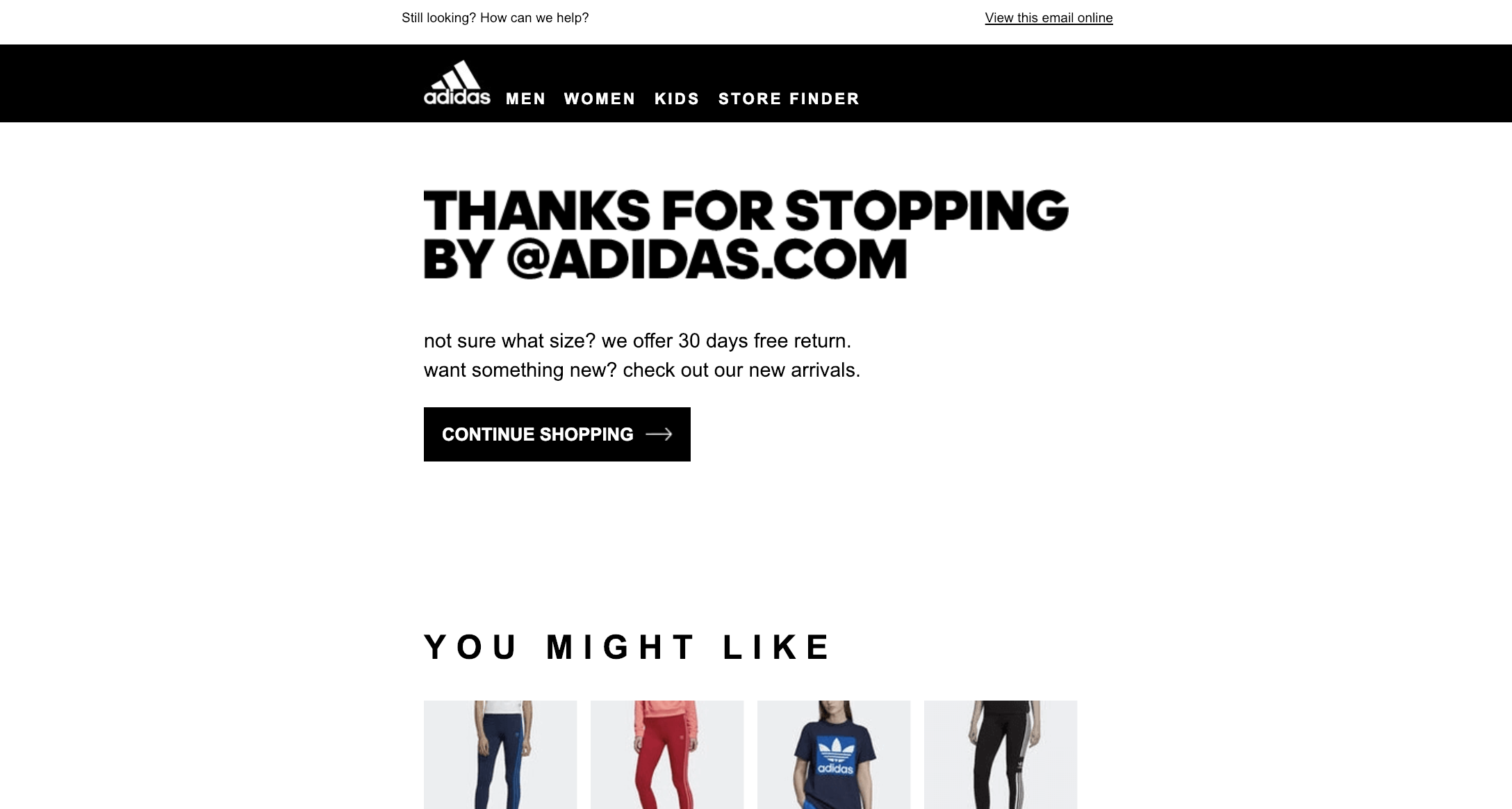 In case I was worried about whether I'd like the item, the email clarified Adidas offers free returns within 30 days. It even suggested several other products I might be in to trying and enticed me to check out the site again.
And this was the final email I received about my abandoned shopping cart.
Staying top of mind
I haven't received other communication regarding the product I once had in my cart, but because I signed up for the email list to get that 15% off, I did receive several emails from the welcome series. The only reason I remember viewing that product is because I'm writing this—which could be a big miss for Adidas.
Glossier is on top of it, but lacks compelling incentive
If I had to choose a winner for branding, it'd be Glossier. I love the design and feel of the site, the ease of use, and the brand voice.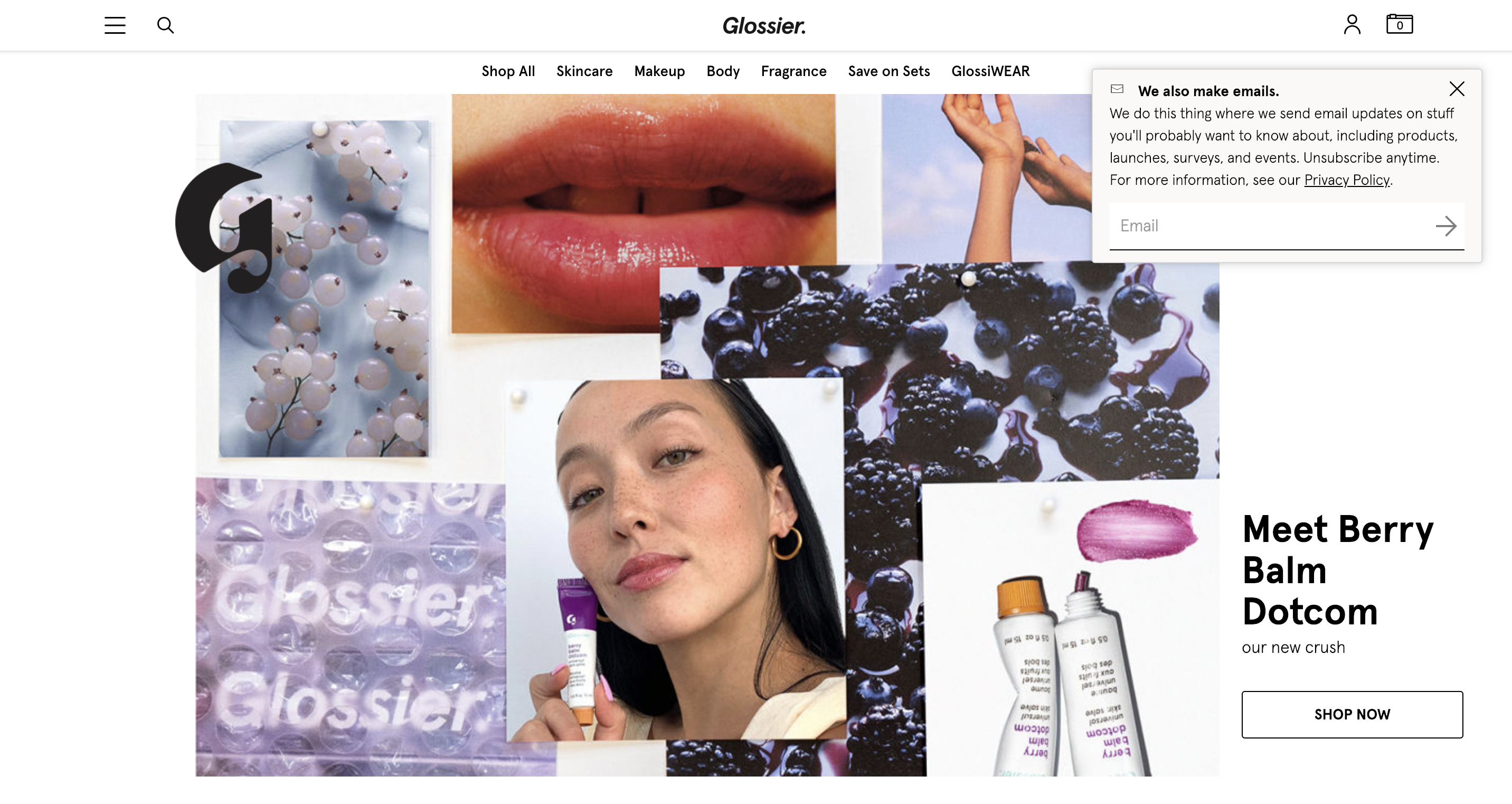 But, there's a bit left to be desired when it comes to incentives.
Free shipping is cool and all, but...
The first offer on the Glossier site I encountered was free shipping over $30. I signed up for the email list anyway, thinking it might trigger an email with a hidden offer or something. It did trigger an email—but there was no incentive.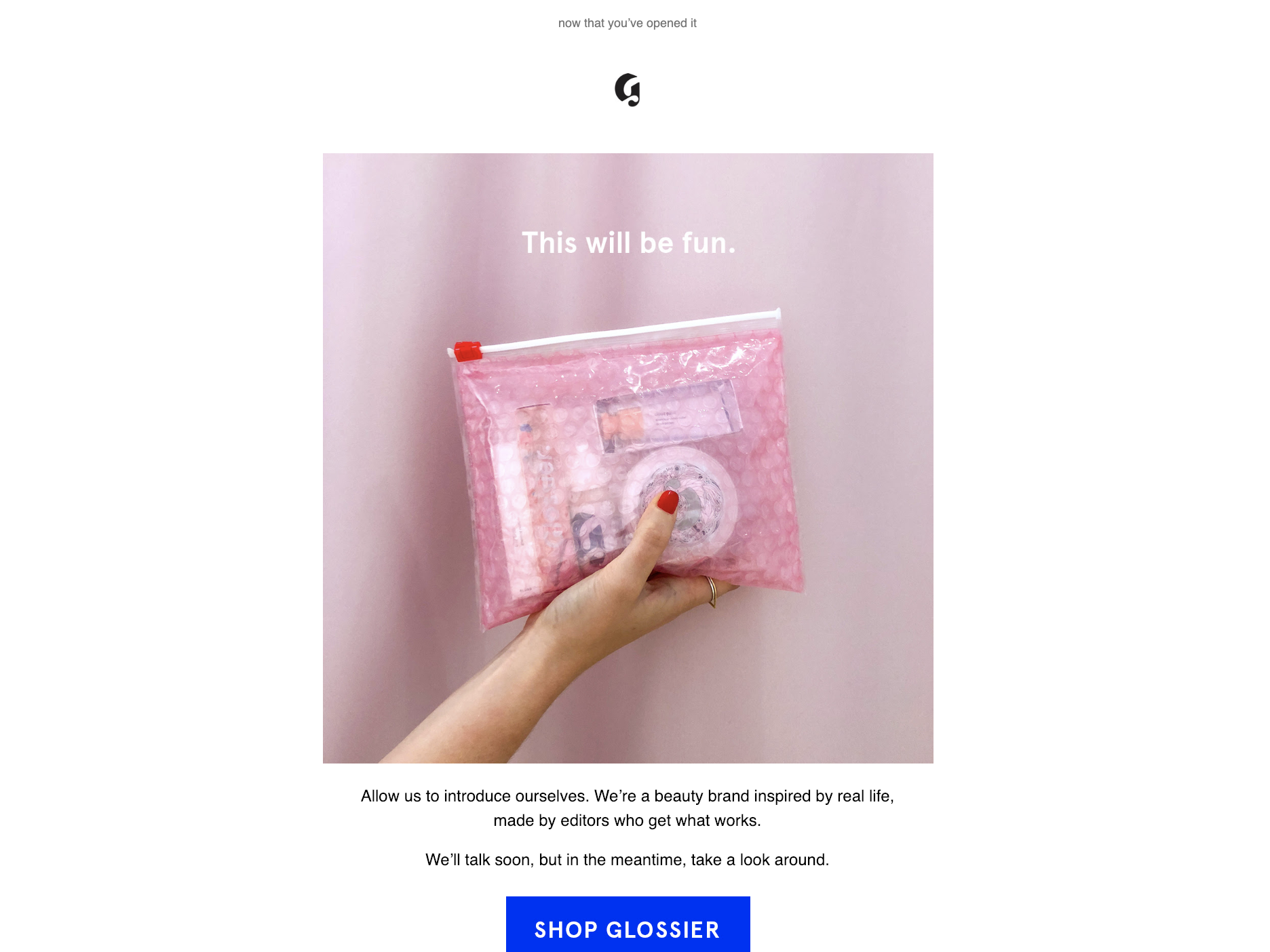 As we've seen with Adidas, many brands and online retailers use the sign-up offer as a way to persuade browsers to become leads. There's a chance Glossier isn't offering this initial discount because it wants to attract more potentially repeat customers—shoppers who will become loyal to the brand based on its products—not prices.
A small incentive
As I browsed the site and got to a product detail page for The Super Pack of three skincare serums, a new offer appeared...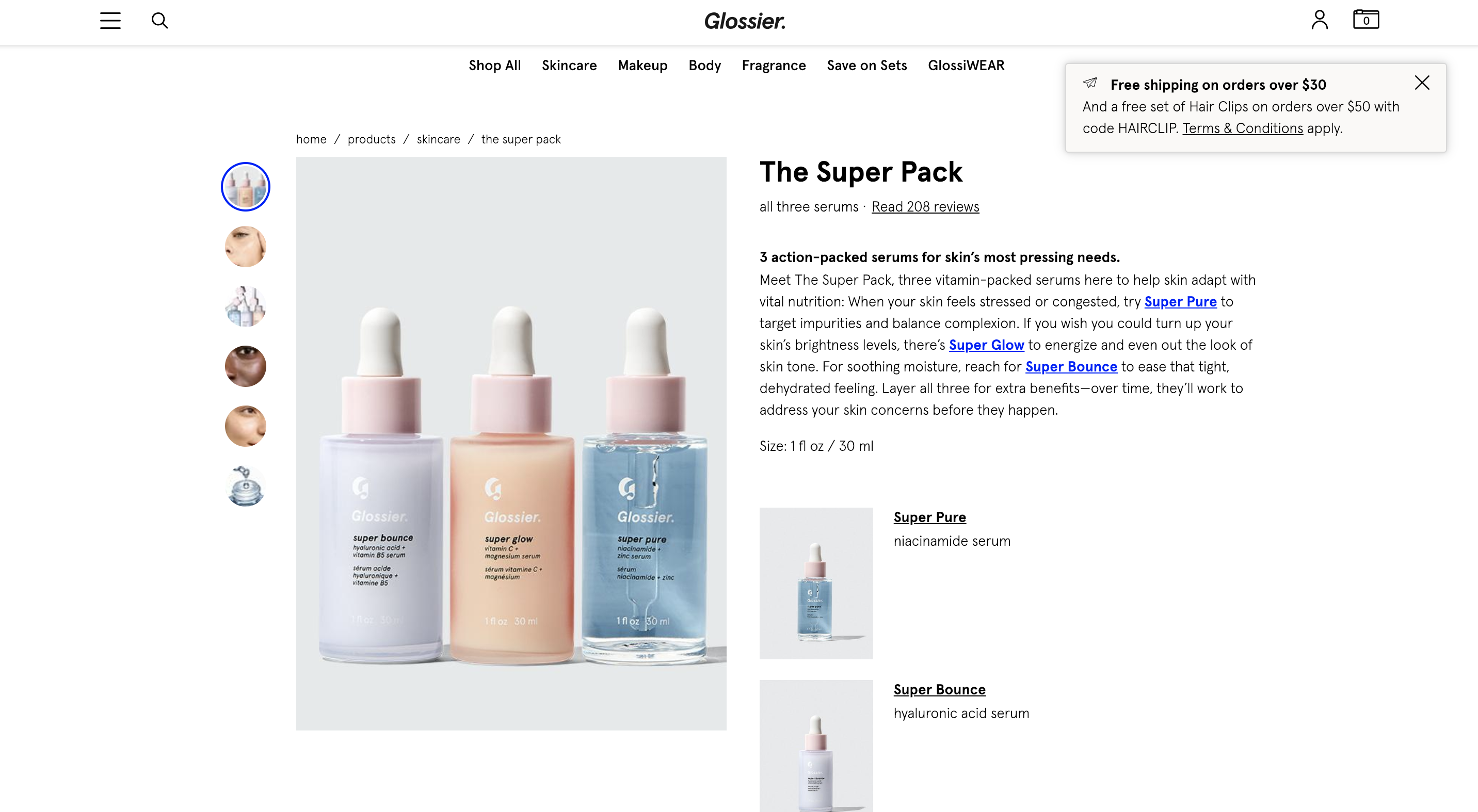 ...for the same free shipping over $30, and a free set of hair clips on orders over $50. Not sure this is something I would spend more to reach, but since the serum I'm considering is priced at $65, it's more a free gift at this point. We're getting closer...but I'm not quite convinced just yet.
But—when I viewed my cart, Glossier gave me the option to select a free sample!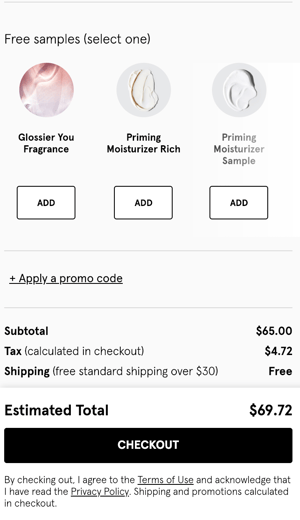 One more small incentive to complete my purchase—and in case I forgot, the free shipping was displayed right away too. So I'm looking at free shipping, a free set of hair clips, and a free sample. This is adding up to a pretty good deal, but again, the audit must go on!
Clever copy, no offer (second time around)
After abandoning my cart, I did not receive any emails. Surely this had to be my mistake (or maybe a glitch since I also signed up for the email list?), so before writing this I went to view my cart again. The Super Pack was still waiting for me, and not even 30 minutes after navigating away from my cart, I received this reminder email.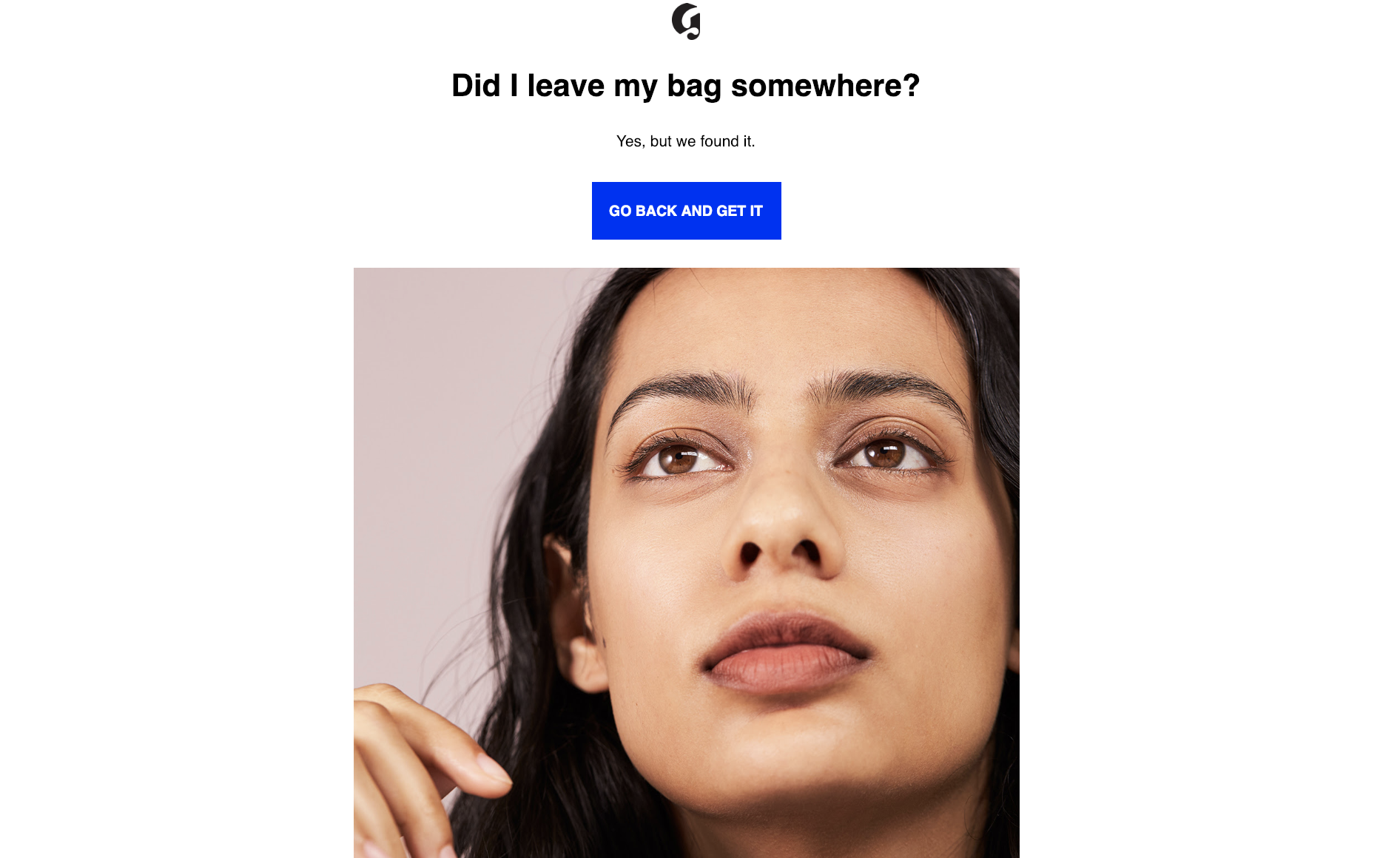 The subject line "Is something missing?" is intriguing enough to open...and the email copy itself is true to Glossier's brand—playing on the anxiety everyone has of leaving your bag somewhere. What's interesting is the creative does not display the product in my cart, or any product at all. With no supporting offer and the CTA copy reading "Go back and get it," there's nothing to suggest any type of discount (on top of the free shipping/hair clips/sample).
I'm not claiming I need to have a discount in order to go through with a purchase (as I've definitely purchased Glossier products without one)—but for a first-time visitor to the site, and someone who just signed up for email communication, it couldn't hurt to throw a little coupon in there too.
24 hours later, I received another email with a new subject line, different body copy, and new creative (this time, of product, but still not the specific product in my cart).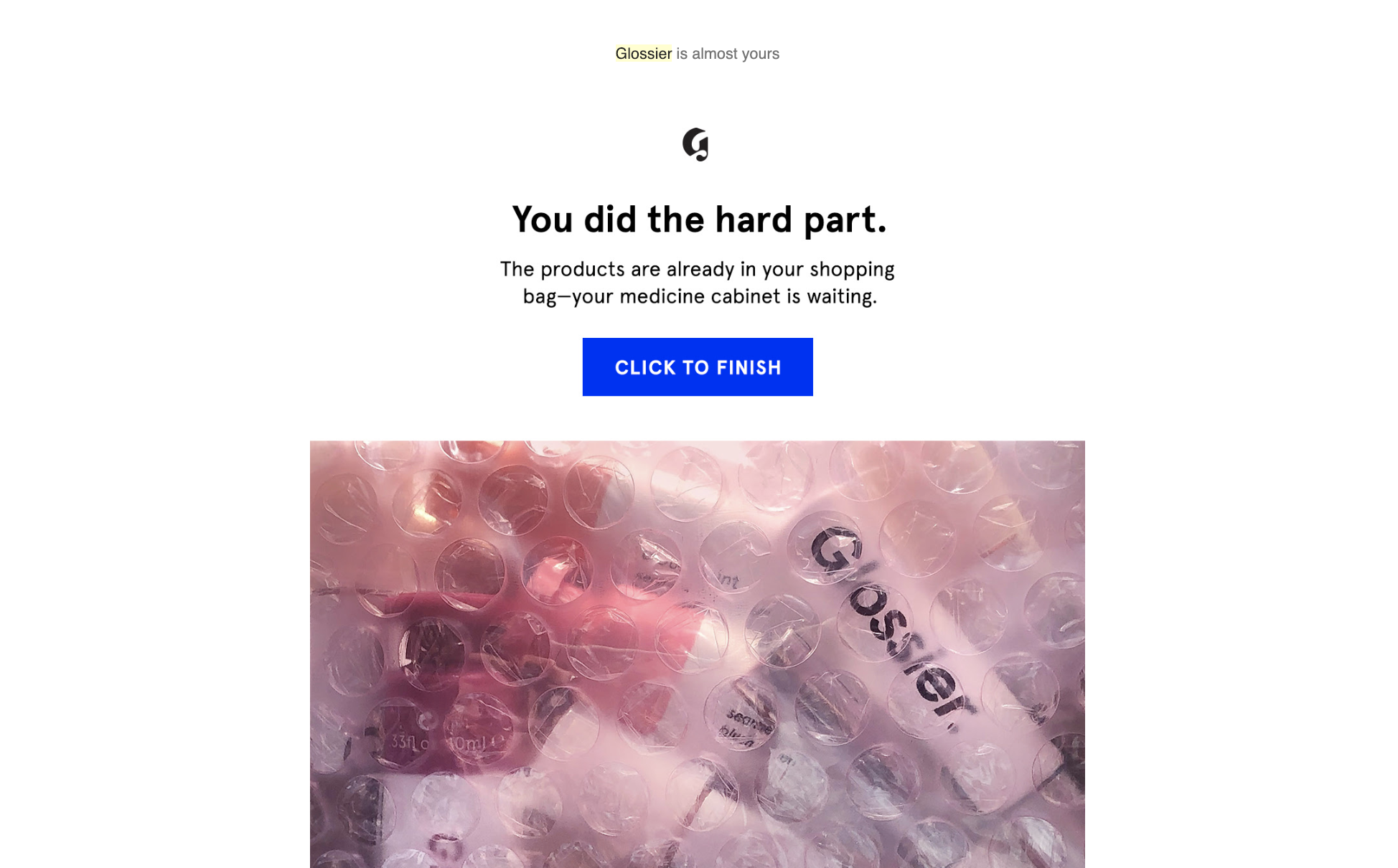 All in all, Glossier offers enough incentives via free shipping, free samples, and the occasional bonus gift in its abandoned cart emails and website experience to convince shoppers to convert.
New Balances doubles the offer, plus rewards
For the third audit, I checked out some shoes on New Balance's website. I don't own any New Balance products, and I'm unfamiliar with the site—so this is really my first digital browsing exposure to the brand.
Quick discount and rewarding brand loyalty
On the New Balance homepage, you'll find an offer for 10% off your order and a promise for future "exclusive offers" as well.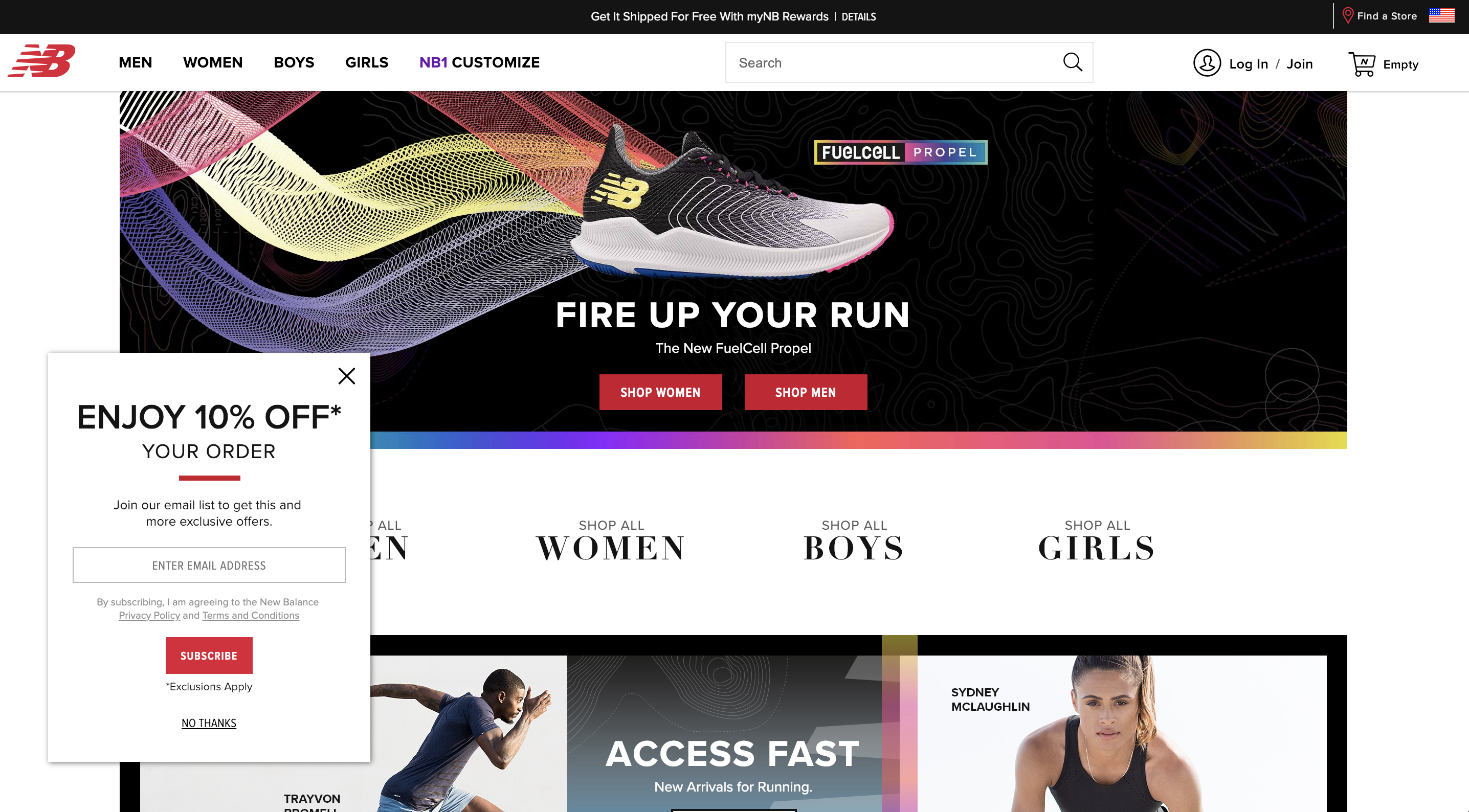 I submitted my email address to get the coupon, and that triggered an email with the subject line "10% Off Is Just the Beginning"—and then two minutes later, another that read "Welcome to myNB Rewards, Marisa." These strong subject lines indicate that by going through with my first purchase, I would reap the benefits in the future.
After submitting my email address, I navigated to the shoes category and viewed a PDP for the 997 Sport model.
There were no additional offers listed on this page, but having received the 10% off coupon and hint at building rewards in my email, I had several incentives to check out. About an hour after abandoning the cart, I received the first email.
Getting right to the point
With the subject line "Finish Checkout - 10%+FREE Shipping," New Balance reiterates the discount I've been offered, and adds in the free shipping incentive as well.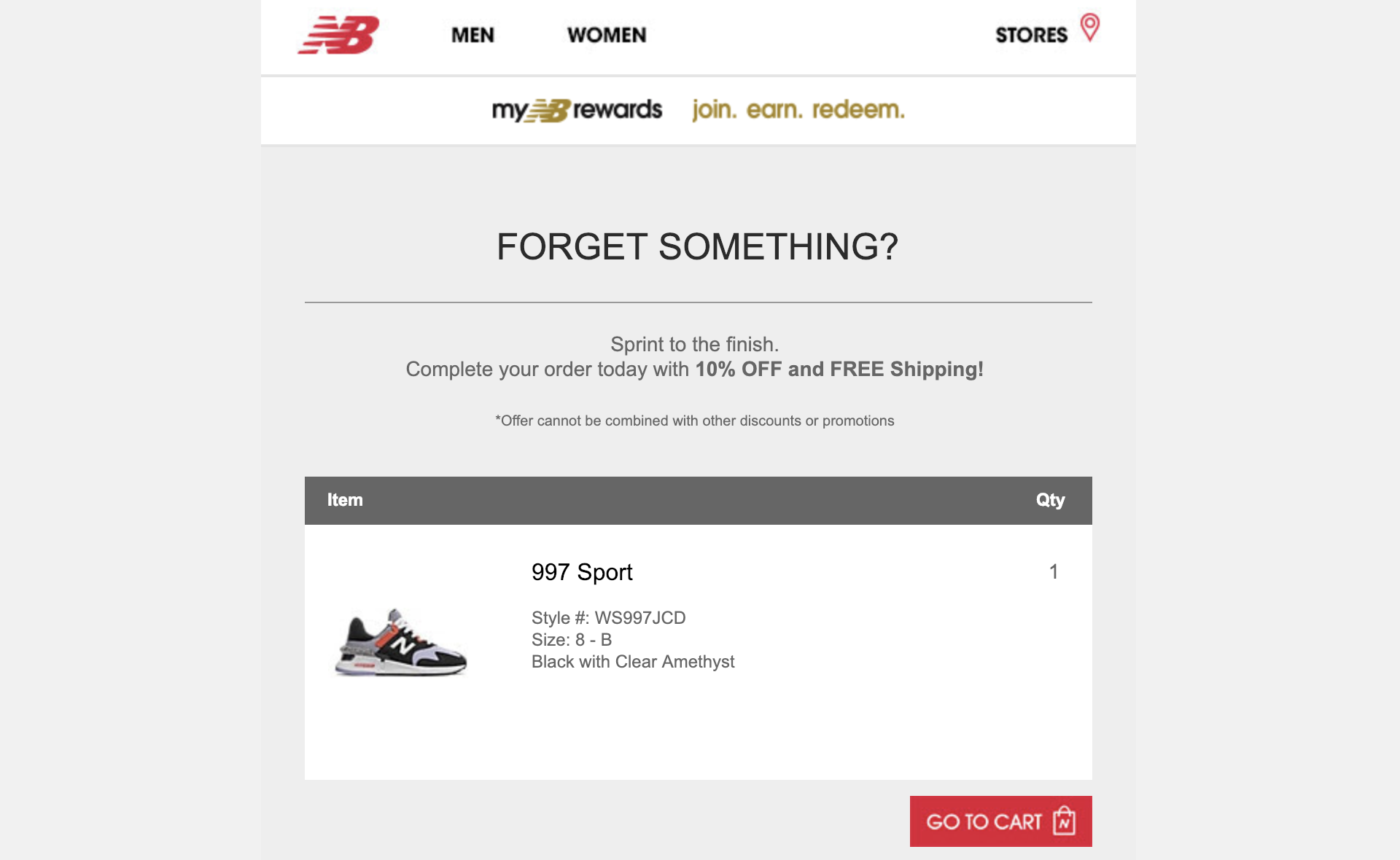 The email is straightforward and to the point, and unlike Adidas or Glossier, actually shows your cart and the item(s) you left behind. I'd argue this is much more effective, because I'm getting another look at the product I was almost ready to buy.
About two days later, I received a follow-up reminder from NB...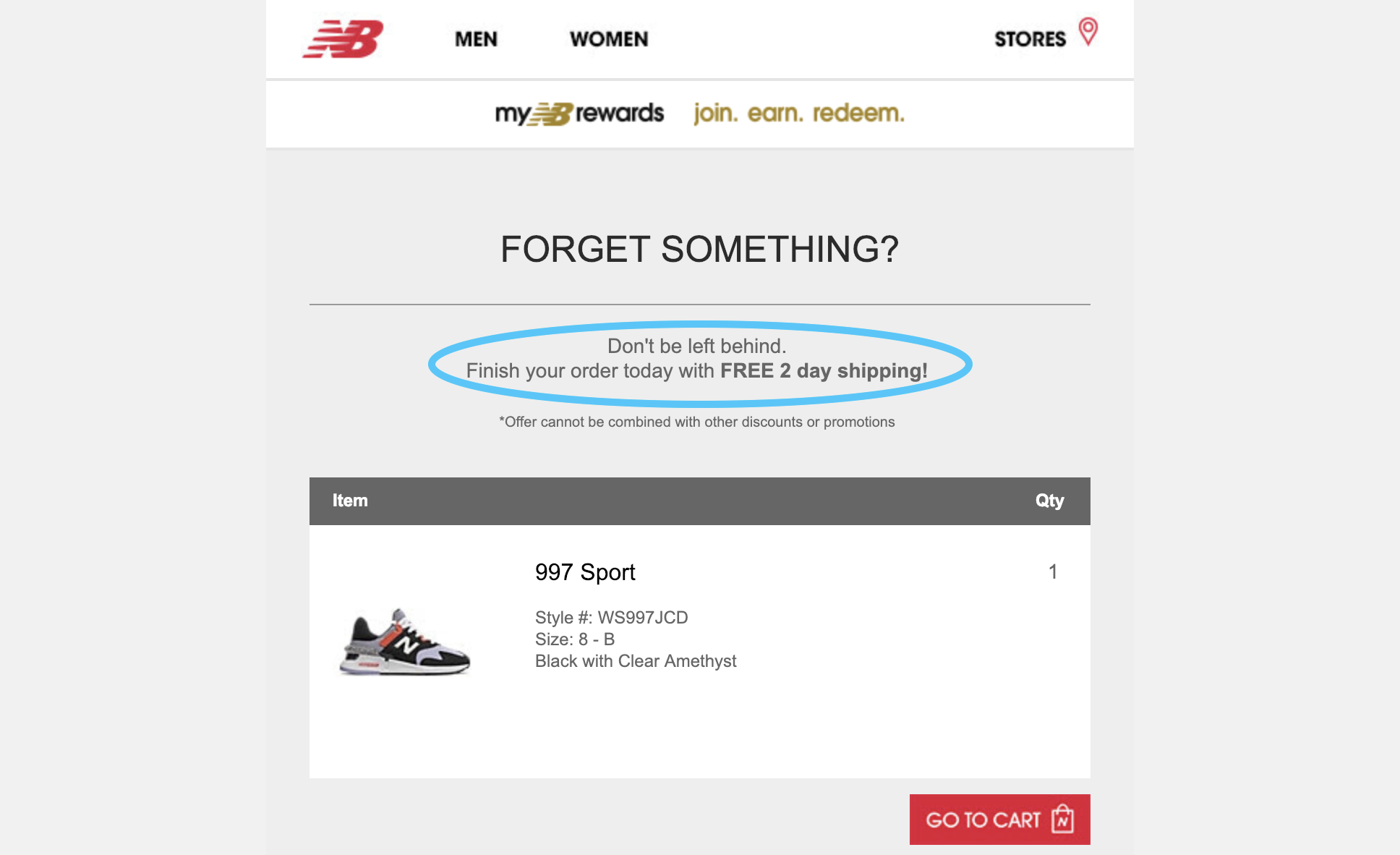 In the second email, the subject line is "Finish Strong with Free 2 Day Shipping" and the body copy changed. The biggest question here is whether that 10% off discount in the first reminder came from me abandoning the cart, or if it was included because I signed up for the rewards program with the same email address? Either way, if the offer is still valid, it should definitely be communicated in the second email reminder as well.
Making promises for the future
New Balance gets right to the point in almost every engagement the shopper has with the brand. Offering an immediate discount and incentive to make future purchases with a rewards program is an excellent tactic to appeal to first-time buyers.
So who does the abandoned cart email best?
NEW BALANCE FTW! It was a close race, but my vote for best abandoned cart email strategy out of these three brands is NB. Its clear communication and consistent follow up swayed my decision. There are so many factors to consider when creating your strategy for forgotten products, and depending on your offering, there could be a lot of nuances too.
If I had to give advice on what not to do, I'd say the following:
Don't wait too long to send your first reminder email (within 24 hours)
Offer an incentive to purchase (whenever possible) as early as possible
Have clear communication (bonus points if you include a message of urgency, i.e. "Check out in the next 24 hours and take 15% off")
What are you waiting for? Start updating (or creating 😬) those emails!