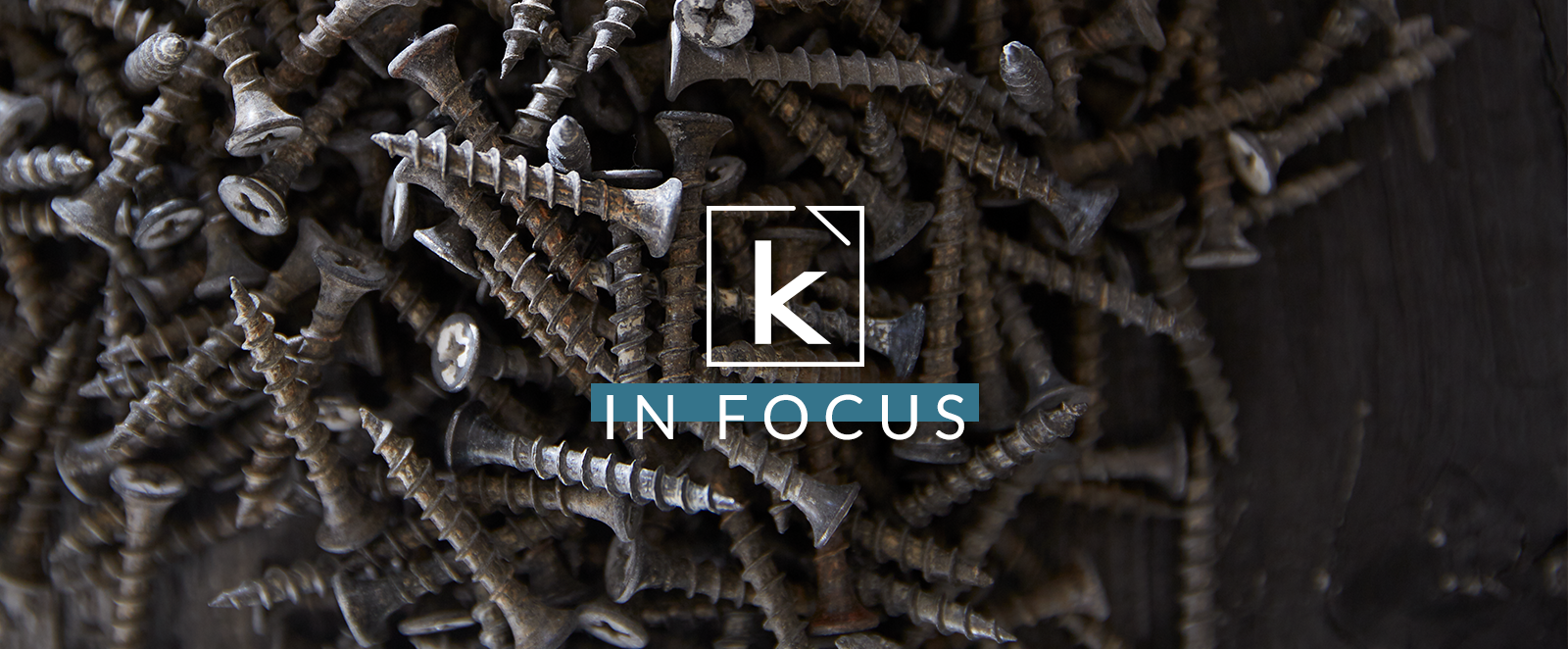 Let's face it: online shopping isn't always easy for every category of products out there. The higher the price and the more complex the product is, the more customers may want to make that purchase in-person, where they can look, touch, test, and ask questions to a knowledgeable associate. The way to bridge this gap on an ecommerce platform is with Enhanced Brand Content. It's what showcases the product and helps alleviate the uncertainty online shopping brings.
One category in particular that's doing this well is power tools. And the timing of their investment is perfect, according to a market research agency.
A surge in interest for DIY and home improvement projects has resulted in significant growth for the power tools industry. Technavio recently forecasted the industry to grow by nearly $5 billion through 2023, with an increase in consumer purchases expected.
"The demand for DIY tools, including power tools, for home improvement projects is growing in the U.S., due to the middle-class populace seeking to improve their home spaces to ensure a better standard of living. Moreover, factors such as the high cost of professional plumbers, electricians, and mechanics is increasing the popularity of the DIY culture..." —Technavio, Q1 2019
It's important for any brand to present a comprehensive, user-focused online shopping experience with Enhanced Brand Content—whether it's Amazon A+ content or in Product Tiles on HomeDepot.com or Lowes.com.
Here are some recent examples that show how three power tool brands are utilizing Enhanced Brand Content to sell expensive ($500 and up), complex products (combo kits) via some smart tactics any company can learn from.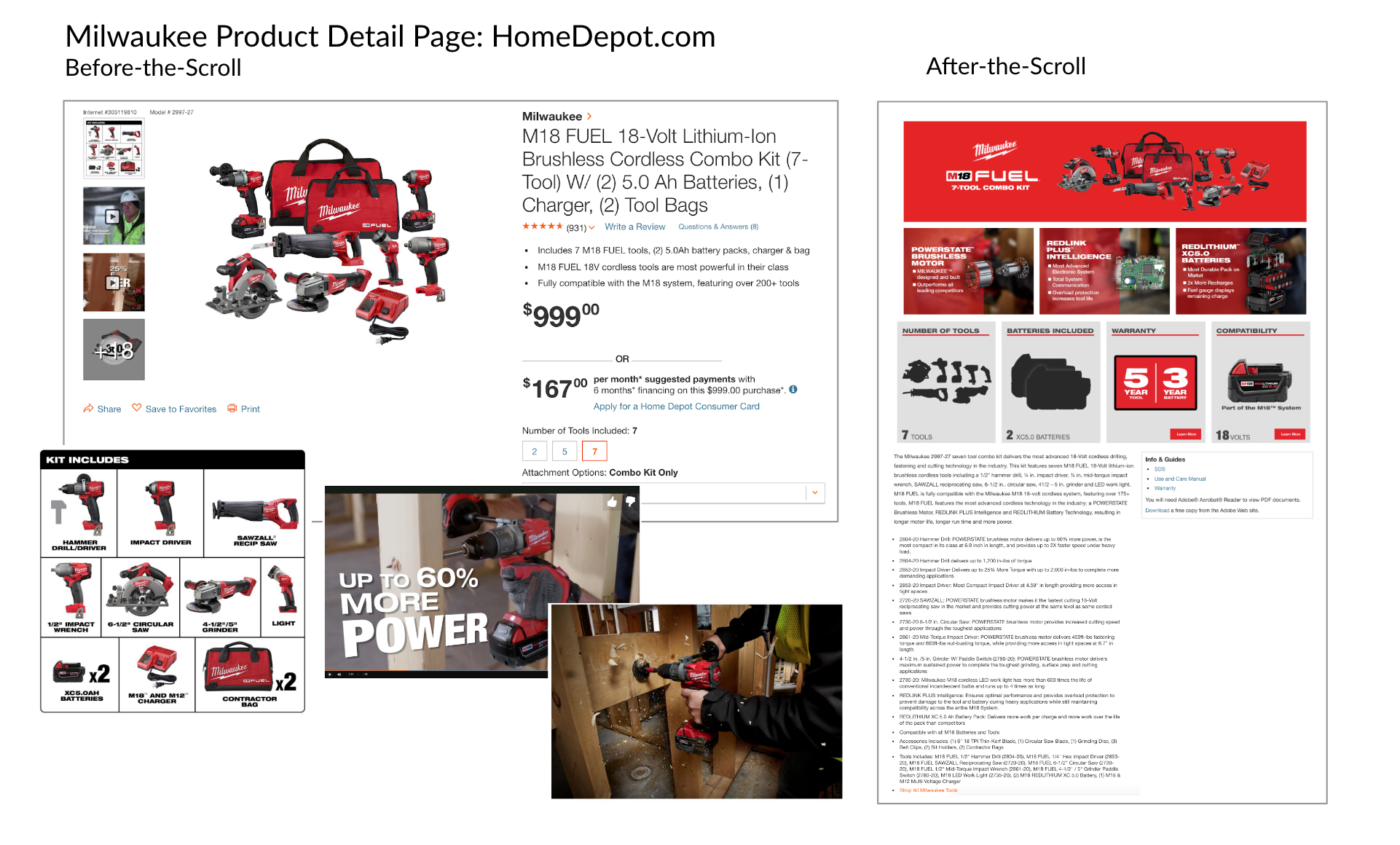 Milwaukee Focuses on Power
Milwaukee says these tools are the most powerful in their class, and as a customer, we see that message multiple times: in the body copy, in the video, and in the after-the-scroll copy (which is HomeDepot.com's version of Amazon A+ content).
There's a lot to talk about with lithium-ion battery-driven combo kits: what's included, what they're compatible with, why they're effective, and so forth. To unpack these benefits, Milwaukee (like the other brands shown below) makes use of all the Enhanced Brand Content spots available to them. The goal is to tell a story about the product, and as we've learned in our Enhanced Content Audits, it's okay to repeat certain phrases. It's preferable, even, since not everyone will pay attention to every word in every area. Get 'em how and where you can, and don't be afraid to repeat yourself to get your message across.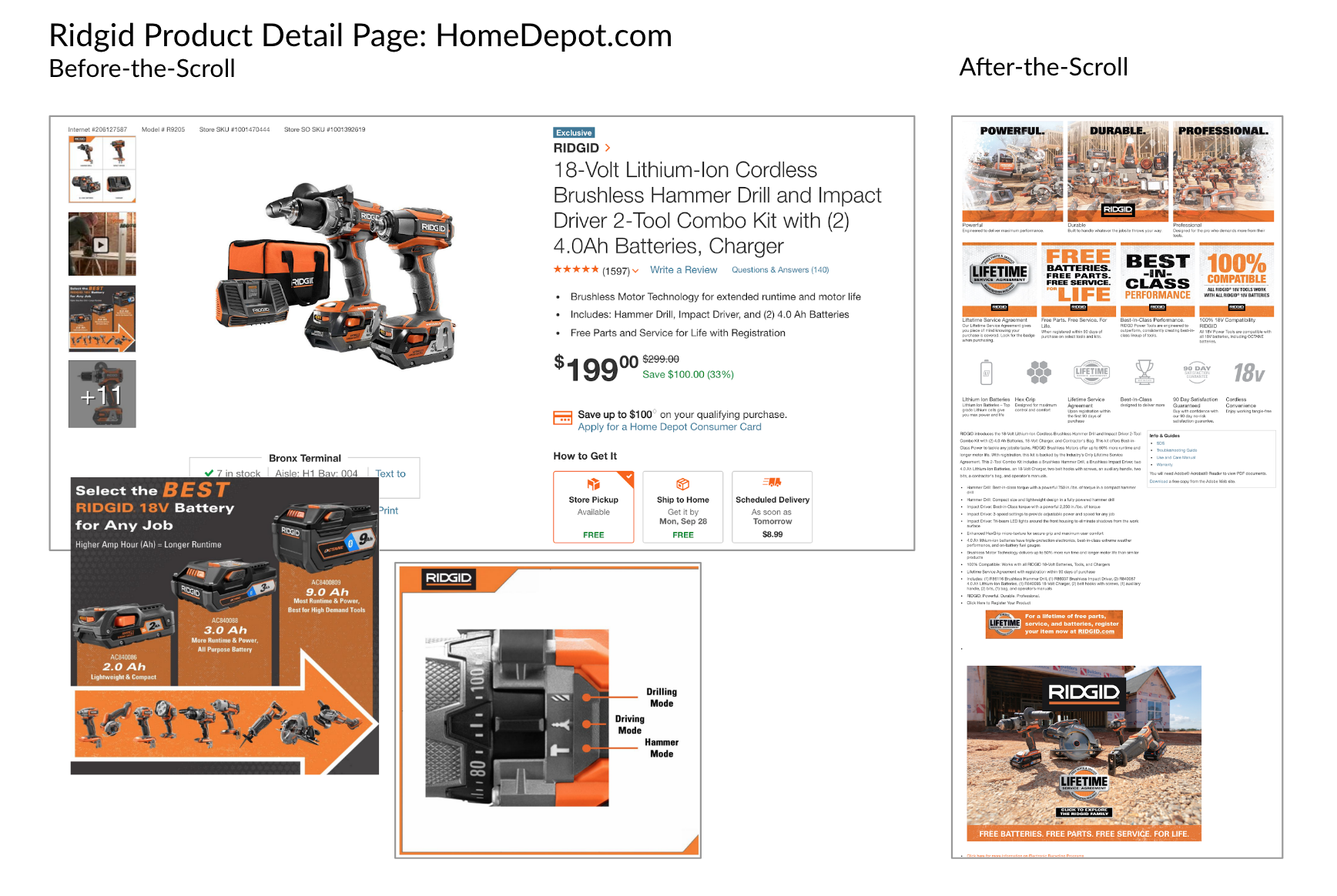 Ridgid Gives Customers Options
This kit, from Ridgid, is smaller, and it comes with a couple of batteries, but the company wants you to know that's only the beginning. You can upgrade to more powerful batteries and other "100% compatible" tools within its 18-volt battery system.
The video within the alt image area (before-the-scroll) talks about the brushless motor technology more in-depth. Using this asset to focus on an attribute that applies to multiple products (not just this product) provides content that can be use on other product detail pages. This "create once, market everywhere" approach is great not just for consistency, but for budget efficiency, too.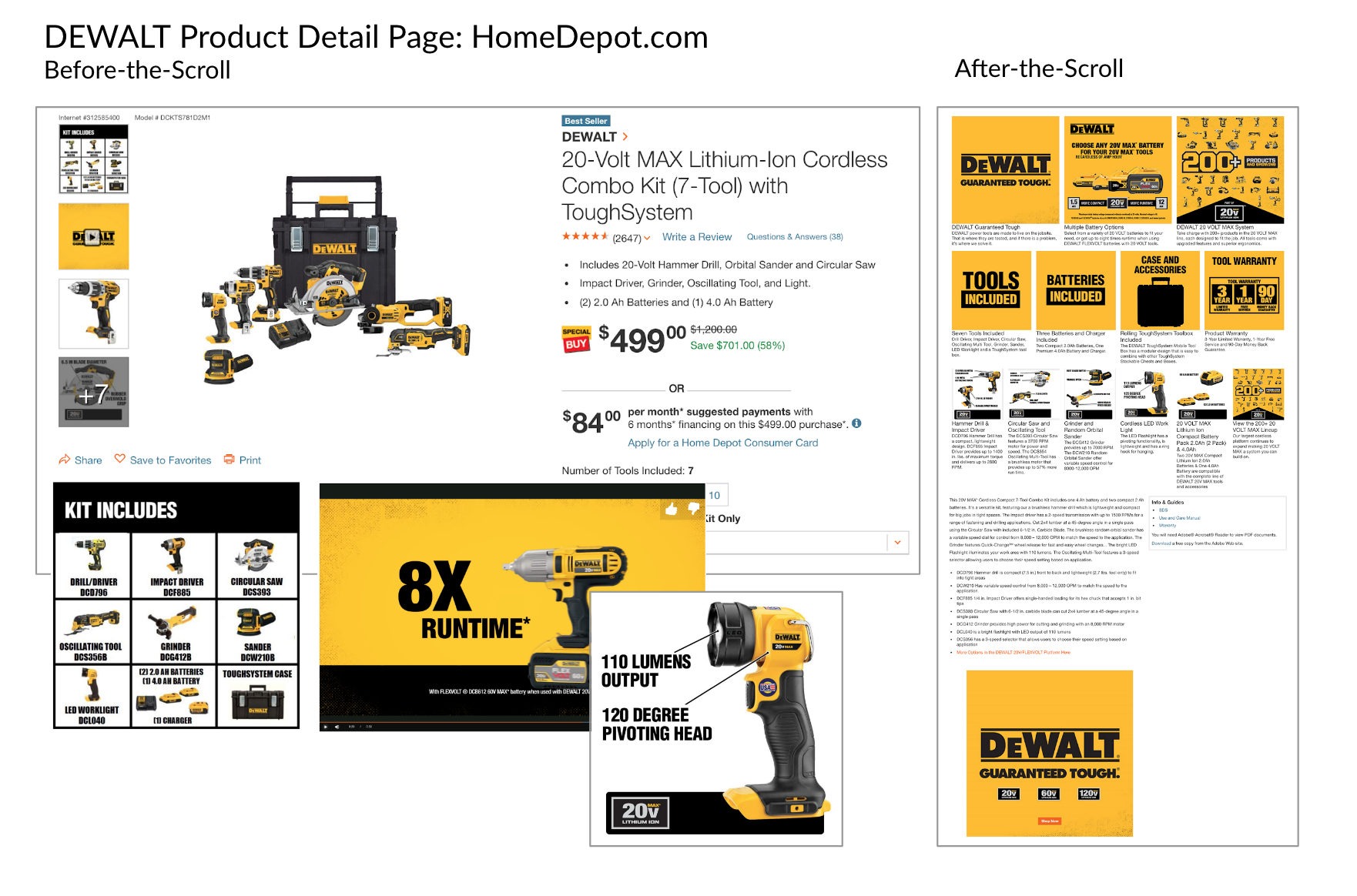 DEWALT Welcomes DIYers
Like the Milwaukee combo kit, DEWALT offers 7 tools and a lithium-ion battery system. It's also half the price of the Milwaukee system.
To the uninitiated (think about new homeowners with less DIY experience or someone with no power tool experience buying a combo kit as a gift), DEWALT's approach might be the most customer friendly. While the brand promises to be "guaranteed tough," its assets aren't packed with job site b-roll and energy-fueled music that might make it feel a little too hard and PRO-focused for the average customer. Maybe that's what's helped it become (according The Home Depot) a best seller?
Also, take a look at the graphic callouts on the products within the Product Tiles. That's a great way to call out the features of the products, just like an associate would if he or she were giving you a live demo of the product in-store.
---
Bridging the online and offline world in an ecommerce experience isn't always easy, for brands or for customers. That's why we like it when we see companies taking advantage of all the tools (pun intended) available to them with Enhanced Brand Content. As more customers get more familiar shopping for expensive and complex products online, it's good to see the tools category is powering through the process and delivering content that helps customers on their buying journeys.
---
Just what does best-in-class Enhanced Brand Content on Amazon and other ecommerce platforms look like? Our new video series, On Topic, shows you! Sign up now to see it.