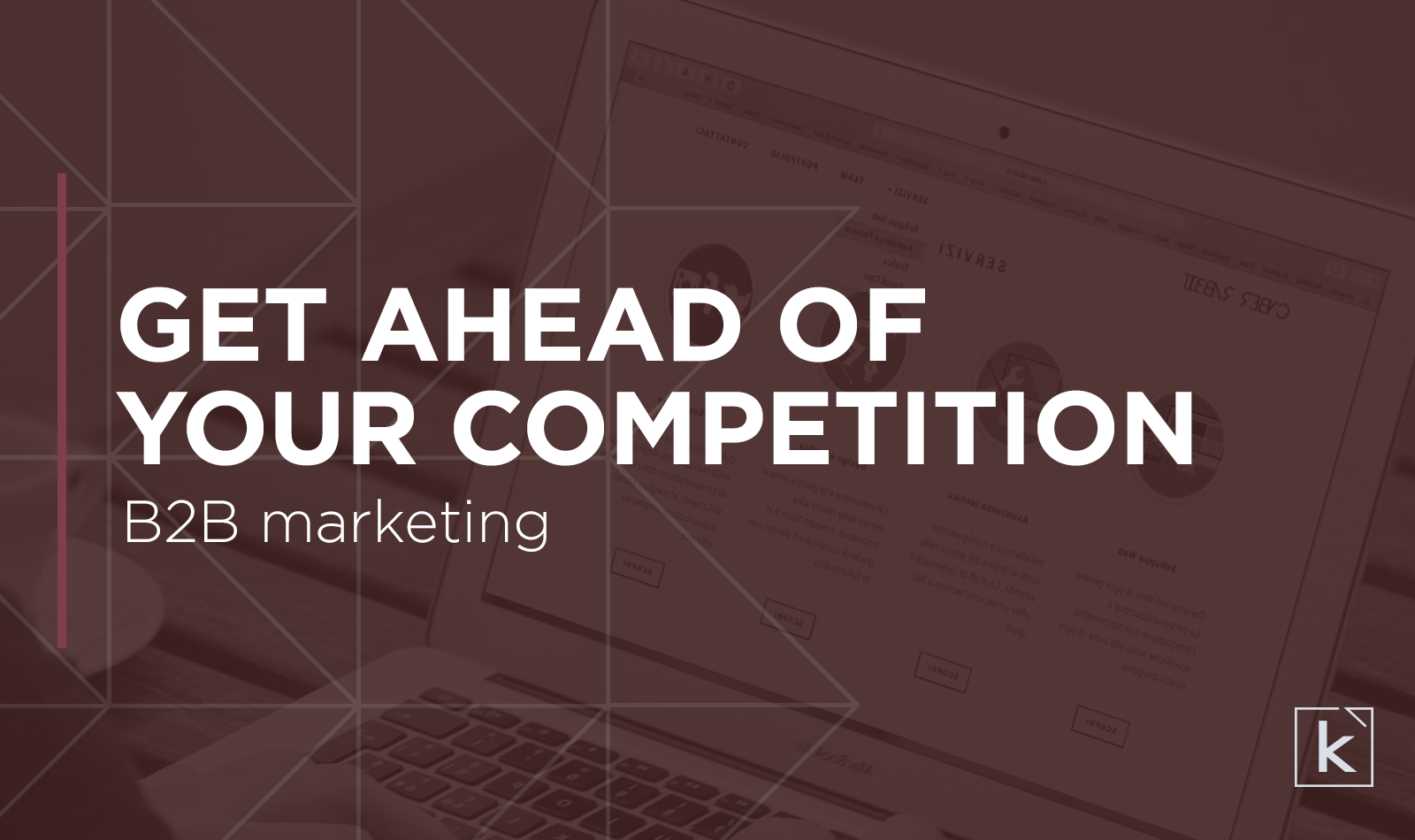 What's the first thing you do when you hear about an interesting new brand or business? Google the website, obviously.
Of course, that's exactly what your business's prospective buyers are doing, too. Which leads to our next question: What is their experience gonna be like when they get there?
If you're already biting your nails, here's our best advice for whipping that site into shape so you can lead with customer-centric content and get out ahead of your competition (it's ok; most of them are behind the eight ball, too).
B2B transactions start online, too
According to a recent survey, digital commerce is expected to account for more than half of B2B revenue in the very near future, and nearly 61% of B2B transactions are already initiated online. As we've long said, B2B buyers research their purchasing decisions the same way B2C shoppers do: online and through peers. If your website hasn't kept pace with this trend, you can expect a whole lot of people to bounce.
There may be several reasons why your site is outdated or unhelpful to buyers: you've long relied on one-to-one relationships forged by your sales team; you have a marketing team of exactly one (or fewer) people; IT overhead is expensive; site updates were pushed to the back burner in favor of more pressing business issues. Whatever the cause, your website experience must be made a priority right now, today—it's simply no longer an option to ignore this crucial channel.
Why? B2B companies that don't invest in a strong website (one that includes SEO) are missing hundreds of opportunities to solve customer problems quickly (and build loyalty), capture and nurture leads, and present their brands in a modern way—one that's far more in line with what savvy consumers expect. And let's be honest: Everyone is a savvy consumer these days, especially B2B buyers with sales goals of their own to answer for—but with increasingly limited budgets.
Where to start in 2019?
If you remember nothing else, remember this: Be customer-centric. Start by giving your site visitors honest, straightforward information that's easy to find, so they know within seconds how you'll solve their problems. Good design and writing go without saying, but here are a few other points to remember, whether you're starting from scratch or enhancing your current site.
Keep it simple and professional.
Information overload is real, and it produces anxiety. A clean, modern design with ample breathing room keeps readers relaxed and engaged longer. Shameless creative plug: Your Brand Guidelines exist for a reason! Make sure you're not abandoning them in favor of a novelty template. You want to elevate, of course, but you must still be recognizable to yourselves and your existing audience.
Mind the responsiveness.
Mobile-unfriendly websites are just a giant drag. And there's really no excuse for it today. Make sure your team is designing and developing a responsive website that adheres to the unique UX/UI associated with mobile and tablet displays.
Let's chat.
Online chat features boost buyer touchpoints and accelerate lead generation time significantly. Plus, it's an easy way to foster customer relationships.
Include long-tail keywords and phrases.
Being found by a voice search assistant like Alexa relies on long-tail keywords and phrases. Don't miss your chance to be discovered (here's how to write them).
Pump up your CTAs.
I recently heard someone say that "Learn more" is today's version of "Click here," and I couldn't agree more. Calls to action are your chance to drive movement and keep someone clicking around on your site, so don't slack here. (Remember, CTAs should match your brand's tone of voice, too—and they should allude to how you solve problems. Let's say you make fire starters for people who love to camp, and you sell them through various outdoor retailers and hardware stores. Rather than "Where to Buy," why not say "Light a Fire"? Or "Spark Adventure"? Have fun with it!)
Nurture the customer experience
Content may be king, but experience is everything in 2019. Remember that a customer-centric approach—one that is first and foremost about the people you serve, not the products you offer—will help you deliver the kind of website interaction your buyers expect. Here are a few more things to keep in mind as you enhance your site and online presence.
Work toward customer experience (CX) personalization.
Just like B2C customers, B2B buyers don't want a one-size-fits-all solution. Use the data you have to your advantage to deliver more individualized experiences across all media (for example, you might add filters to your site so the user can have a self-guided experience, only viewing what's most important to him or her).
Get familiar with emerging technology.
B2B companies are often slow to embrace technology trends, but your buyers already have. Research what they're using, and see if you can utilize any apps, social media, or site enhancements to meet them on the same path.
Provide online and offline multi-channel support.
Great experiences—including customer service—should be available wherever your B2B buyers spend time. Pay attention to where they are in their buying journeys, and make sure your brand is waiting for them there with product information, decision support, customer reviews, and a way to get in touch with a real human being, when they're ready to do so.
Optimize the post-purchase journey.
Once you've made a sale, maximize it. Build or strengthen your existing dealer and/or client portals to help streamline interactions—and make sure they integrate seamlessly with your website. Finally, don't neglect loyalty programs or incentives for digital channel sales to further boost those positive customer experiences.
Time to get your online experience in line
As the B2B space embraces the shift to a customer-centric approach, companies that prioritize that effort will win. It all starts with a website that focuses on what you do for your consumers—not what they do for you. Ready to update your online presence for greater impact and stronger B2B leads? Talk to an expert.