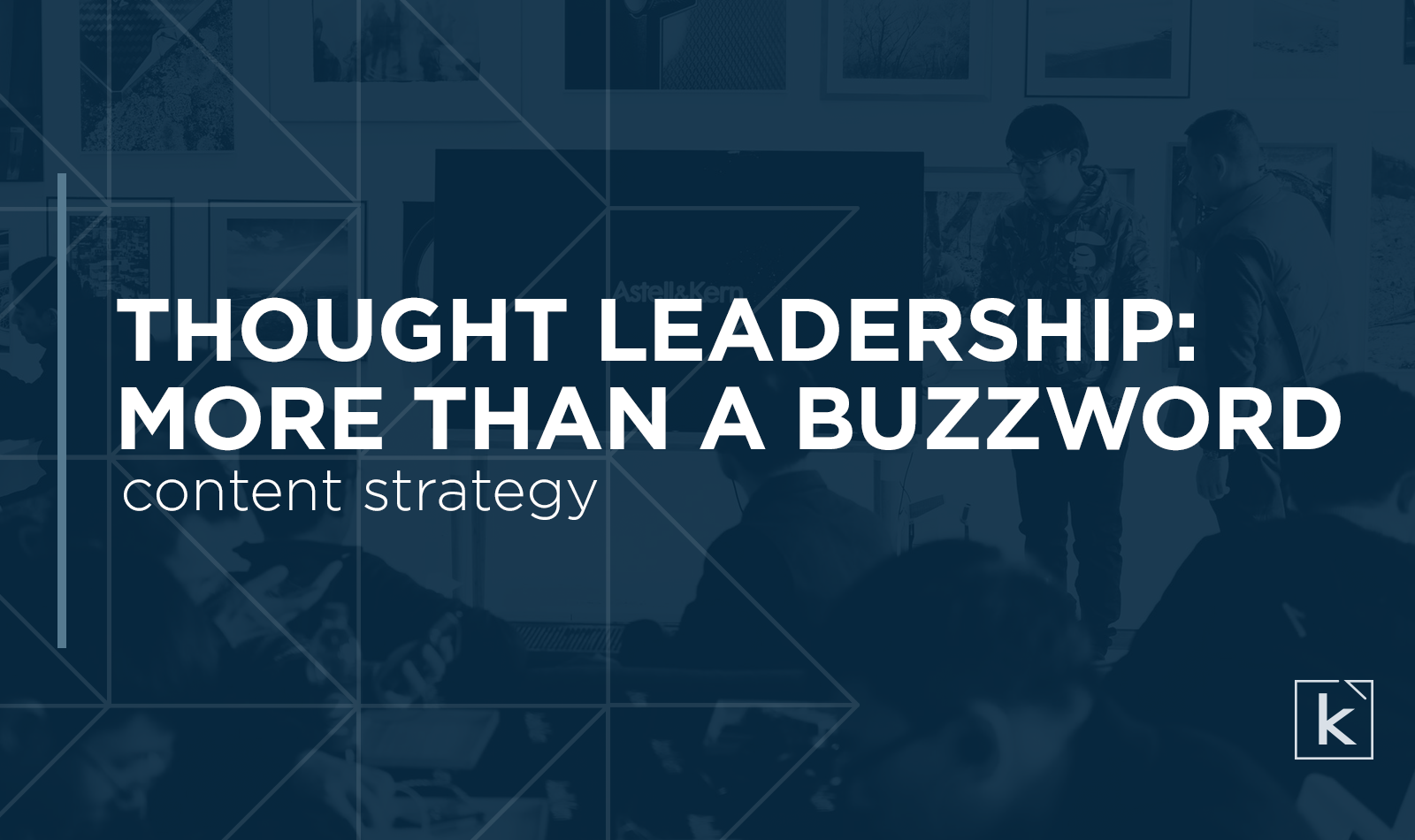 Every year, marketers are bombarded with new marketing terms that promise to lead them to the hottest trends and fastest results. That's how words like "disruption," "growth hacking," and "actionable insights" become as oft-used as "low-hanging fruit" and "let's take this offline." But do they really mean anything?
Maybe, at first. But eventually, most buzzwords end up stale and overused, so much so that they lose any value they once had. Or worse, they don't actually stand for ground-breaking practices or novel discoveries, but only feign an understanding of best practices.
More than a buzzword
What about "thought leader?" Is it just another empty marketing term? Not when used (and executed!) correctly. In fact, "thought leaders" and "thought leadership" are far more important to your brand and your content strategy than many other hot topics. And by working thought leadership into your inbound marketing program, it can be an asset that elevates your status and greatly extends your reach.
Now, let's level set: we're not talking about influencer culture here. While you could argue that many influencers either started as thought leaders or became them, they're also paid to push the agendas of someone else. We're talking about a whole different kind of influence: the kind born of experience, expertise, and authority in your company's particular field or industry.
So why should your company care about being a thought leader? How do you prove your chops? And, most importantly, how do you make money from your efforts?
Adding value to your customers' lives
A thought leader is defined as someone whose "expertise and perspective is valuable enough to provide guidance" to those who might be interested in it. Thought leaders "cut through the static with knowledge and insight" that brings real benefit to someone else's life. And here's the kicker: they don't expect anything in return.
It's true. Put some industry thought leadership content out through your social channels, and you may hear crickets for a good long time. But the point is you have to earn trust, establish credibility, and be consistent about it before you get anything back. But if you do stay the course and commit to thought leadership content for the long term, you will net more leads, gain more followers, and build your reputation as a company that knows what it's talking about. And that kind of trust is priceless.
Who's doing it right?
True thought leadership harnesses the expertise in a certain niche not just to sell things, but to build a brand and become an industry role model. Businesses who do it well offer important, relevant contributions to the present conversation, and form educated insights on the future.
We're big fans of Steelcase and its thought leadership marketing (even though our own office furniture is, ahem, Herman Miller). We've also rhapsodized about what GE's putting into the world. But one of my favorite recent examples comes from Best Buy. Promoted via its blog and social channels, the company's Mother's Day post about offering increased adoption assistance to its employees struck an emotional chord (*tears*) and spoke volumes about the company's culture. (Bonus points for including video!)
The point? People don't just look to thought leaders to make purchases—they turn to them as an example of best practices in their field, from marketing strategy to corporate conduct.
Know your "why"
Aspiring to be a thought leader means your goals must genuinely transcend profits. "True thought leaders don't push products because they understand their audience," says Mina Seetharaman of The Economist. They share ideas to help their customers tackle issues. And once their followers have caught on, leads (and sales, if you're doing nurturing right) begin to flow.
Anyone can make good—even great—content, but it takes a high level of customer understanding and industry experience to deliver that content in a way that will be most meaningful to consumers and colleagues alike. Now that you know how important thought leadership is to your content strategy, ask yourself what will help save your customers time, money, and stress. Use the answer to guide your thought leadership topics, and find the right partner to help you make all those blogs, Medium articles, LinkedIn and Twitter posts, and white papers come to life and reach the right people.
If you build it, they will come
You want to be the first choice for your customers, and you're already an expert in your industry. By leveraging the true needs of your audience to deliver relevant thought leadership content, you'll not only walk the talk—you'll start a conversation. One that, in due time, will bring in more qualified leads who are ready to talk business.