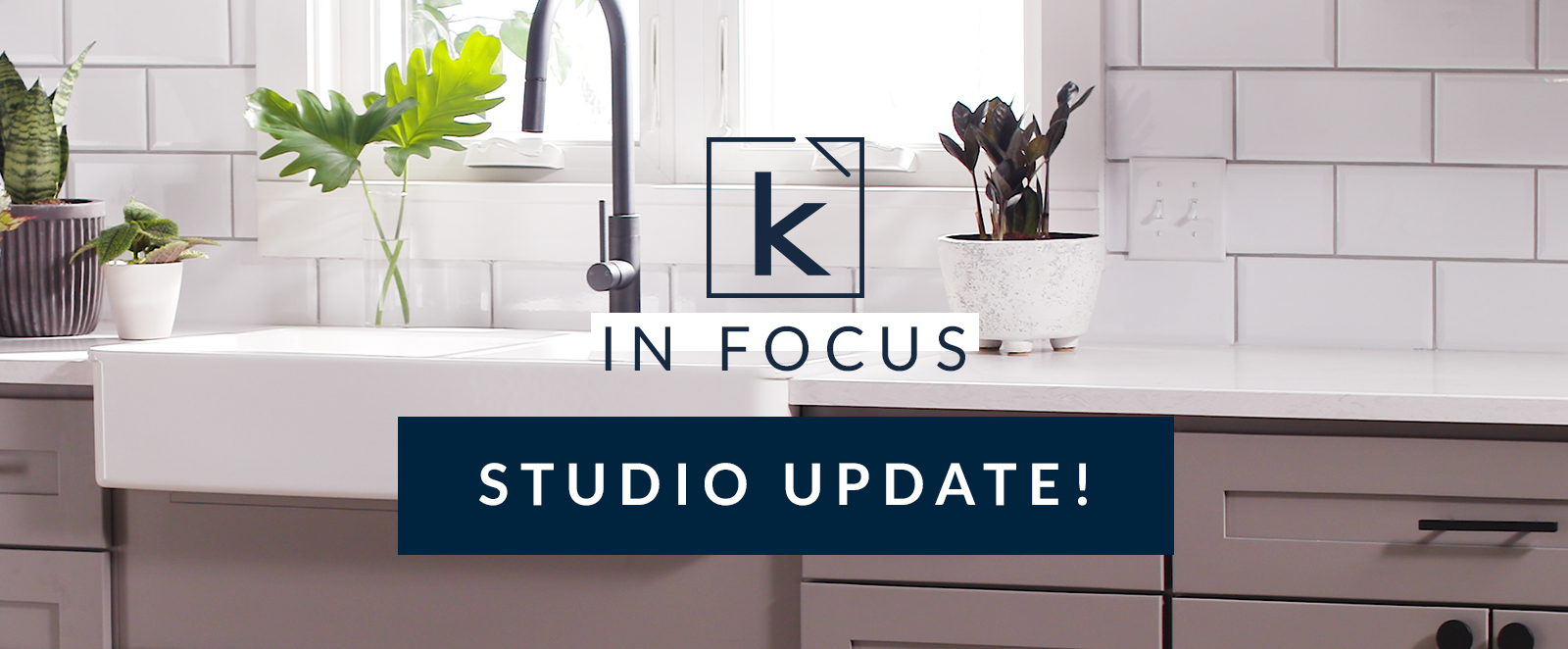 Just when you thought nothing could surprise you anymore, you get an estimate for a basement remodel. $$$!!! Thanks to the pandemic, demand for office sheds, multi-room additions, in-ground pools, backyard oases, and more has surged.
And guess what? Kreber is remodeling, too. If you know us, you know our photo studios have always been exceedingly well-equipped with all the scenes, flywalls, façades, props, windows, doors, and floors you can imagine. But like America's homeowners, we wanted more.
Get cooking with a fully operational, modern kitchen built for photo shoots
Our in-house carpenters have been as busy as your local contractors. In our Ohio studio alone, we're working on six new permanent environments (in addition to an existing Colonial home façade, a daylight studio, multiple bays, and a clean white cyc wall, plus aisles of props), so you can show off your products and bring your vision to life through photography and video in endless ways.

Coming in July! Here's a render of our new, fully operational kitchen.
With completion projected for July, our new kitchen set will have the kind of capabilities I wish my home kitchen had—and it's specifically designed for shoots. Quartz counters, off-white cabinets, two sinks, sleek appliances from some of our favorite client brands (including a 6-burner cooktop in a 12' island), a double oven, an ice maker, and a dishwasher make for beautiful, functional scenery. French doors open onto a patio; hardware and lighting can be swapped as desired; running water allows for realistic sink footage; and the ability to create the appearance of hallways and exteriors all mean that virtually any kitchen scene is doable.
There's also a beautifully appointed powder room directly off the kitchen for even more scenarios. Proof we always consider the details: you'll find an efficient water-sense faucet, classic subway tile on the walls, and a built-in shelf for your personal belongings.
New outdoor environments in the Kreber Ohio photo studio
Just off that fresh new kitchen is a patio with modern outdoor furniture, sod, and mulched beds in which real flowers, herbs, shrubs, or small trees can be staged. Want a cozy, winter scene with string lights and blankets? Maybe a summer setting with a kiddie pool? You do you. The space does it all.
How about a barbecue in front of our garage?
The porch is ready for your rocking chairs and iced tea!
Have you wished for one of those gorgeous mud rooms on Pinterest or are you normal? Live out your dreams in our new entryway scene, connected to the kitchen. Maybe you want to stage a tiki bar scene in our new garage set, complete with painted faux concrete in front? (Clients have done it!) Or shoot an outdoor scene on our gorgeous new 15' x 12' porch? We built it on a platform, with a 5' pitched roof, so you can do just that (it's especially smart for showing off Christmas lights). And if you want to shoot through or into the porch windows, we'll create realistic home imagery behind the glass.
The only thing you can't do is move in. But you can be here as much as you like.
Photo and video props from cookware to hardware, flowers to furniture
One of the things Kreber is known for is our prop inventory. It's just not something you find, well, anywhere else. Have a look (and trust, there is so. much. more):
OF COURSE we organize our book props by color!
"Clients want to be able to change things, and that's what we offer," says Amanda Geno, Senior Art Director at Kreber. "We always have a lot of options on hand to change accessories, railings, floors, etc. to suit any image." We're really, really picky about details, down to the color of the patio mulch. It doesn't only come from over 30 years of photography experience—it comes from listening, really listening, to what clients want, and anticipating what they need.
When it comes to video, having things function—like running water—"makes a big deal when you are filming," says Amanda. "We can show things properly working—it's not a faux set. You can open a window, open a door, even have a breeze. It opens up a lot of opportunities for clients."
Ready to book your shoot? Our studios and teams are ready for you with fresh spaces that feel like home. Get in touch today.