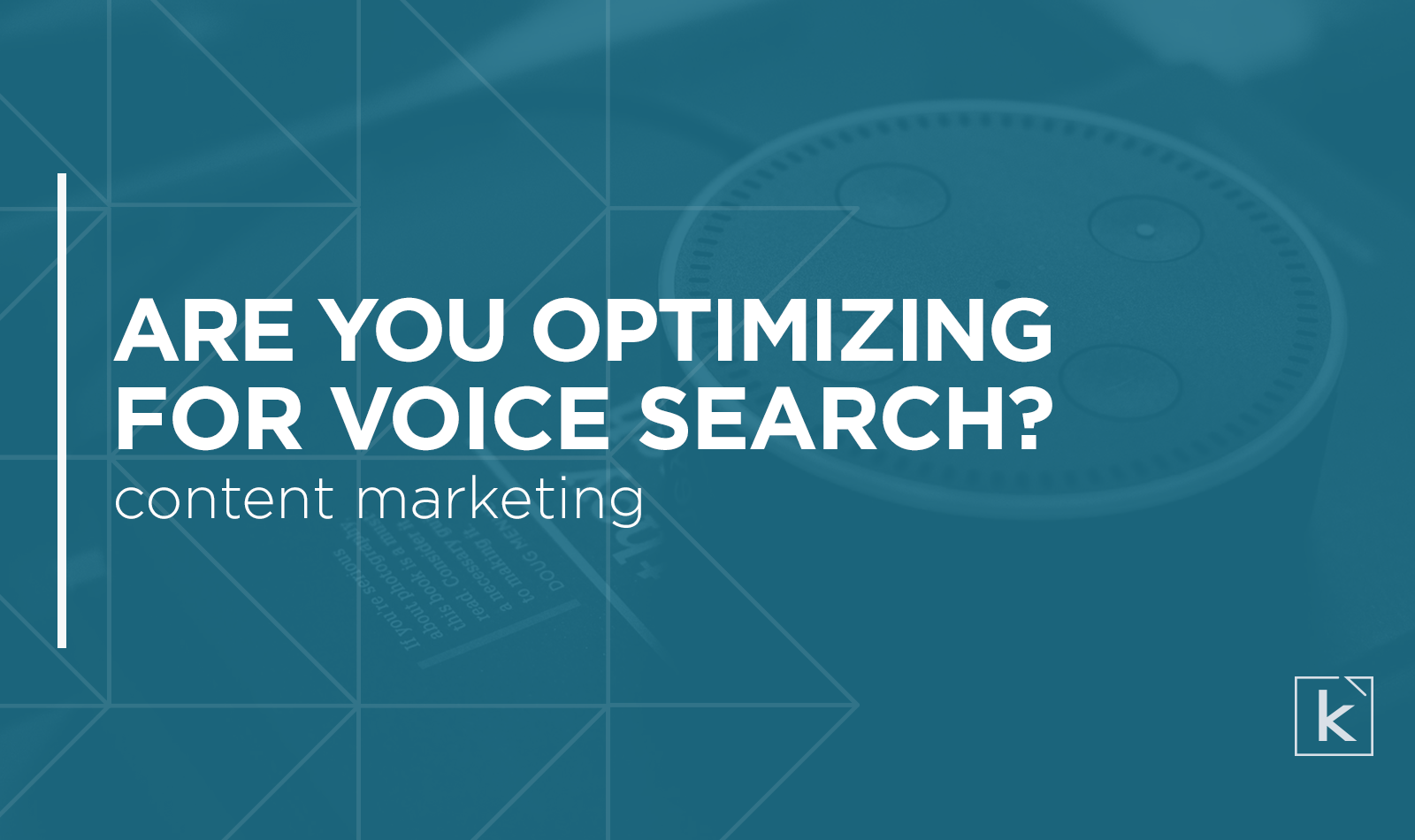 Set an alarm.
Check the weather.
Send a text.
A few years ago, these were (most likely) regular daily tasks with a better-than-decent chance that you wrote them on a sticky note or put each as a reminder in your phone. While those list-making and task-completing practices are still prevalent in 2019, there's another fast-emerging trend that we need to watch.
"Alexa, can you tell me more?"
"Yes, of course. More."
Welp, that didn't go as planned. It turns out we'll need a few more words to explain voice technology and how it impacts your brand, your marketing, and your approach. Let's get into it.
The Re-voice-lution
Things change fast, don't they?
Siri and Alexa (which sounds like a defunct sitcom) used to be throwaway jokes for an older generation, mainly to poke fun at the over-reliance of Millennials and Gen Zers on their technology.
"Why don't you just ask Siri to do that?"
Come on, you've heard your parents and grandparents use that line, or something similar.
The rise of voice technology has been a quick one. Amazon has introduced a smart, Alexa-enabled version of the microwave—which comes in handy when, sitting on the couch, we can ask Alexa to pop some popcorn without getting up.
(We're joking, somewhat).
There are also smart clocks, smart locks, you name it.
But in all seriousness, Amazon is taking this...quite seriously. Amazon has sold tens of millions of smart speakers (the company claimed 50 million units sold by early 2019), and now boasts more than 90,000 Alexa skills for its smart tech devices. But, there are still some struggles in mass adoption of voice technology; in 2018, only 13% of United States households had a voice assistant, though that number is expected to increase to 55% by 2022. Truth be told, many forecasts in the last few years have been more bold and fallen short...but it's clear that voice technology is rising quickly.
Getting ahead and being prepared is the key to making sure your marketing efforts are successful and not just experimental. In this blog, we're going to discuss how voice technology (particularly with Amazon and Alexa) can help your products and brand become more searchable, some of the pitfalls associated with voice technology, and how you can strategize now to be ready when the voice-tech surge really hits its fever pitch.
Voice recognition and voice search is, after all, a $49 billion industry in 2019.
3 things to improve your voice search marketing
There are a host of tactics and strategies to consider when diving into voice search marketing. And because there's so much to wade through, a lot of brands encounter a similar problem: they take on too much, and too quickly. Voice search is popular and many believe it to be the next "big thing," but it's still largely new.
And it's naturally tempting to jump in with both feet and be the master of this new domain. Our suggestion? Take it slow. There are valuable resources available that will help you get acclimated to this new frontier, and in the long term, you'll also be better positioned to adapt and advance on the fly.
Amazon Choice—Amazon is helping interested brands and retailers get out in front with voice search as it relates to products. "Choice" listings on Amazon are classified as "highly rated, well-priced products available to ship immediately." These listings are linked to Alexa skills; for example, asking Alexa to shop for toilet paper will produce an Amazon Choice-approved label for toilet paper, oftentimes an Amazon house brand.
Enhanced Brand Content—This is a great (and, for now, free) way for registered brand owners to amp up their product descriptions. Product descriptions are generally text-only, keyword-driven blurbs at the bottom of a standard product page, but with EBC, sellers get expanded capabilities. Brands who leverage EBC see higher conversion rates and a higher trust level with customers. (Read our post on EBC to start optimizing your content.)
Do Your Homework—Confusion is a common problem with voice search. Alexa doesn't understand everything, and if she doesn't, well, that's not good news for your product listing. It's important to research which skills you could potentially be a voice-search result for, and then, update your product listing to be optimized for those skills. The more ways that a search for your product can be misinterpreted, the less successful you will be.
Moving forward
There's no denying that the consumer's world continues to change. And as we mentioned above, it's changing more quickly than we're ready for. Just when you've become accustomed to one technology and have integrated it into your routine, something new arrives on the scene—forcing you to adapt and adjust once again. Technology is rapidly changing how to find and discover everything.
Only those marketers who are focused on providing truly valuable answers when customers ask their voice assistant a question will be found—and ultimately, trusted. Now is the time to get started.
"Hey Alexa, find me an agency partner that can help with voice marketing."